If you are a student and planning to buy a new iPad, you would want something that has great features and is budget-friendly. You can easily take your notes, read through digital books, make presentations, complete your assignments, and do anything related to your schoolwork. Here are the best iPad for students in 2021 which are quite affordable.
What you will see?
iPad Air 4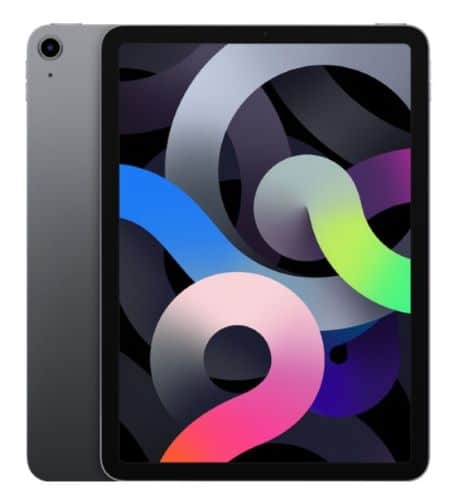 With iPad Air 4 you get almost all the features of iPad Pro and it comes at a pocket-friendly price. It is only 10.9-inches in size, thus giving you a good screen size and you can even carry it anywhere. You get a 2360-by-1640 pixel resolution at 264 pixels per inch (PPI) in the iPad Air 4. So you get quite a good image quality for your educational videos as well as your notes. With display features like Wide colour and True Tone, you get a vibrant image quality. Moreover, you don't need to worry about staining your screen with fingerprints with the fingerprint-resistant oleophobic coating.
The latest design for the iPad Air 4 is quite similar to the iPad Pro with flat edges and no bezels. Although, it lacks the Face ID feature and has Touch ID. You can even connect it with the 11-inch iPad Pro-Magic Keyboard. The A14 Bionic chip gives the iPad fast processing speed. It supports Apple Pencil 2, uses WiFi 6, and you can choose from different colours. Moreover, the storage ranges from 64GB to 256GB.
Pros
10.9-inch Liquid Retina Display
Can connect with Magic Keyboard
Compatible with Apple Pencil 2
Touch ID
A14 Bionic chip
Cons
Price is more than past model
No Face ID
Only 64GB or 256GB storage options
iPad Mini 5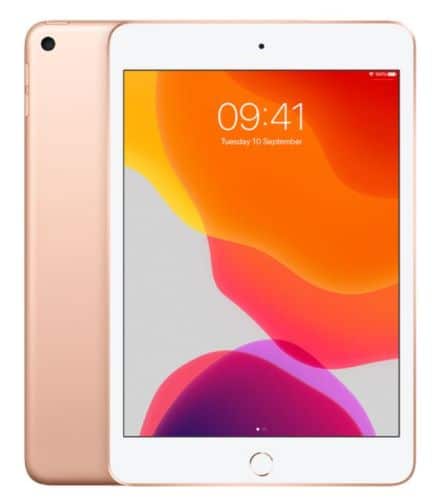 If you are someone who can manage with a smaller screen and needs a cheaper option, you can go for the iPad Mini 5.This is the cheapest iPad for students. It has features similar to the iPad Air 3 but doesn't have the Smart Connector. It has a 7.9-inch Retina display with True Tone. Although you don't get the Face ID system, you have Touch ID for biometrics and security. The A12 Bionic chip with Neural Engine gives you good processing speed. For storage capacity, you get two options, 64GB or 256GB. It is compatible with the first-generation Apple Pencil. As you don't get the Smart Connector, you won't be able to connect with accessories like Apple's Smart Keyboard. Although, you can connect it with great Bluetooth keyboards.
Pros
The Screen size of 7.9-inch.
Features are mostly similar to iPad Air 3.
Budget-friendly
Supports 1st-gen Apple Pencil
Storage size up to 256GB
Cons
Smaller screen size
Uses Touch ID
No Smart Connector
iPad 8th-generation (2020)
If you want an iPad that is budget-friendly and has most of the latest iPad features, then iPad 8th-generation is for you. With the 10.2-inch Retina display, you can comfortably read, make notes, sketch, and complete your assignments. Although it does not support the latest second-generation Apple Pencil still get the Smart Connector. You can still use the first-generation Apple Pencil and can connect your iPad with Apple's Smart Keyboard.
Moreover, one of the biggest compromises you have to make is the bionic chip. iPad 8th-generation uses the A12 Bionic chip, which is quite backward but gives you good processing speed for your schoolwork. Also, the storage space option includes 32GB or 128GB storage capacities. As you don't get the middle ground storage space of 64GB, you will have to think about the data you store on your iPad and use the cloud storage. As you get the Home button with this model, the iPad will have larger bezels on the display. But it doesn't affect the 10.2-inch size display.
Pros
Budget-friendly
10.2-inch display size
Compatible with 1st-generation Apple Pencil
Has Smart Connector so you can connect to Smart Keyboard and other accessories.
Cons
Has older A12 chip
No Face ID and still has bezels
Storage space only has two options- 32GB or 128GB
iPad Pro 2021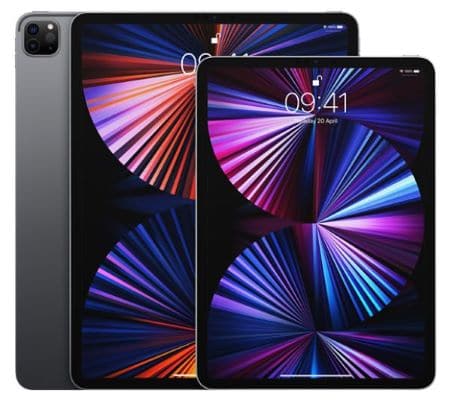 If budget is not your issue, and you want an iPad full packed with the latest features, then you can go for iPad Pro (2021). For the screen size, you get the option of 11-inch and 12.9-inch. So, if you are someone, who wants to carry your iPad everywhere, then the 11-inch size is for you. Whereas, if you want an iPad in place of a laptop, then the 12.9-inch is for you. But before buying any of the sizes, remember that the 11-inch still uses the Liquid Retina display. Whereas the 12.9-inch uses the latest Liquid Retina XDR display, so you get more vibrant image quality in this model.
It does not have bezels so you get plenty of screen space. You get the Face ID for biometrics and security for your iPad Pro. Moreover, it uses the M1 chip which is the latest chip from Apple. The M1 chip gives you eight cores, that is, four for performance and the other four for energy efficiency. For storage capacity, you can choose from 8GB of RAM with 128/256/512GB. And the other option is 16GB of RAM with 1TB or 2TB storage.
In terms of rear camera, you get 12MP wide and ultra-wide camera lenses. So you can click good pictures for your school work and presentations. For the front camera, you get a 12MP TrueDepth camera, so you can enjoy good quality for your online lectures. Moreover, the TrueDepth camera has a Center Stage feature, so even if you move the camera focus will move with you. One of the most exciting features is, iPad Pro (2021) supports the second-generation Apple Pencil. Also, with the Smart Connector, you can connect with the Smart Keyboard and Magic Keyboard. Although, note that you don't get the standard 3.5mm headphone jack with this model.
Pros
Two screen size options- 11 or 12.9-inch.
Uses Face ID.
Apple's M1 chip
Supports second-generation Apple Pencil
Storage space up to 2TB
Cons
Expensive
Only two colour options
No 3.5mm headphone jack
Conclusion- Best iPad for students
If you are tight on budget and don't want to miss out on the good features of an iPad, you can go for iPad 8th-generation. We consider it as one of the best iPad for students. It has a 10.2-inch Retina display and uses the A12 Bionic chip. The only setback is the storage space options of 32GB and 128GB, so you will have to rationalize the data you store on your iPad and cloud. Whereas, if you are not bound with a budget, you can go for the iPad Pro (2021). It has the latest features with an M1 chip and good camera quality for your online classes. Moreover, you get a wide range of storage space options to choose from. The only setback for this model is, it lacks the 3.5mm headphone jack.
Which iPad are you planning to buy? Tell us in the comments section below.
Read More!