Shazam keeps their newly redesigned app for iOS simple. As of late Shazam for iOS had a makeover, and things are a little bit different, easier to use, and updated to a more modern, clean feel. Here we will see the full review of Shazam App and its features.
What's changed in Shazam?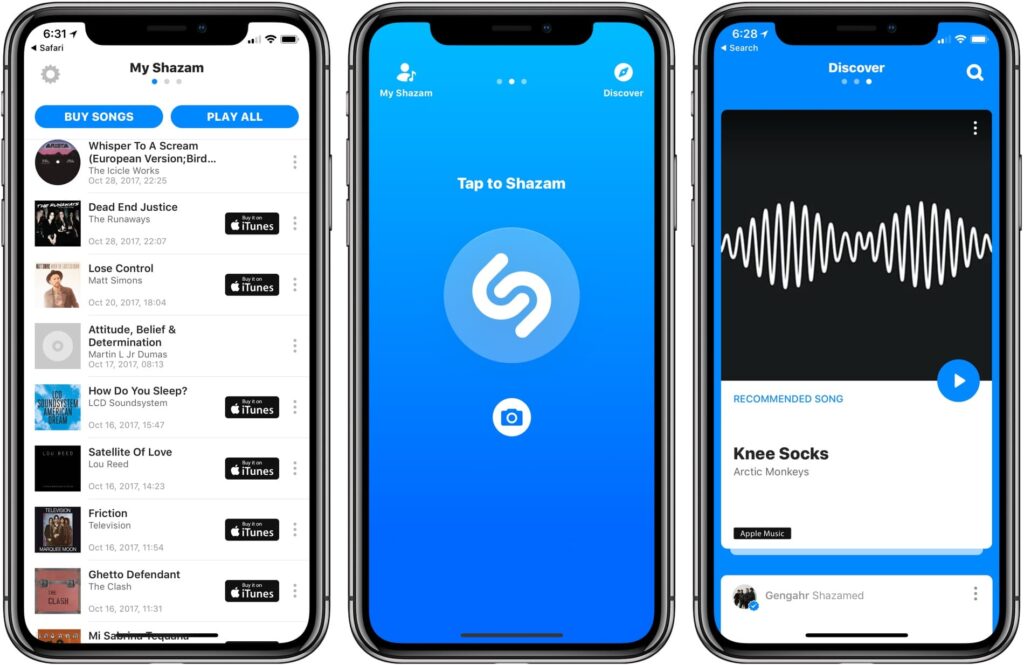 Gone are the traditional navigation tabs at the bottom of the screen; they have been replaced by a paginated layout where a swipe left or right is used to switch screens.
At the point when you launch the application, you'll instantly land on the homepage, which is basically a giant Shazam button. There are presently just three application screens to navigate through:
You swipe to the left, you go to My Shazam
If you swipe to the right, you go to the Discover page
The middle page is the homepage/Shazam button
You can likewise use Auto Shazam , which lets the application keep listening to whatever music you're trying to identify even after you close it.
Discover now includes the contents formerly found in Trending as well. A Chart Update card is included with your daily mix, plus you'll find a button at the top and bottom of your 10 daily updates that takes you straight to Trending.
What does Shazam do?
It is an application that allows you to identify music with the press of a button. Let's assume you're in a store and you hear a wonderful song playing however you have no idea about what it is and you're way too shy to ask the staff – pull out your iPhone, start up Shazam, and the application will tell to you what's playing.
Else can Shazam do besides identify music?
In this Shazam review we have got some other features as well:
Preview songs with Apple Music and add them to Apple Music and Spotify playlists.
View music lyrics and YouTube videos for the songs you Shazam.
Auto Shazam can recognize songs in the background after you've left the app.
Its Visual recognition gets you information on posters, magazines or books; you can use it anywhere you see the Shazam camera logo.
Visual recognition also works as a code reader for all QR codes.
Stay up-to-date about new singles, albums, and videos from the artists you follow.
You can follow artists to see what they're Shazaming.
Buy tickets to see your favorite artists in concert.
Why would you use it instead of Siri or alongside my other music services?
In this Shazam review we will also let you know why would you use it instead of other applications. Shazam, has a plethora of features that overlap with other popular music services, applications, and things like Siri, however it's the sheer volume, reach, and variety of features that make this application stand out so completely from the rest.
It as a little bit of everything for nearly everybody: from the ability to interface with Apple Music or Spotify, the feature to turn on Auto Shazam so the application is always finding new music for you, the opportunity to see what your friends are Shazamming and sharing your epic music finding to Facebook, Twitter, or almost any other social media, and basically some other component a creative, music-focused application would consider.
So how does it integrate with Apple Music and Spotify?
In the event that you discover a tune that is selective on Spotify or Apple Music and you have a account, you can tap the track and that will take you to the application where you can listen in to the song in full.
On the off chance that you don't have an Apple Music or Spotify account, you can just tune in to a portion of the song that you've Shazam'd.
You can likewise connect your Shazam account to your Apple Music account.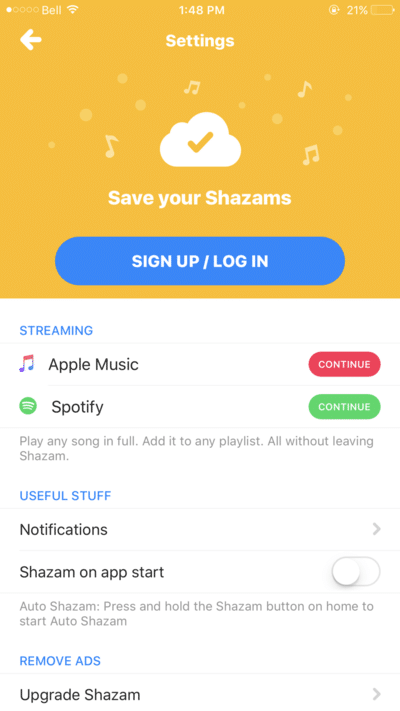 Do you think of Shazam's new layout?
It is safe to say that you are a major fanatic of the progressions Shazam has implemented, or do you believe it's excessively like other applications and that the old format was fine?
How Shazam works
All it takes to identify a song or TV show on Shazam is a tap of the screen, and it can feel a little bit like magic when the app identifies what you're listening to in just a few seconds. You can also activate Siri on an Apple device and ask Shazam to identify the relevant audio source that's playing.
This is revealed what actually happens when you tap to Shazam: First, Shazam creates a digital fingerprint of the audio picked up from your device's microphone. Then, it matches the digital fingerprint to a database containing millions of music tracks and TV shows. Once it finds a match, Shazam displays the name of the song and artist or TV show, plus additional information like lyrics, sharing options, and more.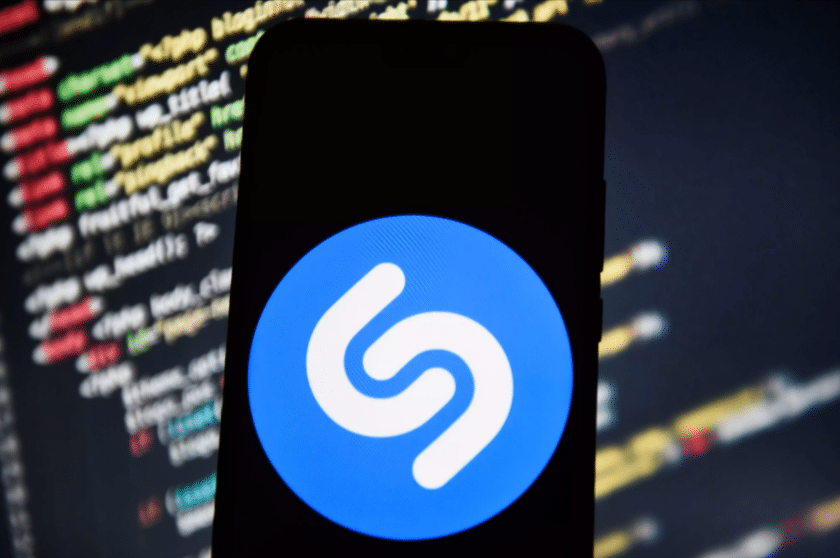 Conclusion
This is a phone app that uses song recognition technology to detect and recognize a song that is playing remotely. Say you hear a song playing on radio or TV that you enjoyed, but don't know the artist or song title. You can open the Shazam app, tap, and hold your phone close to the radio for about 10 seconds.
This works by analyzing a song's frequency patterns and finding a match within its database of songs. Each song has a unique frequency pattern, and this is how they can differentiate between tracks. Even when a song is redone the frequency pattern for the new version is different from the original. The frequency pattern is referred to as an audio fingerprint. This is because it works like a person's fingerprint – and even identical twins have different fingerprints. Hope we have got you covered with the full review of Shazam App and its features.
Read more!