The Samsung Galaxy Watch Active 2 smartwatch was launched in 2019 and continues to be an important part of the Galaxy Watch lineup. Although the company has since released the Galaxy Watch 3, the older Active 2 has recently obtained many of the flagship's best features, such as ECG, blood pressure monitoring, and improved sports tracking features. It's still one of the best Android smartwatches, even better than more latest Wear OS smartwatches.
What will we see here?
Cost and availability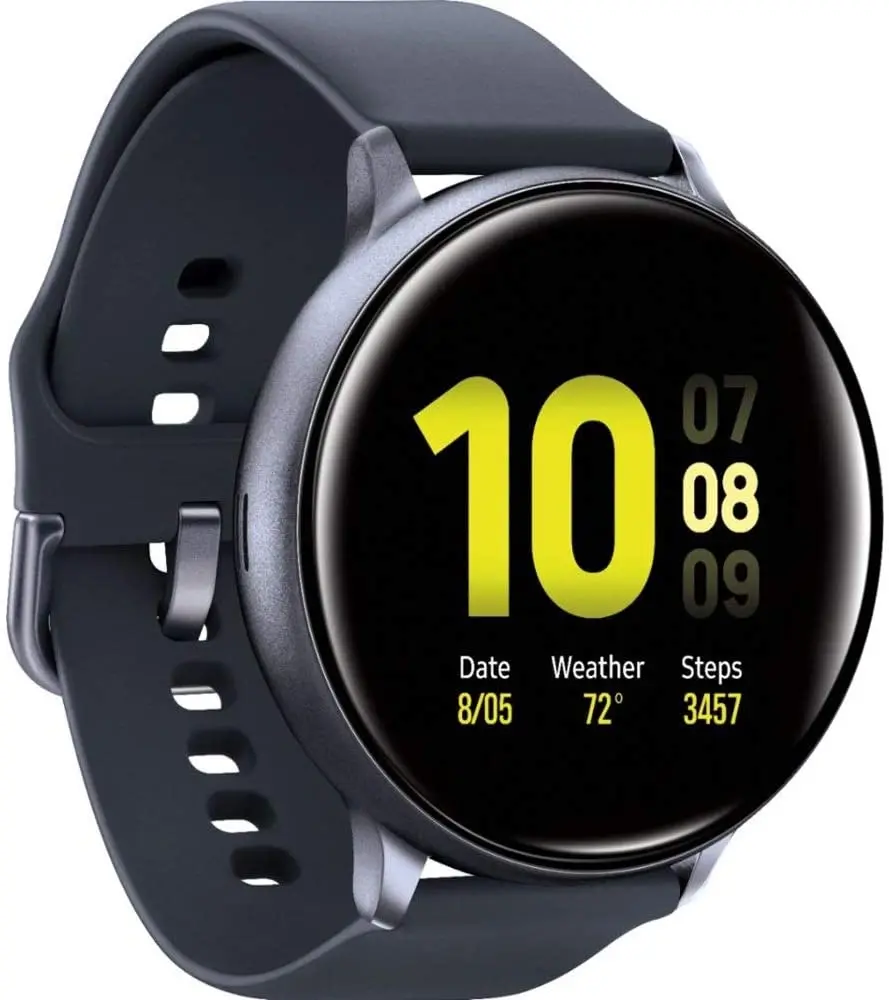 As of September 27, 2019, the Galaxy Watch Active 2 was available for purchase in three colors and two sizes: 40mm and 44mm. Both are available with either Bluetooth/Wi-Fi only or LTE connectivity.
The Samsung Galaxy Watch Active 2 Bluetooth version costs $249 for the 40mm size and $269 for the 44mm model. If you want LTE, the 40mm model will set you back $399, and the 44mm model will set you back $419. Bluetooth/Wi-Fi models are available in Aqua Black, Fog Silver, and Pink Gold, while LTE models come in black, gold, and silver.
Layout

The Galaxy Watch Active 2 is the most attractive smartwatch I've ever seen. The watch, like the Apple Watch Series 5, is available in two sizes: 40-mm and 44-mm. However, Samsung's round display (as opposed to Apple's rounded square) is reminiscent of a traditional timepiece.
The overall effect is stylish and elegant —You wouldn't be afraid to wear the Galaxy Watch Active 2 to a marriage or a fancy dinner with a leather band. The band is soft enough to wear to bed and won't cause irritation to your skin or slide around when you're running.
The Watch Active 2 now has more customizable options for the watch face design. All you have to do is use the Galaxy Watch app to take a picture of your outfit (or as much of it as you can) and then select from patterned watch faces in vibrant colors. We preferred the more useful watch faces, such as the Digital Neon face, that allow you to add complications. However, Samsung appears to be taking a cue from Fossil-owned Kate Spade's wearables, which offer similar fun features for personalizing your watch face.
Screen
An always-on screen is the defining feature of Apple's latest Series 5, but it's an old hat for Samsung. If you prefer, the Galaxy Watch Active 2 can get an always-on display, or you can stretch the battery life by turning off the display until you raise your wrist.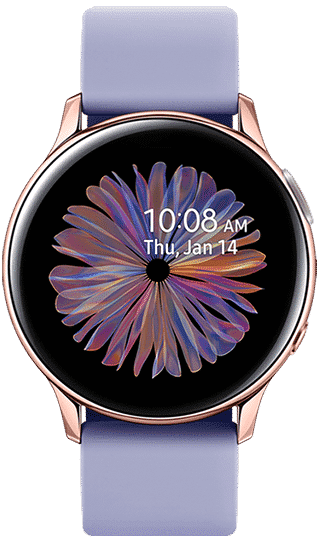 The inclusion of the digital spinning bezel is the most noticeable change in the new watch's display. Older Samsung smartwatches allowed you to navigate the watch by physically spinning the bezels, but Samsung removed that feature from the Galaxy Watch Active. The second-generation model includes a digital representation of that navigational tool. You can page through the toolbars to the right of the watch face or swipe down a page by sliding your fingertip around the edge of the display. This is slightly faster than simply tapping or scrolling, but also can be overly sensitive and misjudge how far you wanted to go.
Overall, the digital spinning bezel is neither a plus nor a minus. You could use it if you want, or you can ignore it.
Echocardiogram app
To include an echocardiographic sensor in the Galaxy Watch Active 2, Samsung is directly addressing the Apple Watch's ECG app.
Though it had been inoperable on the Samsung Galaxy Watch Active 2 for over a year, the ECG monitor is now operational for users. To begin taking ECG readings, make sure to update the software on your watch.
Health features
Samsung has added run-coaching to the Galaxy Watch Active 2, allowing you to choose from seven programs for increasing endurance or speed. The cues are both vocal, delivered through the watch's speaker or via Bluetooth headphones connect directly to the watch, and tactile — the watch will jiggle when you need to speed up or slow down.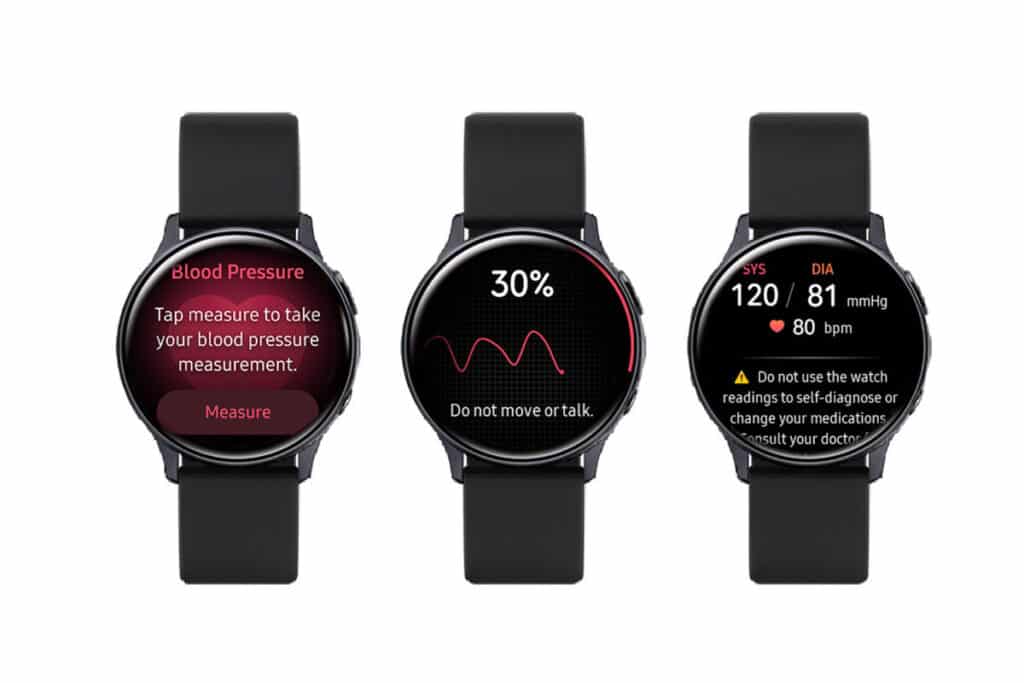 We liked the guided speed-up program because it wasn't just about running as rapidly as possible. The workout lasted 40 minutes and included a 5-minute warm-up and cool-down. If you went too fast at first, the watch would yell at you to decelerate.
We wish Samsung's automatic workout-tracking was as comprehensive as Apple's. But it's useful when you forget to log a 15-minute outdoor walk or take a ride on the bike without first starting a workout. For an outdoor run, the watch will begin tracking after 10 minutes. But you will only be able to see time delay, mileage, calories burned, and total step count. There is also no way to stop or pause the workout; you must simply wait for it to finish.
Battery Performance
The Galaxy Watch Active 2 has a battery life of about two and a half days. With workouts, that drops to about 48 hours, and 24 hours with the always-on screen turned on. That's slightly longer than the Apple Watch Series 5, which has an always-on display and lasts about 18 hours. Samsung claims the LTE version lasts 24 to 36 hours on a charge, depending on the size of the watch.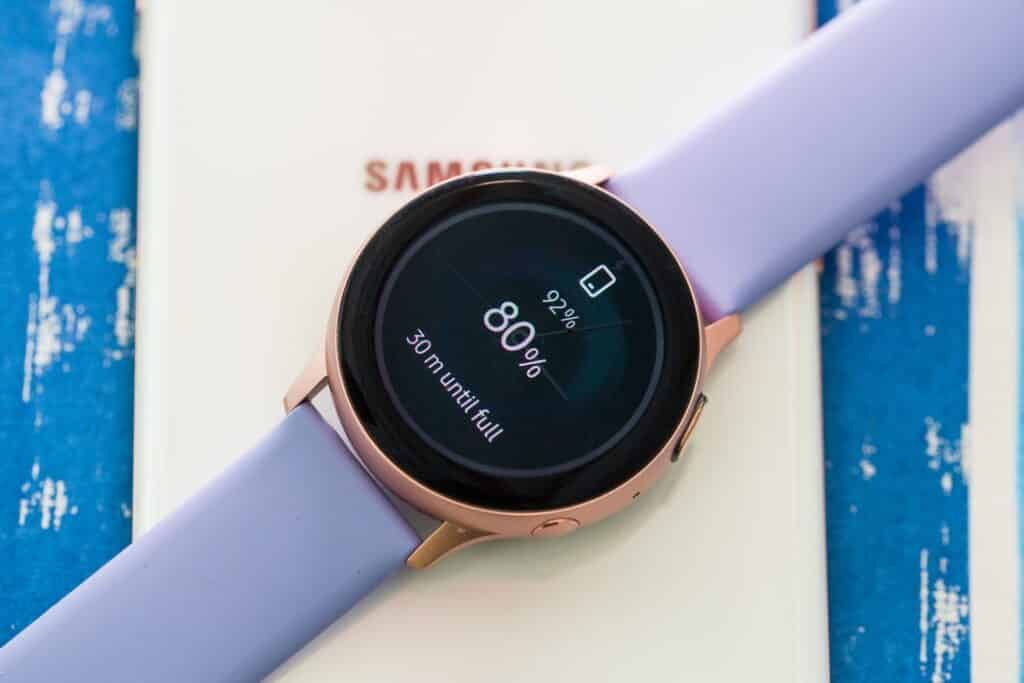 If you monitor your run with high-precision location accuracy enabled, this has a significant impact on battery life. A 40-minute run reduced the battery's capacity from 40% to 15%.
However, if battery life is the most essential characteristic to you, you can control all of these factors. The always-on display and some of the exercise features are obvious drains on the battery. But they don't have to be.
However, we wish that watch charged faster. A 30-minute charge only got the watch to 39 percent, and it took nearly an hour and a half to charge it up again. That's fine if you charge it overnight. But it's inconvenient if you need to charge it quickly in the morning before a workout.
Conclusion
That ends our article here!
While Google's Wear OS has become stagnant. Samsung has been steadily improving Tizen and providing updates for its current watches for years.
The Active 2 is small, light, and well-made, with a large, brilliant, always-on screen. There are numerous watch faces to choose between. The battery lasts two days, and apps like Strava and offline Spotify are helpful. The Samsung Galaxy Watch Active 2 appears to be the best all-around Android smartwatch available.
Do comment and share. Likewise subscribe to remain refreshed with all the Latest News, Offers, and Special Announcements.
Read More!