Some phones have fantastic cameras with OIS, AIS, EIS, and other acronyms, but they can only do so much to stabilize shaky footage. A gimbal helps to isolate your phone – and thus its cameras – from your unstable hands.
To reach a large audience these days, all you need is a phone and a YouTube, Instagram, or TikTok account. However, if you want your video to look professional, you'll need one more piece of equipment: a gimbal. The gimbal is like a selfie stick as well as a stabilizer, giving you stable, impeccably outlined shots.
It's especially useful if you're moving the phone around, walking, or jogging with it. And while no phone gimbal will provide Steadicam-like smoothness. Most gimbals Stabilize on three axes, which refers to as pitch, roll, and yaw. Tilt, roll, and pan are terms in photography.
Zhiyun Smooth Q3 Gimbal
When it comes to phone stabilizers, DJI is perhaps the first brand that comes to mind, but Zhiyun is well established and offers a broad selection of its gimbals, including the incredibly affordable 2-axis Smooth X with a built-in selfie stick.
If you want the stability of a three-axis gimbal, Zhiyun's Smooth Q3 is the way to go. It lacks the telescoping selfie stick, but it does include a built-in fill light, which comes in handy when the lighting is less than optimal.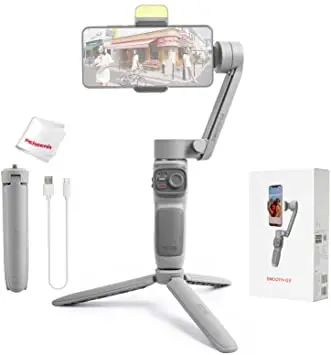 The peel-off stickers are identical to those used by DJI, albeit there are significant changes between the Q3 and the OM3 and OM4. You may believe that you can use any location along the track that you choose, but due to the electrical contacts at the end, it must extend fully.
When collapsed, it's relatively compact, though you'll need to get the Combo package if you want a carry bag to protect it. The Smooth Q3 is fairly light at 340g, yet the build quality is outstanding and it seems durable. For one thing, the Smooth Q3 features an incorporated phone clamp that isn't magnetic, and instead of a fold-out arm, it uses a sliding track that is locked with a thumbscrew.
DJI OM 5 Gimbal
DJI's latest version is smaller and lighter than ever before, with super smooth footage and automated tracking.
The DJI OM 5's built-in extension rod allows you to move the camera further away to incorporate more scenery and people in images or to capture shots from lower angles. This identifies your surroundings and recommends shot sequences, ensuring that you obtain outstanding outcomes whether you're a novice or a seasoned master. And ActiveTrack 4.0 ensures that the film is as smooth as possible.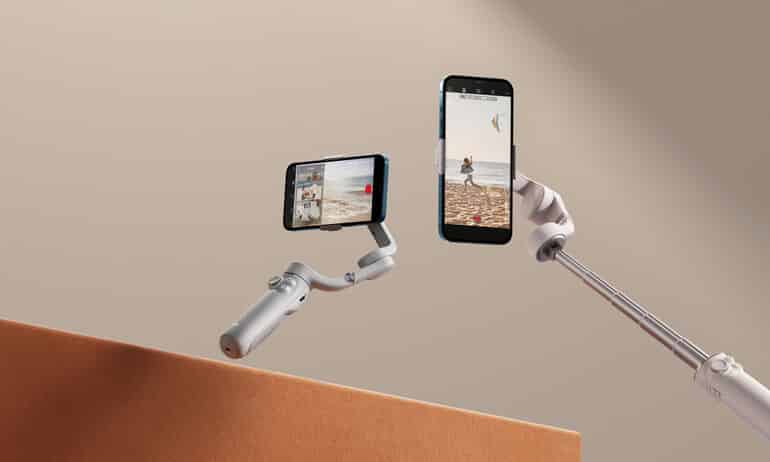 The main drawback is that the OM 5 isn't big enough to hold the new iPhone 13 Pro Max. If that's your preferred iPhone, you'll have to seek elsewhere. For everyone else, this is a simple iPhone gimbal that comes with everything you need to get started recording.
Hohem iSteady Mobile Plus Gimbal
The Mobile Plus is designed to be easy to carry, so it's just big enough to get the job done. It's 9.6 inches long, 3.23 inches wide, and 2 inches thick at its thickest point. The polycarbonate frame weighs only 1.1 pounds, so it's lightweight and fits comfortably in your hand. The top of the unit features an adjustable spring-loaded clamp, which holds your smartphone securely in place. The claws of the clamp are padded with rubber, which keeps your phone or case from getting scratched.
The arm that holds the clamp has two hinges, each with a servo motor. A third servo motor is available in the arm's base. The Mobile Plus can adjust your phone across all three axes when all three of these motors are working together. A typical 14-inch threaded hole at the bottom of the handle allows you to utilize a tripod. You can also attach a video light to keep your subject brightly lighted.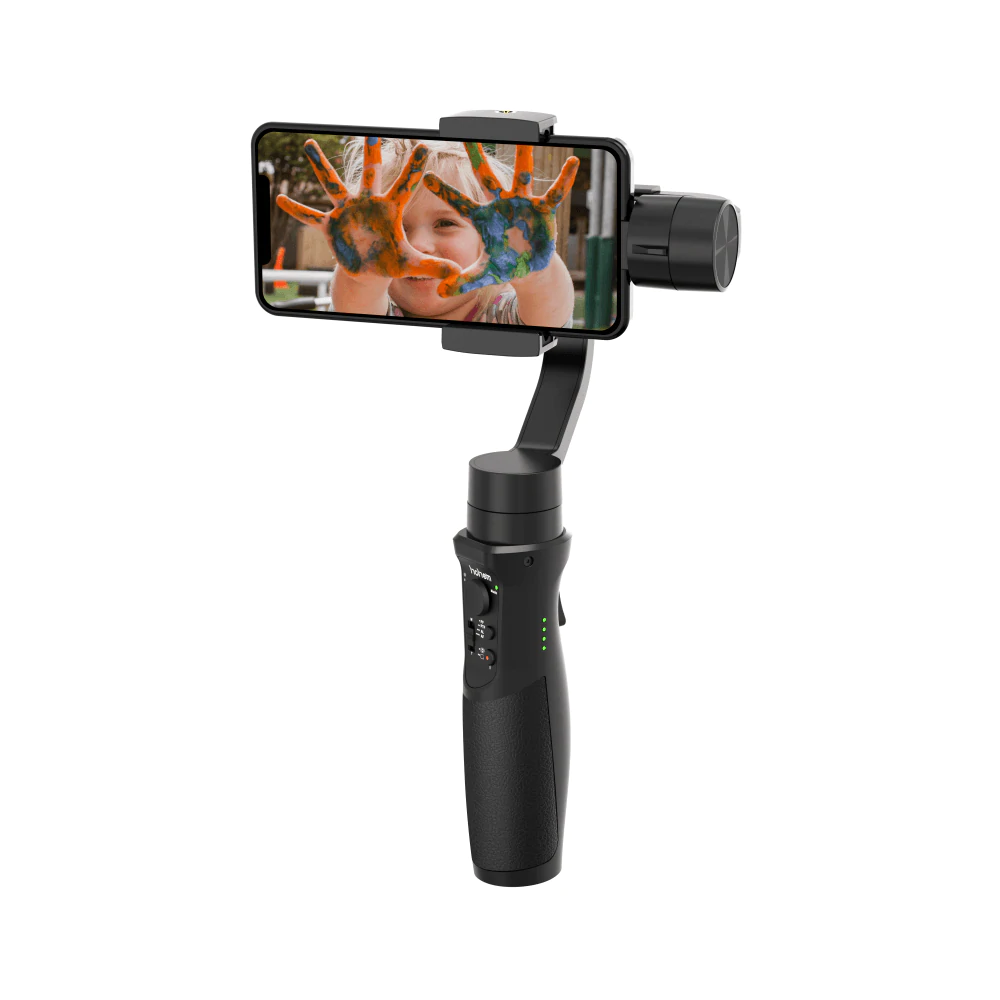 The Hohem Mobile Plus is an excellent fit for the majority of cell phones. The clamp can be adjusted to 58 to 89mm, making it suitable for phones with a screen size of 6 inches or less. It can also support a phone weighing up to 0.6 pounds.
The Hohem Gimbal app allows you to change the settings on your gimbal and it is mostly used to program the trigger. Moreover, your photos and videos are also programable as they may be useful to make slow-motion videos, time-lapses, and 360-degree panoramic images. Particularly impressive is the time-lapse mode as it can run for up to 12 hours, making it ideal for nighttime shoots.
Zhiyun Smooth 4 Gimbal
The Zhiyun Smooth 4 is a must-have piece of photo equipment for professional videographers, vloggers, and fans. The Smooth lasts 12 hours on a single charge and produces rock-solid footage regardless of the weather or your movements and Sliders on the side of the handle function as a control panel. Allowing you to change gimbal modes, turn on a fill light, record, pause, and more.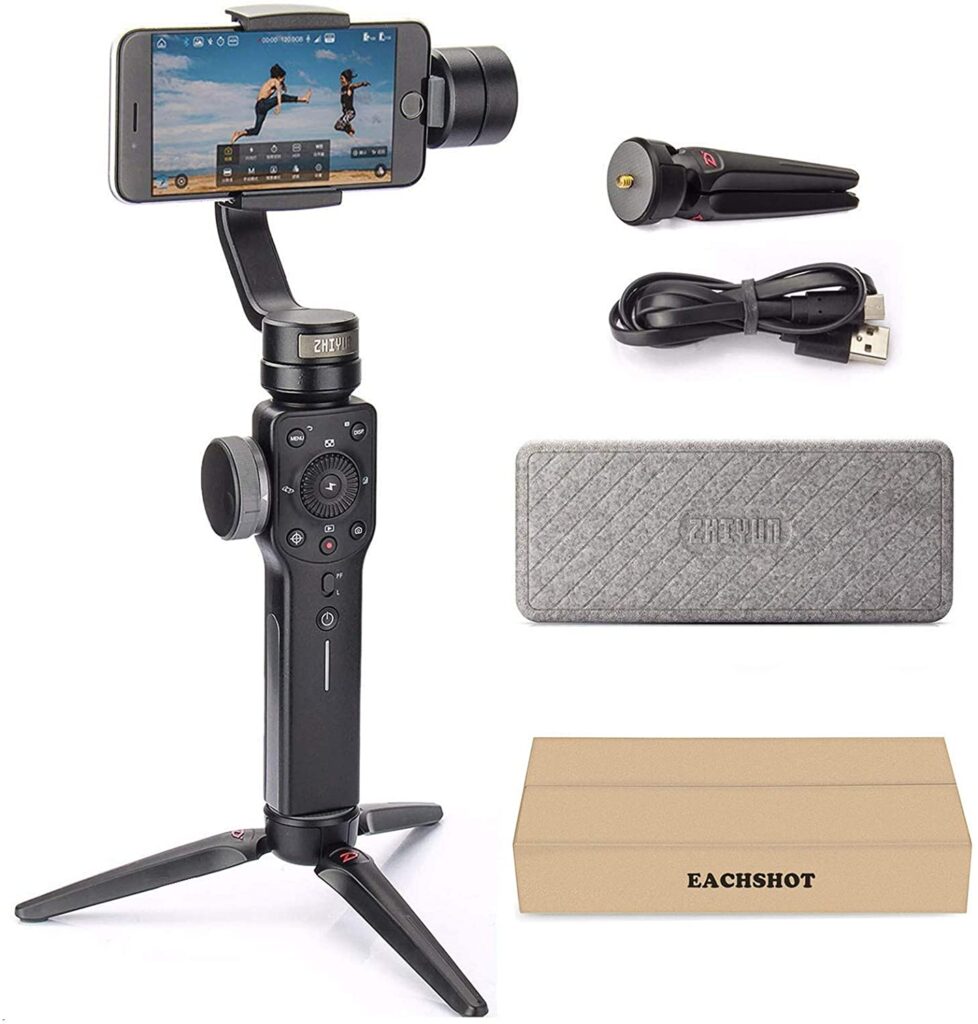 If I had to choose a flaw, I would say that this gimbal balances best without a phone case. This isn't a big deal because the Zhiyun's grips firmly hold your expensive phone in place. But it is cumbersome to have to take your case off to shoot and then reinstall it when you're done.
Object tracking, focus and zoom capability, a shutter trigger, and advanced photography techniques such as time-lapse, hyper-lapse, motion lapse, slow-mo, and more are all noteworthy features. Whether you're an experienced filmmaker or just starting out. This is the phone gimbal that will provide you with smooth video in every setting.
Hohem iSteady X2 Gimbal
The Hohem iSteady X2 gimbal makes no apologies for targeting vloggers on social media, and why should it, given the quality of the phone cameras it can handle? The X2 is the second in Hohem's iSteady range, and it features two more hours of battery life, bi-directional charging, and a better grip than its predecessor. Although much of the mechanism remains as it is, there is now a remote control available in the box, which was previously a paid-for upgrade for the prior edition.
This is an ultra-portable foldable 3-axis gimbal for producers on the go, weighing only 259g and capable of carrying camera phones that are heavier than it, such as the iPhone 12 Pro Max or the Galaxy S21. Every filmmaker has alternatives with the 320 roll and pan and 290-350 tilt.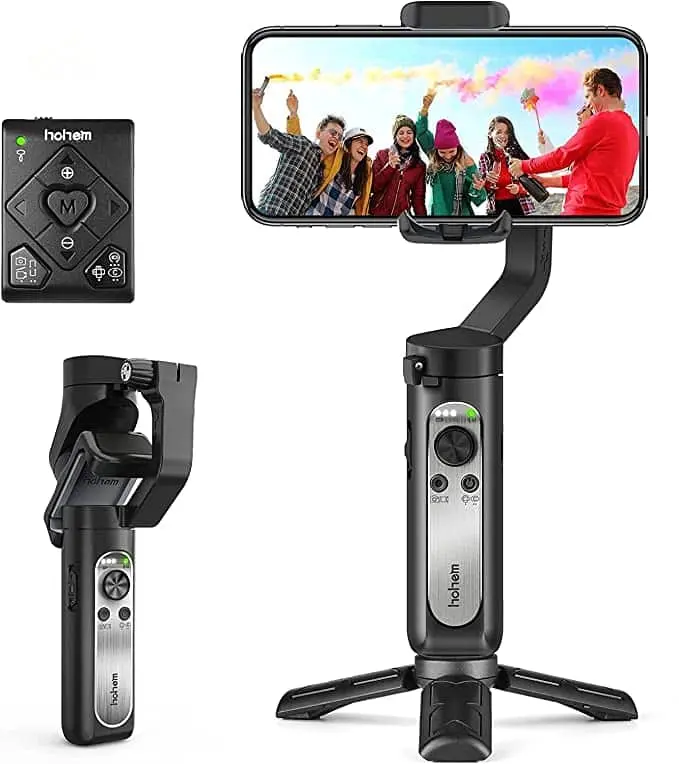 The small body is a bit longer than a pencil when the tripod stand is put on the standard tripod mount. The controls are straightforward, with a thumb-controlled joystick, two small function buttons beneath it, and a zoom slider to the side, which happens to be where the index finger rests.
DJI OM 4 SE Gimbal
The OM4 is more portable than its predecessor, the Osmo Mobile 3, but not as small as the current OM5.DJI discontinues the OM4, although it is replaceable by the similar – but less expensive – OM4 SE. The main difference between the two models is that the SE lacks the magnetic ring mount. The magnetic phone holder is somewhat heavier than the one included with the OM 4.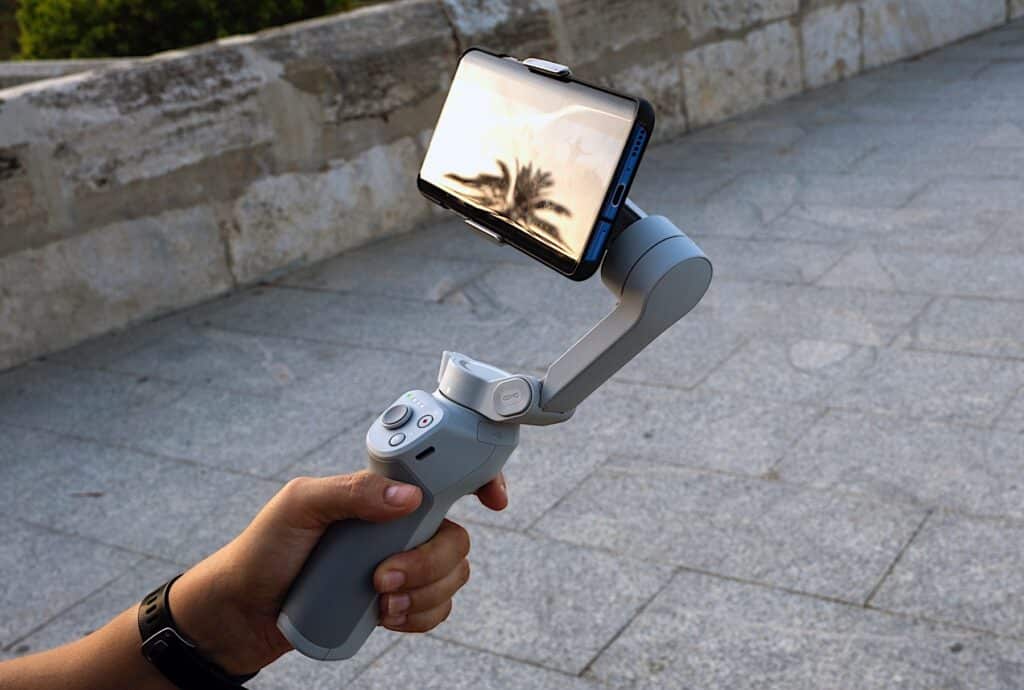 The OM5 is even smaller and lighter, with a built-in telescopic pole. The OM 4 has a few advantages, like longer battery life and a USB connector for charging your phone. The OM 4 makes it easy to shoot flawless videos just like DJI's other phone Gimbal here, the app is fantastic. It also comes with a tabletop tripod so you can use it hands-free its Active Track 3.0 keeps you or your subject in the picture even if you move around.
While it was on sale, the OM 4 cost about the same as the OM 5 but the SE version is significantly less expensive, solidifying its status as our top selection for a phone gimbal
FeiyuTechVimble 2S
The FeiyuTechVimble 2S is ideal for anyone who could use a little more reach with this lightweight gimbal, which extends to 18 centimeters, you may shoot selfies, action high above eye level, or motion slightly out of arm's reach. The Vimble 2S can capture video in vertical or horizontal orientations, as well as with face and object tracking and 3-axis stabilizers provide anyone on the move with solid hands.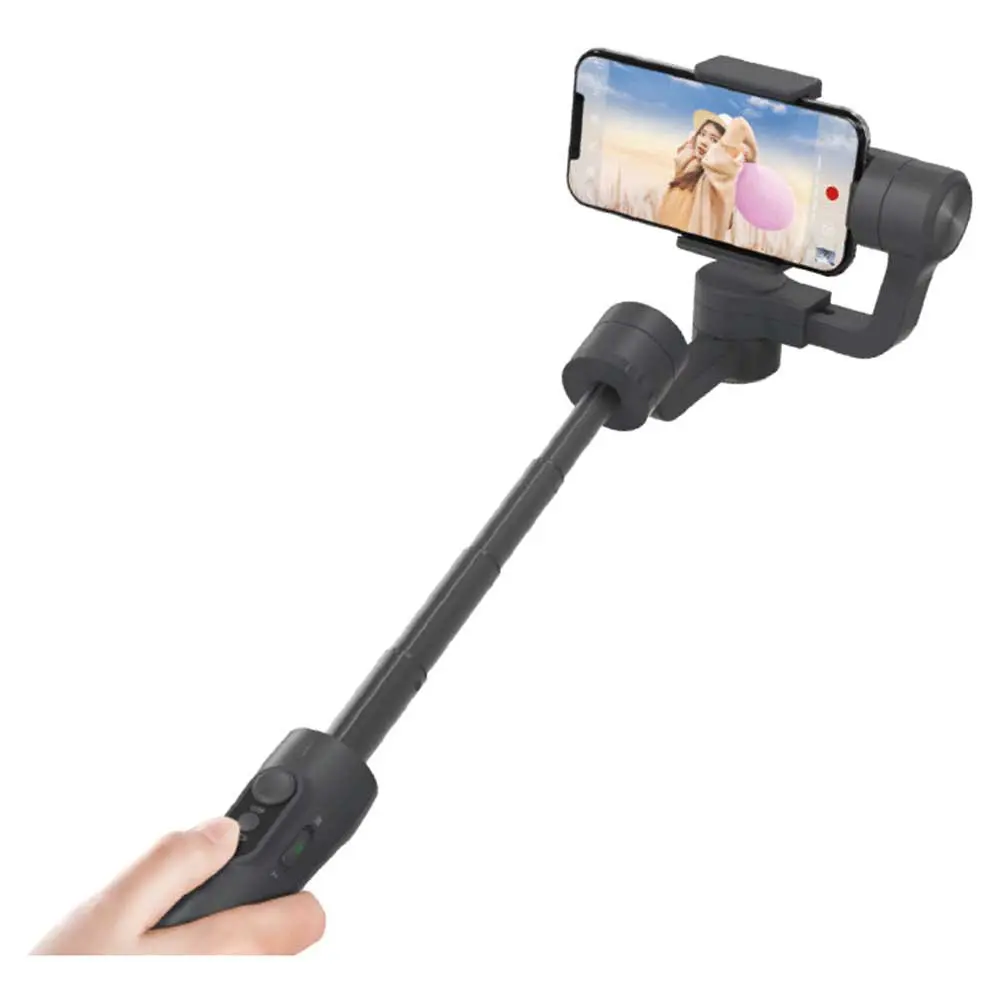 The Vimble 2S's control is as simple as pushing buttons on the handle. This is why it made our list of the best phone gimbals. A joystick, as well as a Bluetooth shutter button, trigger button, and focus key, provides you with complete control, Tilting, rolling, and panning are completely silent and perform flawlessly. The Vimble 2S's built-in filters are easy to use, and your work can be done using the free software. The only disadvantage is the battery life, which is just under five hours. If you don't mind that, the Vimble 2S is an excellent piece of photography equipment for any smartphone owner.
Conclusion:
A smartphone gimbal may be suitable for you. If you enjoy filming a video and are willing to invest more than $150 to attain more professional results. A gimbal is a portable mechanical stabilizer that allows you to film smoothly with Cinematic footage without the need for a larger tripod or an expensive dolly.
Read More!