2-in-1 laptops are ideal for professionals, students, and everyone in between since they combine a tablet's portability with a conventional laptop's capability. But it might be challenging to know where to begin with so many possibilities available. However, considering several aspects, we've mentioned a list of some of the best 2-in-1 laptops in this review. Each 2-in-1 laptop is mentioned with its specs, features, pros, and cons, which you should consider before purchasing!
Microsoft Surface Pro 9
Amazon's Choice
Microsoft Surface Pro 9
The Microsoft Surface Laptop Pro 9, which has a 13-inch standup display and a screen resolution of 2880 x 1920 pixels, costs $999. With a 1080p HD camera, Microsoft Edge, and the Microsoft team, you can connect more effectively. Make the Surface Pro uniquely yours by mixing and matching the Surface Pro signature keyboard with brilliant colors like the new Sapphire and Forest.
With a 13- or 15-inch PixelSense touchscreen and an adjustable built-in Kickstand, you can easily set up anywhere and scroll. With the Microsoft Surface Pro Signature Keyboard and Slim Pen, you can work quickly on a laptop and sign, sketch, or navigate. It comes in Sapphire, Forest, Graphite, and Platinum color variants and uses Intel Iris Xe Graphics as its graphics coprocessor.
The laptop-level performance with stunning Dolby Vision:
The Surface Pro 9 with Intel is constructed on the Intel Evo platform and features 12th Gen Intel Core processors, providing Pro performance that is blazingly quick. The exceptional picture quality facilitates a closer connection to the characters and settings created by game developers, filmmakers, and other creators for your enjoyment.
Improved desktop productivity with a smoother on-screen experience:
Take advantage of the smooth writing on the screen and improve your gaming with a dynamic refresh rate of up to 120Hz. The Microsoft Surface laptop is designed for productivity on a desktop. With Thunderbolt 4 connections, you may quickly utilize or charge peripherals, dock to powerful screens, and transfer huge creative files.
Pros:
Performance that is impressive and excellent cameras

Streamlined and lightweight with an intuitive touchscreen

A sharp 120 Hz display with a variable refresh rate
Cons:
Absence of the headphone jack

Keyboard and Slim Pen 2 are available separately.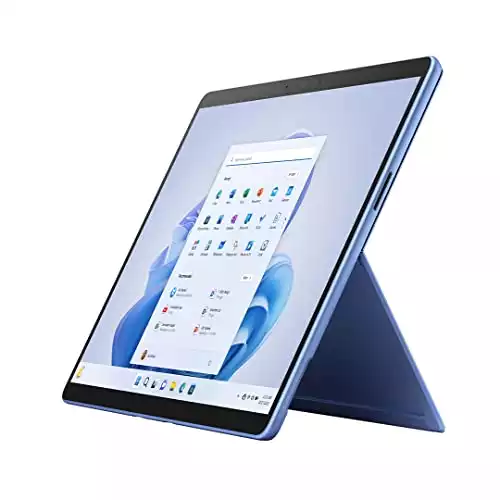 We earn a commission if you make a purchase, at no additional cost to you.
Surface Laptop Studio
Amazon's Choice
Microsoft Surface Laptop Studio
The price of the Surface laptop studio, which measures 9.84 by 13.63 by 2.4 inches and weighs 5.92 pounds, is $1,667. It has a 12.3-inch standing screen display size with a 2736 x 1824-pixel screen resolution. Ray-traced graphics and cutting-edge AI capabilities from the NVIDIA GeForce RTX 3050 Ti are made possible by the laptop's award-winning Ampere NVIDIA's 2nd generation RTX architecture. Playing the newest games will give you amazing performance and picture quality. It provides up to 2TB SSD and 32GB RAM of storage. Utilize cutting-edge tools and accessories to customize your Laptop Studio, making it your masterpiece.
Incredible performance with PixelSense Flow touch display:
You can easily create apps, edit videos, produce animations, and enjoy fluid gameplay without breaking a sweat. With powerful quad-core processors and outstanding graphics, it brings concepts to life. Due to passive cooling and industry-leading thermal design, you can remain cool under pressure. With the always-ready and charged Microsoft Surface Slim Pen 2, you can write and draw with remarkable shading and pressure sensitivity on the colorful PixelSense Flow touch display in studio mode.
Ultimate productivity and great sound:
Microsoft's largest touchpad with additional built-in sensors for comfortable, programmable haptic feedback, the Precision Haptic, may be clicked anywhere. The entire touchpad may be used to create or navigate using taps or intuitive movements; this is productivity reimagined. With upgraded Quad OmniSonics speakers, which include four stereo 2-way speakers with dual invisible woofers and clear sound that is equally potent in every mode, you can enjoy professional-quality audio. Dolby Atmos-powered cinematic audio is also available to you.
Pros:
Revolutionary haptic touchpad

The optional Slim Pen 2 stylus is effective.

Dolby Vision on a fantastic 120Hz screen
Cons:
Two USB ports only

The Slim Pen 2 is not packaged with it.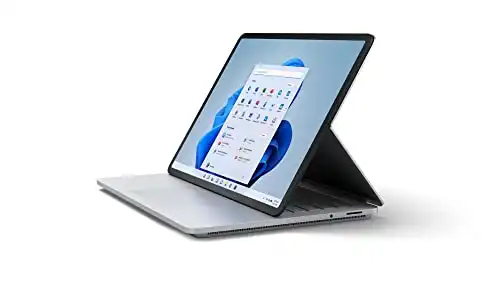 We earn a commission if you make a purchase, at no additional cost to you.
Hp spectre X360
HP Spectre x360 2-in-1 Laptop
The HP spectre X360 costs $1,337 and comes in a box measuring 16.89 by 12.83 by 5.12 inches and weighing 9.37 pounds. Its 16-inch screen and all-aluminum body are stunning from every angle and were expertly made from a single piece of aluminum. Through CNC machining of aluminum, every angle is carefully chiseled. There are many ports available on this compact and lightweight Spectre convertible laptop, including USB Type-C, Combo Audio Jack, MicroSD reader, and USB 3.1 Type-A. Utilize 4G LTE6 to stay connected, and use Wi-Fi 7 and LTE 6 networks simultaneously to customize your tasks.
You may adjust performance, speed and noise, and external temperature using HP Command Centre to suit your demands. With a battery life of 17 to 19 hours, Spectre offers HP's longest battery life for a 13" convertible laptop with a quad-core processor. Users may edit photographs and movies more quickly because to its up to 10th Gen Intel Core Processors, which provide the best performance and speed. It supports up to 1TB PCIe SSD storage and 16GB of lightning fast LPDDR4X memory. This HP laptop's lighted keyboard is a unique feature. It has the Windows 11 Home operating system and an Intel Iris graphics coprocessor.
True Black HDR, OLED, and anti-reflective technology.
Take use of True Black HDR and the up to 4K4 OLED display's improved depth and rich contrast for clear, bright images. With anti-reflective displays, you can minimize reflections and improve contrast for crystal-clear, comfortable viewing of your screen in any environment. The HP Display Control color calibration is present. When watching, editing photos, or shopping online, you can choose from 3 color space presets to experience genuine color accuracy.
Mic mute and a Webcam Kill Switch:
It is the first HP laptop to feature a webcam kill switch, a physical button that turns off the front-facing camera's power to safeguard you from voyeuristic hackers. Kill Switch can be used to enable or disable a camera or webcam. Simply put, it has a physical switch that disables the camera on your PC. With the use of an intuitive mute button, Mic Mute enables you to keep all of your conversations private.
Pros:
Convertible style and lovely OLED touch screen

Webcam kill switch and mic mute buttons.
Cons:
For use as a tablet, it is too heavy.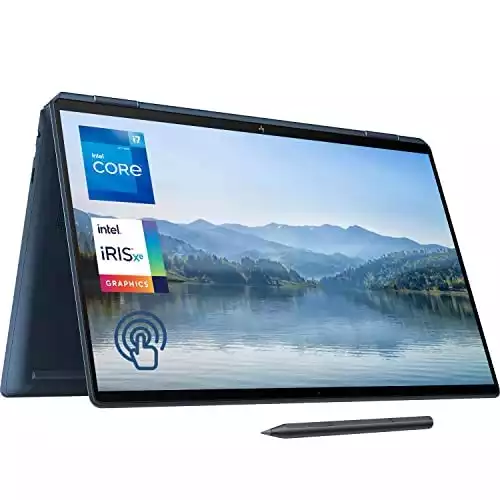 We earn a commission if you make a purchase, at no additional cost to you.
Samsung Galaxy Book Pro 360
Amazon's Choice
Samsung Galaxy Book Pro 360
The cost of the Samsung Galaxy Pro 360 is $1,349. With its 11.5mm thickness and 1,042g weight, this 2-in-1 convertible laptop with a 360° hinge offers the portability of a smartphone and military-grade toughness. The edge-to-edge Full HD AMOLED display provides excellent viewing. A screen with a narrow bezel has vivid colors, strong contrast, and quick responsiveness. In the DCI-P3 color space, which is used by the majority of movie theatres and HDR television content, AMOLED panels can achieve 100% Colour Volume.
You will have a breakthrough experience for productivity, gaming, and streaming due to the 11th generation Intel Core processor with Intel Iris Xe graphics. The Galaxy Pro 360 is easier to pair because you only need to open the case next to your laptop to get started. The Samsung Book Pro 360 offers up to three times quicker than standard Wi-Fi due to the next-generation Wi-Fi 6E. You may instantly download music, movies, and more with higher bandwidth and over a secure network.
A 360-degree thin 2-in-1 laptop:
It has an impressive 360-degree folding capabilities. The sleek, 2-in-1 Galaxy Pro 360 is as powerful as a PC and as thin as a smartphone. It's meant to make you look nice and can convert between a PC and a tablet. It's also sleek and ultrathin, has a solid aluminum chassis, and is available in Mystic Bronze and Mystic Navy.
Battery with long life and compact universal charger:
With the Galaxy Pro 360's long-lasting battery life, you can keep working, do more tasks, enjoy a movie or game, and more without worrying about running out of power. And the portable USB-C fast charger always works when you're low on power or need a boost for your other Galaxy devices.
S Pen, Mobile apps, and Clip Studio:
With the help of Clip Studio's integrated inking, storyboarding, brushes, and extensive preloaded tools, you can illustrate and paint using the responsive S Pen. With SmartThings Find 2, you can monitor your Galaxy devices, control your home, share files between devices, and even run up to five of your favorite mobile apps.
Pros:
Unique Mystic Navy color choice

A long battery life with a design that is surprisingly thin and light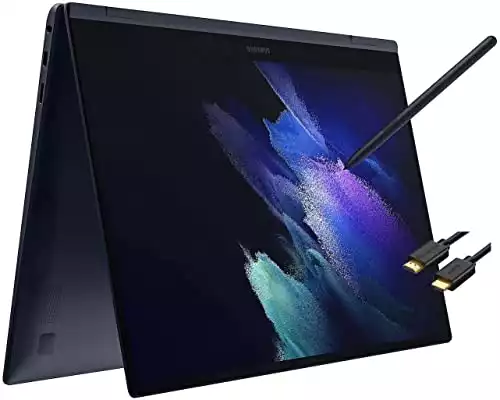 We earn a commission if you make a purchase, at no additional cost to you.
Lenovo Yoga 7i
Amazon's Choice
Lenovo Yoga 7i 2-in-1
With product measurements of 15 x 10 x 1, the Lenovo Yoga 7i costs $714 and weighs 4.18 pounds. It sports a 16-inch diagonal display with a 2560 x 1600 screen resolution. The 16:10 2560 x 1600 resolution of the 400 nit, 60Hz ultra-bright display gives you additional space for toolbars and tabs. Backlit keyboard, an integrated fingerprint reader, a front-facing camera, a 4-cell lithium-ion polymer battery, and Windows 11 Home are further characteristics of the laptop. Its graphics coprocessor is Intel Iris Xe, and its battery life is typically 6 hours.
Detailed Configuration and Intel Core i5-1240P processor:
With 256GB SSD and 8GB RAM, this laptop is brand new and still in the original packaging. With the potent 12th Generation Intel Core i5 processor, you are unrestricted in your ability to dream, design, and produce. With 12 cores and 16 threads, experience genuine responsiveness for peak performance.
Magnetic cap and capacitive stylus bundle:
Stylus pens are composed of aluminum alloy, which is lightweight and incredibly comfortable to handle. They don't require Bluetooth connections or charging. The cap can be absorbed in the end of pens and is magnetic.
Pros:
Exceptional port selection and competent design

Stunning 1080p webcam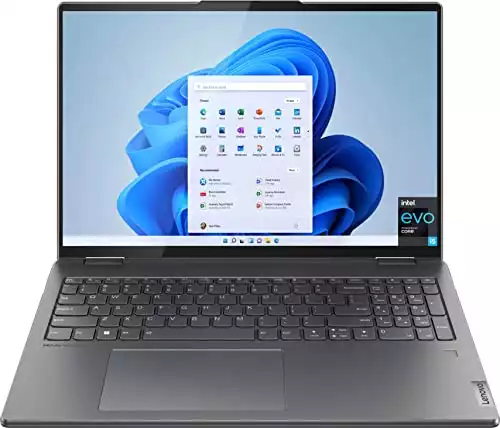 We earn a commission if you make a purchase, at no additional cost to you.
Acer Chromebook Spin 714
Acer Chromebook Spin 714
The price of the Acer Chromebook Spin 714, which measures 12.3 x 8.8 x 0.71 inches and weighs 6.14 pounds, is $679. This Chromebook's MIL-STD-810H8 military-grade durability has been independently certified. With its 360-degree convertible modes, you can quickly move between a tablet, laptop, tent, and all other angles. The performance of Intel vPro, an Intel Evo layout with up to a 12th Gen Intel Core i7 processor, can be 20% better than that of earlier versions.
The Chromebook has a dual upward speaker, a dual-microphone array, an FHD MIPI webcam, and temporal noise reduction technology for crisper audio and high-quality video even in low light. You can increase your productivity with technologies like Wi-Fi 6E, Bluetooth 5.2, a backlit keyboard, Corning Gorilla Glass on the touchscreen and touchpad, and many more. This Chromebook includes a 10-hour battery life that can be charged quickly and provides a four-hour charge in 30 minutes. It uses Chrome OS as its operating system and Intel Iris Xe Graphics as its graphics coprocessor.
Superb Visuals and Distortion-free Sound:
The 16:10 14-inch WQXGA IPS narrow-bezel touch panel with 100% sRGB coverage and low-blue-light TÜV certification is the aspect ratio that increases productivity by providing more vertical screen real estate. Higher-quality, distortion-free music, and deeper bass are provided by DTS Audio and the integrated Smart Amplifier, which also safeguards speakers from damage as the volume is turned up louder than on typical laptops.
Quick-charging Stylus with Acer Antimicrobial Design:
To give you a genuine sensation for precise strokes and movements, the USI stylus has 4096 distinct levels of pressure sensitivity. The pen charges quickly when docked; 15 minutes will give you 240 minutes of use. The touch screen of this Chromebook has Antimicrobial Corning Gorilla Glass, which guards against stains and bacteria that produce odors.
Pros:
Comes with a stylus

Exceptional, vibrant, and sensitive touch display
Cons:
Missing MicroSD slot

High cost

A little heavy.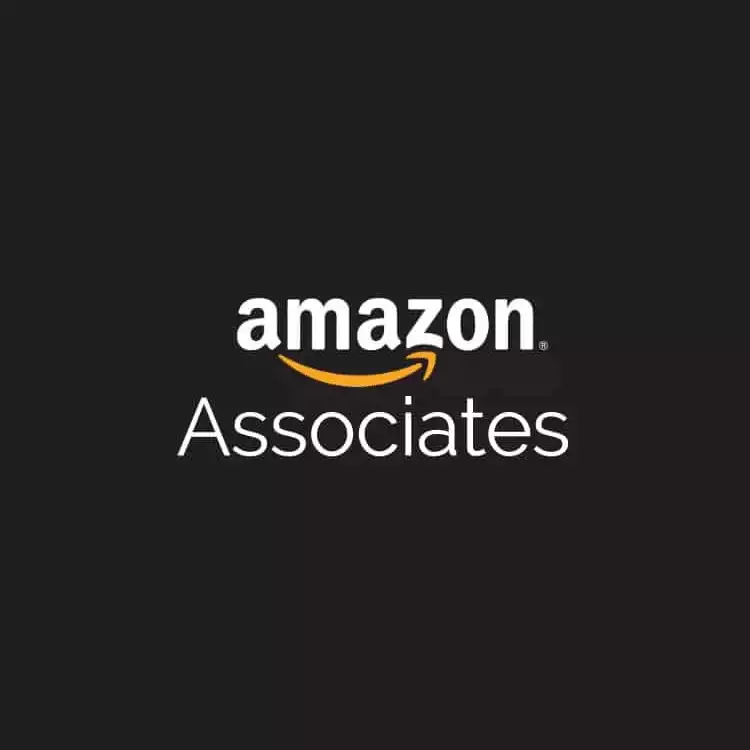 We earn a commission if you make a purchase, at no additional cost to you.
Which qualities to consider a 2-in-1 laptop?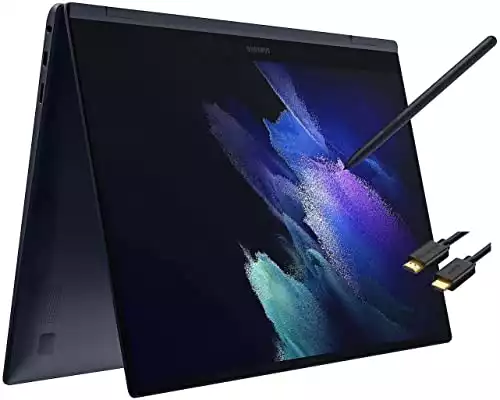 A decent 2-in-1 laptop should be simple to switch between the standard laptop mode and the tablet mode. This necessitates having a sturdy hinge and a touchscreen display that can be rotated, detached, or flipped. To maximize portability and versatility, choose a convertible laptop that is light, thin, and convenient to carry.
A 2-in-1 laptop should have a high-quality display because it will be used for work and enjoyment. Choose a model with a bright screen that can be seen from various angles, great resolution, good battery life and design, and good color accuracy. To connect to external gadgets and peripherals, look for a model with many ports and connectivity choices, such as HDMI, USB-C, and SD card slots.
Conclusion
A 2-in-1 laptop can satisfy your demands whether you're seeking a tool for work, creativity, or enjoyment. To provide you with a list of the best-performing 2-in-1 laptops in this review, we've considered aspects including performance, display quality, great battery life, and portability. The best 2-in-1 laptops available today provide unmatched adaptability and functionality, ranging from high-end models to more affordable choices. Lenovo Thinkpad X1 Titanium Yoga, Lenovo IdeaPad, and Apple iPad Pro are also worth considering!
Read More