Since the global fear of coronavirus pandemic that began in China and spread worldwide early this year, the world's reusable mask manufacturers have witnessed a rapid soar in the sales of their respiratory protective products. Under the current circumstance, many countries around the world have seen consumers stockpiling and panic-buying of reusable masks, which has caused a significant shortage of reusable masks in some of the markets.
While facing numerous types of hazards existing in the atmosphere, people have to resort to face masks to block themselves against such danger. We are living in a world where the possibility of catching harmful viruses like coronavirus, toxic airbornes, or wet dirt is alarmingly high. Therefore, a reusable mask is a must-have item in every household.
Type Of Masks That Are Most Commonly Used
Surgical Mask: A surgical mask, also known as a face mask, is intended to be worn by health professionals during healthcare procedures. It is designed to prevent infections in patients and treating personnel by catching bacteria shed in liquid droplets and aerosols from the wearer's mouth and nose.
N95 Respiratory Mask: An N95 respirator is a respiratory protective device designed to achieve a very close facial fit and very efficient filtration of airborne particles. The 'N95' designation means that when subjected to careful testing, the respirator blocks at least 95 percent of very small (0.3 micron) test particles.
Reusable Mask Or Cloth Mask Or Fabric Mask
We will focus on reusable mask or cloth mask here.
What Is A Reusable Mask?
A simple mask made from cloth which can be used to cover our face. A cloth face mask is a mask made of common textiles, usually cotton, worn over the mouth and nose. Although they are less effective than surgical masks or N95 masks, they are used by the general public in household and community settings as perceived protection against both infectious diseases and particulate air pollution.
How Are Reusable Mask Helpful?
They are homemade fabric masks, which are the least effective of the bunch at filtering pathogens. However, the research we have so far suggests that wearing one is still much better than not wearing one when it comes to reducing the likelihood of you unknowingly passing on the virus to others.
What fabric is best for mask?
New research published in ACS Nano, a journal by the American Chemical Society, suggests a combination of cotton with natural silk or chiffon makes for the most effective mask.
Cleaning of reusable cloth mask:
They should be routinely washed in soap & warm water depending on the frequency of use. A washing machine should suffice in properly washing a face mask. It is to be dried under the sun for at least 5 hours. Alternatively, the mask is to be boiled in a pressure cooker for 10 min or in hot water with salt for 15 min. Individuals should be careful not to touch their eyes, nose, and mouth when removing their face mask and wash hands immediately after removing.
How To Wear A Mask?
Wash your hands properly.
Place earloop over one ear with the loop joins (where loops join onto the main part of the mask) facing inwards closest to your mouth.
The nose bar should be positioned over the bridge of the nose.
Pull remaining earloop over the other ear.
Push down either side of the bridge of nose and position nose bar to fit snuggly.
Pulldown and stretch the bottom of the face mask to cover the chin area.
Let's see the top rated and best selling reusable masks for coronavirus on the list.
TRADENRG Reusable Anti-Dust Mouth Face Mask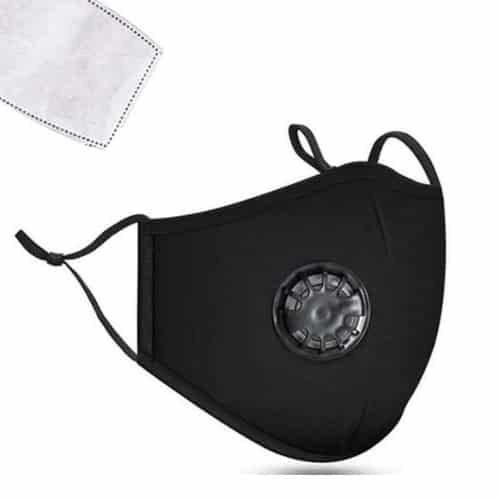 Made of cotton material.
Can filter small particles of air.
This mask is breathable, suitable to wear in spring and summer.
Flat ear tape that ears do not come to have pain even if you wear a mask for a long time.
Ideal for both men and women
Elastic earloop mouth-mask is wide enough to cover nose, mouth, and face.
Very comfortable to wear.
It can protect your mouth and face from dust, pollen, ash, fog and haze, vehicle exhaust, and passive smoking.
Specifications:
Material: cotton
Mask Style: Hanging ear
Size: One size
Package Includes:
HONYAO Reusable Face Mask (8 Pieces)
HONYAO mask is made of 2-layer fabric: 95% cotton and 5% elastane.
Soft and comfortable to your face.
Very effortless breathable to wear.
It won't induce discomfort.
The mouth covering is attached to the ears with practical elastic bands.
It keeps you protected from dust, small particles on-air, pollen, and much more.
This anti-dust Mask is ideal for both women and men, suitable for cycling, camping, running, travel, climbing, etc.
It also protects you from fog, haze, vehicle exhaust, passive smoking, etc.
Stay Safe Reusable Mask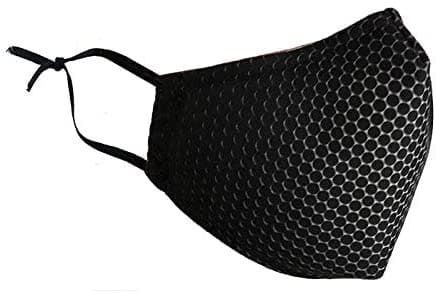 Adjustable metal nose bridge to ensure secure but comfortable fit for all nose shapes.
Tie-able elastic ear loops to ensure a secure comfortable fit.
The mask has a woven pocket for replaceable inserts.
Perfect to protect your airways from pollution and allergens in the air.
Each mask comes in an individually sealed bag.
Made from 40% cotton 60% polyester fabric.
Ideal for both men and women
Woven pocket to hold replaceable inserts
The mask is washable.
Vagabond Bags Ltd Navy White Spot Face Mouth Mask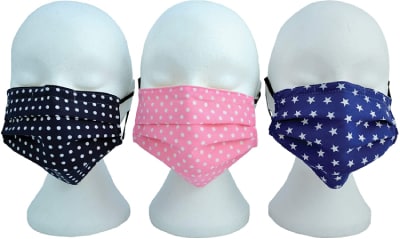 Machine washable so can be used multiple times.
Pleated design to open up over face.
Metal insert at top to mold over nose ridge to help seal to face.
Fine outer fabric to filter small particles.
100% cotton lining to increase filtering.
Elastic ear loops so one size fits all adults.
Stylish masks.
Finest quality product.
Vinpie BFM06 6 Pack Face Mask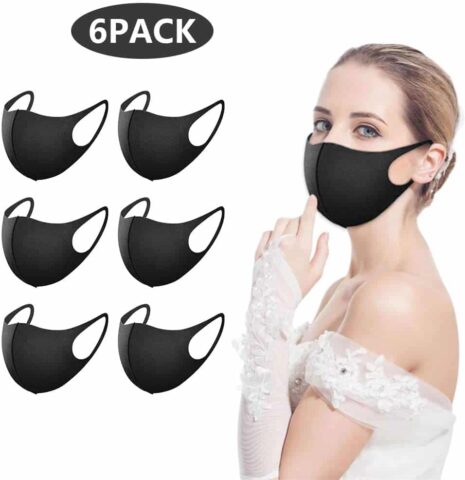 Made of high-quality polyurethane material.
Can filter small particles from the air and protect you from fog, smog, dust, smells, vehicle exhaust, air pollution.
These masks are soft, skin-friendly and breathable, ideal for people with skin sensitive allergies.
Dust mask with a breathing valve and dual-layer filter system makes the emission of heat and carbon dioxide easier.
Breathing is smooth, keep your face dry and fresh.
Designed with elastic material to prevent a feeling of oppression.
3D structure make masks perfectly fits any shape of face.
Ideal for both men and women.
Gentle wearing comfort that will not hurt your ears even if you wear it for a long time.
Dust mask also covers your nose, mouth, and face.
Reusable Cotton Fabric Masks By Jillbang (5 Piece)
It adopts high-quality cotton, making it soft and comfortable to your face.
Very effortless breathable to wear, and it won't induce discomfort.
Protect you from dust, small particles on-air, pollen, and much more.
Anti-dust,anti-odor; washable, and reusable.
Ideal for both women and men.
Suitable for cycling, camping, running, travel, climbing, and daily use.
Protect you from fog, vehicle exhaust, etc.
High-quality cotton sweat-absorbent.
Breathable and also comfortable to wear.
Conclusion
Masks are in high demand in a coronavirus pandemic like this. But the most significant thing to think about is your safety and protection these days. Looking at the customer's true comforts as well as giving standard quality, we truly believe and anticipate that TradeNRG sells one of the best and top quality reusable masks currently. It can filter small particles of air. It can protect your mouth and face from dust, pollen, ash, fog and haze, also vehicle exhaust, and passive smoking. Very comfortable and has all the qualities that a reusable mask should have.
Last but not the least we hope you are safe and protected, practicing social distancing and taking proper hygiene.
Any feedback you can give us on this would be greatly appreciated. If we can be of any further assistance, please let us know. Do like, comment, and share. Best Regards.
*Price was correct as on 30th May,2020.