If you like to write your own stories, Apple Books might be the best platform to share these stories with the world. All you need to do is write your books book, export it to an electronic book file format known as EPUB, and publish it directly to Apple Books. You can do it on either your Mac, an iOS device, or even on iCloud.com. Here is a guide to publish your ebooks:
Pick a template
You can start by selecting a template for writing on Pages document, from the built-in templates. You can use Pages on an iOS device or at iCloud.com to get started. Here is how to do it on a Mac to get started with publishing your ebook.
From the Pages menu, choose New…
In the sidebar of the template chooser, click Books.
Choose a template that suits the theme of the book you're writing. If your book will contain mostly text, then one of the Portrait templates would be best. Whereas, if your book will contain images as well as text, then Landscape template will be better suited.
You need to remember that Landscape templates are exported into the EPUB format with a fixed layout. In this, the text and images of the book will not adjust or re-align based on the size or orientation of the device used to read it. But, the Portrait templates can be exported with either a fixed layout or a reflowable layout, which allows the text to adjust to the size or orientation of the device used to view it.
While writing you need to remember that, you are not limited to words or images, you can go as much long or short with your book. Moreover, you can add video, audio, animated drawings, tables, charts, etc, which you feel are necessary for your book.
EPUB
The EPUB format is an open digital book standard from the International Digital Publishing Forum. It has its own set of characteristics and Pages. Although, there are some features of Pages (such as shadows behind images and comments) doesn't export to an EPUB file. Whereas, some others (including multiple columns and hyphenation) are limited to a fixed layout only. Also, try to use styles in Pages to create a table of contents and chapter breaks as you never know what may happen while exporting your book to EPUB.

Export to EPUB to publish your ebooks
After you complete writing your book, export it to EPUB format and publish your ebook. Apple Books on your Mac or iOS device supports EPUB files, or you can download other EPUB readers. Here's how to export your book to EPUB format using your Mac.
From the File menu, choose Export to then click on EPUB…
Enter the Title and Author of your book.
Pick a cover type. You can select an image for your book or use the first page as the cover page.
Choose either Reflowable or Fixed Layout.
Under Advanced Options, add a Category and pick a Language for your book.
If you want the font to be the same that you used then check box for Embed Fonts.
Click the Next… button at the bottom right corner.
Enter a Name for your EPUB file and choose a location to save it.
Click the Export button at the bottom right corner.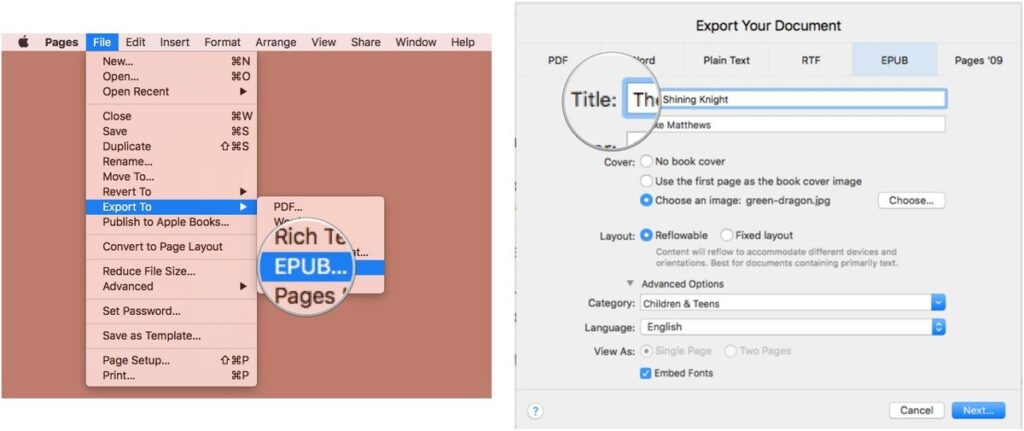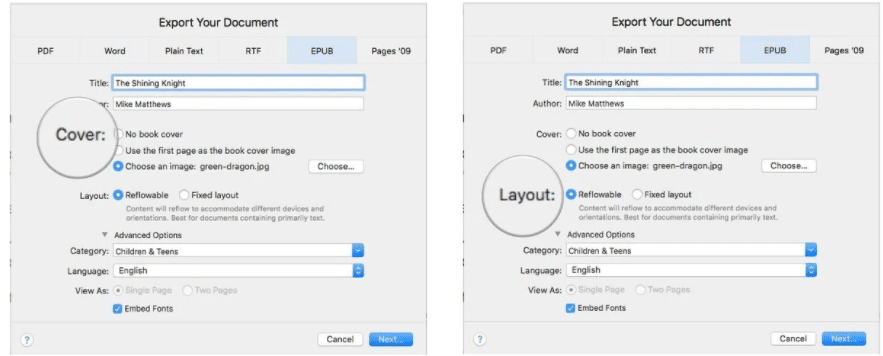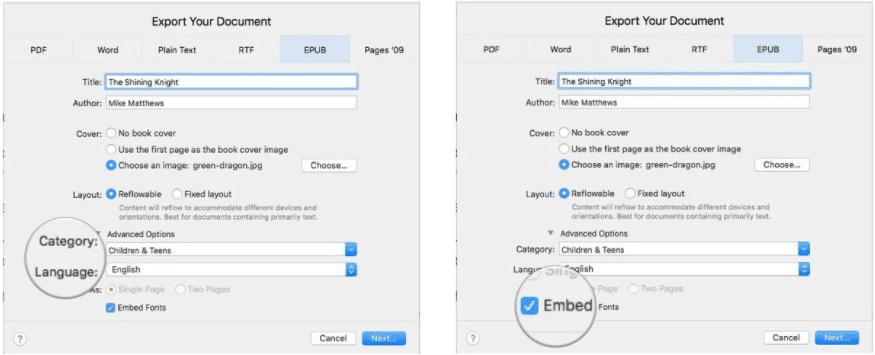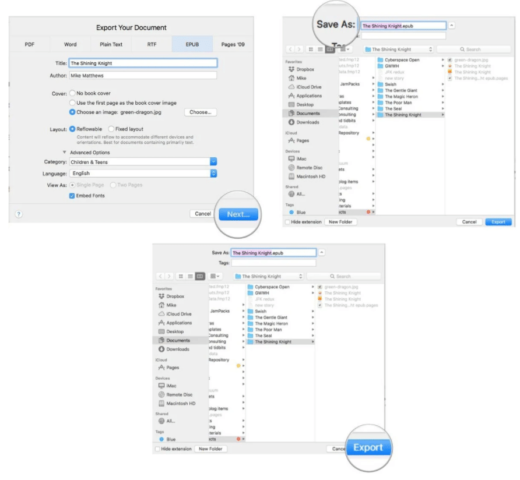 Publishing to the Apple Books Store
You can also publish your book directly on Apple Book Store from Page Document. Before that, you need to enable your Apple ID for iTunes Connect. Your Apple ID needs to be verified by Apple and you must have a valid credit card on file.
You can use the ID that you use to purchase content in the App Store or iTunes Store, but not the ID that you use to sell contents in iTunes. If you're an app developer selling in iTunes, you'll need a new iTunes Connect account with a different Apple ID.
All you need to do is to enable iTunes, Connect with your Apple ID and sign a Book Store agreement before you publish your ebook. The different types of agreements are- Free Books and Paid Books. Free Books agreement is for when you never want to sell your content and only give it away. But, if there is a chance that you want to sell your books then select the Paid Books agreement.
Before signing the agreement
You need to provide Apple with a U.S. Tax ID (such as an SSN, ITIN, or EIN) if you are a U.S. individual or selling your book on behalf of an international company.
For an International Standard Book Number (ISBN-13), you need to get it in advance. An ISBN-13 number identifies your book worldwide and needs to be added before publishing.
Don't forget about the cover page. You can use an image or the first page of your book. Make sure you save the image in your iCloud Drive.
Take a look at the Apple Books Publisher User Guide. Check all the links, make sure audio and video items play correctly, edit your content, double-check everything, etc.
Once everything is ready, put it in the Pages folder in your iCloud Drive.
To publish your ebook
To publish your ebook, here is what you need to do:
From the File menu, choose to Publish to Apple Books… present under the 'Export' option.
Click the Continue button.
Enter your Apple ID and click the Next button present int he corner.
Enter your Apple ID password and click the Next button.
Provide information about your book, name of the seller and version number for the book, the layout (reflowable or fixed), and names of other people associated with the book (editor, illustrator, narrator, etc.).
You'll be shown a preview of your book in EPUB format in the Books app. Check if everything is okay with your book.
If everything is good, upload the book, and set a sale price and pre-order options in iTunes Connect.


Conclusion
Apple Books is one of the best platforms to sell your books. You can associate with other people for editing, illustrations, etc in your books and collectively sell it on Books. It is one of the easiest ways to do so. Once you complete writing your book on Pages document with all the necessary images, tables, charts, etc, export it to EPUB. It is an international open digital book standard, which comes handy when you want to publish your ebook.
Are you planning to publish your book? Tell us in the comments section below.