Accidents happen to the best of us. You pick up your iPad, but your grip is loose, and it slips from your hand to the floor. Horrified, you reach for it and notice the large crack on the screen. If you had a proper case for it, this may not have happened. But with a vast range of cases available, which one is best for you? After all, there are folding folio cases, tough rugged cases, wallet cases, and slim gel cases, and it's not always clear what the strengths and weaknesses of each are. Well don't worry, we've done the hard work for you. Here are some of the best iPad Air 2 wallet case/cover for your Apple iPad.
Many people want both their wallet and mobile every time when they go out. But isn't it better to combine both of them while going? For this purpose, a wallet case is a perfect choice, you can carry your cash and cards with your mobile itself. There are hundreds of options for wallet cases, so it might be hard to narrow down the choices
But before buying a wallet case you may know some important things about it.
What is a Wallet Case?
A wallet case is a case where we can put our credit cards, train cards, money, and so on in the normal case, and don't have to carry a separate wallet around. Plus, they're attractive and come in stylish designs for both men and women.
Let us see !
FYY Leather Case with Apple Pencil Holder for iPad Air 2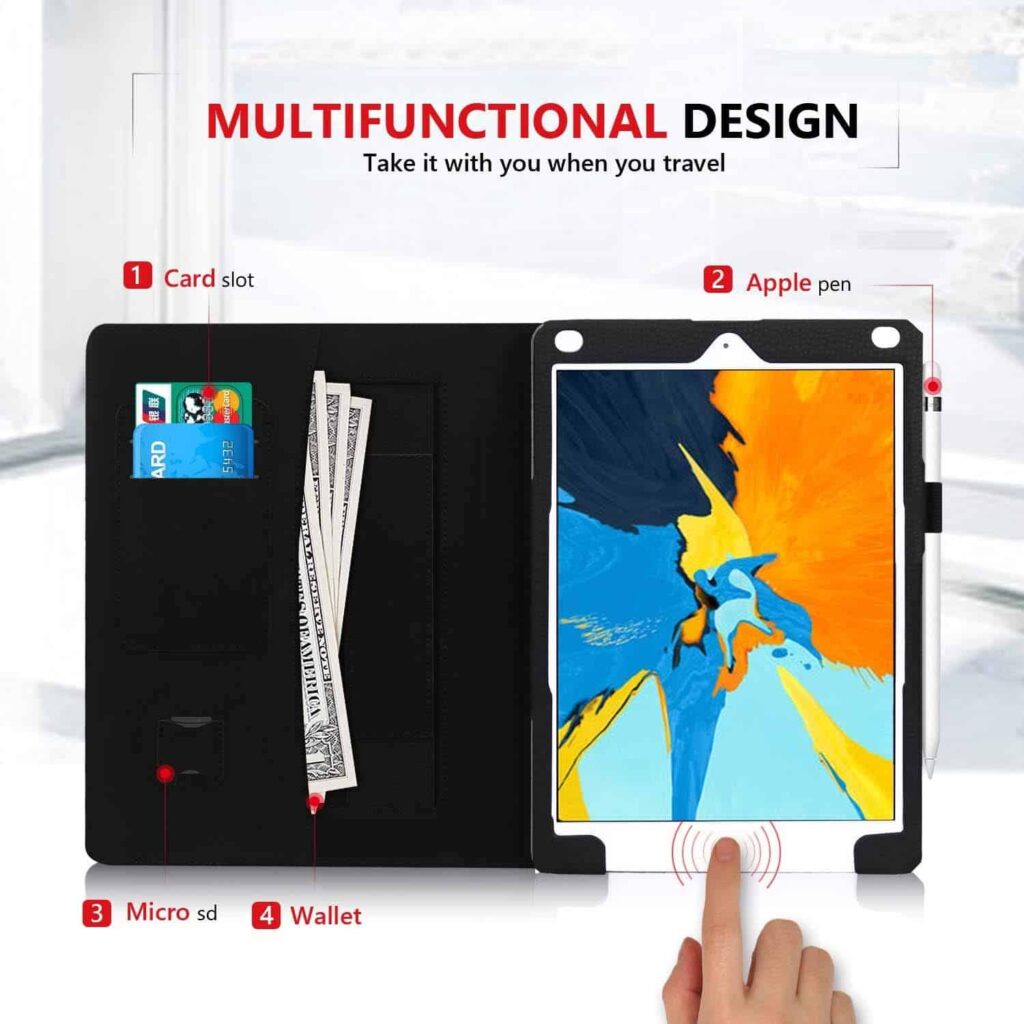 Compatibility-Compatible with iPad Air 2 .
Design-Made with premium PU leather exterior and anti-skid interior, providing a firm grip and guaranteed durability. The product is endowed with fine texture and a comfortable tactile impression. Interior card slots are designed for you to put your business cards/ bank cards/ SD digital card/ SM cards. Memo slot provides to take some notes or bucks while on the go. Hand strap makes it possible for you to hold the tablet with one hand. Elastic strap secures your precious tablet even better. The magnetic clip boasts a durable magnetic force, snaps on easily when closed. Perfect Viewing Angle and the angle can be arbitrary adjustment stents. The back of the case exposes the camera to take pictures.
Protection-Perfect craftmanship and reinforced stitching makes it even more durable.360° Protection. It wraps all the corners and edges of the iPad when dropping.
Automatic wake-sleep– The built-in magnetic strip provides auto sleep/wake feature. Automatically wakes or puts your device to sleep when the lid is opened and closed.
Apple Pencil and Stylus Holder-Lightweight case with a stylus holder (stylus not included). High quality, fashion design, easy access to all ports and controls.
Uses-Perfect gift for Mother's Day, Father's Day, Valentine's Day, Thanksgiving Day, and Christmas.
Procase iPad Air 2 Case/Cover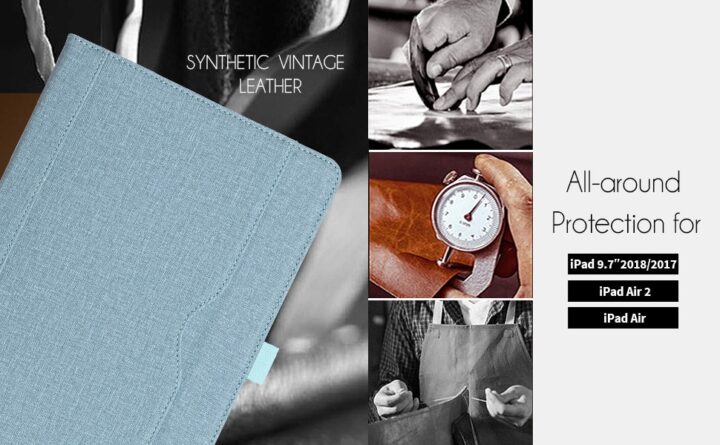 Compatibility– ProCase folio case for Apple iPad 9.7" 2018 iPad 6th Generation (Model number A1893 A1954) / 2017 iPad 5th Generation (Model number A1822 A1823), also fit iPad Air 2 (Model Number:A1566 A1567) / iPad Air (Model Number:A1474 A1475 A1476) ( It is NOT compatible with other previous model iPads nor any other devices).
Design– ProCase is committed to designing and building solid, sturdy, and functional products. Premium composition leather exterior and soft interior offer great protection against daily use; Classic and professional design, solid construction. The cover features magnetic closure; Features a large front document card pocket to keep personal belongings. Full access to all features (Cameras, Speaker, Ports, and Buttons); Multiple slots able to set up multiple horizontal stand angles.
Protection-Quality material provides all-around protection, while the precise cutouts allow access to all features.
Auto Sleep Function-Support Auto Sleep/Wake feature.
Apple Pencil Holder-Built-in elastic pencil holder for Apple Pencil or stylus also comes with a procase stylus pen.
Uses-Large front document card pocket is designed for you to manage your cards, cash, documents, and other personal belongings while on the go. Built-in an elastic pencil loop, convenient for keeping your Apple Pencil or stylus pen at hand.
Dteck PU iPad Air 2 Wallet Case /Cover

Compatibility-Compatible with iPad 9.7 Inch 2018 6th Gen (A1893/A1954), Models A1822 & A1823 – 5th generation Apple iPad 9.7″ (Released March 2017), iPad Air 2 (Model A1566/A1567), and iPad Air 1 (Model A1474/A1475)
Auto sleep-wake-The built-in magnetic strip provides auto sleep/wake features, operates an iPad when the cover is opened and closed. Magically awakens your device when the screen flap is flipped open, Instantly sends your device into sleep-mode when screen flap is closed
Design-Interior card slots are designed for you to carry your business cards/bank cards / SD digital card / SM card. Wallet pocket provides to carry some notes or bucks while on the go. Sturdy Kickstand feature, adjustable viewing angles, holds your iPad securely at the angles you want for reading or watching videos. Shock-absorbing TPU interior provides protection for all corners and sides of your tablet against bumps and scratches. The case was designed in with duel layer protection, with hard plastic interior molding that fits perfectly to the back of your Apple iPad 2017,iPad Air,iPad Air 2.Available in a variety of bright and fun colors.
Uses-The Smart Case backside folds become the perfect FaceTime and movie-watching stand. The case opens up to reveal credit card slots and storage compartments for whatever you might need on hand.
Protection-Features with corner protection, protects back, edges and corners of tablet from scratches and bumps.
Thankscase iPad Air 2 Case Cover with Wallet Pocket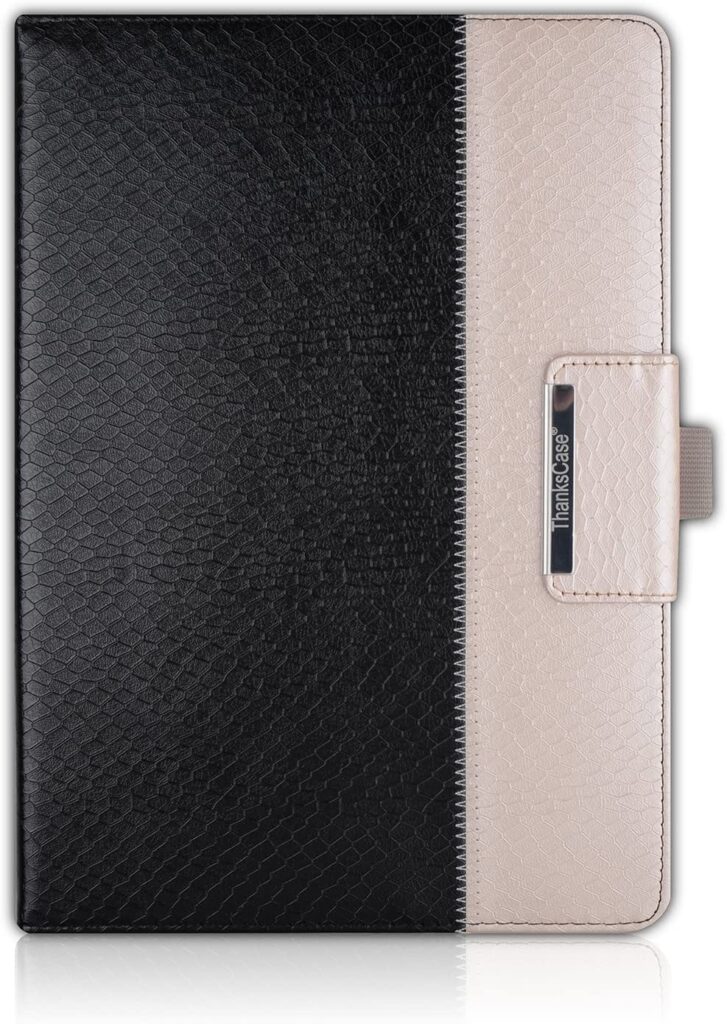 Compatibility-The case is customized ONLY for the iPad Air 2 (2nd generation) 2014 Release (model number: A1566, A1567 ), the case does NOT fit iPad Air 1st generation, 2018/2017 new iPad 9.7, iPad Pro 9.7 and another iPad model.
Protection-Provide functionality and protection with the all in one design, folder wallet pocket style case.
Design-Built-in Elastic Hand Strap for Secure Grip of the Case on the go.360 degrees rotating swivel allows the tablet to rotate both vertically and horizontally. The built-in magnetic strip provides Smart Cover (Auto Sleep/Wake) Function, best price with high quality, slimline and lightweight. This case features a combination of functionality and style. The premium quality Material boosts a classy look. Professional hand strap and wallet function. The no-scratch Ultra-Soft interior adds comfort and an additional layer of protection.360 degrees rotating swivel allows the tab to rotate both vertically and horizontally. Access to all controls and features.
Uses-Convenient stand positions for watching movie or typing.
S-Tech Apple iPad Air 2 Soft Leather Wallet Case/Cover
Compatibility-ONLY will fit the Apple iPad Air 2 model # A1566 #A1567. Will NOT fit Mini, 2 3 4 generations, or original Air models
Design-S-Tech Brand Features front wallet pocket and two internal credit card plus Stylus loop to hold your stylus or pen. Two raised rails to hold your iPad horizontally in place for reading and typing. Attractive, professional look keeps your iPad in style. Black and Tan integrated for a clean and professional look. Corner magnets keep the iPad safe and secure when closed. Front document pocket for easy access.Internal Credit and Business Card Slots for added convenience.Full access to all ports speaker cameras and buttons.Large 9 x 5 pocket depth.
Auto sleep-wake-Auto sleep-wake feature when the cover is opened and closed. Smart magnets operate the iPad's Sleep-Wake Feature.
Conclusion
That ends our article here!
Conclusively, by observing and distinguishing between all the above, Dteck PU iPad 9.7 inch Air Case is the best option for people.
There are various reasons we consider it as best. At a very affordable price, it is a super-comfy design. It is available in various beautiful designs and colors! With auto sleep-wake function, it provides good protection as well. The Smart Case backside folds become the perfect FaceTime and movie-watching stand. The case opens up to reveal credit card slots and storage compartments for whatever you might need on. Ranked as Amazon's Choice for iPad Air 2 Cases. You can surely go for it!
But all of the above have some unique features, you can opt for one as per your requirement!
Regardless of which case you go with, the most important thing is that your iPad is well guarded! Right?
We would like to hear your reviews. Do comment and share. Also do subscribe to stay updated With All The Latest News, Offers, and Special Announcements.
*Prices was correct as on 25th July 2020.