There is nothing like total protection for your beloved iPad Pro 11″. By now, you would be aware that there are many different types of cases for your iPad Pro 11″. There are covers that are only for the sides and there are 360-degree cases for iPads that totally envelope your tablet to give you the best protection possible. An even better version of the 360 cases is the 360° full-body case with a screen protector. These are harder to find but offer protection in every way imaginable. Here we will discuss best selling iPad Pro 11 2018 360 Case/cover.
Simply put, these types of cases can easily survive a drop. They can go much further than that. Most 360 full-body cases make it through hammer smashes and car run overs as well. It is understandable that these are not situations that you would expect to see yourself in every day. However, if you do not mind some extra weight, these cases could save you from a much-damaged iPad.
To overcome negative consequences during such instances, you need to get a case for your iPad. But let us see first the type of cases and what is 360° Protecting case?
Types of cases
Phone covers are of various types such as
Clear-Transparent and see-through cases for your iPad.
Gel-Gel iPad cases are similar to hard iPad cases, add slim protection to the back and sides of the iPad, protecting it from bumps and scratches. Gel iPad cases are usually made from thermoplastic polyurethane (TPU).
Designer-Comes in various colors and designs.
Leather– Typically are a total iPad cover, protecting the front and back of the iPad. They can come with an inner plastic shell, or with a holder molded from the leather itself.
Hard-These cases are usually made from poly-carbonate (plastic), so it is hardened and as protective as possible.
Soft-Soft Cases comprise of Silicone, Rubber, and Leather Cases. Even though Soft Cases appear soft on the outside, they cushion the inside.
Folio-Folio iPad cases are similar to Leather iPad cases, in their form, functionality, and features. It may be made from leather or other material. They may also have an inner pocket for cards.
Rugged- Rugged case offers extra protection with TPU shell inbuilt within them. They are quite safe and can resist even substantial damages or falls.
Tough-Tough can be used by people who intend to use them in outdoor conditions, on building sites, etc, or who just want a case that's pretty tough.
Stand-Stand Case helps make your iPad stand so that you can watch your movies and screens easily.
Keyboard -Keyboard Cases are for those looking to turn their iPad into a productivity powerhouse. You can use keys for typing large documents and also to have the iPad positioned in a way that is similar to a laptop and in a standing position that makes it easier to see the screen.
What is the 360° Protecting case?
The 360 cases give your iPad all-round protection from all the external damages like dust, scratches, scrapes, dents, etc, and make your iPad look new and fresh all the time. They come with shock protection which saves your iPad from drops and bumps. They can 360° fully protect all parts of your iPad.
So Let us see which brands are dominating the list.Have a look!
TSQ iPad Pro 11 2018 360 Case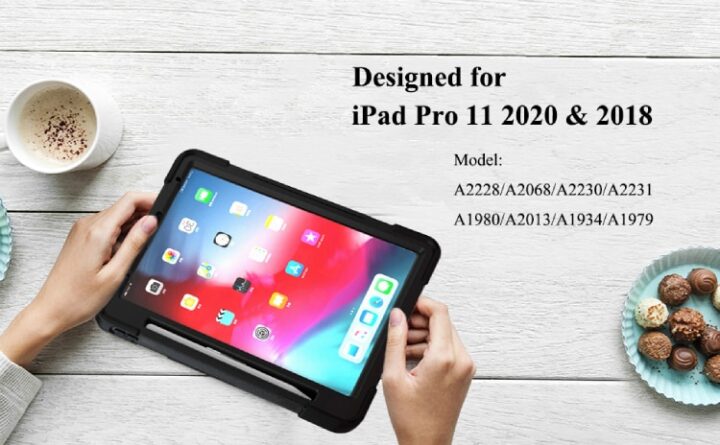 The silicone back cover is non-slip and provides excellent hard rugged protection.
The impact-resistant drop-proof design can provide full-body protection against shocks, drops and scratches for you iPad Pro 11 inch. Ideal for kids, adults, students, teachers, etc.
Removable Built-in PET Screen Film.
Anti-scratch, impact and folding resistance provide full protection for the screen during daily use.
A built-in kickstand and rotatable turntable provide you with a better visual.
Suitable for video viewing and typing.
Built-in kickstand provides a better visual experience to relieve neck strain.
Your tablet can be slung over one shoulder as your crossbody bag.
Also can be hung up behind car seat for more convenience.
designed for iPad Pro 11 inch 2020& 2018 (Model: A2228, A2068, A2230, A2231; A1980, A2013, A1934, A1979).
Not fit other iPad models.
Procase for iPad Pro 11 2018 360 Cover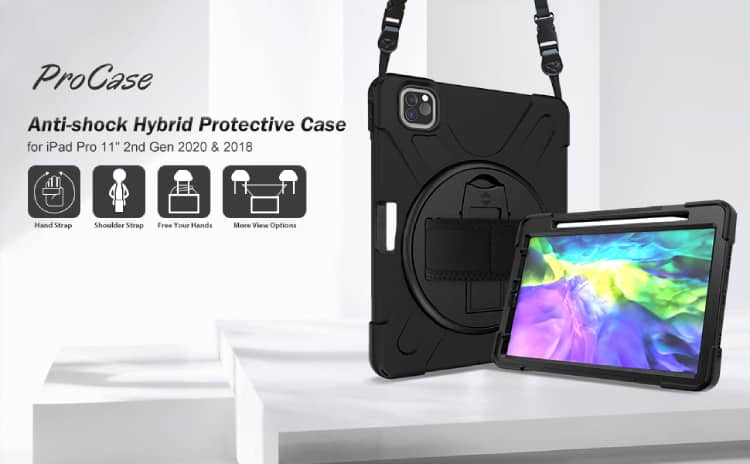 Combined with durable PC and shock-absorbing TPU material, the 3 layers heavy-duty case offers maximum protection against drops, bumps and shock.
Easy to install and remove.
Ergonomic 360-degree rotatable kickstand provides multifold stand positions for viewing and typing.
Set your hands free for other activities and save your wrists from any joint pain.
Adjustable hand strap fits a decent range of different hand sizes.
Simply slip your hand under the strap for a secure and tight hold, and you will never drop your tablet.
It is perfect for presentations, conferences, travelling and etc.
The functional shoulder strap allows you to hang your tablet behind car seats or other places for personal or shared viewing.
Which make it wonderful for movie watching, video chatting and other entertainments.
Designed with practical shoulder strap, you can attach to any 2 holes of the 4 corners to hang your tablet vertically or horizontally like a neck bag. Keep your tablet with you whenever and wherever you go.
Designed for for 2020 iPad Pro 11 Inch 2nd Gen (A2228 A2068 A2230 A2231), and iPad Pro 11 Inch 2018 (A1980 A2013 A1934 A1979).
SUPFIVES iPad Pro 11 2018 360 Cover

This case has passed the military grade drop test MIL-810G.
Three layer shock-absorbing structure provides a perfect protection against accidental drops, bumps and impact.
Sturdy stand is convenient for watching videos, typing and conference. Friendly use your iPad with friends and kids. FREE YOUR HANDS!
Portable shoulder strap can help you carry your iPad with a more secure way during hiking, traveling and car seat, other outdoor activities, let your hands free.
Perfect for active people and outdoor gamers! Adjustable hand strap has friendly experience when you show the iPad to others.
The handle strap is ideal for students, teachers. Really helpful for hold the iPad with one hand securely and working.
Unique design supports Apple pencil (2nd Gen) wireless charging and magnetic attachment without taking off the case.
Can quickly grab pencil or put it away. Don't worry lost your Apple pencil any more.
This case is ONLY compatible with iPad pro 11 inch 2020 2nd generation (model: A2228/A2068/A2230/A2231) and iPad pro 11 inch 2018 released 1st generation (model: A1980/A2013/A1934/A1979).
AZZSY for iPad Pro 11 2018 360 Cover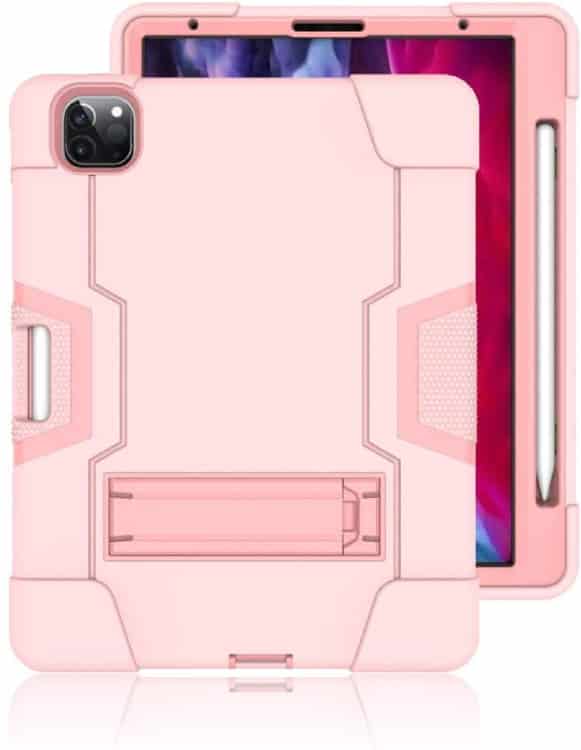 Three-layer structure of premium shock-absorbing TPU and durable hard polycarbonate provide perfect protection against accidental drops, scratches, bumps and shock.
Built-in Apple Pencil holder, easily carry your Apple Pencil with your device conveniently.
Support the iPad Pencil (2nd gen) attached with your iPad Pro 11 magnetically to pair and charge without taking off the case.
Functional pop out kickstand allows easy access to your favourite shows, movies, and games while on the go.
Super sturdy and Easy To Carry.
Absolutely Kids Friendly.
Designed for new iPad Pro 11 inch 2020 2nd generation (Model: A2068 /A2228/ A2230 / A2231) and iPad Pro 11 inch 2018 Release (Model: A1980/A2013/A1934/A1979).
BRAECN for iPad Pro 11 2018 360 Case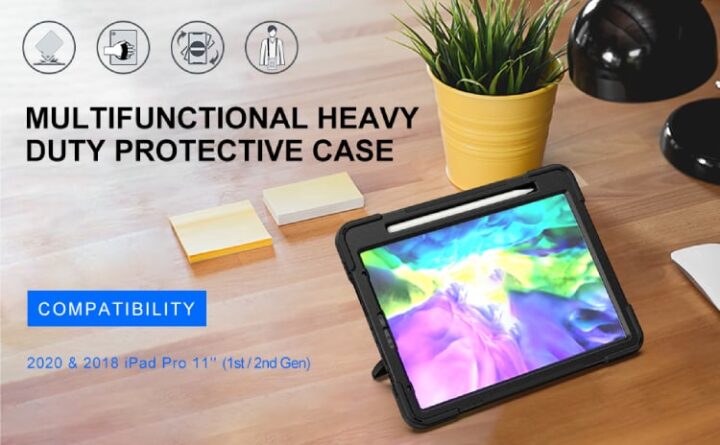 This Apple iPad Pro 11 2018/2020 case is made of premium hard plastic and soft silicone.
Belong to a heavy-duty rugged case, three-layer structure provides good protection from drop and impact.
Support multi-angle usage and convenient standing position for watching video/video chat/typing.
A built-in Pencil holder for Pen securely carrying.
BUT Apple Pencil is not included.
Provides a perfect protection to your tablet against shocks, damages, dust and scratches.
Full access to all features (Cameras, Speaker, Ports, Headphone Plug and Buttons).
Adjust the tightness of the strap, and hold your iPad Pro 11 2018tablet comfortably.
ONLY fit for iPad Pro 11 2018/2020
Fit for iPad Models : iPad Pro 11 2020 (Model:A2228/A2068/A2230/A2231) & 1st Gen 2018 Release (Model:A1980/A1934/A2013/A1979).
Please confirm before purchase!
Timecity for iPad Pro 11 360 Cover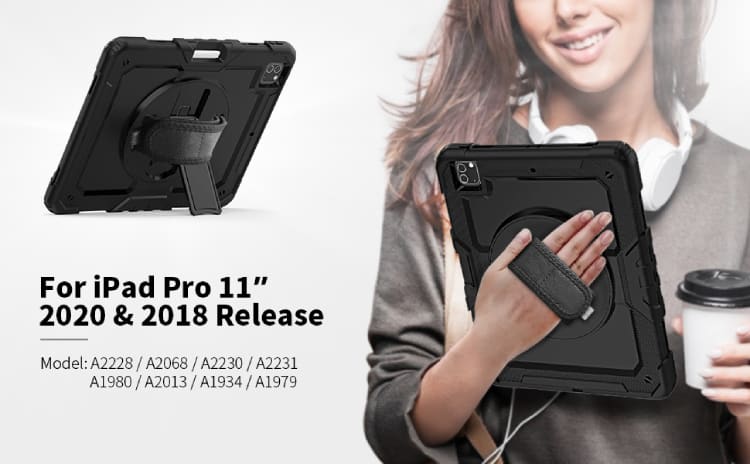 3 layers protection combined with PC front cover with built-in screen protector + hard PC back cover + soft silicone outer shell.
Providing protective sleeve for your tablet to prevent accidental drops, shocks or scratches.
When you frequently use your tablet for work, business or travelling, or in case of children's accidental drop/shock on a tablet, this case will be your choice.
The back cover is featured by a 360-degree rotatable turntable and a foldable kickstand. When the stand is opened, it could be rotated 360 degrees with the turntable to achieve different standing angles.
You will have the stable angles for movie-viewing, typing, reading or face-to-face chatting, whether you are on a plane, on the couch or even in bed.
360° rotatable hand strap helps you hold or use your tablet easily and comfortably, avoiding falling due to skidding.
It can be adjustable to fit the size of your hand.
Designed with an extra stylus holder. Easily plug in/out, making the pencil always at your hand when you need it.
You can carry your tablet like a backpack when travelling outdoors. Additionally, it could hang wherever you want, even hanging behind the headrest of the car seat.
The built-in screen protector could provide protection for your tablet screen against accidental drops, scratches, shocks and dust.
The portable shoulder strap design surely gives your kids a truly carefree experience.
Conclusion
There are many cases on the market if you are looking for a new 360 case for your iPad Pro 11. However, remember to balance what you are getting for the price you are paying. Chances are that you are not as clumsy as you actually think you are and your iPad Pro 11 does not need hundreds of dollars' worth of protection. Go with what you feel is really necessary and your iPad will thank me as well as your wallet.
You should definitely keep your iPad Pro 11 well-guarded and protected in tip-top shape with a case and these are some of the best options we found.
Conclusively, We think TSQ Protective Case is one of the best as it has some of the best features included. It withstands accidental drops and falls. Also, Raised lips around the screen and camera so very easy access to everything. Plus Dust and debris are out because of port covers. Most importantly easy installation and removal. Also, it has a back cover with a kickstand to do work more easily. It comes with the best price, quality, and also kids friendly.
Also, Procase Protective Case is the next best alternative and it has some of the best features included.360-degree full cover protection, Combined with durable PC and shock-absorbing TPU material, the 3 layers heavy-duty case offers maximum protection against drops, bumps and shock. Easy to install and remove.
We would like to hear your reviews. Do comment and share. Also do subscribe to stay updated With All The Latest News, Offers, and Special Announcements.