Dropbox offer myriads of services to its users. With coworkers and family members scattered all around the world, staying organized and maintaining a work-life balanced can be an esoteric task. Ergo, a cloud storage has taken a step-in where it can help you to stay organized-at home or while you work from home. It has become one place to keep life organized and move work forward.
What is Dropbox?
It is one of several popular cloud storage services that enable you to store and share your files online. What does that mean? It means that you can store and back up your files online for easy access from anywhere — your home computer, your work computer, or your mobile device. Your files are stored on Dropbox's servers and can be synchronized, or automatically kept up-to-date, on all of your devices. The basic Dropbox service is free, but you can upgrade for a fee to get more storage space and additional features.
How dropbox works?
Dropbox offers a variety of services for your data. You can upload your files and send them to another user with a Dropbox account.
Even if you have no need to transfer files, you can use your account as a separate storage hard drive, conveniently storing and accessing your files on the cloud.
Dropbox's advanced software ensures your data is secured. Your account is locked with a username and password you create. Other powerful encryption methods are enacted to guarantee your data is safe.
What's New?
Dropbox announced i that it has officially increased storage space for customers using both the Professional and Business Standard subscription tiers. Allowing you to host more important files than ever before. Starting today for new subscribers, Owners of Dropbox Professional accounts will get a whole 2 TB (2,000 GB) of space, while Business Standard teams will get a total of 3 TB (3,000 GB) of shared space — that's a lot of room for podcast episodes, client work, spreadsheets, and that one photo of a cute dog you haven't deleted yet for some reason.
Some Perks !
Work without limits. Combined with Dropbox Smart Sync, included in both plans, without eating up your hard drive.
Free up phone space. Upload photos and videos to Dropbox directly from your phone, then delete them off your phone to recover precious space.
Present large files. Got giant videos or CADs to send ? Share the files, and anyone can mark up previews from any web browser without downloading special software. And if you have a Professional plan, you can share files as tailor-made presentations with Dropbox Showcase.
Why you should use dropbox?
Many businesses need a backup data plan and a way to conveniently share files. No other program does this better than Dropbox. This service works by subscribing and downloading their free service that offers limited file storage.
There's a reason why Dropbox is so popular. Users can conveniently access this platform on their desktop, tablet, and smartphones. With Dropbox's simple software, file upload and sharing are simple.
Users can upload, store, and share files across a wide array of file types. You can even host group projects and team collaboration on Dropbox.
The free service caps at 2GB of storage. Storage exceeding this amount must either delete files or upgrade to an advanced service.
How to upload file to Dropbox?
The main purpose of Dropbox is to store and share files so that you can have access to them wherever you are — on your home computer, your work computer, or on your mobile device. You have a couple of different ways to upload your files to Dropbox. First, though, log in to Drop box with the e-mail address and password you used to register with.
Upload files with drag and drop
By far, the easiest way to upload files is to drag and drop from your hard drive. Here's how:
In your Dropbox, click Files in the left navigation.
If you have folders already set up in Dropbox, navigate into the folder you want to upload your file.
If you haven't set up any folders yet, right-click in the file list area and choose New Folder. Then, give your folder a name.
On your hard drive, find the file you want to upload and drag it into the browser window
Release the mouse button. Your file is uploaded.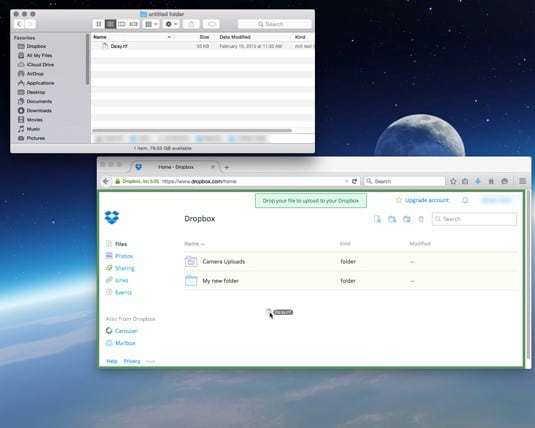 Upload files by browsing
Additionally, you can also browse your hard drive for files to upload by following these steps:
In your Dropbox, navigate to where you want to upload your files.
Click the Upload button in the toolbar near the Search field.
Or, right-click in the file list area and choose Upload…
In the Upload to Dropbox dialogue box, click Choose Files.
Browse your hard drive for the file or files you want to upload and click Open. You can choose multiple files.
The file is uploaded to your Dropbox and appears in the list of files in the Upload to Dropbox dialogue box. If you want to upload more files, click the Add More Files button to browse your hard drive for more files.
How to delete files from Dropbox?
No matter which version of Dropbox you're using – the free Dropbox Basic service or one of the paid tiers – you don't have unlimited storage. This means you may sometimes need to delete certain files to make room for others.
You can delete files from Dropbox using a browser or the app, which gives you quite a bit of flexibility. And even better, if you can change your mind after deleting a file, you have a month to restore it.
Here's how to delete files from Dropbox using a Mac, PC, iPhone or Android device.
Deleting files using browser.
1.Using a Mac or PC, open the Dropbox in your browser and sign into your account.
2. Click "Files" in the navigation pane on the left side of the window.
3. Locate the file you want to delete and hover your mouse pointer over it.
4. Click the three dots on the right and then choose "Delete" from the drop-down menu. Confirm by clicking "Delete" a second time.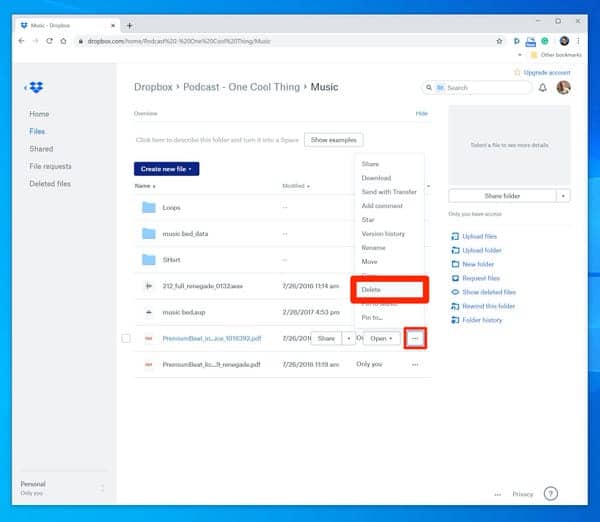 Deleting files using desktop
However, If you're syncing Dropbox with your Mac or PC, deleting a Dropbox file is no different than deleting any other kind of file.
Just open the synced Dropbox folder on your desktop and delete the file you want to eliminate.
You may be asked if you want to delete the file "everywhere", or just off your computer. If you pick "everywhere", in a few second, that file will disappear from the online server and any other devices you are syncing to.
Deleting from the mobile app
1. Open the Dropbox app on your mobile device and tap "Files" at the bottom of the screen.
2. Find the File you want to delete.
3. Tap the three dots under the file and then, in the pop-up menu, tap "Delete". Tap"Delete" a second time to confirm you want to get rid of the file. After a few moment, it'll disappear from the Dropbox server and your synced devices.
How to restore a deleted file on Dropbox?
If you deleted a file by accident, it's easy to restore.
1.Open Dropbox in your browser and sign into your account.
2. Click "Deleted files" in the navigation pane on the left side of the window.
3.Click the checkbox to the left of the file you want to restore, and then click "Restore".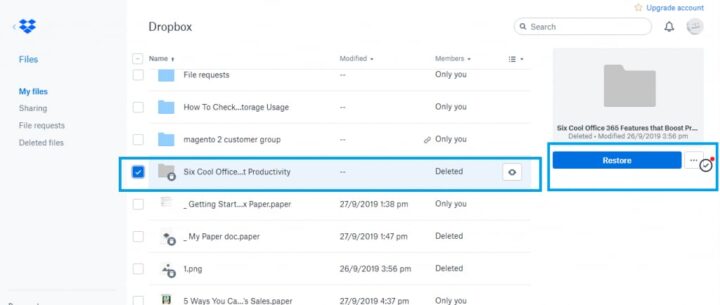 Conclusion
To bolster, we can say that Dropbox is quite popular between youngsters, mainly students and workers, who see the application as an easy and sage tool to share and have the files safe and available in several locations.
If you have any more query, feel free to communicate with us and do comment! Like, share and subscribe.