Microsoft has quickly caught up with the drawbacks of OneDrive and is here with an upgrade that is slick and easier to use. Here is a review of the Microsoft OneDrive for Office 365 for you to better understand the system.
What will you see?
Microsoft OneDrive -Quick Glance
Earlier, OneDrive was far behind Dropbox, Google, and Apple's cloud services. But Microsoft has quickly caught up in this crucial area. OneDrive is now doing great in the market, especially with individuals who use Windows or the various Office products frequently. Now, Microsoft has a cloud storage system that can compete with the industry's most prominent names, with updates and new features arriving regularly. OneDrive is firmly integrated into Windows 10 and is included in the Microsoft 365 subscription package alongside the Office suite. Client tools are available for macOS, Android, iOS, and other platforms. Microsoft OneDrive is a feature-rich cloud storage service with a simple user interface, extensive support, and various price options. However, the lack of zero-knowledge encryption is a disadvantage.
Pros
Integration with Windows
Very slick mobile apps
Integration with Microsoft 365
100GB file size limit
Comprehensive support
Clean interface
Cons
macOS client app needs work
Storage plans are confusing
Not such great value if you don't use Microsoft Office
No zero-knowledge encryption
Expensive
Plans and pricing
The basic OneDrive account comes with 5GB of storage and is entirely free to use. Its Standalone plan costs $1.99 per month and includes 100GB. Moreover, OneDrive has two premium options for personal users: Microsoft 365 Personal (1TB storage, $5.99 per month) and Microsoft 365 Family (6TB storage, $7.99 per month). Microsoft 365 apps such as Excel, Outlook, PowerPoint, and Word are included in these plans. Four subscriptions are available for business users for intricate features like user control and file auditing. OneDrive for Business Plan 1 costs $5 per user per month, whereas OneDrive for Business Plan 2 costs $10 per user. However, Microsoft 365 apps are not included in these plans. You get 1TB of storage per user with Plan 1, while Plan 2 gives you limitless personal cloud storage with sophisticated security features.
The Microsoft 365 Business Basic ($5 per user per month) or Microsoft 365 Business Standard ($12.50 per user per month) allows you to access Microsoft 365 apps. Moreover, you also get services including SharePoint, Teams, and Exchange. Both tiers include 1TB of storage per user, with the latter providing access to even more apps and services. You can even get a Family plan with 6 TB of storage for up to five people for $99.99 (about GBP 71) a year or $9.99 (about GBP 7) per month, with a one-month free trial.
OneDrive Features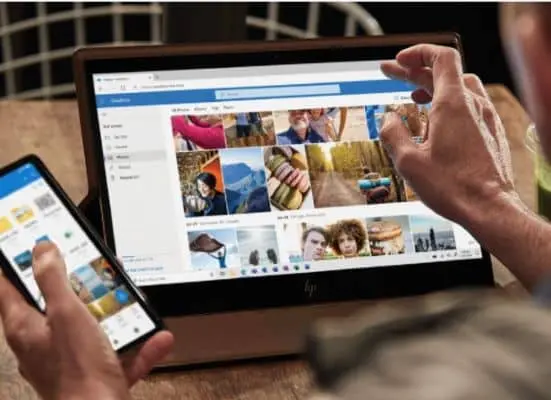 Microsoft OneDrive works similar to other cloud storage like Dropbox, Google Drive, iCloud, and other well-known consumer cloud storage services. You have to choose the files and folders you want to be backed up. Moreover, it is also synced to the other computers and devices on which OneDrive is installed. However, it only protects your files and does not support external drives or NAS drives. So in the case of a disc failure, you will have to reinstall operating systems, settings, and applications. OneDrive may also restore prior versions of your files, dating back as long as 30 days.
Extra Features
It is also simple to share files and folders with others because OneDrive can produce a link for you. When you save your Office files in OneDrive for sharing, you get extra features like autosaving don't lose your work. You also get advanced collaboration features that let you work on files with other people simultaneously, either on your device app or on the web. Other features include the ability to play music and video files directly from the web and the ability to use AI-enhanced search on photos stored in the cloud to find landmarks and objects.
If you want to free up disc space, you can use usOneDriOneDrive's Files On-Demand option. It allows you to choose which files are exclusively available online. With OneDrive installed on all of your devices, any changes you make in a file will sync across all of them. So, you can access these files on OneDrive without even downloading them. Alsyou'reyou's working with an online-only folder. You can still make the files in it visible locally on your device.
A personal Vault is a secure place that's ideal for confidential documents. Any file, photo, or video you capture can be immediately saved to a digital vault with this feature. You can then secure it with strong authentication or two-step identity verification. This includes your fingerprint, face, PIN, or a code provided through email or SMS. This extra layer of protection is essential if someone gains access to your account or device. Users of the free and standalone versions of OneDrive can save up to three files in their Personal Vault.
Interface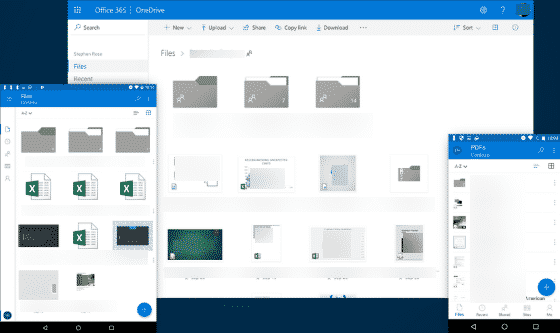 Windows performs best with OneDrive because it is entirely integrated into the operating system. Alongside Documents, Desktop, and others, OneDrive appears in the navigation pane. So you can right-click on files and folders to move them to the cloud. It's pretty smooth and straightforward to use. Mac users need to download the OneDrive application. The macOS synchronizing isn't particularly impressive, but it covers what you'll need without becoming overly complicated. You can run it from the menu bar and start with macOS.
The Android and iOS apps are both attractive and simple to use. With a few swipes and touches, you can navigate through the files. It is good at syncing and presenting photographs and movies taken with a smartphone, though OneDrive has a lot of competition in this area. On all operating systems, OneDrive's straightforward and intuitive interface lets you move files and folders around with just a few clicks. Moreover, if you have a Microsoft ID, you can access OneDrive using your web browser.
Security
Two-factor authentication (2FA) protects OneDrive when the Microsoft account and Microsoft 365 subscription are active. This implies that even if your username and password have been compromised, no one can still access your data and account. The Personal Vault requires an additional layer of authentication, such as a fingerprint or a PIN, to access. AES 256-bit encryption protects files in transit and at rest. Although, it is not the same as end-to-end encryption because Microsoft engineers can access your data if necessary. This can be for restoration, and according to Microsoft, it is closely monitored. Microsoft also keeps the files on various data servers to protect against data loss, an extremely reliable approach.
In the event of data, you'll be alerted as well. Although, OneDrive does not support zero-knowledge encryption. This is a form of encrypting data in which only you have access to the encryption key. So, OneDrive has a copy of your encryption key and can decrypt and access your files. Thus, if someone succeeds in OneDrive's security, they can see your data as well.
Support
The web interface for OneDrive has a self-help section with answers to frequently asked questions. For more complicated issues, you can MicrosMicrosoft'stwebsite's Help & Learning section. There you will discover informative how-to articles on a variety of topics. You can also go to community forums to post questions and follow discussions. Moreover, if everything fails, you can go for email support. You will get a reply in much fewer hours.
Alternatives to Microsoft OneDrive
I don't need the Microsoft 365 apps, and OneDrive's subscription options, such as IDrive, will provide you with more excellent value. IDrive costs roughly $4.35 per month for 5TB of storage, but OneDrive costs $5.99 per month for 1TB. You might realize OneDrive's security falls short of other companies without zero-knowledge encryption.
Conclusion
OneDrive acts as a cloud storage extension to all the Microsoft products for a dedicated Windows user and those who use the Microsoft 365 suite daily. How's, it's as stunning as an add-on for macOS, Android, or iOS. The applications you're currently utilizing make it more valuable. Moreover, Microsoft OneDrive for Office 365 is far more refined than when it first launched as SkyDrive a few years back. It has advanced to the point where it can handle all of your file backup and syncing needs across many platforms. Moreover, you can collaborate on files in real-time and have them automatically backed up. Even though it is not the most affordable or secure cloud storage so you'll find.
It is, however, straightforward to use.
Which cloud storage do you use? Tell us in the comments section below!
Read More!