Are pockets feeling heavy? A thick wallet, plus an iPhone and keys, is a lot to expect from your jeans. One way to lighten up the load is to minimize by combining your iPhone and wallet into one handy wallet case. There are hundreds of options for wallet cases, so it might be hard to narrow down the choices. Lucky for you, we've put together a list of iPhone 11 Pro Wallet Case/Cover.
But before buying a wallet case you may know some important things about it.
What Is A Wallet Case?
A cell phone wallet case is a case where we can put your credit cards, train cards, money, and so on in the phone case, and don't have to carry a separate wallet around. Plus, they're attractive and come in stylish designs for both men and women.
Does The Wallet Case Protect Your Phone?
The most common wallet-style cases are folios that fold over your phone, typically covering both the front and back. The protection they offer is basic. While they'll protect the front and back of your phone from scuffs and scratches, you won't want to play any games of catch with your phone.
Advantages Of Using A Wallet Case
Keeps all your necessities in one place.
It can act as a phone stand.
Offers damage protection.
They are stylish.
Disadvantages Of Using A Wallet Case
They are bulky.
You lose a lot more such as credit cards, train cards, money, etc if you lose the wallet case.
We've reviewed the best phone wallet cases for your iPhone that offers a variety of both fashion and function to meet your needs.
TUCCH iPhone 11 Pro Wallet Cover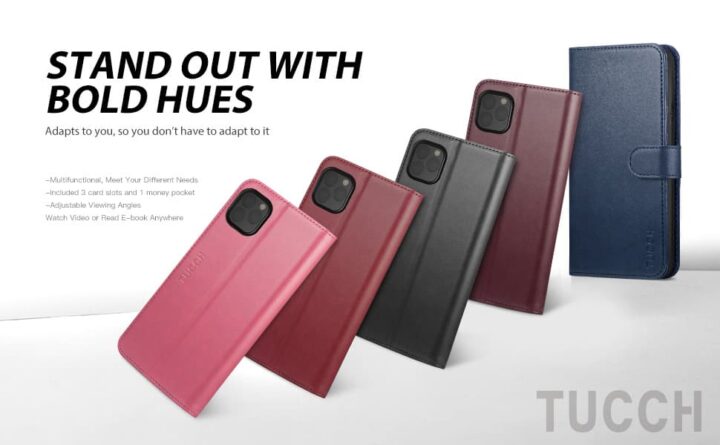 A full body TPU iPhone 11 Pro wallet case.
The durable soft TPU full-body inner case comes with a cushioned shockproof edge.
It ensures your iPhone against drops and bumps.
The flip wallet leather case covers all corners and provides great dual-layer protection to your smartphone.
3 card slots and 1 money pocket.
You can carry around your credit and debit cards, and cash without having to take your wallet with you.
Magnetic flap to keep it closed and protected, secure magnetic closure.
Auto wake up and sleep technology.
RFID (radio frequency identification) technology application effectively shields the signals and keeps your personal information safe.
Precise cutouts allow full access to all features (buttons, speakers, cameras, sensors).
The TUCCH wallet case gives that classic feeling.
Offering a left-turn cover and a perfectly-curved case without rough edges or trimmings.
Exemplify the power and beauty of simplicity.
Dreem Fibonacci 2-in-1 Wallet-Case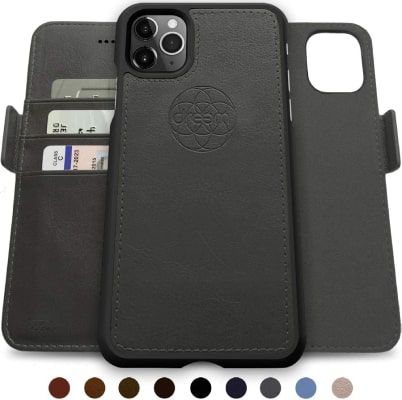 Completely redesigned TPU case.
Made from shock-absorbing flexible plastic that cannot crack.
Enclosed top and bottom plus raised bezel (around the screen) for improved protection.
A whole new level of safety for your phone, still slim and elegant.
A versatile magnetically removable flip-case design you get the complete protection and convenience of a wallet-folio.
Slimcase works 'out-of-the-box' with wireless charger pads AND magnetic mounts!
RFID theft protection in three pockets.
Easy-Open Clasp – simply open and close your wallet in a snap, no need to touch the clasp.
Smart Horizontal & Vertical kick-stand viewing, fully adjustable for hands-free video calls, reading, or movies anywhere.
3 card-holder-slots that comfortably carry 3-6 credit-cards plus 5-10 cash bills.
Premium hand-crafted from high-quality faux leather.
Looks and feels luxurious, for men and women.
Works great with most magnetic (car) mounts, selfie sticks, screen protectors, flash photography, and Apple Pay.
Original Dreem brand accessories.
100% Satisfaction.
30 Days money-back guarantee.
1-year warranty.
LUPA iPhone 11 Pro Wallet Case/Cover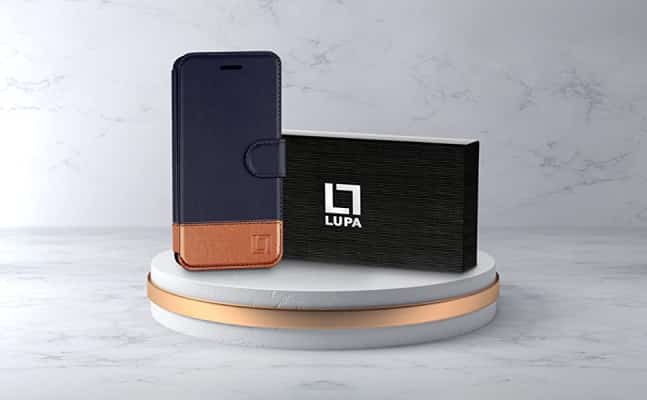 The LUPA ultra-slim phone wallet iPhone 11 pro case for women and men is here to help you carry your cards.
It can hold 3 cards and up to 4 bills.
Premium faux leather case.
It comes in a deluxe gift box.
Keep your iPhone safe from accidents with this wallet case.
Covers all corners and protects your screen.
Allows access to all ports.
This wallet case comes with magnetic closure, which is made from rugged, soft, and eco-friendly PU leather that will not stain or fade.
Complete camera and screen protection.
Compatible wireless charging with the case itself.
Easy access to all necessities.
LUPA promise to issue a full refund on-the-spot in case of any default.
Spigen Slim Armor iPhone 11 Pro Case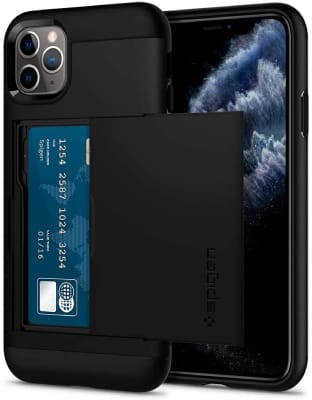 Made from Shock-absorbing TPU interior.
Polycarbonate exterior.
Minimal design is slimmer than wallets and sleek in appearance.
It provides absolute protection.
Dual Layers + Air Cushion Technology = Total protection.
It stores up to 2 cards with ease.
Raised edge to protect the screen from damage.
Ultra-slim case.
Protects screen from drops and surface scratches.
The depth of iPhone 11 Pro is 0.3″ and this case adds a depth of just 0.15″.
Raised edge to protect the camera.
Give your phone extreme protection with card storage.
Dual layered shock absorbent interior with rigid outer frame.
i-Blason Cosmo Wallet Case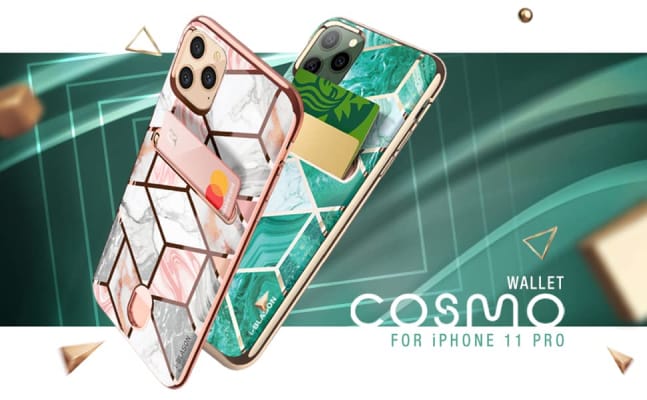 High-quality TPU iPhone 11 Pro wallet case.
Polycarbonate materials protect against scrapes, scratches, or bumps.
Raised bezels keep your Phone screen and camera lens free from damaging surfaces.
The slim, adorable design turns your Phone into a cute, new accessory that you can mix and match with your favorite outfits.
Built-in card holder lets you conveniently store up to two bank cards, plus loose cash.
Easily fits 2 cards.
Ultra-slim case: less than 0.12″.
The electroplated frame enhances the phone's natural aesthetics.
Raised screen bezel by 0.04″.
Raised camera bezel by 0.06″.
Scratch-resistant case.
Slim & Sleek Design.
Smooth & Glossy Finish.
Scratch-Resistant Backing.
Wireless Charge Compatible.
Easy Installation.
Smartish Apple iPhone 11 Pro Wallet Case/Cover
High-grip textured sides – Fewer toilet drops!
Secures 3 cards plus cash.
Ultra-light.
Durable construction.
Protective air-pocket corners.
Wireless charging compatible.
Charges through the case. Nikola Tesla approved!
With ultra-light and durable construction it's both thin and protective.
It must have a life-coach.
Featuring mega-grippy sides and corner air-pockets (think airbags for your iPhone).
Lay flat-screen guard design.
Conclusion
Conclusively, by observing and also distinguishing between all the above wallet cases, the LUPA brand sells one of the best wallet cases for your iPhone 11 Pro. It has all the essential features for a wallet case. Also have some extra features like precisely cut out for buttons, complete camera and screen protection, and many more features. But the most important feature of this case is it supports wireless charging which is found in very rare products for a wallet case, LUPA also promises to issue a full refund on-the-spot in case of any default. Regardless of which wallet case you go with, the most important thing is that your phone is well protected.
We would like to hear your reviews. Do comment and share. Also do subscribe to stay updated With All The Latest News, Offers, and Special Announcements.
*Prices was correct as on 21th June 2020