If you are looking for an iPhone 12 clear cover to flaunt your brand new iPhone and worried about it being durable, then you are at the right place. We have made a list for the best iPhone 12 Clear case, keeping in mind the material, price, design, durability, strength and much more.
CASEKOO Crystal Clear for iPhone 12 Case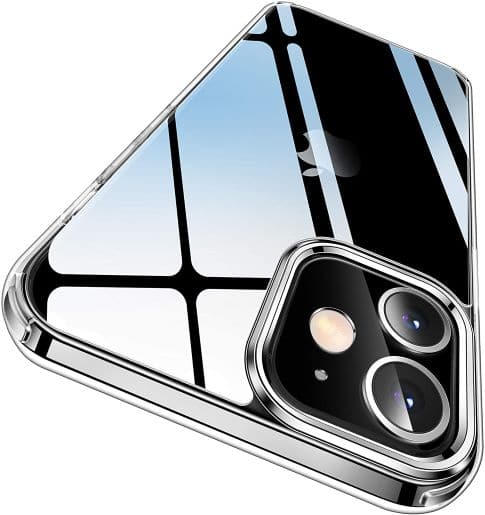 With the iPhone 12 clear case, you can flaunt your iPhone's design and beauty.
Also, with the anti-yellow technology, it never yellows due to the diamond antioxidant layer and is super easy to clean.
The protective cover features 4 built-in corner Airbags to absorb impact and avoid drops in most situations.
Also, raised bezels to prevent screen and camera against drops & scratches and other damages.
The tiny design of 2.5 mm lip over the camera, 1 mm bezel over the screen and 1 mm raised corner lips on the back provides extra and comprehensive protection.
It fits perfectly to stop dust from entering and scratching the body of your phone.
The slim case brings you greater portability and firmer grip, with no bulk and no skidding, thus easier to carry around.
Transparent hardback + Soft BAYER TPU bumper design not only provide shock-absorption & scratch resistance but also easy to install or remove.
Advanced Micro Dot Technology avoid the trouble of fingerprints and watermarks, bringing your phone neat and clean.
Furthermore, this design could have better heat dissipation, which could extend battery life and better enjoy the 5G life.
Spigen Liquid Crystal Designed for iPhone 12 Clear cover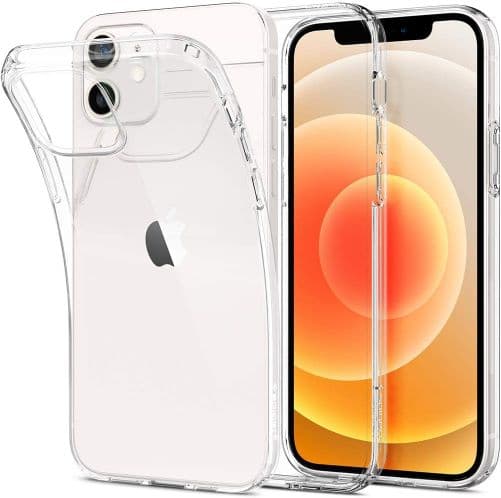 This Spigen iPhone 12 clear cover is Slim and lightweight and fits perfectly to your mobile thus making it easier to carry around.
It is Durable and the anti-slip technology prevents any damages like scratches and cracks from falls.
Also, the case is made of TPU, which keeps your phone lightweight and is easy to install.
The Reinforced buttons to promise quick responsiveness and do not interfere with other functions.
Moreover, the flexible layer provides hassle-free application and protects from knocks, bumps and falls.
It is to be noted that The MagSafe charger works through this case, but the magnet doesn't latch on nearly as strongly as the Apple MagSafe case.
MoKo Crystal clear case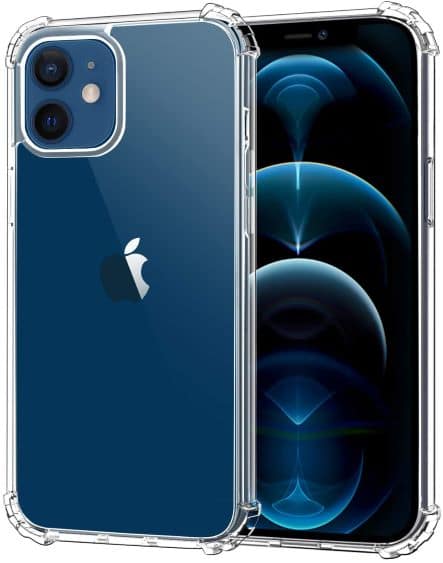 This iPhone 12 clear case Snug-fit wraps around your phone giving you a smooth finish.
The Precise cutouts provide easy access to all ports, speakers, camera, buttons and other features.
Also, the Ultra slim and lightweight design making it easier to carry with hands and pockets without adding extra bulk.
It supports wireless charging, so you don't have to remove your case while charging.
The microdot patterns design is resistant to water-stains and smudges keeping the appearance neat and clean.
It is made of Soft flexible TPU bumper edges & hard PC back cover, which offers extra protection and comfortable touch.
Also, the Reinforced corners and raised bezel edges keep the screen or camera from the damage by dropping, bumping and scratching when placed face down.
The fully-transparent and anti-yellowing design allows this iPhone case to perfectly show the original beauty of your iPhone 12 while retaining its excellent protective functions.
elago Hybrid Clear Case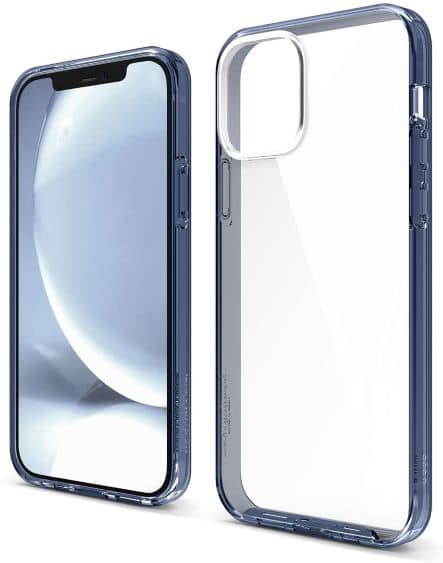 These iPhone 12 clear cases from elago are designed IN HOUSE FROM SCRATCH. From a concept, all the way to a finished product, every aspect of creating a product is done in-house to ensure that you get a case that WILL FIT PERFECTLY, HELP PROTECT FROM DROPS, AND LOOKS GREAT – SAVING YOU TIME AND MONEY!
It uses two materials to create the Hybrid case, polycarbonate and TPU in a perfect blend that offers incredible EVERYDAY PROTECTION from drops, dirt, dust, and oil.
Also, the Camera guard provides an extra layer of protection for your incredible cameras!
The case covers the whole phone, including the bottom and buttons.
The RAISED LIP helps protect the screen and camera against scratches from direct surface contact. WIRELESS CHARGING COMPATIBLE!
PERFECT GIFT FOR any Apple lover! Great for BIRTHDAY PRESENTS for loved ones and gifts during the holiday season.
You will get several colour options for the edges to choose from.
Miracase Glass+ Glitter Clear Protective Case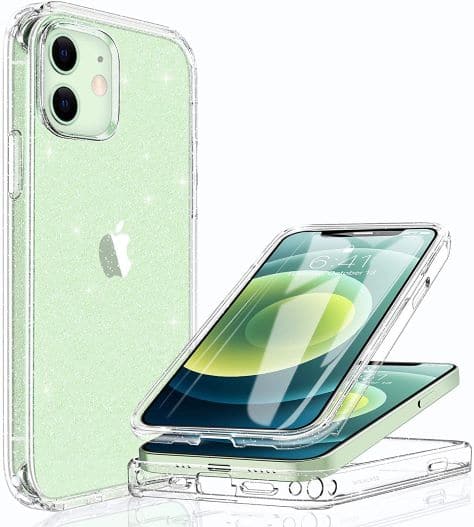 The Dual-layer provides 360-degree full-body rugged protection to your iPhone 12.
It is made up of Soft TPU shock absorption and the raised 4 corners to surround your iPhone 12 and protect it from accidental drops and falls.
Full-body protection case with built-in 9H Glass touch-sensitive & anti-scratch screen protector to prevent your phone from accidentally falling and the soft TPU material frame gives you a comfortable touch feel.
Add style to your clear case with the Meticulous Glitter crystals embedded in the back around outer layer so they won't scratch or flake off.
See-through Crystal-clear back lets your iPhone's sophisticated design shine through.
It supports wireless charging, so you don't need to take off the case while charging.
The 2mm raised screen edge and 1.3mm raised camera edge to provide extra protection for your iPhone screen and camera.
This shockproof Phone cases Fits snugly and provide a good amount of protection.
Humixx Compatible with iPhone 12 Case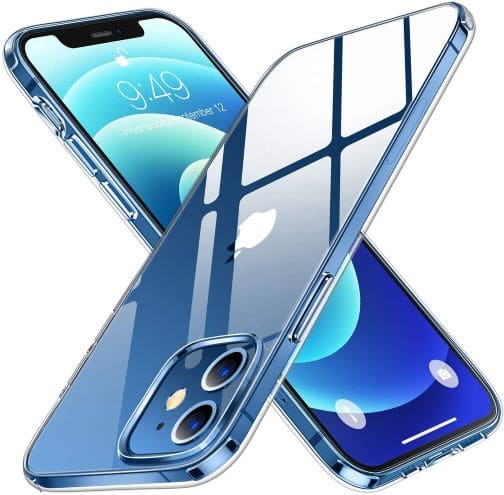 The humixx iPhone 12 clear case has applied the latest 3.0 Military Grade Drop Test standard.
Also, the upgraded four-corner protection airbag design and the three-layer TPU frame cushions absorb 99% impact from the ground, providing the higest shock-resistant protection for your edge and screen.
It is made with hybrid anti-yellow hard PC back and Germany Bayer TPU.
Moreover, it has been tested for 365-day anti-yellow test under 360° surronding ultraviolet rays, the transparency of the phone case reaches 99.99%.
The Antioxidant factor has been proven to prevent the case from turning yellow due to long-term use. So that you can enjoy the original beautiful aesthetic of your iPhone.
According to the principle of Ergonomics, Humixx have upgraded the curved design on the bumper, which fits the palm better than the original right-angled frame design, bringing a better natural and comfortable hand feel.
Also, it supports the MagSafe magnetic wireless charger for fast and easy charging every time.
Raised lips on lens and screen prevent scratches when placed on a desk, and protects screen when dropped.
Conclusion
If you are looking for a clear case which protects your iPhone from damages, then the Humixx Compatible with iPhone 12 Clear case is the best. It has anti-yellow technology and has been through military-grade drop test. But if you are looking for a coloured edge with clear back then, elago Hybrid Clear Case are for you. They are specially designed to fit your iPhone 12 and protect it from drops, scratches and knocks.
Which is your favourite case? Tell us in the comments section.