When you don't want to carry your wallet around, you can combine your wallet with your case. The iPhone 12 wallet cover is the best choice for you to protect your mobile as well as carry your cards and some cash. Here is the list for the best iPhone 12 Wallet case in 2020 for your hassle-free life.
TUCCH Case for iPhone 12
TUCCH iPhone 12 wallet case has a stand function which will bring more convenience for movie-watching with multi-angle, hanging out with friends on Face Time.
It is to be noted that the current version of this phone case doesn't support Qi wireless charging.
Specifically designed for your iPhone 12 which allows full access to all features (buttons, speakers, cameras, sensors).
Besides, you can go outside without an extra wallet for this 3 credit card slots and 1 money pocket design wallet case.
The card slot portion has a convenient cut out where with a simple thumb maneuver your cards are exposed for you.
Also, the iPhone 12 wallet case covers all corners and provides great dual-layer protection to your mobile.
The durable soft TPU full-body inner case comes with a cushioned shockproof edge and ensures your phone against drops and bumps.
It is beautifully crafted in the classic low profile design.
Also, it Feels great in the hand and has a smooth button action on the iPhone 12 book cover.
Moreover, it is Suitable for everyday life and business trip and is engineered to emphasize thinness without compromising phone security.
With the lifetie warranty and various colour options, you will get a wonderful experience.
Smartish iPhone 12 Wallet Case – Wallet Slayer Vol. 1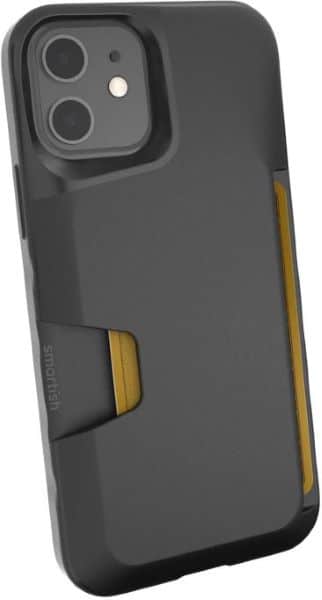 It can securely store 3 cards, ID plus cash (for those who still carry cash).
Also, the High-grip textured sides prevent it from falling from your hands, thus prevents scratches or cracks.
This iPhone 12 Wallet case is Ultra-light & durable design, so it does not add bulk to your hands or pocket.
Credit cards will NOT demagnetize inside the case – Zero flux given
Made with unique TPU, is durable and absorbs the impacts of shocks.
NOT compatible with Wireless or MagSafe Chargers. Those magnets are too big for the case. But you can connect it with a wired charger without taking off the cover.
The air pocket corners protect it from damages from knocks, bumps or falls.
Smartish iPhone 12 Wallet Case – Wallet Slayer Vol. 2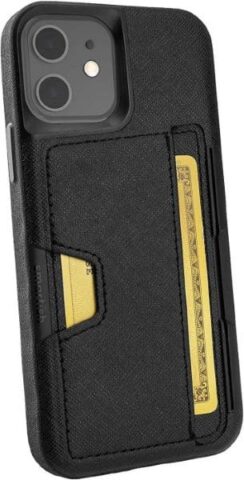 Say goodbye to your wallet with this iPhone 12 wallet cover, which can carry your ID, cards and cash.
You can prop up the mobile with the kickstand and watch videos, movies or TV shows effortlessly.
Also, the High-grip textured sides don't let your iPhone slip from your hands and get damaged.
Credit cards will NOT demagnetize inside the case – Zero flux given
But, it is NOT compatible with Wireless or MagSafe Chargers. Although, you can use wired chargers.
The TPU case with air pocket corners protects it from damages from knocks, bumps or falls.
You can select from different colour options available.
Vaburs iPhone 12 wallet cover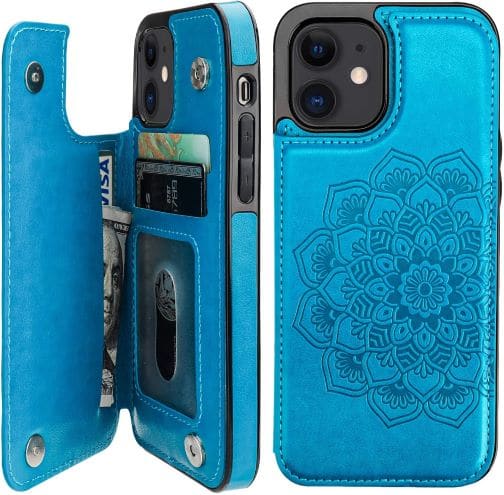 With 3 card slots, this iPhone 12 wallet cover is designed to conveniently store cards, ID, license or some cash.
Also, it has Steady magnetic buckles to keep cards/cash safe and secure, so you don't have to worry about losing anything.
The Precise cutouts and design with easy access to all buttons, cameras and ports make it a perfect fit for your iPhone 12.
Also, the Raised Buffer Edge Prevent Your Phone Flat Surfaces against Scratches, knocks and other damages.
The Four Corner are specially designed to protect against damages from Drops, shocks, knocks and bumps.
Moreover, the Kickstand Functions is Convenient for Reading, Watching Videos, Browsing the Web and video Chatting with Friends.
UNKNOK wallet case uses High-quality durable material, soft PU material brings a very comfortable touch feel.
You can select from the different patterns and colours available.
VRS DESIGN Damda Glide Pro Compatible for iPhone 12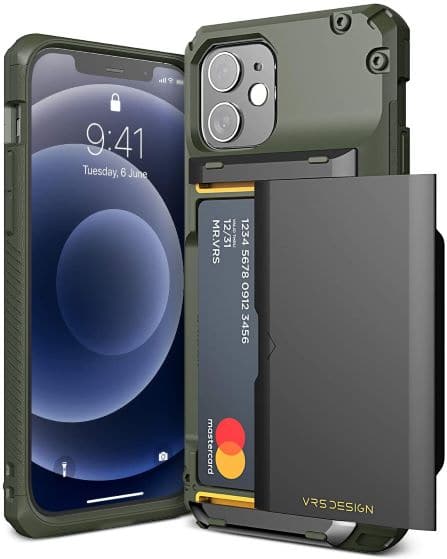 This unique iPhone 12 wallet case is the perfect combination for your wallet and protective case.
It is Sturdy and Smooth, to give you complete protection from knocks, bumps and drops.
Semi-automatic sliding technology gives you a comfortable slide open and close design to the wallet.
Also, you can conveniently store up to 3-4 cards and some cash into the wallet.
It is made up of high-quality TPU material Body and Metal Base Bar for extreme drop protection with shockproof, protecting your mobile from scratches, cracks and shattering.
The raised bezels protect the screen and camera lens from any kind of damages by reducing contact with the surface.
Moreover, the long-lasting metal stripe gives a luxurious finish.
Although, it does not support wireless charging due to the thick body.
Precise and ergonomic cutouts ensure easy access and responsive touch sensibility.
WWW Wallet Case Compatible with iPhone 12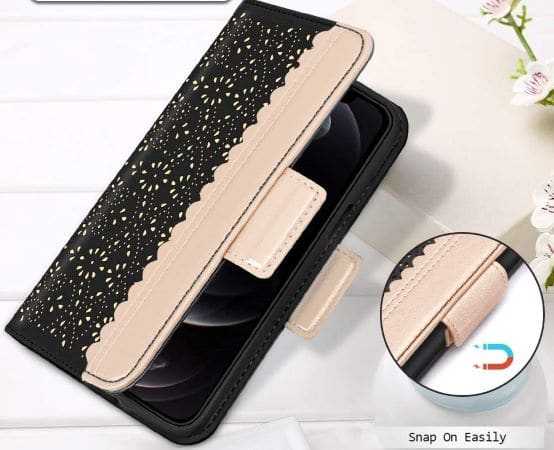 This is the perfect fit iPhone 12 wallet cover with Precise cutouts that give access to all ports and functions of your mobile.
The case has a Unique Luxury Laser Carved Flower to match your style or you can match it with your outfit.
It is made with premium PU leather, to give you a smooth finish and a comfortable grip.
Also, a Cosmetic Mirror is present inside the cover that Meets Daily Makeup needs.
Strong Magnetic Closure Keeps your iPhone and your cards and cash secure, so you don't have to worry about losing it.
The detachable wrist strap helps to hold your phone in hand tight and secure, making it easier to carry anywhere.
Also, the Built-in Card Slots and Note Holder offer Storage for ID card, credit cards or some cash so you don't have to carry your purse with you.
The Kickstand function is convenient for movie-watching or video-chatting with multi-viewing angles.
Conclusion
Now you don't need to carry your wallet everywhere you go with the iPhone 12 wallet cover. The Smartish iPhone 12 Wallet Case – Wallet Slayer Vol. 1 is the best option with card slots and you can also store cash. But if you want a sleek version, then you can select the Vol. 2 of the series. Whereas, if you are looking for something in leather, then the TUCCH Case for iPhone 12 comes in a wide range of colours for you to choose from.
Which is your favourite case? Tell us in the comments section below.