A wallet case is an ideal option for those who want to travel without the burden of carrying a wallet with them every time. A wallet case can protect your phone plus it can hold your ID cards, bank cards, and cash together in once place. There are hundreds of options for wallet cases, so it might be hard to narrow down the choices. Lucky for iPhone users, we've put together a list of iPhone 6s Wallet Case/Cover.
But before buying a wallet case you may know some important things about it.
What Is A Wallet Case?
A cell phone wallet case is a case where you can put our credit cards, train cards, money, and so on in the phone case, and don't have to carry a separate wallet around. Plus, they're attractive and come in stylish designs for both men and women.
Does The Wallet Case Protect Your Phone?
The most common wallet-style cases are folios that fold over your phone, typically covering both the front and back. The protection they offer is basic. While they'll protect the front and back of your phone from scuffs and scratches, you won't want to play any games of catch with your phone.
Advantages Of Using A Wallet Case
Keeps all your necessities in one place.
It can act as a phone stand.
Offers damage protection.
They are stylish.
Disadvantages Of Using A Wallet Case
They are bulky.
You lose a lot more such as credit cards, train cards, money, etc if you lose the wallet case.
We've reviewed the best phone wallet cases for your iPhone that offers a variety of both fashion and function to meet your needs.
Smartish Silk iPhone 6s Wallet Case/Cover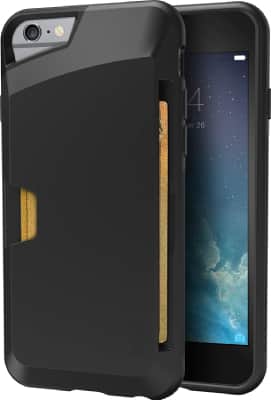 High-grip textured sides – Fewer toilet drops!
Secures 3 cards plus cash.
Ultra-light.
Durable construction.
Protective air-pocket corners.
Reinforced interior.
It also has a kickstand.
Natural-throw buttons provide a tactile response from each click to maintain an organic connection with the phone.
The durable soft-touch cover provides full-frame protection on all 4 corners to protect your phone from drops and dings.
Prop up the phone with any card. Netflix & chill!
Strapless card storage, Cards stay locked in place.
Includes free screen protector film.
With ultra-light and durable construction it's both thin and protective.
It must have a life-coach.
Featuring mega-grippy sides and corner air-pockets (think airbags for your iPhone).
Lay flat-screen guard design.
LUPA iPhone 6s Wallet Case/Cover
Rugged, eco-friendly & lightweight PU leather case.
Resists stretching and fading over time and even stands up to the occasional splash or drop on the ground.
Crafted from premium faux leather, with a classic, vintage-style design.
Exquisitely packaged and makes a great gift.
Covers all four corners of your iPhone.
Includes raised edges to prevent screen scratches.
Plus LUPA provides a bonus PE screen protector with every purchase!
It can hold 3-4 credit & ID cards and up to 4 bills.
Full access to all ports.
Ultra-strong magnetic closure provides security and peace of mind.
The thicker edges around the camera rear lens offer extra protection from surfaces.
Raised lips around the phone protect the screen from flat surfaces.
A lightweight case that can easily slip in your pocket.
Comprehensive device protection.
It comes with a 100% product guarantee.
Vofolen 2-in-1 iPhone Case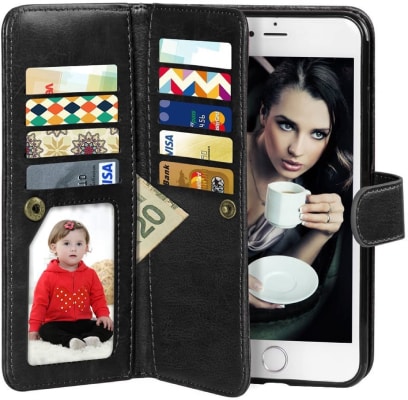 High-quality PU leather iPhone case.
Non-toxic and environmentally friendly case.
9 Card slots for credit cards, license, ID, cash, 1 with view window to place ID or photo.
6 small magnets for strong absorption.
The case stays fixed and secure yet easy to be attached and detached.
Removable design to conveniently answer the phone.
The dual lock feature ensures a secures seal while easy to operate.
Detachable wrist strap for easy carrying, magnetic flip closure.
Precise cutouts for all ports, camera, mic, speaker, and stylus.
Multi-use design to meet customer's meets in daily life.
OCASE iPhone 6s Wallet Case/Cover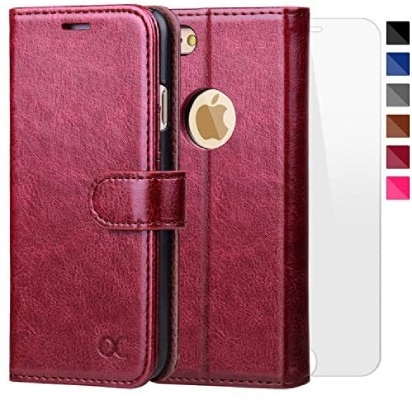 A leather flip phone cover for iPhone 6s.
High-quality simulated leather and shockproof TPU provides additional superior protection for your iPhone from drops, knocks, and scratches.
The premium quality material offers long-term lifespan and durability for your case.
Effective magnetic leather strap, whose magnetic component is strong enough to keep the case firmly closed.
The stand function allows you to adjust your smartphone in the ideal position for reading or watching.
Premium leather offers maximum oilproof, sweatproof protection, also highlights the softness and elegance.
3 Card slots and an extra slot for cash.
Double thickness leather and firm stitching make the slots anti-tear to store safely.
Precise cutouts allow all ports and buttons accessible.
Allows talking on the phone with the case close.
Free tempered glass screen protector included.
60 Days Money Back Guarantee and 2 Years Warranty.
Package Includes
OCASE iPhone 6S Leather Wallet Case
1x Tempered GLASS Screen Protector
Elegant box, the perfect gift for yourself or your friends.
i-Dawn iPhone 6s Wallet Case/Cover
Stylish, professional, and durable leather case.
Handcrafted from smooth, rich, faux leather (PU).
The cardholder side is made of soft material to prevent scratching damage.
It protects your phone from occasional drops and splashes.
This leather wallet case from i-Dawn includes 3 cardholders and a currency pocket in one sleek.
Compact and professional package.
Ultra-strong magnetic closure provides security and peace of mind, fits both men and women.
Extreme back protection from drops and scratches with built-in rear guard protection.
Covers all four corners of your iPhone and includes raised edges to prevent screen scratches.
Lightweight, slim, and ensures that your smartphone still fits comfortably in your pocket or bag.
Provide a hand free viewing with the kickstand feature.
Provides cutouts for buttons, camera, and ports.
Resists moisture, stains & stretching.
This case comes with a 1-year warranty.
Dreem Fibonacci 2-in-1 Wallet-Case

A completely redesigned TPU case.
Premium hand-crafted from high-quality faux leather.
Made from shock-absorbing flexible plastic that cannot crack.
Enclosed top and bottom plus raised bezel (around the screen) for improved protection.
A whole new level of safety for your phone, still slim and elegant.
A versatile magnetically removable flip-case design you get the complete protection and convenience of a wallet-folio.
RFID theft protection in three pockets.
Easy-Open Clasp – simply open and close your wallet in a snap, no need to touch the clasp.
Smart horizontal and vertical kickstand viewing, fully adjustable for hands-free video calls, reading, or movies anywhere.
3 card-holder-slots that comfortably carry 3-6 credit-cards plus 5-10 cash bills.
Looks and feels luxurious, for men and women.
Works great with most magnetic (car) mounts, selfie sticks, screen protectors, flash photography, and Apple Pay.
Original Dreem brand accessories.
100% Satisfaction.
30 Days money-back guarantee.
1-year warranty.
Conclusion
Conclusively, by observing and also distinguishing between all the above wallet cases, the OCASE brand sells one of the best wallet cases for your iPhone 6s. It has all the essential features for a wallet case. It has 3 card slots and a side pocket for money, it has an anti-slip and heat-dissipating design. But the most important feature is it comes with a 2 years warranty and 60 days money-back guarantee. There comes a free tempered glass screen protector with the case, so there is no need to buy a screen protector separately.
Also, LUPA can be an admirable and preferable alternative. The case is eco-friendly and lightweight, made from premium faux leather. It can hold 3-4 credit & ID cards and up to 4 bills. There comes a free tempered glass screen protector with the case, so there is no need to buy a screen protector separately, and many more features. Regardless of which wallet case you go with, the most important thing is that your phone is well protected.
We would like to hear your reviews. Do comment and share. Also do subscribe to stay updated With All The Latest News, Offers, and Special Announcements.
*Prices was correct as on 9th July 2020