A wallet case is one of the most versatile items you can have for your iPhone. A wallet case can be used both as your mobile phone cover as well as a wallet. If you have a wallet case you don't need to carry a wallet with you every time. You can put your cards and cash in the phone case itself. There are hundreds of options for wallet cases, so it might be hard to narrow down the choices. Lucky for you, we've put together a list of iPhone XS Wallet Case/Cover.
But before buying a wallet case you may know some important things about it.
What Is A Wallet Case?
A cell phone wallet case is a case where we can put your credit cards, train cards, money, and so on in the phone case, and don't have to carry a separate wallet around. Plus, they're attractive and come in stylish designs for both men and women.
Does The Wallet Case Protect Your Phone?
The most common wallet-style cases are folios that fold over your phone, typically covering both the front and back. The protection they offer is basic. While they'll protect the front and back of your phone from scuffs and scratches, you won't want to play any games of catch with your phone.
Advantages Of Using A Wallet Case
Keeps all your necessities in one place.
It can act as a phone stand.
Offers damage protection.
They are stylish.
Disadvantages Of Using A Wallet Case
They are bulky.
You lose a lot more such as credit cards, train cards, money, etc if you lose the wallet case.
We've reviewed the best phone wallet cases for your iPhone that offers a variety of both fashion and function to meet your needs.
Spigen Slim Armor CS iPhone XS Wallet Case/Cover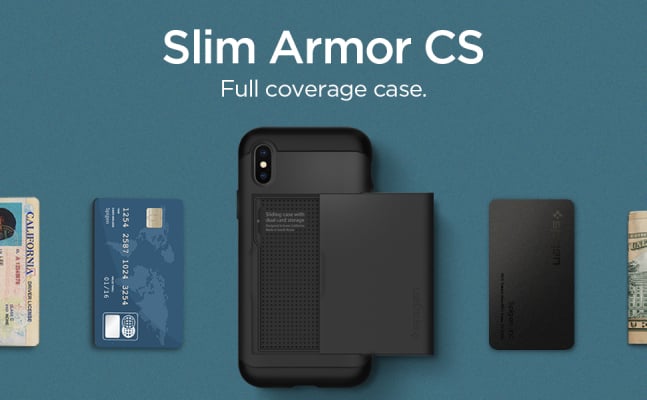 Dual-layered for extreme drop-protection.
The slim and lightweight design stays pocket-friendly.
Conveniently store up to 2 cards and some cash.
Mil-grade certified with Air Cushion Technology.
Slim profile.
Ergonomically designed for easy grip.
Provides total drop protection.
Soft TPU cover and hard PC back.
100% concealment sliding cover.
Raised bezels for enhanced camera protection.
Dual-layered design.
Rigid exterior with inner shock-absorbance.
Gives your iPhone protection with card storage.
LUPA iPhone XS Wallet Case/Cover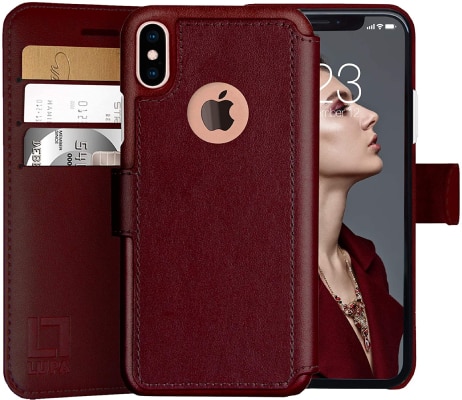 The LUPA ultra-slim phone wallet iPhone XS case for women and men is here to help you carry your cards.
Made of soft, durable PU leather.
It can hold 3 cards and up to 4 bills.
Premium faux leather case.
It comes in a deluxe gift box.
Ultra-slim wallet case.
Keep your iPhone safe from accidents with this wallet case.
Perfect cutouts for speaker and other ports.
Allows access to all ports.
It resists moisture, stains & stretching
This wallet case comes with magnetic closure.
It is made from rugged, soft, and eco-friendly PU leather that will not stain or fade.
Complete camera and screen protection.
Compatible wireless charging with the case itself.
Easy access to all necessities.
It comes beautifully packaged in a gift box.
LUPA promise to issue a full refund on-the-spot in case of any default.
TUCCH iPhone XS Case/Cover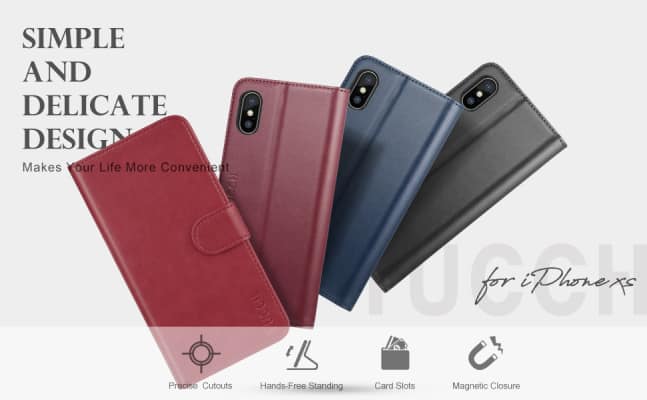 Premium synthetic leather cover.
Guards your device against scratches and drops.
The case not only has that classic premium synthetic leather feel but also has a retro look and design.
TUCCH leather case is a graceful, luxurious & fashionable business style leather case for your iPhone XS.
Included 3 card slots and 1 money pocket.
This leather case has a stand function which will bring you more convenience for movie-watching with multi-viewing angles.
Auto wake-sleep function.
RFID technology application effectively shields the signals and keeps your personal information safe.
It covers all corners and provides great dual-layer protection to your phone.
The durable soft TPU full-body inner case comes with a cushioned shockproof edge and ensures your phone against drops and bumps.
3D textured design.
Drop tested and shock absorption case.
JOYAKI iPhone XS Slim Leather Case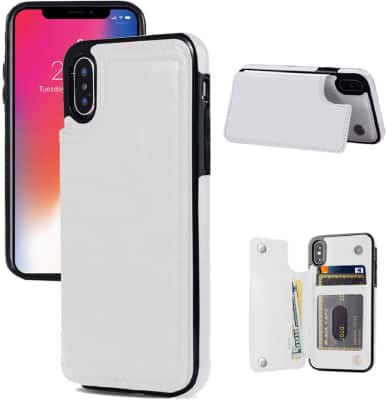 Genuine handcrafted case.
Dual-layer structure, with hybrid PU leather and soft TPU bumper.
The interior case section securely holds your device in place.
Separate slots for your ID and cards, as well as a pocket for cash.
Can store up to 4 cards.
Unique wallet case: 3 in 1 combination for flip case style, top-grade hand feeling.
Magnetic buttons keep your case slim and stylish, keep your cash and cards security.
Slim profile provides a sleek look and also convert our iPhone XS for hands-free viewing.
Convenient stand feature.
The durable soft-touch cover provides full-frame protection to cushion your device from drops and dings.
It comes with a 180 days return policy in case of defect.
A free tempered glass for complete protection.
Package Includes:
1 iPhone XS wallet case
1 tempered glass
A pair of wet and dry wipes
ZVE Zipper Wallet Pocket Case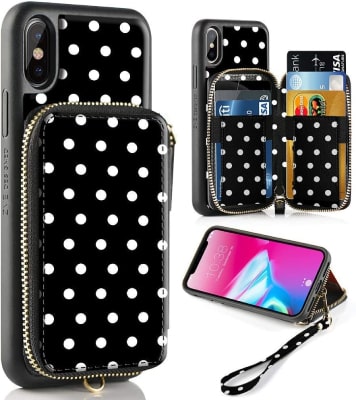 High Quality of YKK Zipper Design.
Every piece of YKK Zipper can bear 1000 times pull strength testing, which can keep your belongings well.
A leather zipper wallet pocket purse handbag wrist strap case for Apple iPhone XS.
Intimate detachable anti-lost lanyard design.
With an anti-lost lanyard, hold your phone more convenient and without the worry about losing.
Wallet and cardholder function.
2 cardholders with elastic band give enough space for more than 10+ Cards as well as 15 amounts of cash and your keys which include IDs, credit cards, debit cards, and cash.
A wonderful wallet function.
Open and close the wallet with zipper, keeps your cards and cash secure.
Layflat screen guard, safely place your phone face down on a flat surface without scratching the screen.
Covers all corners and includes raised edges.
Shock-resistant case.
Reinforced buttons, improve responsiveness, and provides extra protection.
Simple kickstand, prop up the phone with any card, anywhere.
It comes with an 18 Months warranty and best customer service to protect your valuable investment.
Arae iPhone XS Wallet Cover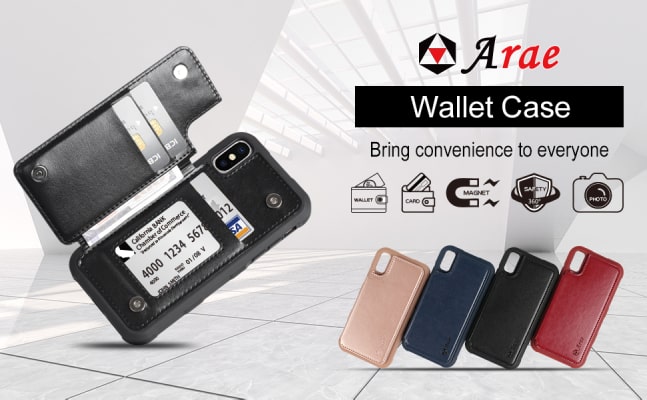 Made of durable shockproof TPU and top quality PU leather.
Unique design.
In other cases, cards will press against the screen while in this case, it won't happen.
Edge of the case is designed shockproof, fully protects your phone.
3 card slots and a pocket help you store your driving license or credit card and some cash.
Two strong magnetic buckles stay closed to keep your belongings secure.
Suitable for everyday use and business trip.
The wallet case has exquisite cut-outs access to all buttons, cameras, speakers, and connectors.
Allow wireless charging without removing the case.
The TPU case firmly adheres to the wallet, couldn't be removed, you don't have to worry about it falling down.
Complete drop protection.
Perfect craftsmanship makes it even more durable.
Conclusion
Conclusively, by observing and also distinguishing between all the above wallet cases, the ZVE brand sells one of the best wallet cases for iPhone XS. It has all the essential features for a wallet case. ZVE provides high-quality YKK zipper design that can bear 1000 times pull strength, a wrist strap case with detachable anti-lost lanyard design. It can store 10+ Cards as well as 15 amounts of cash and many more functions. But most importantly ZVE provides 18 Months warranty and best customer service to protect your valuable investment.
Also, Lupa Case can be an admirable and preferable alternative. It has all features like precisely cut out for buttons, complete camera and screen protection, and many more features. Lupa promises to issue a full refund on-the-spot in case of any default. Regardless of which wallet case you go with, the most important thing is that your phone is well protected.
We would like to hear your reviews. Do comment and share. Also do subscribe to stay updated With All The Latest News, Offers, and Special Announcements.
*Prices was correct as on 2nd July 2020