iPad Mini 2 was a great addition to the previous iPad Mini in a lot of ways. The major difference that anyone can easily point out right out of the box is its amazing Retina display, to be more technical a much higher resolution. If you are having an iPad it will be safe to assume that you know the case game is strong with iPads which are both great and a problem at the same time. Great because you have a lot of option to choose for you iPad depending on your requirement, but the problem arises when you have to choose the right one for your device. So we will be discussing the best iPad Mini 2 cases and covers.
But before buying a case you must know what exactly a case is and what type of cases are available and sold in markets.
A case is nothing but an accessory that is used to cover a cell phone or an iPad. The iPad case not only brings a modish and stylish look but also gives you protection while it falls on the ground or into the water.
iPad cases prevent a lot of damage during unfortunate accidents, both to the device and your wallet, but are they really needed?
The main reason why users put cases on their iPads is that accidents happen. Obviously, people don't actually try to purposely drop their tablets, but if someone bumps into you, knocking your iPad out of your hand, you're kind of screwed.
Types Of iPad Cases:
Clear-Transparent and see-through cases for your iPad.
Gel-Gel iPad cases are similar to hard iPad cases, add slim protection to the back and sides of the iPad, protecting it from bumps and scratches. Gel iPad cases are usually made from thermoplastic polyurethane (TPU).
Designer-Comes in various colors and designs.
Leather– Typically are a total iPad cover, protecting the front and back of the iPad. They can come with an inner plastic shell, or with a holder molded from the leather itself.
Hard-These cases are usually made from poly-carbonate (plastic), so it is hardened and as protective as possible.
Soft-Soft Cases comprise of Silicone, Rubber, and Leather Cases. Even though Soft Cases appear soft on the outside, they cushion the inside.
Folio-Folio iPad cases are similar to Leather iPad cases, in their form, functionality, and features. It may be made from leather or other material. They may also have an inner pocket for cards.
Rugged- Rugged case offers extra protection with TPU shell inbuilt within them. They are quite safe and can resist even substantial damages or falls.
Stand-Stand Case helps make your iPad stand so that you can watch your movies and screens easily.
Keyboard -Keyboard Cases are for those looking to turn their iPad into a productivity powerhouse. You can use keys for typing large documents and also to have the iPad positioned in a way that is similar to a laptop and in a standing position that makes it easier to see the screen.
We've reviewed the best cases that offer a variety of both fashion and function to meet your needs, whether you just want a case that offers basic protection or more bells and whistles with a stylish finish.
SEYMAC Stock Hard Case/Cover For iPad Mini 2
Made from high-grade thermoplastic polyurethane and PU leather.
Create ultimate protection for your iPad.
Not only shockproof but also comfortable hand feeling for enjoying.
A fully smart cover.
The case allows easy access to all buttons, controls, and ports without having to remove the iPad mini from the case.
3-Position use: flat, horizontal, and vertical.
It has a smart flap which is detachable.
Convenient for business working and studying/ movie-watching or video-chatting.
Rest assured your iPad will be protected.
Specially designed four-piece case providing all-around protection to your iPad mini.
Full protection design.
A detachable magnetic flap is used to provide security.
Conserve energy and extend the standby time.
Auto-awake functionality.
Unique and great design for kids.
Excellent quality product.
Package Includes
1×iPad mini 1/2/3 case
1×User manual
1×Installation tool
1×Cleaning Cloth
SUPCASE Rugged iPad Mini 2 Case
Advanced dual layer designed case combined of PC hard shell and flexible TPU.
This case can withstand an accidental drop, bumps, and shock.
Front cover with a built-in screen protector.
Prevents scratches without compromising sensitivity.
Advanced front cover Snap-On design for EASY installation.
All features accessible with case installed.
Port covers keep out debris and dust.
Sporty design with multi-color options.
Precise cutouts for iPad Mini with Retina Display.
Access cutouts for camera, headphone jack, lightning connector.
Shock-resistant iPad Mini 2 Case.
Designed with both protection and looks in mind.
Spigen Tough Armor Metal Slate iPad Mini 2 Cover
Air-cushioned and web pattern TPU case.
1.7mm lip to protect the screen even with Tempered Glass screen protector.
Slimmer but more protective than other protective cases on the market.
Extreme Protection from drops and scratches.
Tough Armor is the case built for ultimate protection.
Its dual-layer structure provides drop-coverage and shock-absorbency with Air Cushion Technology.
Raised bezel to protect the screen and camera.
Raised screen by 0.06" and raised camera by 0.1".
Comes with military-grade protection.
Shock resistant.
Precise cutouts for camera, earphone jack, charging, etc.
Responsive buttons.
Ztotop Leather Folio Stand Protective Case
Excellent workmanship with the premium synthetic leather exterior.
Anti-slip interior lining.
Hardback cover.
Premium graded material.
Full 360-degree protection.
Complete camera and screen protection.
Also, provide edge protection.
Made with highly durable PU material.
Adjustable through two stand slots.
The cover features a magnetic closure and support auto Sleep / Wake function.
Multiple deep grooves are able to set up multiple horizontal stand angles.
Built-in elastic stylus pen holder.
Multi-functional features.
Built-in organizer pocket.
Use the document card pocket to store your business cards, bank cards, notes, cash, or bills while on the go.
Interior hand strap for comfortable one-handed use.
Exterior elastic closure strap which adds to the magnetic closure to keep the case closed and the device protected when not in use.
Functional elastic strap.
Arteck Ultra-Thin Apple iPad Mini Bluetooth Keyboard Folio Case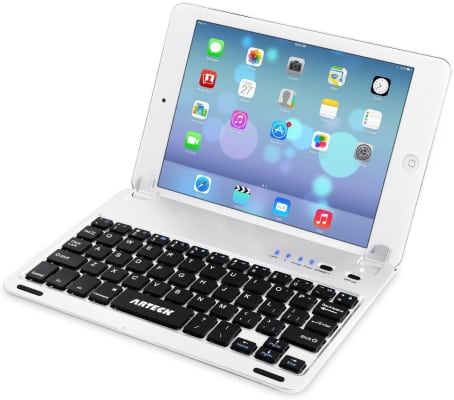 The standard Mac keyboard layout features a larger key size for a more relaxed typing experience.
Connects wirelessly via Bluetooth with an easy-connect process.
Retina display with 130-degree swivel rotating.
Built-in hinges allow the iPad to be tilted up to 130 degrees to provide the most comfortable viewing position.
The keyboard cover includes the auto sleep/wake feature activated by opening and closing the lid.
Charge up in 1 hour and enjoy 50 hours of uninterrupted use.
A super-slim, lightweight design.
It perfectly complements the elegantly sophisticated design style of the iPad.
Thin and lightweight material.
It won't detract from the iPad Mini's stunning looks but still offers durable protection for your iPad Mini.
It comes with a 24-month warranty and also friendly support.
Package Includes:
Arteck Bluetooth Keyboard Apple iPad Mini 2 case.
USB charging cable.
User manual.
Ecome Transparent iPad Mini 2 Clear Cover/Case
Soft TPU Silicone material.
Precisely cut openings to allow full access to all the functions of your device.
Easy to install and remove.
Ultra-thin lightweight design.
Clear case.
Showcase the original beauty of your iPad Mini 2.
Complete camera protection.
Complete screen protection.
A perfect-fitting bumper case.
Provides complete protection.
Conclusion
For personal use, Ecom Transparent Case is a favorite of ours because it's classic, lightweight, and gets the job done in style. If you want something that looks good as well as is an admirable one, this is your case. These are Protective Thin Clear Cases that offer complete protection for the camera as well as the screen. For more professional applications, we recommend you to go with the Arteck Ultra Keyboard Case for iPad Mini. It features a standard Mac keyboard layout flashing large keys! This keyboard cover includes the auto sleep/wake feature activated by opening and closing the lid. Most important, charges so quickly.
The case style overall we chose is the Spigen Tough Armor Metal Slate iPad Mini 2 Cover. With a lightweight and classy design, it is also toughly durable as well as comforting. And for sure, a complete budget-friendly+finest quality option!
Regardless of which case you go with, the most important thing is that your iPad must be well covered and protected.
We would like to hear your reviews. Do comment and share. Also do subscribe to stay updated With All The Latest News, Offers, and Special Announcements.
*Price was correct as on 16th June, 2020