Are pockets feeling heavy? A thick wallet, plus an iPhone and keys, is a lot to expect from your jeans. One way to lighten up the load is to minimize by combining your iPhone and wallet into one handy wallet case. There are hundreds of options for wallet cases, so it might be hard to narrow down the choices. Lucky for you, we've put together a list of iPhone 11 Wallet Case/Cover.
But before buying a wallet case you may know some important things about it.
What Is A Wallet Case?
A cell phone wallet case is a case where we can put your credit cards, train cards, money, and so on in the phone case, and don't have to carry a separate wallet around. Plus, they're attractive and come in stylish designs for both men and women.
Does The Wallet Case Protect Your Phone?
The most common wallet-style cases are folios that fold over your phone, typically covering both the front and back. The protection they offer is basic. While they'll protect the front and back of your phone from scuffs and scratches, you won't want to play any games of catch with your phone.
Advantages Of Using A Wallet Case
Keeps all your necessities in one place.
It can act as a phone stand.
Offers damage protection.
They are stylish.
Disadvantages Of Using A Wallet Case
They are bulky.
You lose a lot more such as credit cards, train cards, money, etc if you lose the wallet case.
We've reviewed the best phone wallet cases for your iPhone that offers a variety of both fashion and function to meet your needs.
OT ONETOP PU Leather Wallet Case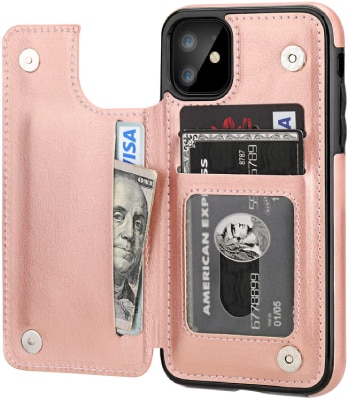 Made from Faux Leather, Thermoplastic Polyurethane.
High-quality durable material for the service life.
Soft PU material brings a very comfortable touch feel.
Premium PU Leather.
3 card slots for ID card, credit cards card, or some cash, without taking purse to outdoor.
Convenient Stand Feature.
The Stand can be converted into a multi-angle comfortable view for reading, watching videos, or facetime.
All-Round Protection.
A full-scale covering design to upgrade Anti-fall protective system.
Precise cutouts for speakers, charging ports, audio ports, and buttons for your convenience.
It is available in different colors.
OCASE iPhone 11 Wallet Case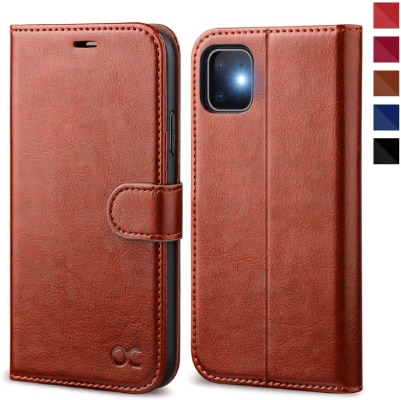 A PU Leather Flip Case.
Handcrafted of durable PU leather that protects your phone from dents, scratches, and damage.
While making it easy to insert or remove your device.
The effective magnetic leather strap has a strong enough magnetic component to hold the case firmly closed.
Keeping your phone safe and protected.
The iPhone 11 wallet case features 3 card slots and a side pocket for money or additional cards.
Its stand-alone function allows you to place your smartphone in the perfect position for hands-free viewing or reading.
The shockproof and water-resistant design keeps your iPhone safe from damage.
It provides a 2-year warranty and a 60-day money-back guarantee.
Precise cutouts responsive side buttons.
Easy access to all ports.
Raised corner for better screen protection.
It is scientifically designed, not to affect the normal signal and sounds.
FLYEE iPhone 11 Wallet Case/Cover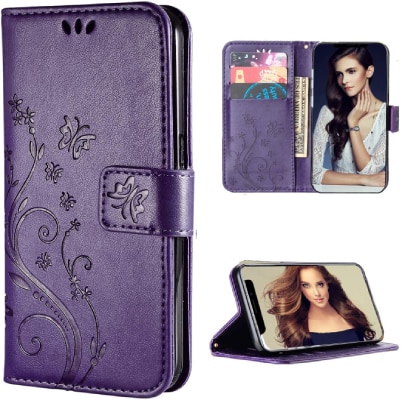 Unique Floral Pattern will add you additional Charms When You shopping, party, meeting.
Just the right N50 pattern magnet is much stronger than the normal N38.
It will not affect the use of phones, credit cards, and so on.
It can be converted easily into a stand case for FaceTime, video watching, and messaging.
Detachable wrist strap.
Precise cutouts for easy access to buttons,camera,speaker and mic,slide action is not affected.
3 card slots and money pockets.
Kickstand function: convinent for movie-watching.
Magnetic Adsorption: keep your phone and cards stay securely.
Specially designed for womens.
Also, it would be a nice gift for friends.
Available in different colors.
Silk Smartish Apple iPhone 11 Wallet Case
High-grip textured sides – Fewer toilet drops!
Ultra-light.
Durable construction.
Protective air-pocket corners.
Wireless charging compatible.
Charges through the case. Nikola Tesla approved!
With ultra-light and durable construction it's both thin and protective.
Featuring mega-grippy sides and corner air-pockets (think airbags for your iPhone).
Lay flat-screen guard design.
KIHUWEY iPhone 11 Wallet Cover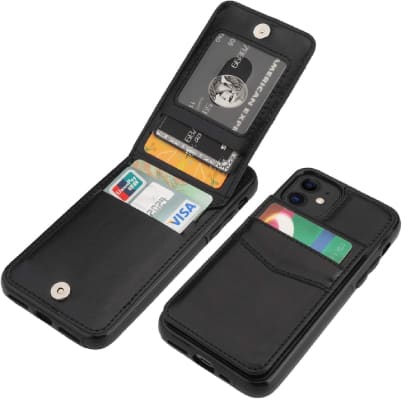 High-Quality PU leather (include the side).
It feels softer and looks more comfortable.
5 Card slots securely hold more than 3 cards and some cash.
Kickstand functions are convenient for reading, watching videos, browsing the web, and face-to-face chatting with friends
It provides 2 side kickstand (portrait and transverse)
1.5mm Raised buffer edge prevents your phone flat surfaces scratching.
The four corners also protect your iPhone 11 from dropping, shocking.
Hardcover with special protective design protect your phone from damages and scratches.
Beautiful design magnetic button with strong absorption ensures security, but quite easy to detach.
LUPA iPhone 11 Wallet Case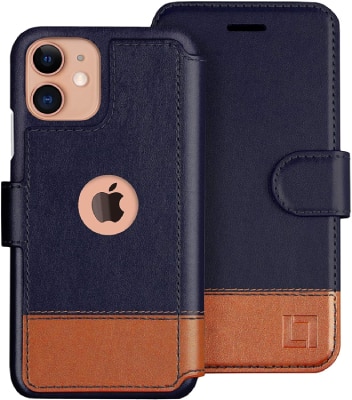 The LUPA ultra-slim phone wallet iPhone 11 case for women and men is here to help you carry your cards.
It can hold 3 cards and up to 3 bills.
Premium faux leather case.
It comes in a deluxe gift box.
Keep your iPhone safe from accidents with this wallet case.
Covers all corners and protects your screen.
Allows access to all ports.
This wallet case comes with magnetic closure, which is made from rugged, soft, and eco-friendly PU leather that will not stain or fade.
Complete camera and screen protection.
Compatible wireless charging with the case itself.
Easy access to all necessities.
LUPA promise to issue a full refund on-the-spot in case of any default.
Conclusion
Conclusively, by observing and also distinguishing between all the above wallet cases, the OCASE brand sells one of the best wallet cases for your iPhone 11. It has all the essential features for a wallet case. Also have some extra features like precise cut out for buttons, raised corners for better protection, also it is scientifically designed. But the most important feature of this case is it's a water proof case which is a very important feature, also it comes with a 2 years warranty and 60 days money back guarantee. Regardless of which wallet case you go with, the most important thing is that your phone is well protected.
We would like to hear your reviews. Do comment and share. Also do subscribe to stay updated With All The Latest News, Offers, and Special Announcements.
*Prices was correct as on 20th June 2020