It is a common thing to need navigation while driving but holding your phone to check the direction while driving is dangerous. Thus, it is best to get a car mount for your mobile and drive safely without missing out. Although there are so many car mounts available in the market, most of them are hard to install. Getting a magnetic car mount for your phone is the best choice, as they make life so much easier. Here are the best magnetic car mounts for iPhone in 2021.
What is a magnetic car mount?
A magnetic car mount is like a phone holder that holds your phone in place while you drive allowing you to look at it while driving. With the magnetic grip, the car mount holds your phone securely on the dashboard or AC vent. This helps you to look at the directions on maps, change the song, or respond to a call while you drive. A magnetic car mount is a better choice cause it gives a strong and secure grip to your phone.
1. Nite Ize Steelie Orbiter Car Mounts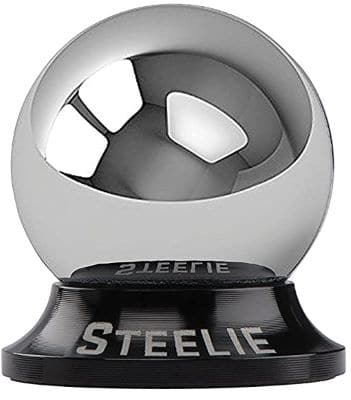 With the Nite Ize Steelie Orbiter, you can dock your iPhone to your dashboard in a snap. It has low-profile Steelie Orbiter magnetic mounting technology, so no direct magnets are attached to your phone. The metal plate easily attaches to most rigid phone cases and dashboards using 3M adhesive. The Orbiter Magnetic Socket lives on the dash mount allowing a quick and secure connection to your iPhone. Moreover, the steel ball allows you to tilt your phone smoothly from landscape to portrait and everywhere in between. It has a neodymium magnet and silicone centre that gives a secure grip and smooth glide. Also, you don't need to worry about the powerful magnets damaging your phones.
2. Obaska Magnetic Phone Car Mount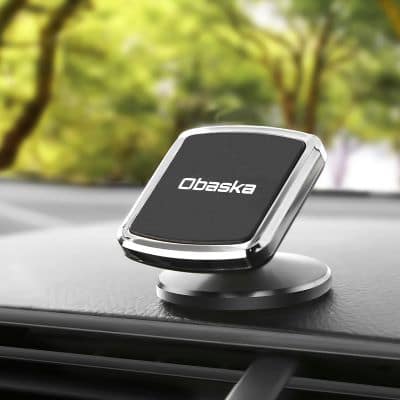 The Obaska Magnetic Phone Car Mount has a super-strong magnet that supports your iPhone without losing its grip. It has a 3M VHB adhesive that gives you a tight and secure hold. Moreover, its unique design allows you to rotate your iPhone at your will to achieve the best angle of view. It is easy to use and you can handle it with one hand. Also, it has no clamps or cradles to hold your phone. It s compatible with all iPhone models going back to the iPhone 6. It is a super affordable choice to make driving easy.
3. Syncwire magnetic dash phone car mount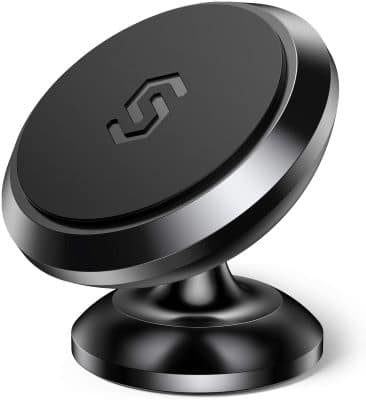 Made of aluminium alloy and soft silicone, the magnetic car holder has a smooth surface to hold your phone. The 3M VHB adhesive pad provides strong stick force and sets on your dashboard without any problem. It stays secure even in various situations like sudden braking, going over a speed bump, and driving on a rugged mountain road. Moreover, it has a solid metal ball joint that allows you to rotate your iPhone or swivel your display to your preferred position. One of the best things about this car mount is, it is compact and would not take up much of your dashboard space. Also, this car mount comes with 3 years warranty. So if you have any problems with the magnetic mount you can get a replacement.
4. SCOSCHE MagicMount Vent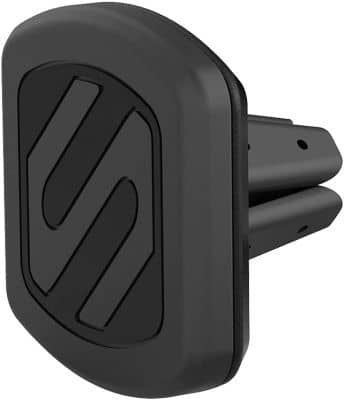 MagicMount has a new magnetic mounting system that conveniently mounts your iPhone. All you need to do is take your phone near the magnetic surface and it will instantly lock securely. It has a sleek cradle-free design and uses high-powered magnets to secure your device. You can even place your device at any angle for convenient viewing. Moreover, you can put this car mount anywhere you want, on your windshield or anywhere on your dash. Also, you can use it as a kickstand when you are not in your car. You can even secure your charging cable with the integrated cable clip.
5. Coolpow magnetic phone mount- Pack of 2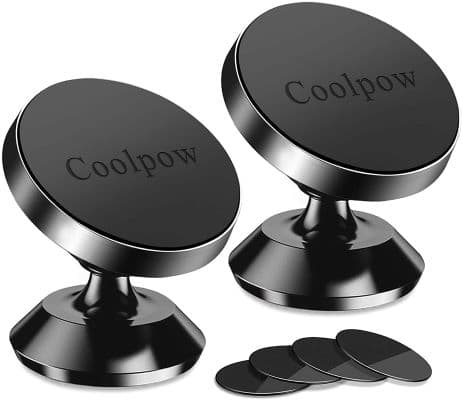 The powerful magnetic phone holder from Coolpaw creates a powerful attraction that firmly supports your iPhone, so you can drive without distraction. It has a VHB adhesive that gives a secure fit with the dashboard. Moreover, it will stay put even in different situations like sudden braking, speed bump, and rugged mountain road. The compact design takes up a little space and does not block the view. With the adjustable swivel ball joint, you can rotate your device accordingly and get the best viewing angle. This combo of 2 is quite of a deal and you can use both in one car or two different cars.
6. VICSEED Magnetic Phone Car Holder- Best magnetic car mounts for iPhone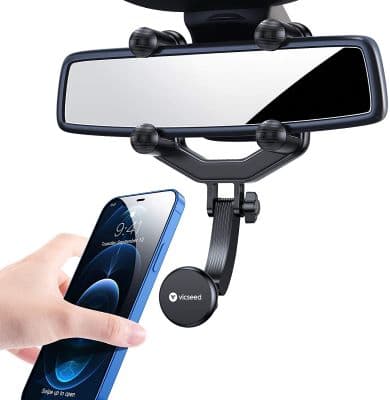 If you don't want an adhesive phone holder that blocks your car vent, then VICSEED Magnetic Phone Car Holder is for you. This magnetic phone holder securely stays at eye level and the magnet keeps your phone securely held. It has the 6 strongest N52 Magnets that provide a secure grip to your iPhone even with the case. You can fix it on the rearview mirror with the 4-corner lock mechanism. Also, you can adjust your phone in any direction and swivel 360°. It can withstand heat and cold ( -40℉ to 194℉) without getting deformed. The non-slip silicone rubber on the 4-corner increases the clamping power & protects rearview mirrors from scratches.
7. APPS2CAR Windshield Car Phone Mount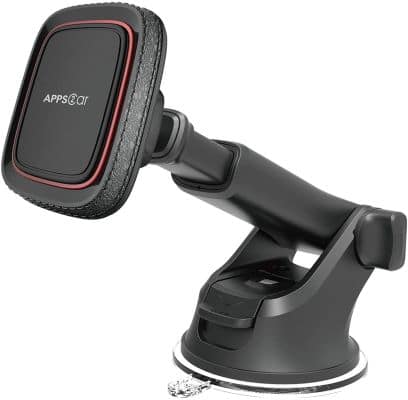 You can stick this phone mount anywhere you want with the sticky gel on the base of the suction cup and it will securely hold your phone. Although, it doesn't stick to leather, vinyl and soft surface. The suction cup base provides a strong, secure hold power on the dashboards, windshields, countertops, desks, tables and other surfaces. The powerful magnetic force securely holds your iPhone in place on the dash or windshield even on bumpy roads. It has a 360 degree rotatable, adjustable and extendable telescopic arm, so you can adjust it to get the perfect view.
8. WixGear magnetic twist-lock air vent mount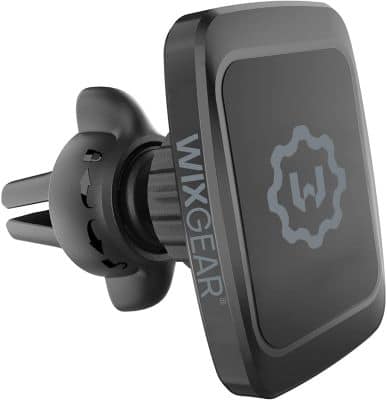 The WixGear magnetic vent mount is easy to use due to its simple and complementary design. With a sturdy rubber base and a powerful magnetic head, it holds your iPhone securely in place. You need to enter the twist-lock into the Air vent and then lock the mount so that it does not fall. The base of the mount will solidly hold the magnetic head of the mount and keep your phone in place. You can rotate or swivel your phone to get the perfect view. The base of the mount remains fixed into the air vent even in adverse conditions. Moreover, the compact and sleek design does not block the car's air vent.
9. BESTRIX Magnetic Dashboard Mount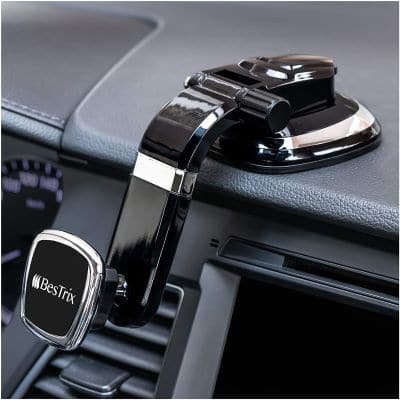 If you want a luxurious and sleek look, you can go for BEATRIX Magnetic Dashboard Mount.
You get a straightforward 360° rotation of your phone show and an arm you can adapt to your accommodation.
The strong stickiness suction cup fits all dashboards with smooth surfaces, leather/faux dashboards. Moreover, the strong magnetic silicon surface holds your iPhone and keeps it safe through all the bumps on the road. It is made of superior quality ABS plastic that offers flexibility and durability. The strong gel base stabilizes it on the dashboard. Although it works with phones up to 6.4-inches only, so you cannot use it for iPhone XS Max.
Conclusion
Looking for a good magnetic car mount for your phone is like looking for a protective case that protects your phone while you drive. If you are looking for a compact yet functional magnetic car mount for your iPhone, you can go for Syncwire magnetic dash phone car mount. The solid metal ball joint allows you to rotate your iPhone or swivel your display to your preferred position. Moreover, the 3 years warranty is just like a bonus for any problems with the car mount. Whereas, if you are looking for a sleek and luxurious look, go for BESTRIX Magnetic Dashboard Mount. It securely fits on all kinds of dashboard surfaces, even the ones with leather or smooth surfaces. It offers a secure fit to your phone and is flexible.
Which magnetic car mount are you planning to buy? Tell us in the comments section below.
Read More!