Protecting your iPad PRO 11 2020 is most important because it keeps looking good from everyday wear and tear, and it'll retain the value you choose to sell or trade it in later. You've got the biggest, most beautiful screen on a mobile device, and you'd like to keep it pristine .also, We've rounded up the best screen iPad Pro 11 2020 Screen protector/screen guard to make it easier for you.
But wait! What's a screen protector? A screen protector is a sheet of clear plastic you adhere to your smartphone's screen. The plastic is cut to fit the exact shape of your device along with holes for buttons and the speaker. That's why you buy different screen protectors/screen guard for different devices. Plus, it helps protect screens from scratches and also avoid unnecessary damages for your phone.
You'll find protectors in a variety of materials including:
Tempered glass – Offers decent protection against impact as well as scratches
PET plastic – Generally covers basic scratch protection
TPU plastic – Scratch protection only
Multi-layered screen protector – Very durable and can also withstand significant amounts of shock
We have listed some of the most suitable screen protectors for your iPad Pro 11″ with best user reviews.
JETech iPad Pro 11 2020 Screen Protector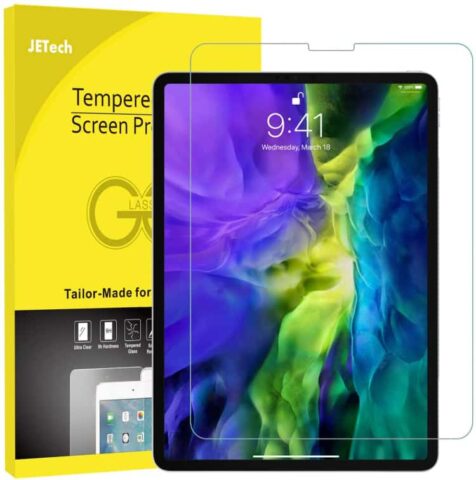 Extremely high hardness.
It can resists scratches up to 9H > that is harder than a knife.
Compatible with Face ID and Apple Pencil. Designed for iPad Pro 11-inch 2020 / 2018 Model Liquid Retina Display. Fit iPad Models: A2228 A2068 A2230 A1980 A2013 A1934. Please check back bottom of your iPad to find the model number.
Also, it's made with PREMIUM high-quality 0.33mm thick tempered glass with rounded edges.
Dust-free and also fingerprint-free.
One-push super easy installation.
It is bubble-free also.
High-response as well as high-transparency.
Also compatible with Apple Pencil.
Scratch-resistant.
Anti-fingerprint.
Package includes:
Customer service card.
Instructions.
Dust removal stick.
Cleaning cloth.
1-Pack tempered glass screen protector.
ESR Premium Tempered Glass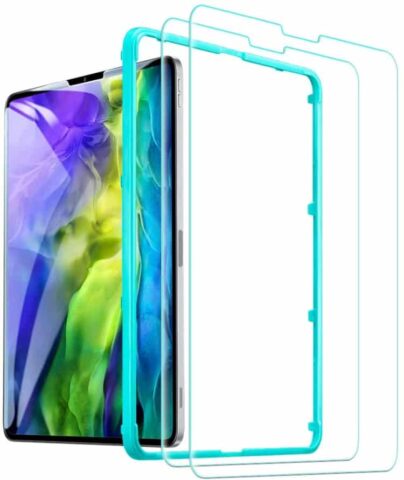 Designed specifically for the iPad Pro 11" (2018/2020). Not compatible with any other models.
A large camera & microphone cutout ensures unaffected Face ID and sound quality.
The ultra-thin design maintains high responsiveness when using an Apple Pencil.
The hardness is up to 9H which can protect your screen from scratches and external shocks.
The free installation frame makes perfect alignment also with zero bubbles a breeze.
HD PROTECTION – This ultra-transparent screen protector fully preserves image quality while protecting your iPad from dust & scratches.
Easy installation.
Tempered 2x to more effectively protect your iPad screen.
Tempered Glass Screen Protector
Wet and Dry Wipes
Dust Removal Stickers
Installation Guide
QHOHQ for iPad Pro 11 2020 Screen Guard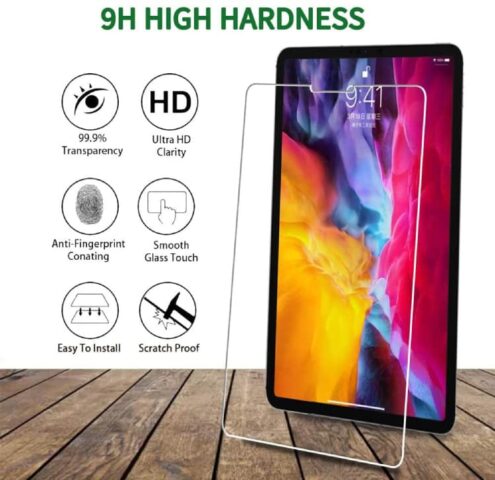 The perfect combination of anti-fingerprint and HD features.
Plasma oleophobic coating treatment, smooth feel and highly effective anti-fingerprint, anti-oil stain, anti-glare effect With the ultra-high light transmission and optical-grade effects.
It can effectively block and filter ultraviolet rays and improve screen visibility.
The precise laser cut size can cover the entire iPad screen to provide maximum protection for your iPad.
The glass protector is a professional curved design, reaching a 2.5D arc edge, making fingers and hands feel comfortable and never scratching hands.
The ultra-thin 0.33mm thickness maintains the original 100% response sensitivity and touch.
99.9% light transmission, it maintains the original high-resolution retinal viewing experience.
High-quality 9H toughened glass can prevent high impact scratches, drops, collisions and impacts from damaging the phone screen.
Compatible with Face ID and Apple Pencil. QHOHQ Designed for iPad Pro 11-inch 2020 Release (2nd Generation) IPS LCD Capacitive Touch Display.
Fit iPad Models: A2608/A2230 and is not compatible with other models.
OMOTON iPad pro 11 screen protector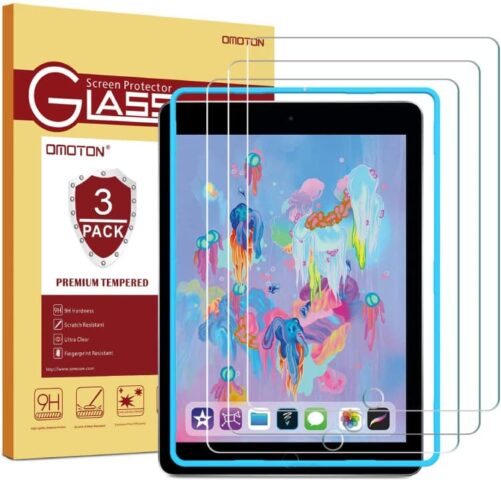 Made of real Premium 9H hardness 0.26mm tempered glass.
So High transparency.
High sensitivity with the apple pencil, ensures quick app launch, smooth games and video playing.
Hydrophobic oleophobic screen coating protects against sweat and oil residue from fingers.
Dust-free.
One-push super easy installation.
It is Bubble-free also.
Only fit for All Screen iPad Pro 11-inch 2020 and 2018 Release, NOT for any other Tablets.
Package Includes:
3 x iPad Pro 11 screen protector
1 x Installation Kit
SPARIN iPad Pro 11 2018 & 2020 Screen Guard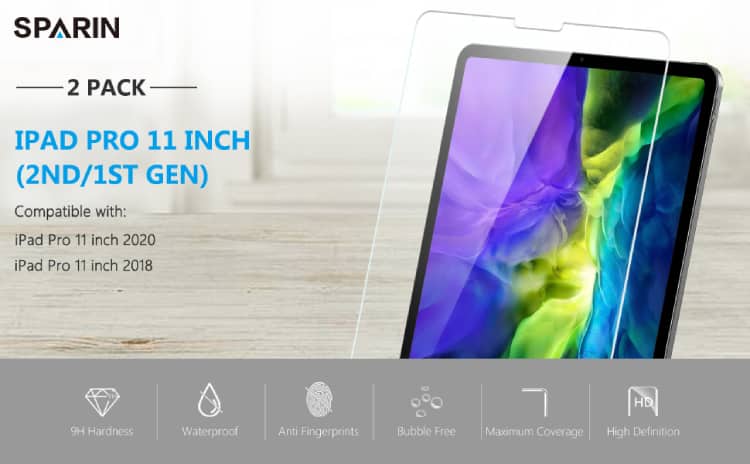 iPad Pro 11 inch with Home Button-2018 & 2020 Release.
NOT Fit: iPad Pro 12.9 inch 3rd&4th Generation (2018 & 2020 Release)
WORK WITH FACE ID: Upgraded design with LARGE notch cutout for the camera and Face ID sensor, it has no interference with the Face ID of iPad Pro 11 inch.
This 9H hardness tempered glass screen protector can effectively protect your device from scratches and smudges in daily use.
99% high definition clarity and light transmittance of this iPad 11″ screen protector keep original and stunning viewing quality for you.
Apple Pencil Compatible-No interference to the sensitivity and Multi-Touch subsystem when using touch or an Apple Pencil.
Touch Sensitivity-With only 0.3mm thickness, so this iPad Pro 11 2018/2020 screen protector will NOT interfere with the touch sensitivity of Apple Pencil.
Easy to Install-With air-exhausting glue, the iPad 11 2018/2020 screen protector tempered glass will adhesive to the screen automatically without bubble.
Package Included:
2 × Screen Protector for iPad Pro 11-inch
1 × Accessories Kit
ZOEGAA iPad Pro 11 Screen Protector(2020 & 2018 Models)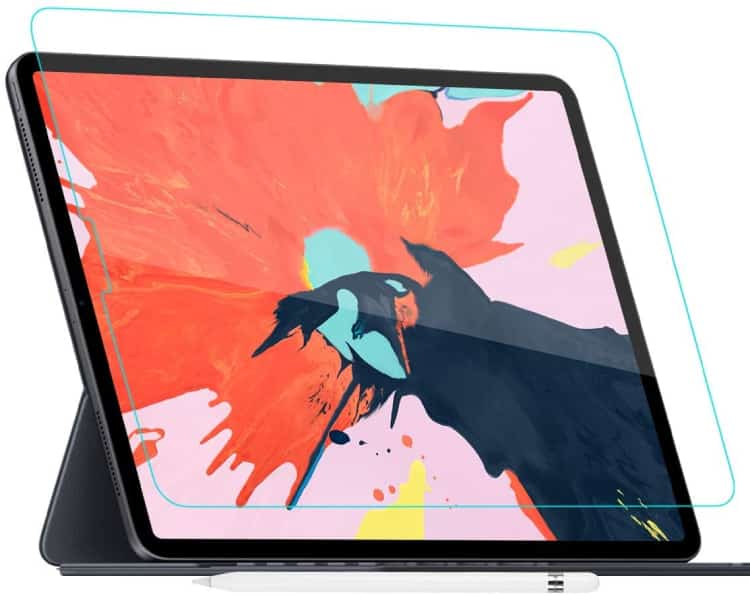 Dust-free and also fingerprint-free.
One-push super easy installation.
It is bubble-free also.
High-response as well as high-transparency.
Also compatible with Apple Pencil.
Scratch-resistant.
Anti-fingerprint.
Specially designed for new Apple iPad Pro 11'' (2020 & 2018 Release).
Conclusion
Conclusively, by observing and also distinguishing between all the above screen protectors, the JETech sells one of the best screen protectors for your iPad. There are various reasons we consider JETech as best. One is because of its highly durable and thick quality. Also, it comes scratch-resistant, highly transparent, and highly sensitive. Super easy to install you don't need to go to a store for its installation. Also, it is compatible with Face ID and Apple Pencil. Regardless of which screen protector you go with, the most important thing is that your iPad is well protected.
We would like to hear your reviews. Do comment and share. Also do subscribe to stay updated With All The Latest News, Offers, and Special Announcements.
*Prices was correct as on 2nd August 2020