After spending almost a thousand dollars on your brand new iPhone, you might not be willing to invest in a new Apple Watch. However, that means you will have to carry your iPhone if you want to track your exercises or listen to music while going on a run. Well, that's where armbands come into play. But how do you find the right one for you? So, if you are in the market for some good armbands, here are the best armband cases for iPhone 11 and iPhone XR that you can buy right now.
NO POCKETS? NO PROBLEM! THESE PHONE ARMBANDS ARE A MUST-HAVE ITEM FOR RUNNERS
What is an Armband Case?
An armband allows you to securely carry your iPhone on your body while ensuring that it is not flailing around in your pocket. It also comes very cheaply, which is great for your budget. Many of us run with our phones—whether for mapping, streaming podcasts, and music or for safety reasons—but who wants to actually think about their phone while running? A good armband helps you do that—it holds your phone without pinching, chafing, overheating, shifting, or bouncing—so you can focus on your form, or the road, or the pizza you're going to destroy at the end of your race.
What makes for a good running armband?
It's easy to take on and off, it's sweat-resistant, and it's secure enough to both protect your too-expensive phone and prevent it from bouncing constantly during your run.
So let's see which armbands will serve you best !
LOVPHONE Armband iPhone 11/iPhone 11 XR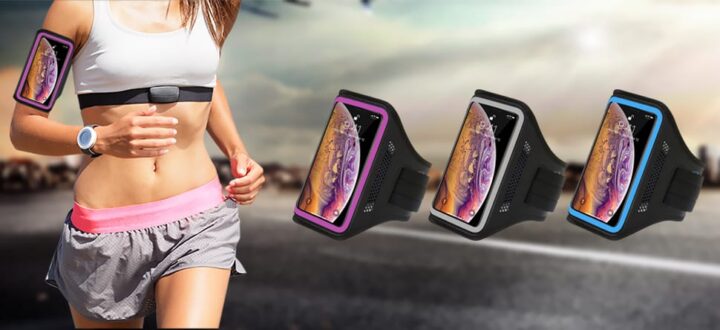 Compatible with iPhone 11 /XR, big enough even if your device has been put into other protector cases.
Designed specifically to easily connect headphones and provide full access to all phone ports and sensitivity
It is completely water-resistant and has a PVC screen protector that well protects your phone from scratches, dirt, and sweat outdoors, various other perils.
Designed to twist and bend but will not lose the original shape.
It can be easily installed in seconds.
This armband is elegant and lightweight, no burden in exercise, just enjoy it.
The adjustable soft band supports a wide range of arm girth from 10″ (25.4cm) to 15″ (38.1cm).
Also, the adjustable strap protects and stabilizes the device without slipping or constricting.
Have a safe and SECURE Built-in hidden key holder and card slot.
It becomes so inconvenient to take your case on and off your phone; it sometimes can also be a pain in the butt.
But with this improved armband, you are now provided with extra space for you to keep your case on while using the armband
LOVPHONE Cases come with a lifetime warranty.
Check Compatibility

iPhone 11,iPhone XR,iPhone XS Max,iPhone 11 Pro,iPhone 11 Pro Max
JEMACHE Armband for iPhone 11/XR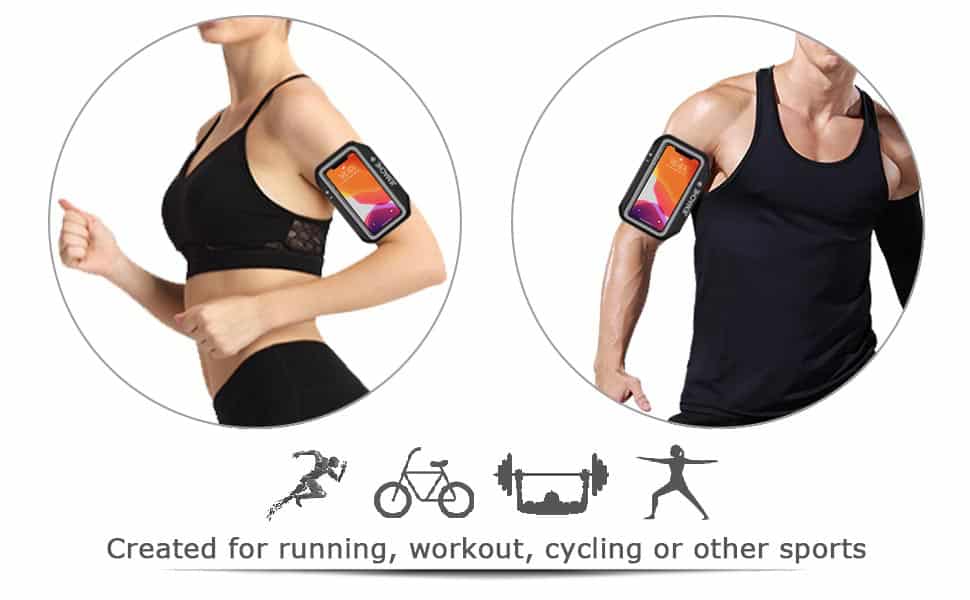 Comes with Airpods Holder, two-hole is designed to hold the Airpods with patented (Patent pending), never miss your Airpods while workouts or running.
Made of stretch resistant neoprene material, this armband easily bends, flexes, twists or folds without warping.
Adjustable strap protects and stabilizes devices without slipping or constricting.
With Power and Volume Pattern, you can press the button easier.
Built-in key pocket and rear pocket stores your house key, ID, credit card & cash while your working out.
Water-resistant, sweatproof, and washable.
There are three cutout holes behind the armband for headphone/USB cable to access your phone.
The reflective strip to keep visible in low light conditions.
Surely is TOUCH SENSITIVE, so that you can enjoy the full use of your phone through the protective screen cover on the armband, easily answer calls, manage your playlist, or activate your stopwatch without removing.
Check Compatibility

COMPATIBILITY: This armband exquisitely designed only for iPhone 11 (6.1″), iPhone XR (6.1″). It is big enough even if your device has been put into a protective case.
TRIBE Water Resistant Cell Phone Armband Case for iPhone 11/XR
It is ranked the 1st Best Seller on Amazon! You don't have to worry about its performance, because maximum people are referring Tribe and really liking it!
This encased running armband acts as a workout phone holder while offering full protection and allowing easy access to your phone's touchscreen functionality and headphone jack.
Have a no-slip design, this running armband is designed with the highest quality materials, including an extra-plush, adjustable elastic band to provide optimal comfort and fitment.
The ultra-plush, adjustable elastic band is designed to flex, twist, and bend during your toughest workouts without losing shape.
Your phone is guaranteed to stay in place during the toughest workouts.
Made from premium Polyurethane and a mixture of Lycra and Neoprene to provide optimal comfort, extra protection for your phone as well as water-resistant capabilities.
Its dual adjustable elastic strap has two available sizes that will fit any arm size from 9 – 16 inches, providing you more flexibility with comfortable fitment!
Its secured built-in hidden key holder is perfect for a small key.
You never have to worry about having to carry your keys in your pocket or losing them during your workout!
The headphone cord holder keeps your cords organized and out of the way so you can simply focus on you!
Check Compatibility

IPhone 11, iPhone 11 Pro, iPhone 11 Pro Max, iPhone X, iPhone Xs, iPhone Xr, iPhone Xs Max, iPhone 8, iPhone 8 Plus, iPhone 7, iPhone 7 Plus, iPhone 6s, iPhone 6 Plus, iPhone 6, iPhone 6s Plus, Samsung Galaxy 10, Samsung Galaxy 10 Plus, Samsung Galaxy S9, Samsung Galaxy S9 Plus, Samsung Galaxy S8, Samsung Galaxy S8 Plus, Samsung Galaxy A8, Samsung Galaxy A8 Plus, Samsung Galaxy S7, Samsung Galaxy S6, Samsung Galaxy Note 9, Samsung Galaxy Note 8, Samsung Galaxy Note 5, Samsung Galaxy Note 4, Google Pixel 3, Google Pixel 2, Google Pixel, LG G7 ThinQ, LG G7 Fit, LG G7 One, LG V40 ThinQ, LG Q Stylo Plus, LG V35 ThinQ, LG Stylo 4, Google Pixel 3 XL, Google Pixel 2 XL, Google Pixel XL, Huawei Mate 20 RS, Huawei Mate 20, Huawei Mate 20 Pro, Motorola One Power, Motorola One, Motorola Moto Z3, Motorola Moto G6, OnePlus 6, OnePlus 6T
JETech Armband Case for Apple iPhone 11/XR
Holds Universal Compatibility- For all smartphones of 6.2-Inch or smaller size
Highly Responsive as its TPU screen ensure the origin sensitivity of your phone.
Full access to all buttons and controls.
Made from skin-friendly material.
Offers you the utmost comfortable experience.
Unique back cushion design is anti-slip and permeable.
The headphone core holder makes workouts easier.
Double buckle loop and supplied extended band is designed to fit different arm sizes.
Package includes:
JETech Running Armband
extend band
customer service card
Check Compatibility

iPhone iPhone SE(2020) / 11 / 11 Pro / XR / XS / X /8 Plus / 8 / 7 Plus / 7 / 6s Plus / 6 Plus / 6s / 6 / 5s / SE / 4, Samsung Galaxy S10 / S10e / S9+ / S9 / S8+ / S8 / S7 Edge / S6
HAISSKY Running Armband with Airpods
The unique zipper slot design being so attractive and practical, allows you to place your Airpods or Car Key or precious items.
The built-in hidden pocket can help you to hold credit cards, keys, money, and more.
Clear TPU screen protection film for easy access to your phone's touch screen functionality and 3-holes-design for charging & listening.
It supports various phone unlock options such as password unlocking and gesture unlocking.
High quality lightweight Lycra fabric and TPU, lightweight, water-resistant, sweat-proof and washable.
The armband stretches softly and does not scratch the skin.
It supports various phone unlock options such as password unlocking, fingerprint Touch ID and gesture unlocking Never have to take out your cell phone from the armband.
Triple magic stickers perfect to fit arm circumferences: SMALL 6″ – LARGE 16″.
Integrated the silicone non-slip particles in the back of armband to avoid falling when running.
Reflective strips wrap around the screen window for enhanced nighttime visibility and safe night-time running.
It is perfect for most sports activities like jogging, running, cycling, mountain climbing, cross-training, mountain biking, gym, etc.
Check Compatibility

Fits Any Phones Up to 6.5 Inches, Compatible Model:

– iPhone: iPhone 11 / 11 Pro / 11 Pro Max / X / XR / XS / XS Max / SE 2 / 8 / 8 Plus / 7 / 7 Plus

– Samsung Galaxy S20/ S10/ S9/ S7 Edge / S8/ S8 Plus/ Note 10 / Note 9 / Note 8 / A60 / Galaxy A 50

– LG: LG V10 / LG G Vista 2 / LG G Flex 2 / LG G Stylo / LG Stylus 2 E520 / Stylo 2 LS775 / LG G3;

– Motorola: Moto X/G, Droid Turbo 2 / Droid Maxx 2, X Pure Edition;

– Sony: Xperia C5 Ultra, Xperia Z5 Premium;

– HTC One/ Desire; Nexus 5/5P/6P;

– Oneplus 1/2/3/3T;
VUP Running Armband for iPhone 11
Uses with 4 to 6.5-inch smartphones, including Android, iPhone 5 to iPhone11 Pro Max.
Made of SKIN-FRIENDLY Breathable Lycra and Neoprene material that provides soft, odor-free, and lightweight wearing experience.
Made of stretch resistant silicone, so completely stretchable and can also be washed with clean water.
Extra fabric layer makes the armband sweat resistance when doing workout activity
The VUP armbands are made of high-quality materials, 360 degrees to adjust the viewing angle, never take your phone down;
Also, it makes it possible to play games, watch videos, and read eBooks completely hands-free!
Great fir for most arms!
Multi-slot Adjustable Velcro iPhone Armband Will Fit Almost Any Arm Size Up To 14″.
Adjustable band and Highly elastic velcro to enjoy a comfortable fit.
Completely access to all buttons and controls of the smartphone, look cool & Great for running, cycling, walking, hiking, and other high-intensity workouts.
Check Compatibility

Compatible with all cell phone machine [UP TO 6.5 INCH], Such as:

Apple: iPhone 11/ Pro / Pro MAX / iPhone X / iPhone 8 / 8 Plus / 7 / 7 Plus / 6s 6 Plus / 5s / se / 4 ect;
Samsung Galaxy S5/ S6/ S7 Edge / S8/ S8 Plus/ S9 / S10 /Note 5 / Note 8 / 9/ 10;
LG: LG V10 / LG G Vista 2 / LG G Flex 2 / LG G Stylo / LG Stylus 2 E520 / Stylo 2 LS775 / LG G3;
Motorola: Moto X/G, Droid Turbo 2 / Droid Maxx 2, X Pure Edition;
Sony: Xperia C5 Ultra, Xperia Z5 Premium;
HTC One/ Desire; Nexus 5/5P/6P; Oneplus 1/2/3/3T;
Huawei P8/P9/P10(Plus&Lite); Huawei Mate 7/8/9
Conclusion-Last but not the Least
Conclusively, by observing and also distinguishing between all the above, Tribe sells the finest armbands for your iPhone 11 and iPhone XR. There are various reasons we consider Tribe as best. One is because of the prominent affordable range it gives. Right?Another aspect why you should prefer TRIBE because of its superior and satisfactory quality that will assure you that your phone is in safe hands. Plus Tribe is meticulously tested to deliver a remarkable touchscreen functionality and headphones jack. Also have some extra features including the no-slip design, made with the toughest and highest quality materials, water-resistant, and many more features. It gives you a perfect twist and flex and also comes with a built-in key holder which is perfect storage as well! Another great alternative is LOVPHONE. Quite an affordable range of armbands!
Regardless of which armband case you go with, the most important thing is that your phone is well-protected as well as your arm. Right?
We would like to hear your reviews. Do comment and share. Also do subscribe to stay updated With All The Latest News, Offers, and Special Announcements.
*Prices was correct as on 20th June 2020.