When you think about the iPhone 5 or iPhone 5s, long battery life doesn't normally come to mind. Sure, you get close to 10 hours of talk time, which is much more phone conversation than most people can handle in a single day. But when you start snapping photos, streaming audio and video, using GPS, or even browsing the Web, battery life starts to become a problem. And the longer you have your phone, the less life you can squeeze out of your aging battery. This article will give you a quick rundown of the best iPhone 5S Battery Charging case/cover in the market.
The most practical solution is to pop on a battery case, which can add hours of life to your phone and also help protect it. One of the cases below even adds storage space for movies, music, and photos. Be wanted, though, battery cases add heft and bulk to your slim iPhone—more so than with a standard iPhone case.
Hopefully, eventually, battery technology will improve to the point where you'll never need an add-on case. Until then, the cases below should add enough life to your iPhone to get you through the day and then some, no matter what features you use.
What is a battery case?
Battery Case is also called an external battery, back battery, back power, or probably can be called your digital charging companion. It can not only act as a mobile power but a protective cover as well. Currently, these are trending in the markets! In protecting the cell phone, it is also capable of providing adequate power. Charging cases can be very convenient. You'll never forget it. Most charging cases also offer pass-through charging, meaning that when you plug in to charge, your phone will charge before the battery case.
Snag!👎
Charging cases also may have limited protective capabilities versus rugged cases meant to take a beating during everyday drops and tumbles. Charger cases will likely need to be replaced each time you purchase a new phone, as they're usually built to fit a specific phone. Charging cases tend to involve a trade-off between size and battery power. The more capacity a charging case has, the bigger and heavier it is.
Euhan iPhone 5S Battery Case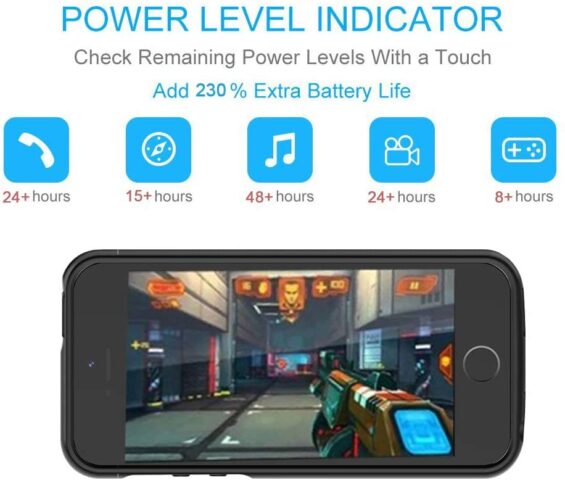 Battery- Portable Built-in 4000mAh, add an extra 230% backup battery for iPhone 5 /5S /SE wherever you need it. Perfect for traveling, camping, business trip, or other outdoor occasions. Thin and fit your hands well. Easy to carry.
Design-The upgraded design, iPhone 5 /5S /SE Battery case top cover uses a magnetic function, which is very convenient and fast to charge your mobile phone, giving you a different experience.This battery uses Grade A+ batteries with CE and RoHS certification to protect your phone's short-circuiting, discharging, and overcharging. Before using, We would like you completely full charge the battery case with an original phone cable. This iPhone 5 /5S /SE battery pack the features of 4 LED battery level indicator letting you know exactly the power you have (25%–50%–75%–100%); besides, you could switch on/off the battery case with the power switch button on the bottom.
Compatibility-Not Compatible with iPhone 5C, Not compatible with iPhone SE 2020(2nd Generation) (4.7 inches).
Swaller iPhone 5S 4000mAh Protective Battery Case

Compatibility-This iPhone 5S battery cover just suits for iPhone 5 /5S / SE(2016 Edition). Does not suit 5C. NOT support CarPlay. Not support Wireless charging. Support Lightning Cable.
Battery-Equipped with 4000mAh built-in lithium polymer battery make this iPhone 5 charging case can add extra 12 hours Internet use,18 hours talk time, 70 hours audio playback to your iPhone 5 5S SE 2016. Just need to press the button 3 seconds can start or stop charging. Track the battery life by 4 LED Indicator(25%-50%-75%-100%).
Sync Technology-Featuring Sync-through technology that you can sync your iPhone to MacBook, PC, or laptop without taking off the battery case. The 3.5mm headphone audio socket is designed to allow you to enjoy music while charging your phone.
Design– Unique raised bezel design. Bumper and hard-shell backplate. The removable top design makes it be easier to install your phone. Raised sides and hard-shell design provide your phone 360° protection, avoids scratching, bumping.
Wavypo iPhone 5S Battery Case/Cover

Compatibility– This battery case is compatible with iPhone 5/5S/SE. It does not support CarPlay. Also, does not support Wireless charging.
Battery-4000mAh capacity built-in lithium polymer battery case provides an extra 150%+ power which provides an additional 18 hours talking time, 12 hours internet using, or 70 hours audio playtime. Press the power button once to show how much power you have, press for 3 seconds to start, or stop charging your iPhone.
Design-This slim and compact charging case is not only a portable charger but also a protection for your iPhone. Durable high-class material and raised edge design to protect your iPhone from scratches, drops, and impacts. It's easy to install, just separate its top cap and slide your iPhone all the way to the bottom section until the lightning connector is fully inserted into your phone. And then reattach the top cap.
Sync Technology-The 3.5mm headphone audio socket is designed to allow you to enjoy music while charging your iPhone. Sync-through technology allows you to sync your iPhone to MacBook, PC, or laptop without removing the battery case. With a car magnetic function, you can use the battery case in the car. Also, this battery case uses Grade A+ batteries with CE and RoHS certification. Internal high-quality protective IC circuit efficiently avoids short-circuiting, over-charging, over-heating, and malfunction even under extreme conditions.
mophie juice pack Helium for iPhone SE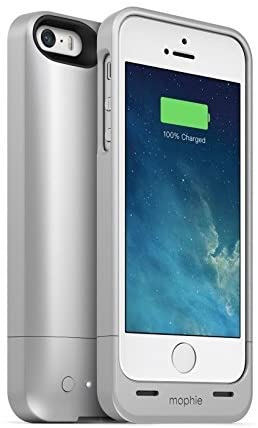 Battery-Rechargeable 1500mAh lithium-ion polymer battery and protective case in one. Provides you nearly twice the battery life of the iPhone 5 — Up to 5 hours of talk time on 4G and LTE. Up to an additional 6 hours on 3G. Also 30 hours of additional audio playback. Up to an additional 7 hours of video playback. Engineered with edge-to-edge protection and outfitted with 80% more battery life to keep your iPhone SE/5s/5 safe and charged, the juice pack helium allows you to truly Do more. Use the LED indicator to check battery levels before you head out and flip the standby switch when you're ready to use the juice pack's battery or when you need to recharge your iPhone while on-the-go.
Design-Soft-touch finish and Sleek polycarbonate ABS materials in a sleek soft touch design. Feel the difference in the palm of your hand; 13% thinner than any of our previous iPhone juice packs. It's so thin, you won't believe there's a battery inside. Its elegant, thin, design makes it the perfect accessory, easily fitting into any pocket or handbag. The enhanced forward-ported acoustics redirects the iPhone audio towards you, optimizing playback and maximizing your experience.
Compatibility-Quick 1 amp recharging speed, Not compatible with iPhone 5c.You can also simultaneously charge your iPhone and juice pack together with the included micro-USB cable.
TQTHL Battery Case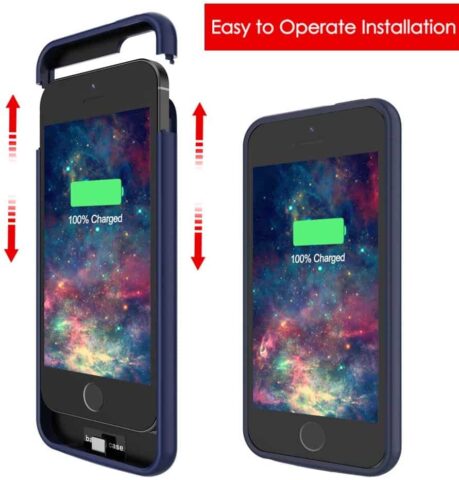 Battery -With the TQTHL High-Quality iPhone Battery Case Without removing your battery from the phone. The effective iPhone battery backup with 4000mAh built-in lithium polymer provides an extra 12 hours 3G Talktime, 10 hours web browsing, 8 hours video, or 6 hours gaming to your iPhone 5.
Sync Technology– The extended battery case uses a lightning USB input port to enable recharging and data transfer. You can conveniently charge and sync both the battery case and iPhone 5 to your Macbook, PC, or laptop without having to remove the battery case.
Design -Make your phone look amazing with the sleek, slim, and durable design while keeping easy access to all your phone's features. Engineered to protect your smartphone from falls and tumbles. And Protective IC circuit efficiently avoids short-circuit, over-charged, and malfunction even under extreme conditions. But it only provides edge protection, could not protect the screen of your iPhone.This iPhone Battery Case features 4 LED battery level indicator that lets you know exactly how much power you have (0–25%–50%–75%–100%); Power switch allows you to switch on/off the battery case.
Compatibility-Compatible with iPhone 5.
YISHDA 4000mAh Rechargeable Extended Battery Charging Case/Cover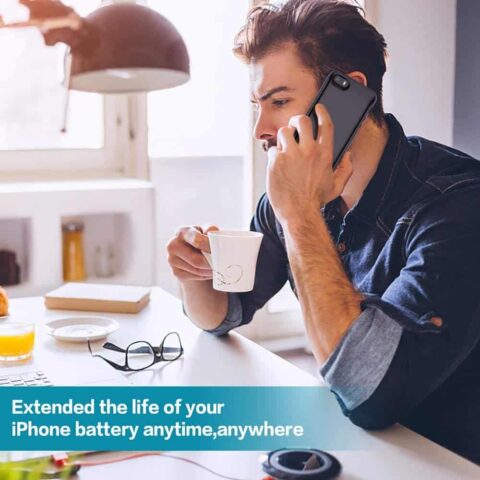 Battery-This iPhone 5 5S SE charging case with a high-quality polymer battery can provide 150% life for your cellphone.
Design-Including high-grade shockproof and shatterproof PC material can protect your phone against scratching and bumps.YISHDA iPhone 5 charging case uses Grade A+ battery with CE, FCC, and RoHS certification. Internal chips also protect your smartphone from overheating, short-circuiting, overcharging, and discharging. iPhone 5/5S/SE Car Mount Charger Case with Magnetic Suction Function works great with a magnetic car mount holder.
Sync technology– You can sync your iPhone to MacBook, PC, or laptop without removing the battery case. The 3.5mm headphone audio socket is designed to allow you to enjoy music while charging your phone.
Compatibility- Compatible with iPhone 5 Perfect cutouts fit your iPhone 5, the SE charger case allows access to all cameras, microphones, sensors, controls, and most importantly headphone jack.
iFans iPhone 5S Battery Case/Cover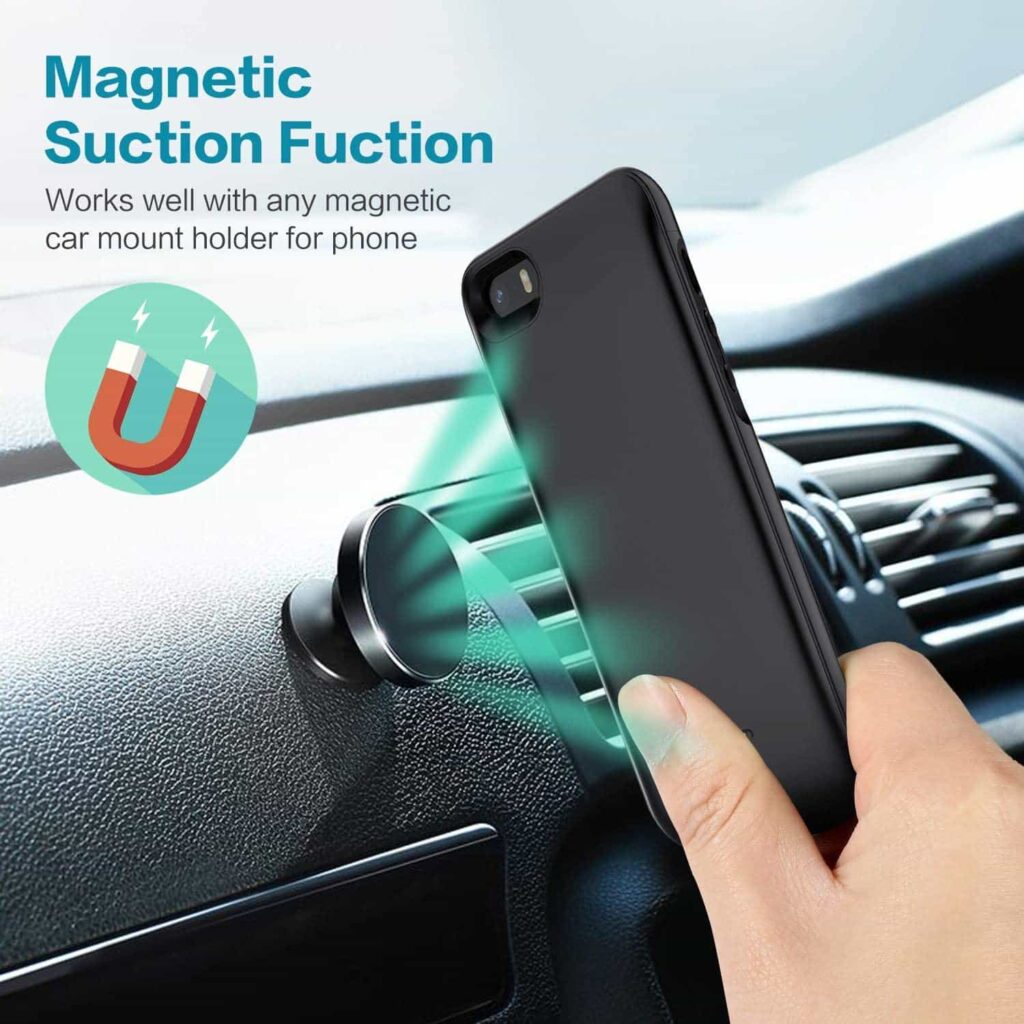 Battery-The iFans iPhone 5s/SE charger case with a built-in 4000mAh battery pack extends an extra 200% battery life to your iPhone SE/5s.Provides iPhone SE/5s/5 the perfect amount of power for a safe, quick charge, and auto stops charging once the battery is full. Add up to 200% battery juice to iPhone SE/5S. This means you can talk, text, and browse the web twice as long on one charge than with your phone alone.
Design– Form-fitting shell protects your iPhone from scratches and other daily wear and tear, without adding to much weight (107g) to fit comfortably in hands and pockets. Keep your iPhone SE/5s/5 charged and protected on the go. Slide your iPhone into the battery pack and connect it to the built-in Lightning connector. Then, snap on the outer bumper to grip the iPhone.
Compatibility– The battery case itself features a lightning charging port that is chargeable via your own lighting cable for iPhone SE/5s.

The Verdict
That ends our article on the best iPhone 5 Battery case that you can buy right now.
Conclusively, by observing and distinguishing between all the above, Swaller Case is the best option for people living in the U.S.
There are various reasons we consider it as best. At a very affordable price, it is a super-comfy design that feels great in your hand. This 4000 mAh powerful battery case you even longer battery life while offering great protection. Ranked as Amazon's Choice for iPhone 5 Battery Cases. You can surely go for it! The best choice for the outdoor power companion, enjoying your day without worry about the battery runs out suddenly. Plus, it gives you the best 360 protection.
For people living in the U.K, we choose iFans because of the prominent affordable range it gives. Above all, another aspect why you should prefer these because of the superior and satisfactory quality, that will assure you that your phone is in safe hands.
But all of the above have some unique features,you can opt one as per your requirement!
Regardless of which battery case you go with, the most important thing is that your phone charges well when you need the power the most! Right?
We would like to hear your reviews. Do comment and share. Also do subscribe to stay updated With All The Latest News, Offers, and Special Announcements.
*Prices was correct as on 23nd July 2020.