A wallet case is an ideal option for those who want to travel without the burden of carrying a wallet with them every time. It can protect your phone plus it can hold your ID cards, bank cards, and cash together in once place. There are hundreds of options for wallet cases, so it might be hard to narrow down the choices. Lucky for iPhone users, we've put together a list of iPhone 7 Wallet Case/Cover.
But before buying a wallet case you may know some important things about it.
What Is A Wallet Case?
A cell phone wallet case is a case where we can put your credit cards, train cards, money, and so on in the phone case, and don't have to carry a separate wallet around. Plus, they're attractive and come in stylish designs for both men and women.
Does The Wallet Case Protect Your Phone?
The most common wallet-style cases are folios that fold over your phone, typically covering both the front and back. The protection they offer is basic. While they'll protect the front and back of your phone from scuffs and scratches, you won't want to play any games of catch with your phone.
Advantages Of Using A Wallet Case
Keeps all your necessities in one place.
It can act as a phone stand.
Offers damage protection.
They are stylish.
Disadvantages Of Using A Wallet Case
They are bulky.
You lose a lot more such as credit cards, train cards, money, etc if you lose the wallet case.
We've reviewed the best phone wallet cases for your iPhone that offers a variety of both fashion and function to meet your needs.
FYY iPhone 7 Wallet Case/Cover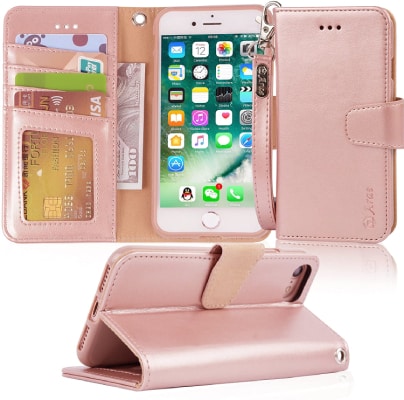 Made with Premium PU Leather, 100% Handmade.
Top-quality product.
Card slots and Note Holder provide you to put debit card, credit card, ID card, receipts, or some change while on the go.
2 card slots and a note holder.
Kickstand function is convenient for movie-watching or video-chatting.
Easy access to all ports and controls.
Radio Frequency Identification technology, through radio signals, to identify specific targets and to read and copy electronic data.
Most Credit Cards, Debit Cards, ID Cards are set-in the RFID chip, the RFID reader can easily read the cards information within 10 feet(about 3m) without touching them.
This case is designed to protect your card information from stealing with blocking material of RFID shielding technology.
A strong magnetic clasp keeps your phone safe and looks elegant.
Wear-resistant design hand rope.
High-quality craftsmanship.
Convenient to answer the phone without open the case.
One-year quality support in case of any quality issue.
Arae iPhone 7 Wallet Case/Cover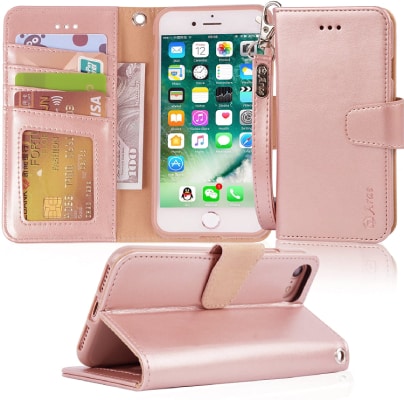 Made of Top quality PU leather.
This premium leather is selected for quality, strength, character, and grain.
Slim folio wallet type case to minimize bulk and fully protect your smartphone.
Soft TPU inner skin covers to hold the device and keeps your phone anti-scratch.
iPhone 7 case stands feature will bring you more convenience for movie-watching with multi-viewing angles, hanging out with friends on Face Time.
The inner TPU case firmly adheres to the outer wallet, couldn't be removed, you don't have to worry about it falling down.
This iPhone 7 wallet case has exact cutouts to keep features fully accessible.
Easy access to all buttons, camera, speaker, and connector.
Convenient to answer the phone without taking off the case.
You can make the conversation with the case closed.
This flip case allows charging without removing the case.
4 card slots and a pocket help you store ID card, Driving license, credit cards, and several cash.
The strong magnet stays closed to keep your belongings secure.
SAMONPOW Wallet Case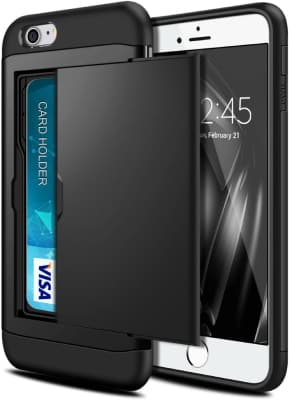 Hybrid armor hard PC cover.
Impact-resistant shockproof soft rubber bumper.
Advanced dual-layer protection.
It can hold 2 cards just by sliding the button that is convenient.
Precise cutouts and design.
Easy access to all buttons, cameras, and ports.
Improved peripheral access.
Protect your phone from scratches, bumps, and other daily damage.
Perfect fit for buttons.
Raised hard lip protects the front and back of the device while keeping the display clean and scratch-free.
Covered corners protect the phone from scratch and bumps.
DN-Technology iPhone 7 Wallet Case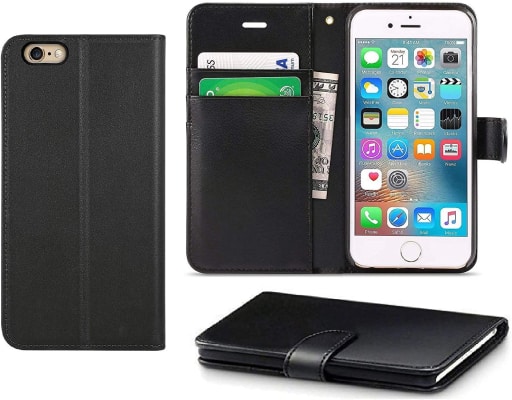 A flip PU leather and soft silicone back case.
The Leather Case will completely protect your phone from scratches, dirt, bumps, and daily damage.
Soft interior lining to protect your Phone.
Good stitching and extremely good touch feeling.
Allowing access to controls and ports of daily use without removing the case.
Keep your handset secure whilst on the move, with internal padding giving extra security against bumps.
The folding line allows you to convert it into a stand with multiple viewing angles.
Flap magnetic function.
Genuine leather delicate craftsmanship.
Easy installation ensures the phone steady and prevents falling.
The fashionable design makes your cell phone more unique and special.
The convenience and premium quality makes the leather case is perfect for everyday use.
Available in a range of fashionable colors to suit your style.
IPHOX iPhone 7 Wallet Cover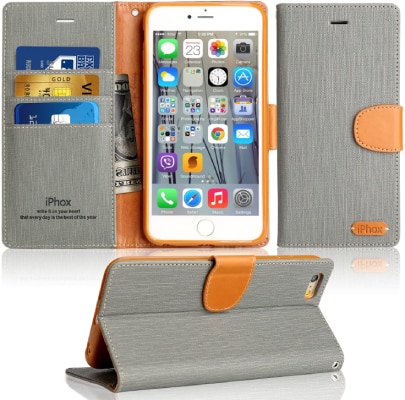 This case is made from premium synthetic leather with secure and straight stitching.
A sleek slim-fit design with quality that is built to last long.
The inner casing is made with premium quality soft TPU like silicone to resist damage from accidental drops.
Premium PU fabric case with a pocket and multiple card slots.
Stylish yet functional design.
The multi-angle hands-free viewing stand allows your device to stand up independently.
A good strong magnetic clasp opens and closes securely.
It is simple, stylish, and looks upscale but it doesn't get in the way when receiving a call or viewing the screen.
Firmly secured in a snug-fitting soft TPU holding bracket ensuring no risk of popping out if dropped.
The flip design lets you use the screen without a screen protector and prevents screen breakages when closed.
Precision cutouts for camera, ports, and buttons keep everything readily accessible.
Compatible with wireless charging.
OCASE Wallet Case
A leather flip phone cover for iPhone 7.
High-quality simulated leather and shockproof TPU provides additional superior protection for your Apple iPhone 7 from drops, knocks, and scratches.
The premium quality material offers long-term lifespan and durability for your case.
The smooth vogue simulated leather finish gives this case a sensual touch that will enhance the pleasure of owning this prestige phone case.
The stand-alone, hands-free function allows you to place your smartphone in a perfect position for viewing or reading.
This premium case is perfect for your active life.
No need to carry a cumbersome wallet as there are 3 card slots plus a side pocket for your money or additional cards in this stylish case.
A built-in magnetic closure ensures that your cell phone and your cards are safely stowed, offering maximum protection against dirt, bumps, and scratches.
3D honeycomb textured design.
Anti-slip and heat dissipating design.
Anti-fingerprint.
Scientifically designed case, it does not affect the normal signal and sound.
Free tempered glass screen protector included.
60 Days Money Back Guarantee and 2 Years Warranty
What's In The Box
Elegant box, the perfect gift for yourself or your friends.
iPhone 7 Leather Wallet Case
Conclusion
Conclusively, by observing and also distinguishing between all the above wallet cases, the OCASE brand sells one of the best wallet cases for your iPhone 7. It has all the essential features for a wallet case. It has 3 card slots and a side pocket for money, it has anti-slip and heat-dissipating design, also it is scientifically designed. But the most important feature is it comes with a 2 years warranty and 60 days money-back guarantee. There comes a free tempered glass screen protector with the case, so there is no need to buy a screen protector separately.
Also, FYY Case can be an admirable and preferable alternative. It is a premium quality PU leather case with 2 card slots and a holder. The case is designed to protect your card information from stealing with blocking material of RFID shielding technology. Plus FYY provides one year quality guarantee in case of any quality issue and has many more features. Regardless of which wallet case you go with, the most important thing is that your phone is well protected.
We would like to hear your reviews. Do comment and share. Also do subscribe to stay updated With All The Latest News, Offers, and Special Announcements.
*Prices was correct as on 6th July 2020