As we all know the iPhone 6 Plus has a bigger display size of about 5.5 inches, which is of course bigger than many other phones. But having a bigger size may be troublesome so it is necessary to protect your iPhone 6 Plus from scratches and falls. A wallet case can be a good choice for you as it can work as a case as well as a wallet. Many options are available for wallet cases but we have shortlisted some iPhone 6 Plus Wallet Case/Cover to make your work easy.
But before buying a wallet case you may know some important things about it.
What Is A Wallet Case?
A cell phone wallet case is a case where we can put our credit cards, train cards, money, and so on in the phone case, and don't have to carry a separate wallet around. Plus, they're attractive and come in stylish designs for both men and women.
Does The Wallet Case Protect Your Phone?
The most common wallet-style cases are folios that fold over your phone, typically covering both the front and back. The protection they offer is basic. While they'll protect the front and back of your phone from scuffs and scratches, you won't want to play any games of catch with your phone.
Advantages Of Using A Wallet Case
Keeps all your necessities in one place.
It can act as a phone stand.
Offers damage protection.
They are stylish.
Disadvantages Of Using A Wallet Case
They are bulky.
You lose a lot more such as credit cards, train cards, money, etc if you lose the wallet case.
We've reviewed the best phone wallet cases that offers a variety of both fashion and function to meet your needs.
Aprilday iPhone 6 Plus Wallet Case/Cover
Crafted from premium faux leather, with a classic, vintage-style design.
Handcrafted from deluxe PU leather.
Exquisitely packaged and makes a great gift.
A lightweight and slim wallet case for iPhone 6 Plus.
Elegant and refined with premium stitching throughout.
This sleek phone wallet has plenty of space for your smartphone.
This case has a capacity of 3-4 credit and ID cards and up to 4 bills.
Full access to all ports.
Ultra-strong magnetic closure provides security and peace of mind.
Covers all four corners of your phone and includes raised edges to prevent screen scratches.
Built-in stand offers you more convenience with multiple viewing angles.
It ensures that your smartphone fits comfortably in your pocket or bag.
30 days price refund in case of any quality problem.
Urvoix iPhone 6 Plus Wallet Case/Cover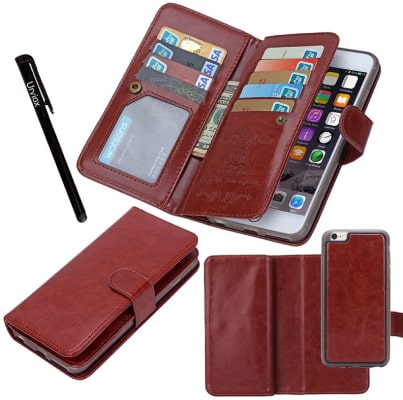 Crafted from durable leather.
This case is both scratch-resistant and dirt-resistant.
9 card slots (including window slot) and 2 inner pockets to conveniently hold your credit cards and cash.
It is a flip to collect credit cards and bank notes.
Perfect Combination of wallet and cell phone case.
Separable magnetic absorption protect cover.
Auto-magnetic flap top design with an integrated snap button closure.
Keeps phone secure when not in use.
Provides excellent protection and prevent scratches, finger print, dirt and daily wear and tear from accumulating.
Precise cutouts for camera and ports.
A detachable wrist strap is also included.
ZVE iPhone 6 Plus Wallet Case/Cover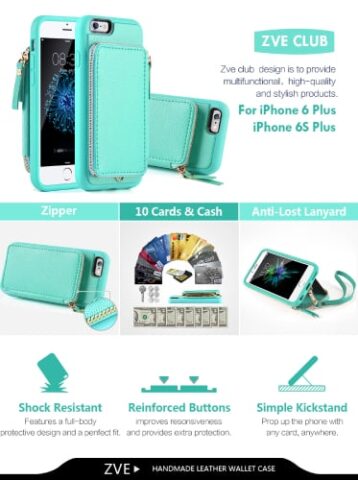 Made with high-quality YKK Zipper Design.
Every piece of YKK Zipper can bear 1000 times pull strength testing, which can keep your belongings well.
It is a handmade designed leather case.
With an anti-lost lanyard, hold your phone more convenient and without the worry about losing.
2 Card Holder with the elastic band gives enough space for more than 10+ Cards as well as 15 amounts of cash and your keys.
It has a zipper function.
Open and close your wallet with zipper, keeps your cards and cash secure.
It is designed to provide multifunctional, high-quality, and stylish products.
The shockproof frame protects your phone from accidental drops.
Features a full-body protective design and a perfect fit.
More convenient when shopping and traveling.
ZVE Wallet case comes with a 6 Months warranty and best customer service to protect your valuable investment.
Arae iPhone Case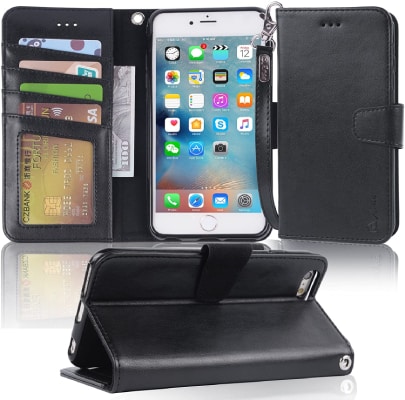 Made of Top quality PU leather.
This premium leather is selected for quality, strength, character, and grain.
Slim folio Wallet type case to minimize bulk and fully protect your smartphone.
Soft TPU inner skin cover to hold the device, keep your phone anti-scratch.
4 card slots and a pocket help you store ID card, driving license, credit cards, and cash.
The strong magnet stays closed to keep your belongings secure.
Stand feature will bring you more convenience for movie-watching with multi-viewing angles.
Convenient to answer the phone without taking off the case.
You can make the conversation with the case closed.
Easy access to all buttons, cameras, speakers, and connectors.
The inner TPU case firmly adheres to the outer wallet, couldn't be removed.
It has exact cutouts to keep features fully accessible.
Reserved holes are exquisite in workmanship.
You don't have to worry about it falling down.
It also has a wrist strap.
Looks luxury but has connotations, perfect craftmanship makes it even more durable.
ULAK Wallet Case for iPhone 6 Plus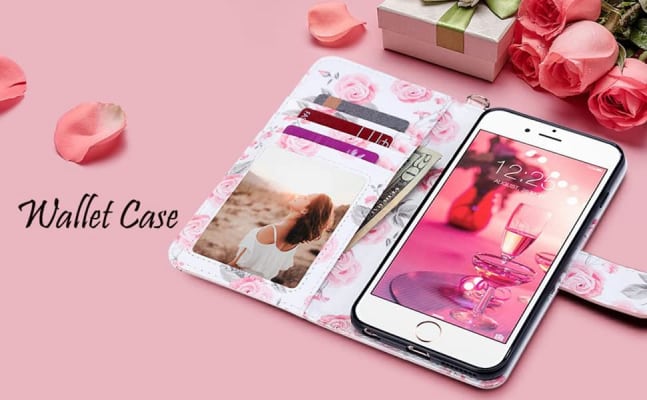 Premium PU leather cover and soft shockproof TPU inner case.
Made to store your cash or cards and while giving you a protective fashionable cover.
Act as a convenient purse with a removable wristlet strap.
Multi-card slots include on the see-through slot for I.D. Card, credit card, and cash.
The PU Leather flip covers the screen of the phone avoiding scratches from day to day use.
The foldable kickstand feature provides a convenient hands-free viewing experience.
Multiple viewing angles kickstand.
Precise cutout ensures full access to all the functions and ports to your iPhone.
Accurate cutouts for camera, charging port, speaker, and buttons.
Easy to put the case on and off the phone.
Provides a strong magnetic lock closure to protect your cards.
Provides all-round protection.
Water-resistant.
Anti-fingerprint.
FinestBazaar iPhone 6 Plus Genuine Leather Case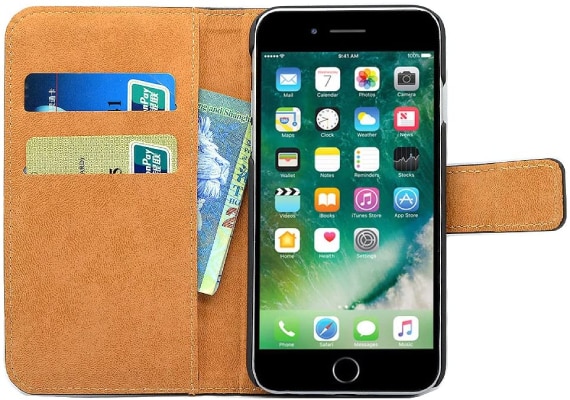 This case is made from the Highest Quality Genuine Leather so you can rest assured that this is manufactured to the highest standard.
Quality you can count on real leather, precise stitching, and a plush inner lining.
This case is made to fit like a glove!
Your iPhone will rest in this case like never before.
Magnetic Closure will ensure your phone is safe and covered from all angles.
The built-in stand is perfect for watching movies, hanging out with friends on Face Time.
This case with stand simply folds into itself and is adjustable to most angles giving you more comfort.
Say goodbye to bulky wallets or even forgetting your wallet at home! Effortlessly carry cash and cards with this case.
Fully shockproof case to protect in even the worst of impacts.
Shockproof protective, luxury soft skin, with a Designer Vintage look makes these wallets the best around!
Raised lips for camera protection.
Special cutouts for charging cable and headphones.
A free screen protector provided so your whole iPhone will be protected.
Conclusion
Conclusively, by observing and also distinguishing between all the above wallet cases, the ZVE brand sells one of the best wallet cases for your iPhone 6 Plus. It has all the essential features for a wallet case. It has 2 cardholders with the elastic band gives enough space for more than 10+ cards. Made with high-quality YKK Zipper Design, every piece of YKK Zipper can bear 1000 times pull strength testing, which can keep your belongings well. ZVE Wallet case comes with a 6 Months warranty and best customer service to protect your valuable investment
Also, Arae can be an admirable and preferable alternative. It is a slim folio type wallet case with 4 card slots and a pocket to store ID card, driving license, credit cards, and cash. It also has a wrist strap to conveniently carry the case and much more useful features. Regardless of which wallet case you go with, the most important thing is that your phone is well protected.
We would like to hear your reviews. Do comment and share. Also do subscribe to stay updated With All The Latest News, Offers, and Special Announcements.
*Prices was correct as on 8th July 2020