The iPhone SE (Special Edition) was launched on April 24, 2020. This phone is in much demand in the market nowadays because it is budget-friendly. So if anyone is having an iPhone SE it must be sure that you will require a case for it. And a wallet case will be a good choice as it does the work of both, a case and a wallet. There are hundreds of options for wallet cases, so it might be hard to narrow down the choices. Lucky for you, we've put together a list of iPhone SE Wallet Case/Cover.
But before buying a wallet case you may know some important things about it.
What Is A Wallet Case?
A cell phone wallet case is a case where we can put your credit cards, train cards, money, and so on in the phone case, and don't have to carry a separate wallet around. Plus, they're attractive and come in stylish designs for both men and women.
Does The Wallet Case Protect Your Phone?
The most common wallet-style cases are folios that fold over your phone, typically covering both the front and back. The protection they offer is basic. While they'll protect the front and back of your phone from scuffs and scratches, you won't want to play any games of catch with your phone.
Advantages Of Using A Wallet Case
Keeps all your necessities in one place.
It can act as a phone stand.
Offers damage protection.
They are stylish.
Disadvantages Of Using A Wallet Case
They are bulky.
You lose a lot more such as credit cards, train cards, money, etc if you lose the wallet case.
We've reviewed the best phone wallet cases for your iPhone that offers a variety of both fashion and function to meet your needs.
Arae iPhone SE 2020 Wallet Case/Cover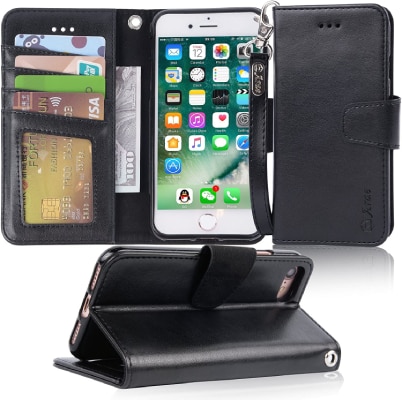 Made of Top quality PU leather.
This premium leather is selected for quality, strength, character, and grain.
Slim folio wallet type case to minimize bulk and fully protect your smartphone.
Soft TPU inner skin covers to hold the device and keeps your iPhone SE anti-scratch.
Convenient to Answer the phone without taking off the case.
You can make the conversation with the case closed.
iPhone SE case stand feature will bring you more convenience for movie-watching with multi-viewing angles, hanging out with friends on Face Time.
The inner TPU case firmly adheres to the outer wallet, couldn't be removed, you don't have to worry about it falling down.
This iPhone SE wallet case has exact cutouts to keep features fully accessible.
Easy access to all buttons, camera, speaker, and connector.
This flip case allows charging without removing the case.
4 card slots and a pocket help you store ID card, Driving license, credit cards and several cash.
The strong magnet stays closed to keep your belongings secure.
FYY iPhone SE Wallet Case/Cover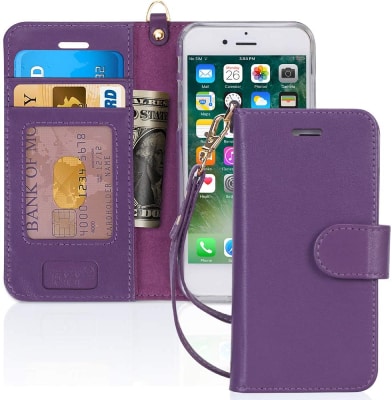 Made with Premium PU Leather, 100% Handmade.
Top-quality product.
It has 2 card slots and a note holder.
Multi-angle adjustment, release both hands.
Card slots and Note Holder provides you to put debit card, credit card, ID card, receipts, or some change while on the go.
Kickstand function is convenient for movie-watching or video-chatting.
Easy access to all ports and controls.
Radio Frequency Identification (RFID) technology, through radio signals, to identify specific targets and to read and copy electronic data.
Most Credit Cards, Debit Cards, ID Cards are set-in the RFID chip, the RFID reader can easily read the cards information within 10 feet(about 3m) without touching them.
This case is designed to protect your card information from stealing with blocking material of RFID shielding technology.
Practical and Stylish.
Strong magnetic clasp keep your phone safe and looks elegant.
Wear-resistant design hand rope.
OT ONETOP iPhone SE Case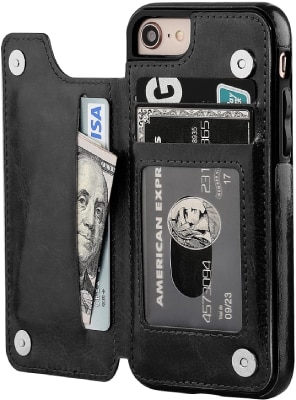 OT ONETOP uses high-quality durable material for the service life.
Made from Faux Leather.
Thermoplastic Polyurethane material.
Soft PU material brings a very comfortable touch feel.
Convenient stand feature.
The stand can be converted into a multi-angle comfortable view for reading, watching videos, or facetime.
All-round protection.
A full-scale covering design to upgrade the anti-fall protective system.
Precise cutouts for speakers, charging ports, audio ports, and buttons for your convenience.
3 card slots for ID card, credit cards card, or some cash, without taking purse to outdoor.
Double magnetic button design storage card more security.
Dreem Fibonacci 2-in-1 iPhone SE Wallet-Cover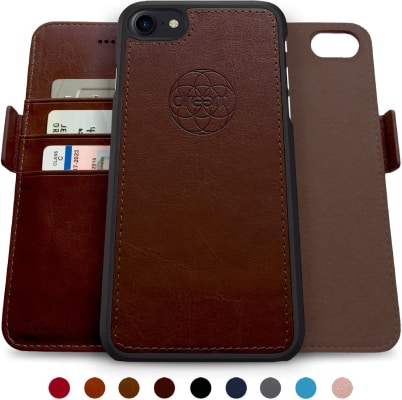 A completely redesigned TPU case.
Premium hand-crafted from high-quality faux leather.
Made from shock-absorbing flexible plastic that cannot crack.
Enclosed top and bottom plus raised bezel (around the screen) for improved protection.
A whole new level of safety for your phone, still slim and elegant.
A versatile magnetically removable flip-case design you get the complete protection and convenience of a wallet-folio.
Slimcase works 'out-of-the-box' with wireless charger pads AND magnetic mounts!
RFID theft protection in three pockets.
Easy-Open Clasp – simply open and close your wallet in a snap, no need to touch the clasp.
Smart Horizontal & Vertical kick-stand viewing, fully adjustable for hands-free video calls, reading, or movies anywhere.
3 card-holder-slots that comfortably carry 3-6 credit-cards plus 5-10 cash bills.
Looks and feels luxurious, for men and women.
Works great with most magnetic (car) mounts, selfie sticks, screen protectors, flash photography, and Apple Pay.
Original Dreem brand accessories.
Works with Dreem wireless charger(others may not be compatible).
100% Satisfaction.
30 Days money-back guarantee.
1-year warranty.
DN-Technology Wallet Case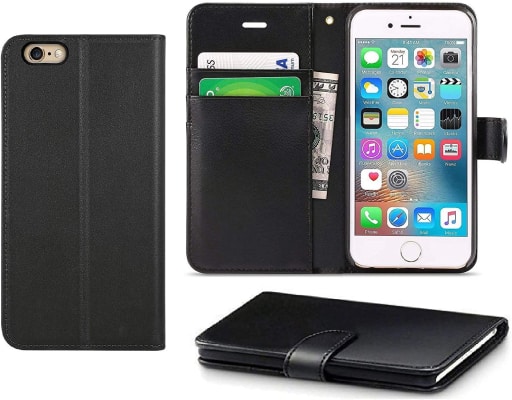 A flip PU leather and soft silicone back case.
The Leather Case will completely protect your phone from scratches, dirt, bumps, and daily damage.
Soft interior lining to protect your Phone.
Good stitching and extremely good touch feeling.
Allowing access to controls and ports of daily use without removing the case.
Keep your handset secure whilst on the move, with internal padding giving extra security against bumps.
The folding line allows you to convert it into a stand with multiple viewing angles.
Flap magnetic function.
Genuine leather delicate craftsmanship.
Easy installation ensures the phone steady and prevents falling.
The fashionable design makes your cell phone more unique and special.
The convenience and premium quality makes the leather case is perfect for everyday use.
Available in a range of fashionable colors to suit your style.
OCASE Wallet Case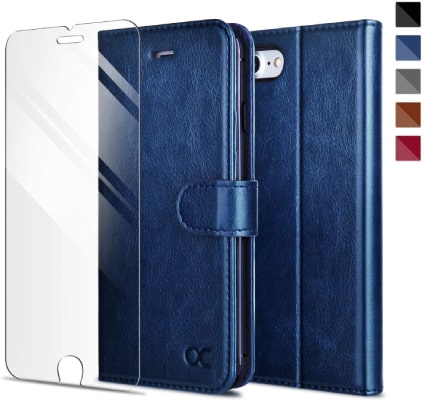 A leather flip phone cover for iPhone SE.
High-quality simulated leather and shockproof TPU provides additional superior protection for your Apple iPhone SE from drops, knocks, and scratches.
The premium quality material offers long-term lifespan and durability for your case.
The smooth vogue simulated leather finish gives this case a sensual touch that will enhance the pleasure of owning this prestige phone case.
The stand-alone, hands-free function allows you to place your smartphone in a perfect position for viewing or reading.
This premium case is perfect for your active life.
No need to carry a cumbersome wallet as there are 3 card slots plus a side pocket for your money or additional cards in this stylish case.
A built-in magnetic closure ensures that your cell phone and your cards are safely stowed, offering maximum protection against dirt, bumps, and scratches.
3D honeycomb textured design.
Anti-slip and heat dissipating design.
Anti-fingerprint.
Scientifically designed case, it does not affect the normal signal and sound.
Free tempered glass screen protector included.
60 Days Money Back Guarantee and 2 Years Warranty
What's In The Box
Elegant box, the perfect gift for yourself or your friends.
iPhone SE Leather Wallet Case
Conclusion
Conclusively, by observing and also distinguishing between all the above wallet cases, the OCASE brand sells one of the best wallet cases for your iPhone SE. It has all the essential features for a wallet case. It has 3 card slots and a side pocket for money, it has anti-slip and heat-dissipating design, also it is scientifically designed. But the most important feature is it comes with a 2 years warranty and 60 days money-back guarantee. There comes a free tempered glass screen protector with the case, so there is no need to buy a screen protector separately.
Also, Dreem Fibonacci can be an admirable and preferable alternative. It also provides all essential features for an iPhone SE wallet case. It is a 100% satisfactory product and comes with a 1 year warranty. Regardless of which wallet case you go with, the most important thing is that your phone is well protected.
We would like to hear your reviews. Do comment and share. Also do subscribe to stay updated With All The Latest News, Offers, and Special Announcements.
*Prices was correct as on 23rd June 2020