We take our cell phones with us wherever we go even to the pool, the beach, and on boats, which puts our pricey devices at risk for water damage. While a traditional phone case just prevents scratches and cracks, a waterproof case helps keep your phone covered against unexpected rain, spills, and splashes. So if you have bought iPhone XR already and love to click underwater or you are just a beach person, you might be looking for the best iPhone XR waterproof case/cover to accompany and protect your phone.
What are Waterproof Cases?
Waterproof cases, protect your phone from the water and rain, when we go to beaches, when we travel, etc.
Does iPhone XR Need Waterproof Cases?
While the iPhone XR is practically waterproof, it can only survive for so long submerged in water for up to one meter for up to 30 minutes (it posits an IP67 rating).
You mess up your supposedly waterproof iPhone from water damage, Apple won't actually cover any of the water damage.
To keep your new iPhone XR safe and your mind at ease, we recommend taking a peek at a few different waterproof XR cases/cover.
These cases come from trusted brands with incredible track records, so we're confident putting them on our list.
Advantages:
You can take your phone anywhere! If you work in a harsh environment such as in construction or mining, you don't have to worry about your phone dropping. You can also go on vacations or excursions to mountains or hiking trails without the worry.
You never need to use the "rice trick." One of the worst things that can happen is your iPhone dropping into the pool or worse, the toilet. Some DIYers say that putting your wet phone in a large bowl of rice sucks the remaining water off it, but you never have to resort to this extreme measure if you simply install a waterproof case.
Avoid large bills for iPhone repairs and replacements. A waterproof case is a bit pricier than regular cases. It can actually save you money in the long run as it can prevent damage, so you don't have to spend on buying a new iPhone or having yours repaired. Sure, you have iPhone insurance, but think about the hassle of losing all your messages, photos, and contacts. Retrieving them can be tedious.
Do Waterproof Cases protect your iPhone XR?
Yes, the majority of name brand waterproof cases will work in protecting your smartphone while underwater. We can't recommend all brands out there but we do have several suggestions below. All of the cases we can recommend include a warranty that if the case is not fully waterproof then they will replace the case.
So let us see which brands are dominating the list for iPhone XR Defender Case/Cover. Have a look!
Oterkin iPhone XR Waterproof Case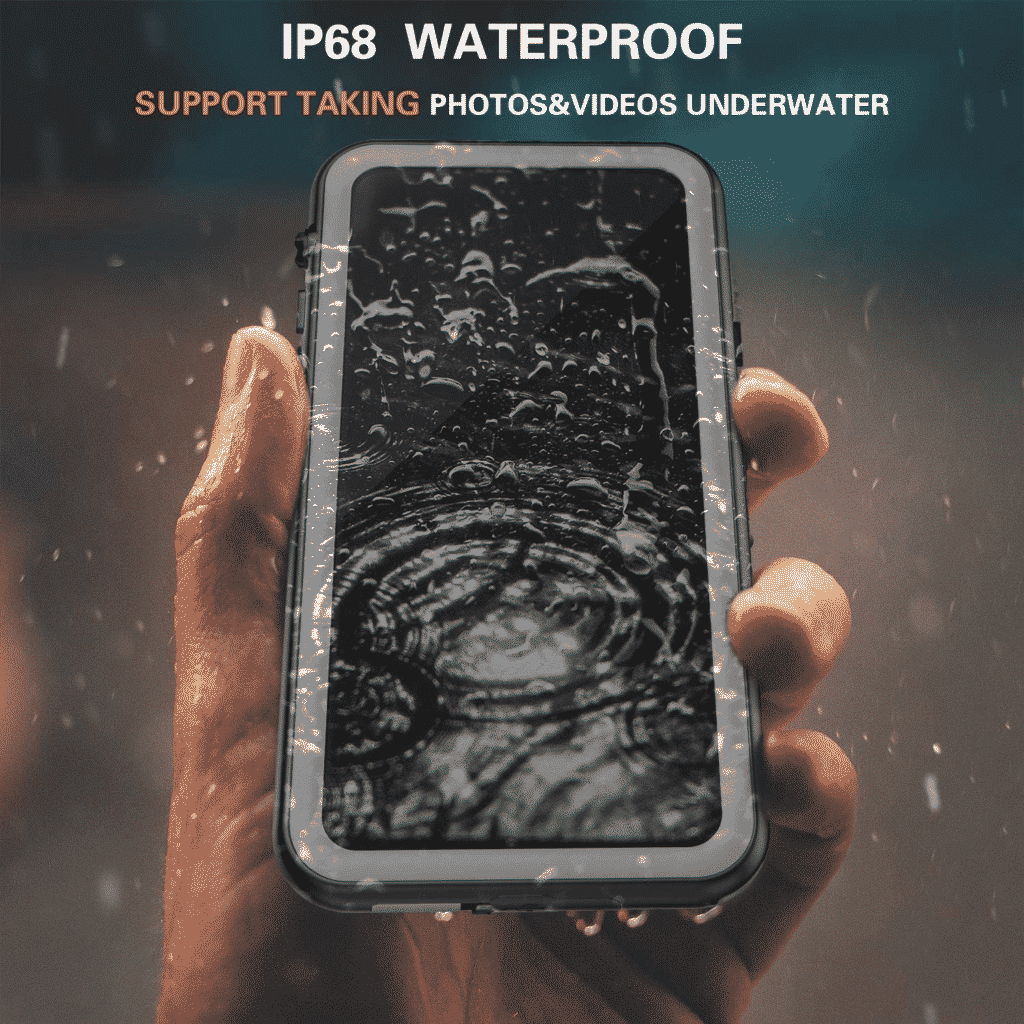 This waterproof case ensures your phone safe underwater for maxim 6.6ft/1 hour.
You can capture beautiful images and videos underwater.
Waterproof, shockproof, Dustproof, Dropproof, Snowproof & Sandproof.
Provides iPhone XR with 360-degree full-body protection, gives you enough confidence, safeguards phone from sudden drops, unexpected hits, etc.
Built-in Screen Protector.
Built-in scratch-resistant screen protector with high touch sensitivity.
Clear back shows original iPhone XR Colors.
Wireless charging feature without removing this case.
Waterproof for swimming, shockproof for camping, snowproof for skiing.
Provides full body protection for any outdoor activities.
Clear back shows the original colors of your iPhone XR.
Not block the wireless charging feature without removing this case.
PINGTEKOR Waterproof iPhone XR Case
Water and Snow Proof, Fully submergible to 6.6'/2 m for 0.5 hours Underwater.
Specialized Design.
Underwater full sealed IP68 Certified.
Easy access to all buttons, controls, ports&functions without removing the case.
Fully sealed even after 1000 times open and close.
Two covers (front/back) snap-on design makes it fast and easy to install or take out.
Designed and tested to 6.6 ft high.
Protects your phone from shock and drop.
ORDTBY iPhone XR Waterproof Case
Fit perfectly with your iPhone XR Face ID function, speaker, buttons, sensors, and cameras.
Waterproof case with a tight fully sealed body.
Guard your phone drop from 6.6ft/2m height.
Full-body rugged case with 360-degree protection.
Lightweight-1.5 oz lightweight designed with flexible silicone and durable engineering plastic.
Built-in Screen Protector keeps away from the scratches.
Wireless charging supporting. You can just put your phone on the charging surface without removing the waterproof case.
AICase iPhone XR Waterproof Case
Professional certification of IP68 and tested to submersible to over 10 ft deep for 2 hours.
Completely sealed when you swim and underwater.
Anti-dust, shockproof, snow proof, dirt proof.
Tested to 6.5 ft high protect your phone from shock and drop.
Enjoy water recreation for outdoor swimming, skiing, surfing, etc.
Apt to take a photo and listening to your favorite music in the water.
The precision cutting fits iPhone XR perfectly.
All buttons and controls, cameras & speakers, power buttons, charge port, and volume buttons, work great like there is no case.
You can put some money or Card at the back of the case.
Two-piece, rubber sealed, waterproof iPad case making your bath, beach, and pool time funner.
Appropriate cutouts for cameras, ports, and buttons. You can still charge it while in the case.
Attached one strap for convenient carrying the case.
AICase Universal Waterproof Underwater Photography Housings for iPhone XR Case
Waterproof, dustproof, anti-drop, and antifreeze. Suitable for underwater photography.
Your mobile phone became a waterproof camera immediately.
It has a phonograph tripod steady point, you can install it on professional photography equipment like monopod or tripod.
Water-resistant up to 15 meters, Offers waterproof/snowproof/dirtproof protection.
Built-in Camera Tripod Port.
It has a 1/4 screw hole, you can install it on professional photography equipment like monopod, tripod, or stabilizer.
Comes with a neck strap for convenient carrying.
Insert your Phone and clamp the case closed, you just need to turn on camera or video before underwater, there is a "shutter" design on the waterproof housing,
Capture all your underwater adventures by press "shutter" directly.
Completely sealed waterproof phone case without dead Angle,360-degree protection of your phone.
Clear image view and easily control underwater.
Waterproof Housing for Smartphones below 6. 8 inches.
YOSH IPX8 Waterproof iPhone XR Case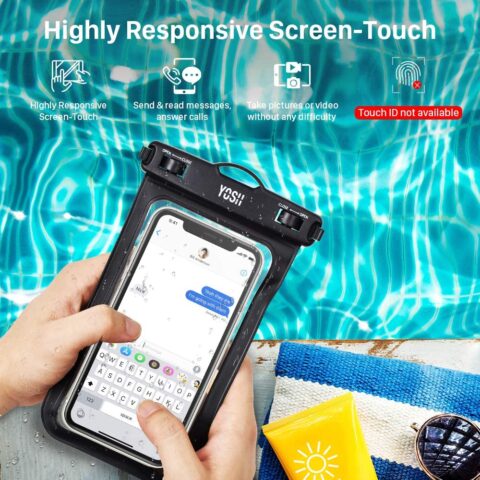 Excellent Water Resistance.
Upgraded Seal Tech.
The whole new snap-and-lock seal clip and fully enclosed black edge help YOSH waterproof case constantly protect your cell phone from water invader well.
High Satisfaction Waterproof Phone Case survived as the BEST FIGHTER.
Multifunctional and Practical.
You can enjoy outdoor activities such as snorkeling, kayaking, boating, swimming, beach volleyball, surfing, and skiing, or household use like in the bath, kitchen.
Protects your item from water, snow, sand, and dirt.
Universal Compatibility.
Conclusion
As you would expect, it can be a challenge to find the Best waterproof Case for the iPhone XR manufacturer. Unless you test the product out yourself, you often won't have any idea of what to expect from the model that you're buying, so we hope that our reviews and the features rating chart below have helped you out.
Conclusively, by observing and also distinguishing between all the above, Oterkin sells the finest iPhone XR Waterproof Case/Cover. There are various reasons we consider Oterkin as best. It is Provides full body protection, Built-in Screen Protector, and scratch-resistant screen protector with high touch sensitivity, support Wireless charging without removing this case as well as the perfect suit for outdoor water sports, and daily use.
Another great alternative is the YOSH iPhone XR Waterproof Phone Case/Cover Dry Bag Pouch. YOSH provides excellent Water Resistance, is Multifunctional, and Practical. Protecting your phone from water, sand, snow, and any other potential damages so you can enjoy outdoor activities.
We would like to hear your reviews. Do comment and share. Also do subscribe to stay updated With All The Latest News, Offers, and Special Announcements.
*Prices was correct as on 19th July 2020.