We bring our iPhones 11 PRO MAX with us wherever we go even to the pool, the beach, and on boats, which puts our pricey devices at risk for water damage. While a traditional iPhone 11 PRO MAX case/cover just prevents scratches and cracks, a waterproof case helps keep your phone covered against unexpected rain, spills, and splashes.
What is a Waterproof Case?
Waterproof cases, protect your phone from water rain. Waterproof up to 16ft/5m Underwater for one hour, up to 33ft/10m underwater for half an hour.
Does iPhone 11 PRO MAX Need Waterproof Cases?
That sounds great, and if all you're worried about is being able to use your iPhone in less than ideal weather conditions or a bar where an accidentally spilled drink is a constant hazard, then you should be fine without a waterproof case.
While the iPhone 11 Pro Max is practically waterproof, it can only survive for so long submerged in water for up to one meter for up to 30 minutes.
you mess up your supposedly waterproof iPhone from water damage, Apple won't actually cover any of the water damage.
To keep your new iPhone 11 pro max safe and your mind at ease, we recommend taking a peek at a few different waterproof 11 pro max cases.
These cases come from trusted brands with incredible track records, so we're confident putting them on our list.
Advantages:
You can take your phone anywhere! If you work in a harsh environment such as in construction or mining, you don't have to worry about your phone dropping. You can also go on vacations or excursions to mountains or hiking trails without the worry.
You never need to use the "rice trick." One of the worst things that can happen is your iPhone dropping into the pool or worse, the toilet. Some DIYers say that putting your wet phone in a large bowl of rice sucks the remaining water off it, but you never have to resort to this extreme measure if you simply install a waterproof case.
Avoid large bills for iPhone repairs and replacements. A waterproof case is a bit pricier than regular cases. It can actually save you money in the long run as it can prevent damage, so you don't have to spend on buying a new iPhone or having yours repaired. Sure, you have iPhone insurance, but think about the hassle of losing all your messages, photos, and contacts. Retrieving them can be tedious.
Do Waterproof Cases protect your iPhone 11 PRO MAX?
Yes, the majority of name brand waterproof cases will work in protecting your smartphone while underwater. We can't recommend all brands out there but we do have several suggestions below. All of the cases we can recommend include a warranty that if the case is not fully waterproof then they will replace the case.
So let us see which brands are dominating the list for iPhone 11 PRO MAX Waterproof Case/Cover. Have a look!
LifeProof FRĒ SERIES Waterproof Case for iPhone 11 Pro Max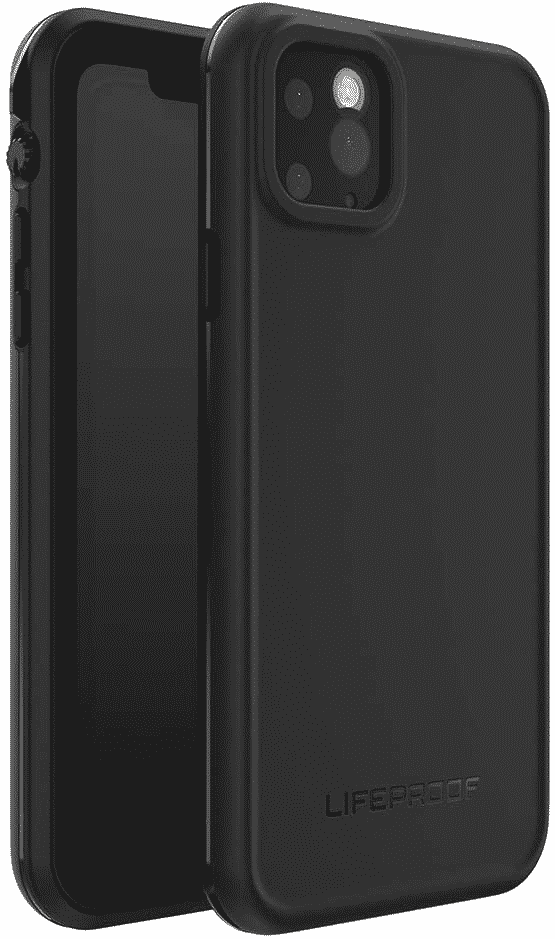 FRĒ keeps your new iPhone waterproof, dirt proof, snow proof and drop proof, so you can live LifeProof 360˚ every day, for every adventure.
Your FRĒ case survives drops from 2 meters.
Fully-covered and scratch-resistant.
Protection against saltwater and other liquids.
Shield your device.
Designed to pair perfectly, This waterproof case gives you full access to your charging port, headphone jack, and all other controls.
Streamlined design.
Thin, light, incredibly compact yet impressively tough, free is built sleek to complement the clean lines of your device.
CarterLily iPhone 11 Pro Max Case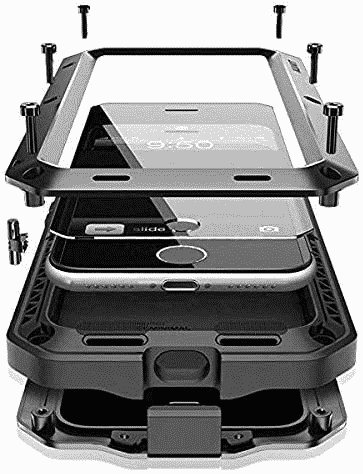 Compatible with iPhone 11 Pro Max 6.5 inch.
Tempered glass will protect the screen from scratching.
Super protection.
Metal hybrid silicone scientific Hard Case.
Drop non-friable protect the screen.
Unique sealing, sand, and dust can not enter the cover.
Do not worry about playing on the sea beach.
Full Body Shockproof, Dustproof & Waterproof.
Aluminum Alloy Metal Gorilla Glass Cover Case.
Weather Resistant.
The case will protect your mobile from rain or sudden water damage.
It can face water-resistant and rainproof, but not put in water.
Huakay iPhone 11 Pro Max Waterproof Case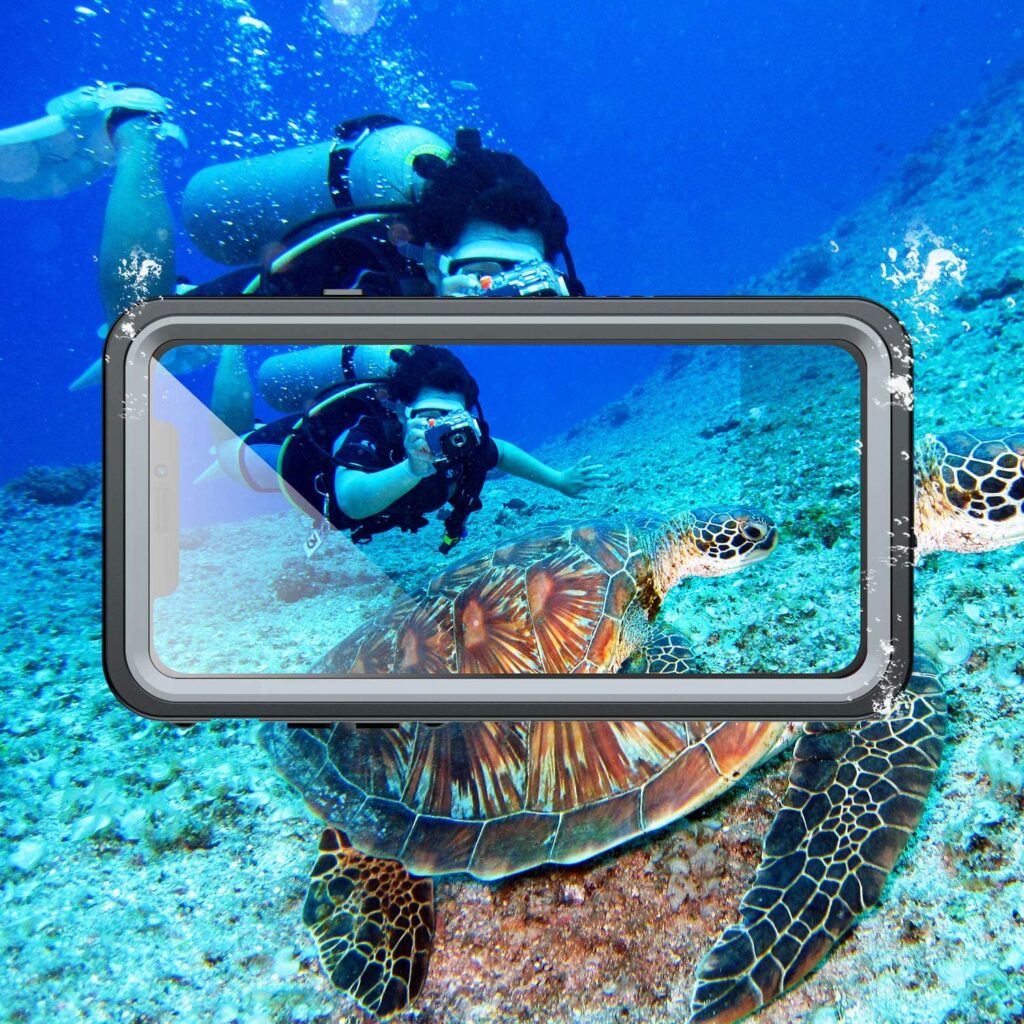 Fully sealed body designed to be waterproof for any underwater activities and support taking photos and videos underwater.
Underwater for 6.6ft/1 hour,
Perfect suit for outdoor water sports and daily use.
Full Body Protect.
Tight body with shock-absorption corner makes this case shockproof dustproof soundproof.
Support All Function.
iPhone remains good sound quality with the case on when calling, listening to music, etc.
Wireless charging support.
Slim & Light.
Comparably slimmer and lighter body make sure an easy handing and grip, not bulky design suit both for men and women.
Transy Waterproof iPhone 11 Pro Max Case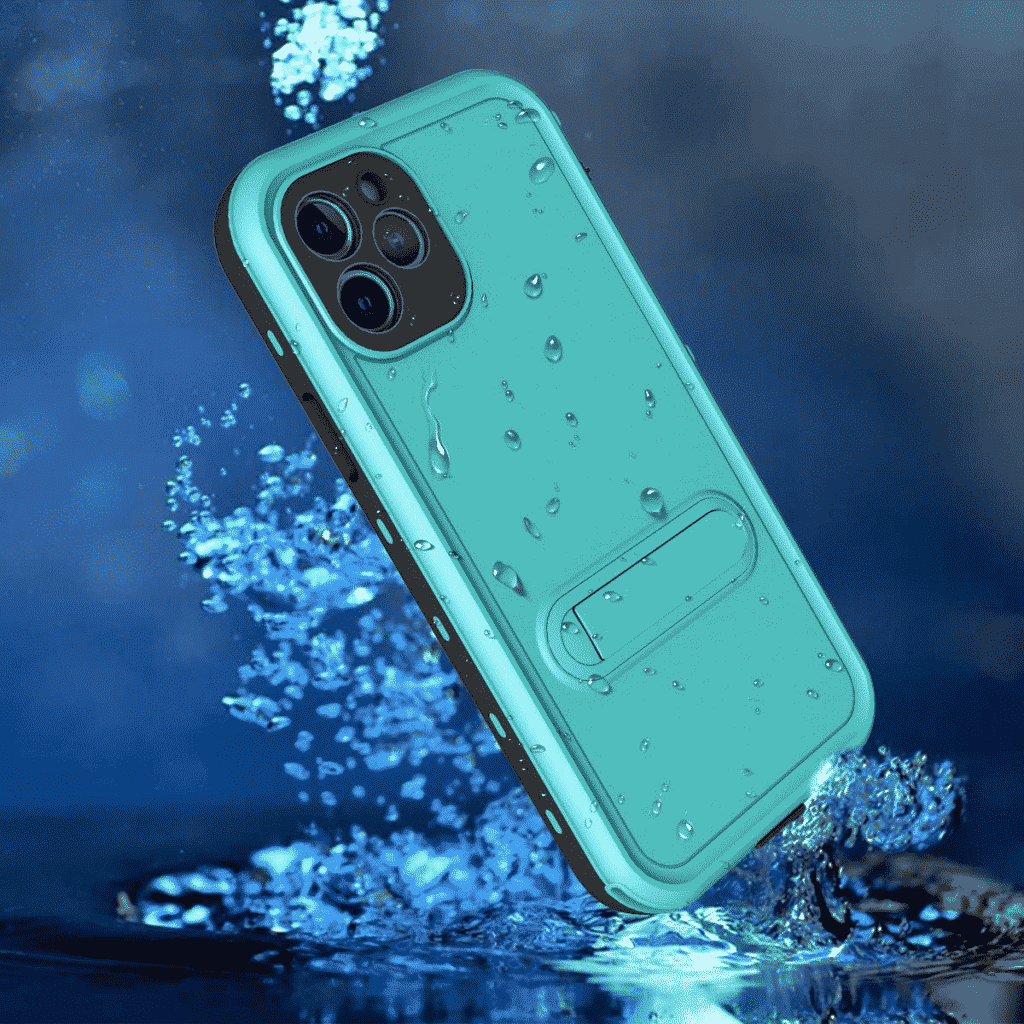 Full-body case with a built-in screen.
Allows you to take photos/videos underwater, swimming, or beside the beach.
Full-body protection case.
Also dust-proof snow-proof, and shockproof.
Sensitive touch & Clear screen.
Every function button can be matched perfectly & easy to press.
The screen keeps sensitive and clears just as without any built-in screen on it.
The weight of the case is only 2.25 oz.
lightweight full-body case on, you can carry it anywhere.
360-degree protection.
Support wireless charging.
Both sides of the waterproof case are full protection case is clear without any metal.
The case can be used on the wireless charger directly.
Lanhiem iPhone 11 Pro Max Waterproof Case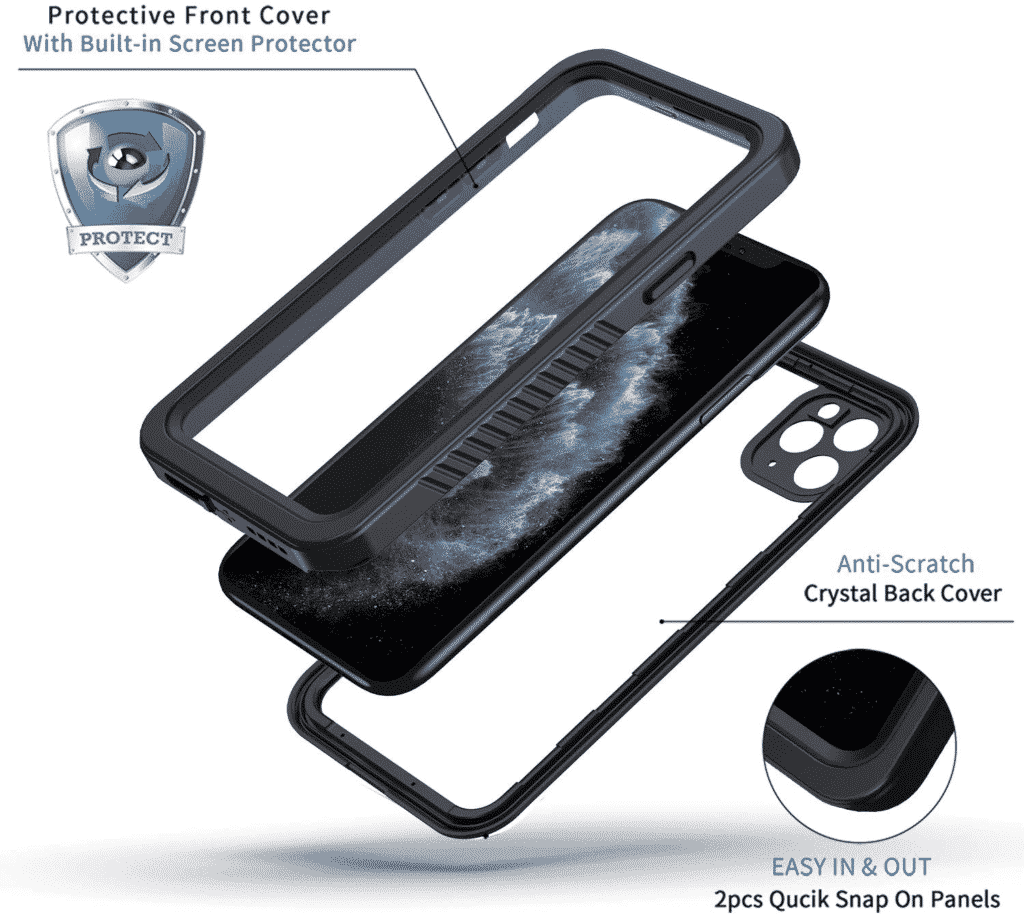 Perfect waterproof case extremely safe even after 1000 times test of using underwater 6.6ft for 1 hour.
Full Body Protection.
Waterproof, Shockproof, Dustproof, full sealed design exceeds military standard to adapt to any outdoor activities.
Phone strap for convenient carrying.
High Touch Responsive.
Built-in HD screen protector prevents scratch, damage, and dirt, also won't affect the touch sensitivity, Face ID Compatible.
Supports wireless charging.
Compact and Lightweight.
TPU material with the tough frame makes your phone lightweight and tough.
The slim body doesn't add much to the size.
Easy Installation Two covers (front/back) snap-on design makes it fast and easy to install or take off in seconds.
Suitable for daily use.
ProCase Universal iPhone 11 Pro Max Waterproof Case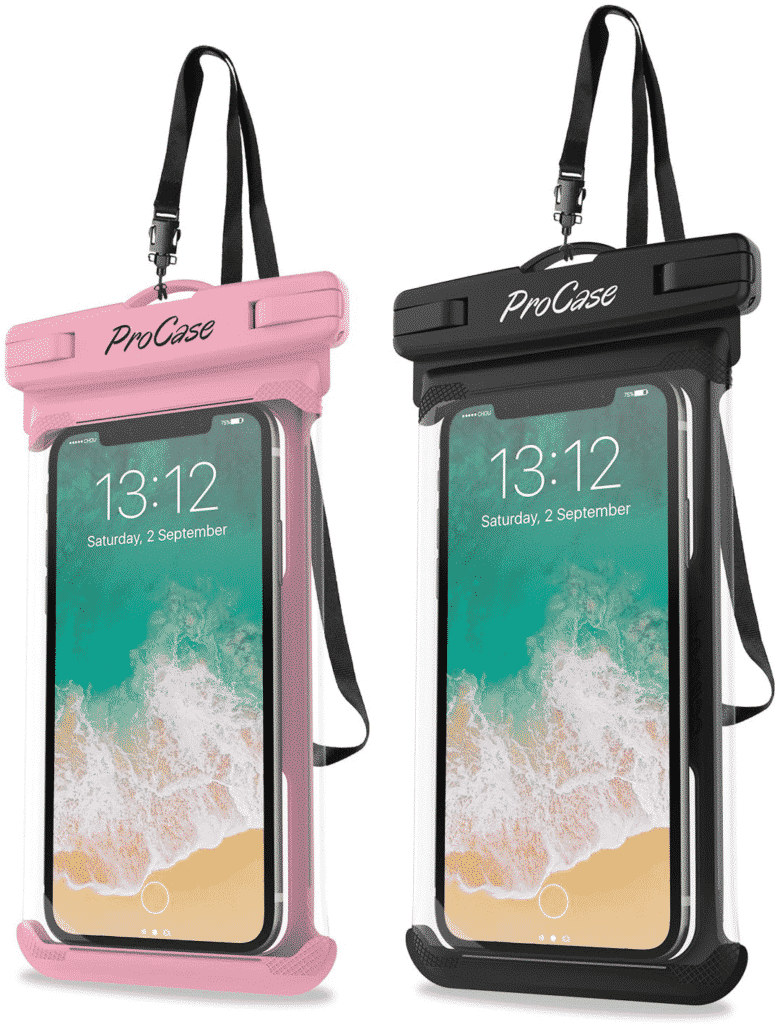 2 Pack Universal waterproof phone case dry bag with pink/black color combinations.
Certain big screen phones need to remove the protective case.
Credit card wallet money waterproof dry bag for beach, fishing, swimming, boating, kayaking, snorkeling, and water park activities.
Innovative design on the side of the case allows users to access the side buttons of the phone easily.
Clear Window on both front and back sides.
perfect for taking pictures, videos, and checking emails.
100 feet IPX8 Certified waterproof.
Offers waterproof/snowproof/dirtproof protection for your device while maintaining full touch screen functionality.
Features a simple snap and lock access, easy to keep out water, snow, dust, sand, and dirt.
Conclusion
As you would expect, it can be a challenge to find the Best Waterproof Case for iPhone 11 Pro MAX case/cover. Unless you test the product out yourself, you often won't have any idea of what to expect from the model that you're buying, so we hope that our reviews and the features rating chart below have helped you out.
Conclusively, by observing and also distinguishing between all the above, Lanhiem sells the finest iPhone 11 Pro Max Waterproof case/cover. There are various reasons we consider Lanhiem as best. Perfect waterproof case extremely safe even after 1000 times test of using underwater 6.6ft for 1 hour. Built-in HD screen protector prevents scratch, damage, and dirt, also won't affect the touch sensitivity, Face ID Compatible. Supports wireless charging. Compact and Lightweight.
Another great alternative is the ProCase iPhone 11 Pro Max Waterproof Case/Cover Dry Bag Pouch.ProCase Universal waterproof case is designed for a beach trip, fishing, swimming, boating, kayaking, snorkeling, and water park activities. Protecting your phone from water, sand, snow, and any other potential damages.
We would like to hear your reviews. Do comment and share. Also do subscribe to stay updated With All The Latest News, Offers, and Special Announcements.
*Prices was correct as on 7th August 2020.