Whether you're a student who relies on Adobe's creative programs for design or art projects, now is the time to sign up for Creative Cloud. Students can get a big 65 percent Student discount on Adobe Creative Cloud on the whole software package, which vital tools like Photoshop and InDesign, right now.
Unfortunately, Adobe's temporary free Creative Cloud licenses, which it granted in March to students forced to study from home in the initial days of the global epidemic, have now been terminated. However, this price still offers a significant saving over the regular monthly or yearly Creative Cloud subscription rate.
When compared to the usual pricing for an 'All Apps' membership, monthly payments save you $33/£33.70/AU$55 each month. However, if you choose a pre-paid yearly plan, the savings are nearly equal, with the student discount knocking $360/£400/AU$607.20 off the regular price of $599.98/£596.33/AU$871.07 for the entire year.
Then what are the advantages of signing up for Creative Cloud, and how can you obtain the best deal? We'll address both questions and show you what you receive with Adobe's 'All Apps' membership in this tutorial so you can determine if it's suitable for you.
What are the benefits of signing up for Adobe Creative Cloud?
Creative Cloud, as the name implies, is a collection of over 20 desktop and mobile apps that provide professional design, photography, video, and UX development capabilities, among other things. Basically, whether you want to design anything visual for print or online, Creative Cloud will almost certainly have the tools to assist you.
You don't own the software you're using thanks to the cloud subscription model, and if you stop paying, you'll lose access to those programs. However, the system has its advantages, with Adobe providing frequent software upgrades as well as 100GB of cloud storage for Adobe Spark, Adobe Fonts, and Adobe Portfolio.
Creative Cloud apps are likewise well-integrated, making it simple to switch between the several included in the 'All Apps' subscription. Here's the complete list of applications you receive for $19.99/£16.24/AU$21.99 per month with the student discount of 65 percent:
Illustrator
InDesign
Lightroom
Lightroom Classic
Animate
Dreamweaver
Premiere rush
After effects
Audition
InCopy
Character Animator
Prelude
Photoshop
Adobe XD
Acrobat Pro
Premiere Pro
Dimension
Media Encoder
Bridge
Fuse
How can I qualify for a student discount?
To be eligible for the 65 percent off Creative Cloud offer, you must be a current student. You must be minimum of 13 years old and enrolled in one of the following three institutions, according to Adobe's terms and conditions:
Home school: As specified by state home education legislation.
Primary or secondary school: a full-time public or private elementary or secondary school that is accredited
College or university: an approved public or private university or college that offers degrees that take at least two years to complete full-time.
Thankfully, proving this is not difficult. "You are promptly verified if you provide a school-issued email address while purchasing." According to Adobe, which includes.edu or.k12 in the United States. .ac.uk in the United Kingdom, and "other email domains supported by educational organizations."
If you don't have one of those email addresses, you'll need to establish your eligibility with another document after you've signed up for Creative Cloud, such as a school ID card, report card, or tuition bill.
Another thing is that the 65 percent discount is only valid for the first year; after that, Adobe will automatically renew your subscription at $29.99/£25.28 a month. This is still between 44 and 50 percent off the regular price, but not as generous as the first-year discount. One can also register for a free 7-day trial to test out the entire suite of applications before committing.
How can you get the student discount?
If you have your student email account available, use the links below to join up for the Creative Cloud student deal.
The subscription can be paid monthly or in one single amount. And the costs are nearly comparable over the course of a year. We've also included links to pre-paid yearly student discounts available through Amazon, which are fractionally cheaper.
Get a 60% discount on Adobe Creative Cloud (All Apps) for US students, which includes full access to Photoshop, Premiere Pro, and Illustrator. For the first year, you'll spend $19.99 per month or $239.88 (pre-paid lump sum), as opposed to the standard price of $52.99 per month or $599.98. (pre-paid).
Get a student discount of 65% off Adobe Creative Cloud (UK)
For UK students, get a 65% discount on Adobe Creative Cloud (all programs). If you choose the pre-paid option, you will pay £16.24 each month for the first year, or £196.30 for one big fee. Subscribers pay £49.94 a month (or £596.33 for the prepaid option) without the discount, demonstrating what a terrific deal it is for students who want access to Photoshop, InDesign, and Premiere Pro.
Get a 70% discount on Adobe Creative Cloud for students (Australia)
Students in Australia may save up to 70% off Creative Cloud, which is even better than the similar offerings in the United States and the United Kingdom (All apps). During the first year, you'll pay AU$21.99 per month or AU$263.87 in advance. Hence, this is a reduction from the regular price of AU$76.99 a month or AU$871.07 for the prepayment option.
Amazon offers a student discount of 61% off Adobe Creative Cloud (US)
If you want to go the prepaid way with Amazon, you can get Adobe's student discount for somewhat less. This package costs $239 for the year and includes all of the same products, including Photoshop, Lightroom, and Illustrator.
Best Value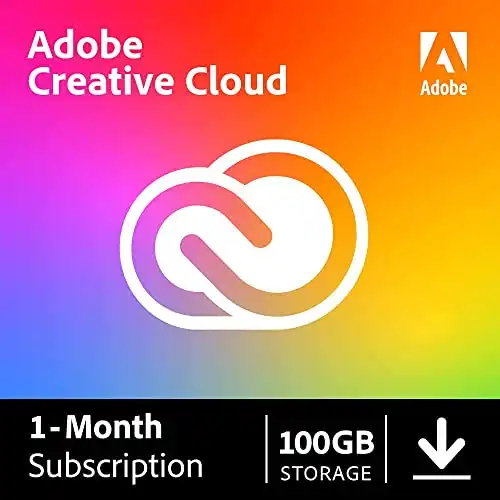 Amazon offers a 68% student discount for Adobe Creative Cloud (UK)
It's also significantly cheaper to receive the Adobe Creative Cloud student discount through Amazon UK for prepaid customers in the UK. This costs only £190.55, compared to the typical price of £596.33 for non-students. Hence making it the best choice for students who use tools like Photoshop, Premiere Pro, and Illustrator on a daily basis.
Conclusion
Adobe Creative Cloud is a set of Adobe Inc. programs and services that provide users with access to tools for graphic design, web development, and photography, as well as a set of mobile apps and certain optional cloud services. This service is the most cherished among the youth. However, if you are a student and getting this much of a discount on this service by just providing your student's ID then you should definitely go for this.
Read More: