The iPad Pro 12.9-inch 4th generation is just about the best Apple tablet around given its impressive features such as its screen size, excellent audio quality, sleek design, and other useful peripherals. The iPad has been morphing into a laptop for some time, but the new iPad Pro is the first of Apple's legendary range of tablets to really get there. It's an absolutely stunning piece of work, and it means the iPad Pro 12.9 is finally the laptop substitute Apple has always wanted it to be. But all the productivity features in the world won't matter a jot if your new iPad Pro slips off the desk and meets a grim ending on the hardwood floor.
If that happens to your iPad, you'll wish you'd kitted it out with a handy protective case to keep it safe, and — more often than not — add a handy kickstand to turn your productive iPad into the perfect Netflix machine. Here are some of the best iPad Pro 12.9 (2020 an 2018 ) cases to keep your iPad Pro in one piece.
But before buying a phone case you must know what exactly an iPad case is and what type of cases are available and sold in markets.
What's a Case? Why we need it?
Some people like the naked feel of the metal of the iPad, and they choose to keep it caseless. Some people only use their iPad on the couch, or somewhere it's going to be in a relatively protected use and environment setting. However most people will use this outside of these confines, whether it be in a corporate office, a cafe, or restaurant, and most people will take the iPad with them so they need to carry it around. For this reason, the iPad in most situations will need a case or a cover to help protect it from the bumps and potential for scratches and perhaps worse, that are involved in the day-to-day portability and usage of an iPad.
iPad cases can also be chosen to enhance the functionality of the iPad. Cases that fold to make a stand, for example, covers that help to hold onto the iPad if using it while standing, and more.iPad cases prevent a lot of damage during unfortunate accidents, both to the device and your wallet, but are they really needed? The main reason why users put cases on their iPads is that accidents happen. Obviously, people don't actually try to purposely drop their tablets, but if someone bumps into you, knocking your iPad out of your hand, you're kind of screwed.
Types Of iPad Cases:
Clear-Transparent and see-through cases for your iPad.
Gel-Gel iPad cases are similar to hard iPad cases, add slim protection to the back and sides of the iPad, protecting it from bumps and scratches. Gel iPad cases are usually made from thermoplastic polyurethane (TPU).
Designer-Comes in various colors and designs.
Leather– Typically are a total iPad cover, protecting the front and back of the iPad. They can come with an inner plastic shell, or with a holder molded from the leather itself.
Hard-These cases are usually made from poly-carbonate (plastic), so it is hardened and as protective as possible.
Soft-Soft Cases comprise of Silicone, Rubber, and Leather Cases. Even though Soft Cases appear soft on the outside, they cushion the inside.
Folio-Folio iPad cases are similar to Leather iPad cases, in their form, functionality, and features. It may be made from leather or other material. They may also have an inner pocket for cards.
Rugged- Rugged case offers extra protection with TPU shell inbuilt within them. They are quite safe and can resist even substantial damages or falls.
Tough-Tough can be used by people who intend to use them in outdoor conditions, on building sites, etc, or who just want a case that's pretty tough.
Stand-Stand Case helps make your iPad stand so that you can watch your movies and screens easily.
Keyboard -Keyboard Cases are for those looking to turn their iPad into a productivity powerhouse. You can use keys for typing large documents and also to have the iPad positioned in a way that is similar to a laptop and in a standing position that makes it easier to see the screen.
So Let us see which brands are dominating the list.Have a look!
Apple Smart Folio for iPad Pro 12.9-inch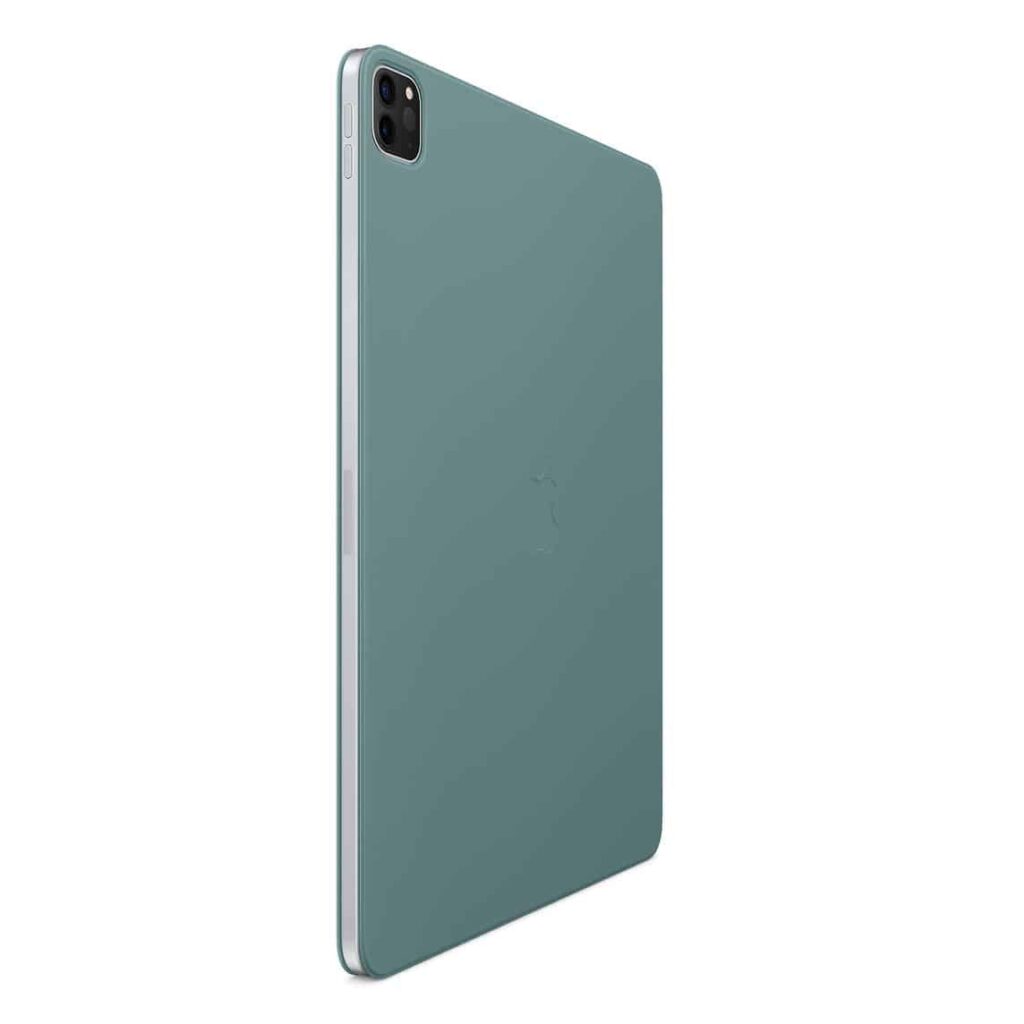 Little Simple for some, but its a classic for a reason.
The Smart Folio for iPad Pro is constructed from a single piece of polyurethane to protect the front and back of your device.
It automatically wakes your iPad Pro when opened and puts it to sleep when closed.
You can easily fold the Smart Folio into different positions to create a stand for reading, viewing, typing, or making Face Time calls.
As we all expect from Apple-It is made from high-quality materials — but does that excuse the price?
It's very expensive for the quality they deliver, and most people will probably avoid it for that reason.
However, the Smart Folio is essential if you want a pure Apple experience.
ZtotopCase Rugged Case 2020/2018 with Pencil Holder
Full Body Protective Rugged Shockproof Cover with Auto Sleep/Wake.
Support 2nd Gen Pencil Charging.
Designed for New iPad Pro 12.9 Inch 2020 Release 4th Gen(Model: A2229/A2069/A2032/A2233); It also can be used for iPad Pro 12.9 Inch 2018 3rd Gen, but the camera cutout will be larger.
Note: NOT compatible with the 2017/2015 Version(2nd/1st Generation) and other iPad models.
Premium PU exterior and soft TPU back cover.
Built-in iPad Pencil holder, Easily to carry and use your iPad Pencil whenever you want. (Pencil is NOT included).
Shockproof, scratchproof and provide full-body protection against drops.
Also, its inner layer provides Honeycomb grid pattern air cushion that can release over 80 percent heat, extend iPad useful life, and provide better shock absorption function.
Tri-fold front cover with dual standing positions.
Solid construction but no bulky, Precise cutouts easily access to all buttons.
Let your iPad Pro 12.9 2020 fits snugly in the case.
ProCase iPad Pro 12.9 Case 2020 & 2018 Stand Hard Back Shell Smart Cover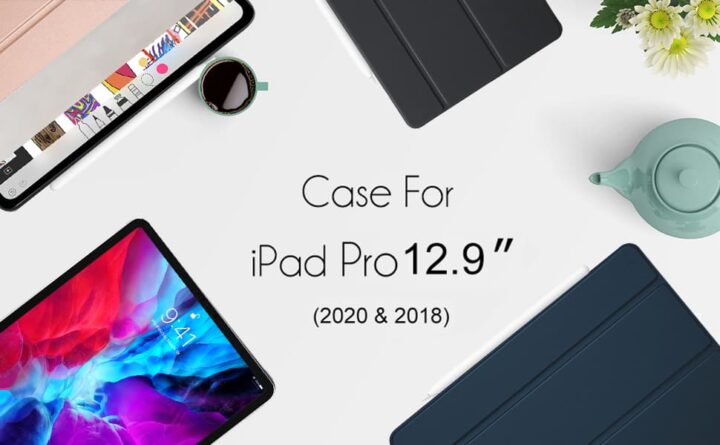 Slim Case for Apple iPad Pro 12.9 Inch 4th Generation 2020 Released (Model: A2229 / A2069 / A2232 / A2233) & iPad Pro 12.9 Inch 3rd Generation 2018 Released (Model: A1876 / A2014 / A1895 / A1983).
Not compatible with any other devices. Please check the back bottom of your iPad to find the model number
It features an easy clip-on application.
Lightweight design adds minimal bulk while offering your device great protection against accidental drops and bumps
The translucent frosted back cover allows you to see the Apple icon through your favorite color and protect your device against fingerprints and scratches in the meantime.
Tri-fold front cover with dual standing positions for viewing and typing satisfies your different needs.
Viewing angle frees your hands to other activities and avoids any joint pain, while typing angle enables you to type or draw comfortably
All-around protection for your precious iPad.
Precise cutouts allow full access to all features (buttons, speakers, cameras)
Support 2nd Gen Apple Pencil's magnetic attachment and wireless charging.
Free to charge the pencil without removing the case.
Support auto Sleep/Wake feature.
Magnet secures the case closure, easy snap on and off.
CHESONA Keyboard Case for iPad Pro 12.9 2020 2018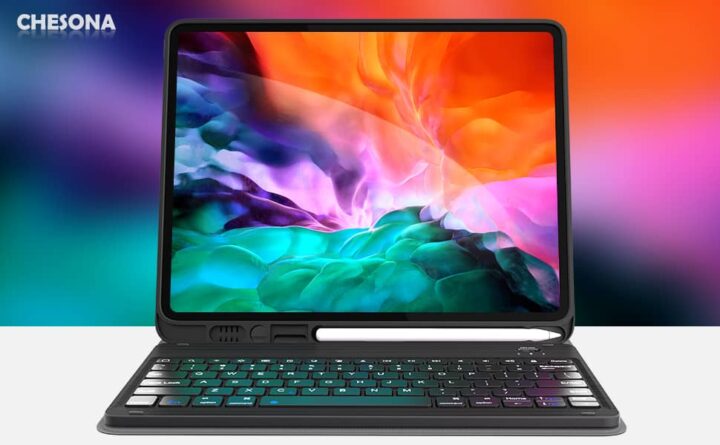 Compatible with iPad Pro 12.9 inch 4th Generation 2020 (Model Number: A2229/A2069/A2232/A2233) / 3rd Generation 2018 (Model Number: A1876/A2014/A1895/A1983).
Seamlessly supports Wireless Charging for Apple Pen, Specific pencil slot to place the pen when fully charged, avoids damage to the Pen's battery with multiple charges,
Perfect for working, writing, or watching videos at work, school, travel, and home.
Comes with a special pencil holder compatible with Apple tablet stylus for a more compact design.
Removable Wireless Bluetooth keyboard with magnetic that transforms your iPad into a highly performant and easy to use a laptop or your favorite book in less than a second.
QWERTY Layout with Hot keys Customized for iPads, Including Volume, Music Control, Brightness, etc, with mute and ergonomic design, gives you a skin-like touch feeling.
Compatible with the iPad Pro 12.9-inch, using a flip magnet separate design with built-in three different angles of standing on the bottom of the cover to ensure a comfortable viewing angle – Typing, Reading, Gaming – giving you amazing versatility.
Easily adjusts to whatever comfortable angle suits you best.
Comes with an anti-slide design and offers 360° full protection against scratches, bumps or dents.
Protecting your tablet from all sorts of dropping accidents, also against fingerprints, shocks, scratches, and dust.
Precise cutouts allow full access to all ports, sensors, speakers, microphones, and cameras.
A built-in Rechargeable battery could extend the battery life, 2-3 hours full charge, work for more than 80 hours, stand by for 120 days.
The keyboard will enter into sleep mode if it doesn't work for 10 minutes, and it will disconnect with your iPad. It will wake up and connect to your iPad again when pressing any key.
ESR Yippee Trifold Stand Case for iPad Pro 12.9 2020/2018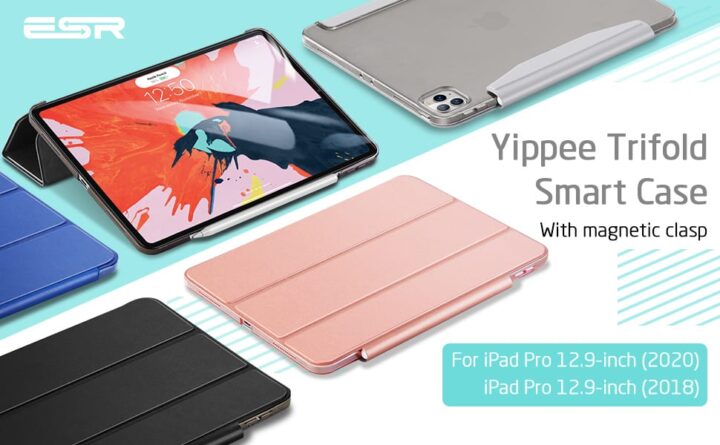 Compatibility – Designed for the Apple iPad Pro 12.9″ 2020 & 2018. Not compatible with any other iPad models.
The front cover & transparent case protect your iPad from routine life wear and tear.
Slim and lightweight.
The enhanced smart cover ensures the auto sleep/wake feature works quickly every time.
The trifold magnetic cover supports both viewing and typing stand modes.
Also, it magnificently supports the Apple Pencil 2's new magnetic attachment and wireless charging features with a specially designed side cutout.
It comes with a functional clasp that keeps your iPad protected and well guarded with or without an Apple Pencil attached.
Spigen Tough Armor Pro Designed for iPad Pro 12.9 Case 2020 & 2018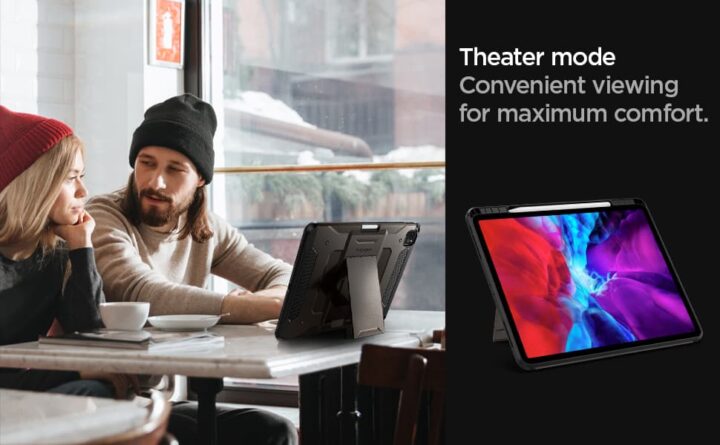 Precisely designed for Apple's iPad Pro 12.9" (2020/2018)
Precise cutouts providing easy access to the charging port.
The optimum angle for typing and drawing.
Only Compatible with all functions of the Apple Pencil 2nd Generation
Built-in kickstand for easy hands-free viewing.
Theatre Mode for convenient viewing and maximum comfort.
Shock-absorbent layers with Air Cushion Technology.
Raised edges for added screen and camera protection.
The Verdict-Our Recommendations
For personal use, Apple's official Folio Case is a favorite of ours because it's classic, lightweight, and gets the job done in style. If you want something that looks good as well as is an admirable one, this is your case. But you want a budget pick for personal use, you can go for ZtotopCase.These are Protective Rugged Shockproof Cover with Auto Sleep/Wake, Support 2nd Gen Pencil Charging, and plus comes with Pencil Holder. For more professional applications, we recommend you to go with the CHESONA Keyboard Case for iPad Pro 12.9 2020 2018. Supporting Wireless Charging for Apple Pen, it is perfect for working, writing, or watching videos at work, or even at school, travel, and home.
The case style overall we chose for iPad Pro 12.9 is the ProCase Stand Hard Back Shell Smart Cover. With a lightweight and classy design, it is also toughly durable as well as comforting.And for sure, a complete budget-friendly+finest quality option!
We will truly appreciate your feedback. If we can be of any further assistance, please let us know. If we can be of any further assistance, please let us know. Do like, comment, and share. Best Regards!
*Price was correct as on 16th June,2020.