You can carry your iPad anywhere and everywhere, but you can't take your PC and sometimes that so distressing and of course the keyboard keys are quite more comfortable than the iPad touch screen key. You must be thinking about how to connect So you can connect the keyboard by either plugin socket or Bluetooth. Another great advantage we get is, it provides your iPad full protection from various damages like scratches and falls, etc. Let us move on to the best iPad Pro 9.7 2016 keyboard case/cover.
Arteck iPad Pro 9.7 2016 Keyboard cover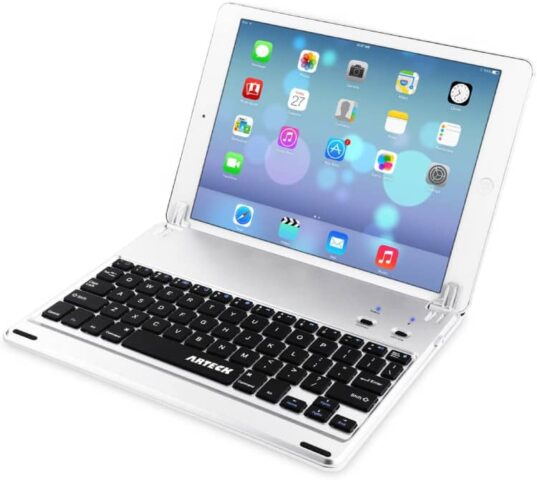 This keyboard is specially made for the iPad Air 2 or 9.7-inch iPad Pro and perfectly complements its thin, lightweight design style.
This Bluetooth keyboard also doubles as a screen protector and viewing case.
Simply push the iPad into the unique iPad case and let the powerful magnets grip the iPad securely to instantly give your iPad a keyboard and a protective cover that also acts as a multi-angle stand for easy viewing and typing.
Looks just like a laptop!
Built-in case and magnetic attachment allow the iPad to be tilted up to 130 degrees to provide the most comfortable viewing position for typing or viewing photos and movies.
Magnetic attaching style makes the case attached to the keyboard very easy and convenient.
Charge up in 2 hour and enjoy 100 hours of uninterrupted use.
The keyboard will enter its own sleep mode after a few minutes of inactivity – simply press any key to wake the keyboard up again.
It features Mac keyboard layout which means larger keys and more comfortable typing experience.
24-month warranty and provide friendly customer service.
BAIBAO for iPad Pro 9.7 2016 Keyboard Case
A hard ABS plastic shell and a synthetic leather exterior give your iPad the protection it deserves.
Perfect for working, writing, or watching videos at work, school, travel, and home.
Comes with a slot for holding your pencil that lets you effortlessly reach for your pen whenever you want to use the touch pen(PEN NOT INCLUDED).
The precise cutouts allow access to all ports, user interface, sensors, speakers, microphones and cameras.
You can adjust the angle of the case to suit the best Angle for you use a tablet.
iPad mini case has a built-in stylus slot, which allows you to carry and use your stylus at any time.
The magnetic Bluetooth keyboard is easy to attach and remove from the case.
The rechargeable keyboard is easy to use. When you typing, the keyboard makes very little noise.
This iPad Keyboard Case 9.7 compatible with the new 2018 iPad 6 (A1893-A1954) 2017 iPad 5 (A1822-A1823) iPad Pro 9.7 (A1675-A1674-A1673) iPad Air 2 (A1566-A1567) & Air (A1474-A1475).
Please check the back of your iPad to confirm the model
Best Parnter for iPad Pro 9.7 2016 Keyboard cover
Made with PU+PC. Slim/light design. Synthetic exterior and smooth interior provide comprehensive protection for your iPad.
Opening and closing the cover triggers sleep or wake modes, convenient for the daily use and extend your iPad battery life.
Equip with laptop-style Bluetooth keyboard(QWERTY Layout), provide fast and efficient typing, help you study&working everywhere.
The keyboard support connect with other Bluetooth devices, such as iPhone, Laptop and other Smartphone.
Built-in high-powered battery, 2 hours charging time will keep at least 3 months stand-by time or 40 hours continuous use time.
Designed Exclusively for Apple iPad 9.7 Inch .
Fit iPad models: iPad Pro 9.7(A1675/A1674/A1673), iPad 9.7 inch 2018 (6th Gen, A1893/A1954), iPad 9.7 inch 2017 (5th Gen, A1822/A1823), iPad Air 2 (A1566/A1567), and iPad Air (A1474/A1475/A1476).
ProCase for iPad Pro 9.7 Keyboard Cover
Premium quality hard case fully protects your iPad, keeping scratches, dust, accidental spills and bumps away.
Ultra-thin design concept, gain your iPad protection without adding extra bulk, Lightweight for carrying around easily.
360 degree rotation provides free adjustment for comfortable typing and viewing position.
Flip iPad over when no need of the keyboard, offering a nice angle for activities like reading or browsing.
Built-in wireless keyboard connects to your iPad automatically, making typing faster and more accurate than on a touchscreen.
7 colors backlight design provides different visual enjoyment and makes it easy to type in the dark place.
Easily open or close the case can wake up or put iPad into sleep, energy-saving.
Accurate cutout ensures full access to all features.
It designed for Apple iPad 9.7 Inch 2018 / 2017 A1893 A1954 A1822 A1823, also fit iPad Pro 9.7, iPad Air and iPad Air 2.
Alpatronix for iPad Pro 9.7 keyboard Case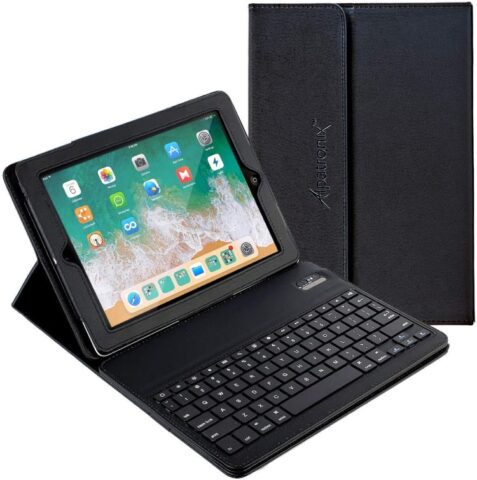 Magnetically folds into a portfolio case protecting your iPad mini from scratches, stains and splashes.
Easily set up your iPad mini the first time; afterwards pairing is automatic once the keyboard is turned on.
Comfortable, high quality and natural ABS keys provide a quick response and natural typing experience.
Auto wake and sleep function.
Bluetooth keyboard can be used with other Bluetooth-enabled devices.
Operating Distance: 30 ft.
Working Time: 100+ hrs.
Standby Time: 800+ hrs.
Charging Time: 1-2 hrs.
Special keys for brightness, home, screen lock, volume and playback controls.
Turn your iPad mini into an ultra-portable laptop.
Compatible with Apple iPad Pro 9.7 2016 & iPad Air 1/2.
Upworld for iPad Pro 9.7 keyboard Case
This keyboard has 2 levels of brightness and 7 colors back light switchable.Your typing is fun in both dark or dim light.
Soft & Durable PU (synthetic) leather case protects your iPad perfectly away from dirt, scratches, stains, splashes or dents.
Features the qwerty keyboard UK island-style keys.
Built -in apple pencil holder.
Also, this premium vegan leather case is compact, lightweight and snug for a perfect, secure fit.
Allows a continuous working time estimated 100 hours and charging time 2 – 3 hours.
Built-in Versatile adjustable Stand provides you a good angle for reading, typing or watching.
Durable PU leather cover and anti-slip rubber-lined interior provide full protection for your tablet.
Built-in premium Li-ion battery with energy-saving mode, provides at least 72 hours continual working time and 30 days standby time on a full charge. (REMINDS: Charge the keyboard for about 2-3 hours before first use.)
Automatically sleep / wake your iPad up when you close or open it.
Intelligent re-connect your iPad when you are going to typing.
One short click the keyboard Or switch ON/OFF button.
Package Included:
iPad Keyboard Case.
Wireless Bluetooth Keyboard.
Micro USB Charing cable.
User Manual.
Conclusion
That ends our article here!
Conclusively, by observing and distinguishing between all the above, Arteck Keyboard Cover is the best option!
There are various reasons we consider it as best. At a very affordable price. Looks just like a laptop! Built-in case and magnetic attachment allow the iPad to be tilted up to 130 degrees to provide the most comfortable viewing position for typing or viewing photos and movies. Magnetic attaching style makes the case attached to the keyboard very easy and convenient. Ranked as Amazon's Choice for iPad Arteck keyboard Case. You can surely go for it!
But all of the above have some unique features, you can opt for one as per your requirement! Regardless of which case you go with, the most important thing is that your iPad is better for typing! Right?
We would like to hear your reviews. Do comment and share. Also do subscribe to stay updated With All The Latest News, Offers, and Special Announcements.
*Prices was correct as on 1st September, 2020.