Keyboard cases are often a blessing and a boon to people who have hours of typing sessions.Because you can carry your iPad anywhere and everywhere, but you can't take your PC . The keyboard keys are quite more comfortable than the iPad touch screen key. You must be thinking about how to connect so you can connect the keyboard by either plugin socket or Bluetooth. Another great advantage we get is, it provides your iPad full protection from various damages like scratches and falls, etc. Lets move on to see the best iPad Pro 12.9 2015 keyboard case/cover.
Why Keyboard Case?
If you've ever thought, "I don't like typing on this iPad screen—I wish I had a real keyboard," odds are, definitely you could benefit from a keyboard cover. You can dramatically increase your iPad productivity with real, tactile keys that let you type almost as quickly and with as few errors for your work.
What is a keyboard Case?
A keyboard cover combines the advantages of a physical keyboard with a protective case—instead of having to carry a separate keyboard, you have a keyboard built right into a case that's similar to the one you're likely already using.

A keyboard cover can be a bit bulkier since it has to accommodate the keyboard. Most keyboard cases are specifically designed to let you type on your lap, as you would with a laptop, making a keyboard cover better for portable use than an iPad with a separate keyboard and stand.
What to look for in a Keyboard Case?
A good typing experience: The most important part of any iPad keyboard cover is the keyboard itself. After all, if typing on the keyboard isn't dramatically better than typing on the iPad's screen, there's no point to the extra weight and expense.
The right key layout: The keyboard should use a standard key layout with all the expected keys in all the correct locations.
Good keys: The keys shouldn't be so small or so cramped that you regularly press adjacent keys by accident.
Dedicated iPadOS keys: We like having iPadOS-specific keys for functions such as Spotlight (search), adjusting brightness, and Home. W
Solid protection: A good keyboard case must protect your iPad well.
Reasonable size and weight: A keyboard case makes an iPad bulkier and heavier, but it shouldn't do so to an unreasonable extent. It also shouldn't take up too deep space on your desk.
An easy on-off design: We appreciate key board cases that make it simple to leave the keyboard behind when you don't need it so you aren't forced to carry extra bulk and weight.
Multiple angle options: Multiple angles for propping up your iPad give you more flexibility in terms of ergonomics, comfort, and avoiding screen glare but at the very least. a case should offer an angle that lets you comfortably view the screen but isn't easy to tip over.
Long battery life: The less you have to worry about your keyboard's battery dying, the better. Luckily, this is rarely an issue with current iPad key boards.
Types of keyboard :
Wired Keyboard
Keyboard with a case
Wireless Keyboard
So Let us see which brands are dominating the list.Have a look!
Sounwill for iPad Pro 12.9 2015 Keyboard Case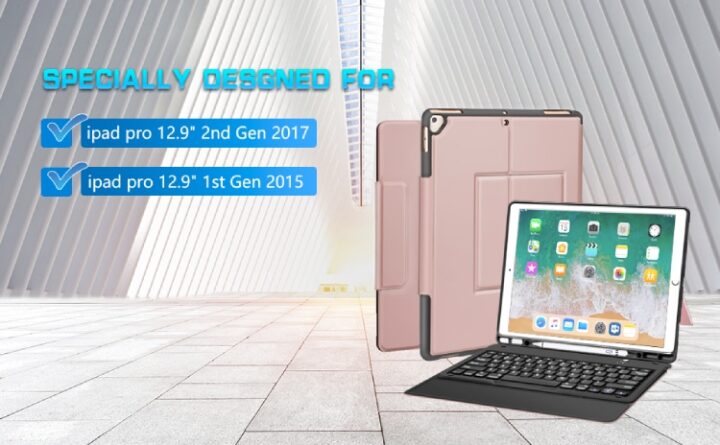 Designed for iPad pro 12.9″ 1st Gen 2015 and iPad pro 12.9″ 2nd Gen 2017 (A1584, 1652, A1670, 1671).
The high-quality PU leather case and soft silicone lining provide total protection for your tablet.
Ultra-thin and ultra-lightweight design allows you to carry it with you on business trips. Work anytime, anywhere.
The briefcase style embedded keyboard case designed for portability and traveling.
Automatic sleep/wake-up function saves more energy for your iPad keyboard case and lasts longer.
Support continuous work for 70 hours or standby for 150 days, after only charging for 2-3 hours.
Better chips and faster response speeds allow you to quickly record subtle ideas in your brain.
Full-size keyboards are also more adaptable to your typing habits to increase productivity.
The honeycomb structure dissipates heat faster, and the silicone soft case is easy to disassemble.
Only 18mm thick and 430g heavy, making it easy to carry around in your backpack.
Precise Cutout allows full access to all ports, user interface, sensors, speakers, microphone and cameras without having to remove the cover, even when you are charging the tablet.
Package Contents:
iPad Pro 12.9 PU Leather Protective Keyboard Case
USB Charging Cable
User Manual
IVSO for iPad Pro 12.9 2015 Keyboard Cover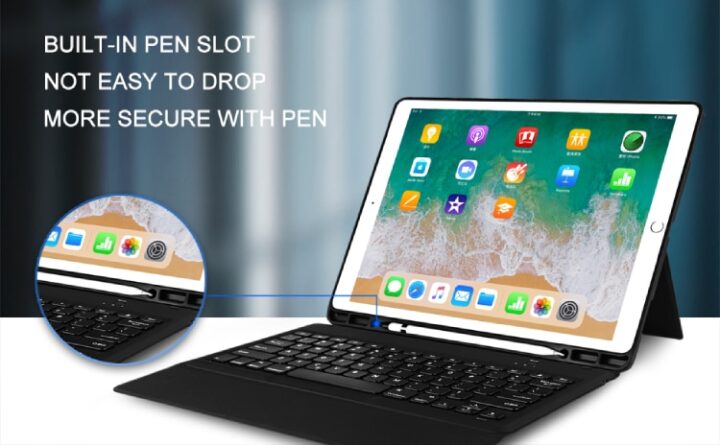 Magnetically folds into a portfolio case for portability and traveling.
High quality PU leather cover with soft inner lining provides comfortable feeling while offer full protection for your tablet.
Smart stand function, this keyboard case enables you to have a prefect viewing angle with your tablet.
Posses auto wake -sleep feature.
Precise Cutout allows full access to all ports, user interface, sensors, speakers, microphone and cameras without having to remove the cover.
Built-in Rechargeable battery could extend the battery life of your tablet (3 hours).
Charging time= 2.5 – 3 hours
Standby time: approx. 30 days.
Continual working time: 60-90H
Special function keys: Sleep / Lock / Slideshow/Home/volume and more.
Designed for ipad pro 12.9″ 1st Gen 2015 and ipad pro 12.9″ 2nd Gen 2017 (A1584, 1652, A1670, 1671).
Logitech iPad Pro 12.9 Inch Keyboard Cover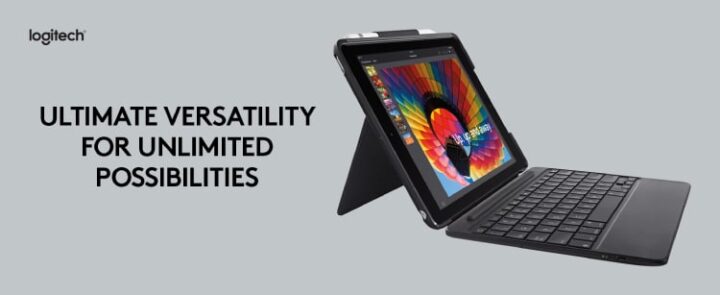 Slim Combo carefully encases your iPad for all-around protection against bumps, scratches, and spills.
It's designed to withstand daily wear and tear, perfect for slipping in and out of bags.
Push the screen all the way down for a Studio mode, perfect for drawing and notes taking with digital pencil.
Put a keyboard aside and get to a hands-free viewing mode perfect for videos and more.
Enjoy comfortable typing thanks to well-spaced keys and iOS shortcuts.
Our mechanical keyboards are designed with 1.5 mm key travel to deliver the perfect bounce every time.
Fold the kick stand back for a hand-held minimalist design, perfect for reading.
Compatible with iPad Pro 10.5 Inch (2nd Generation 2017 Models: A1701, A1709, A1852).
Procase iPad Pro 12.9 keyboard Cover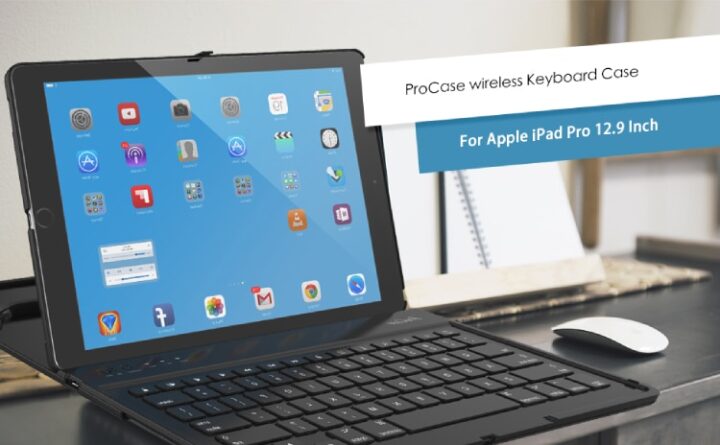 Premium quality hard case provides all-around protection to your iPad Pro, keeping scratches, dust, accidental spills and bumps away.
60-degree rotation provides free adjustments for comfortable typing and viewing position (Kindly note: please pull out the keyboard in the horizontal direction and then keep the case against the keyboard).
There is a stylus at the upper-right of the bottom piece, easy to access, just a simple press to pop out the stylus.
Real laptop-style keyboard – optimized wireless keyboard with 78-key QWERTY layout offers you a more comfortable and faster typing experience.
The built-in wireless keyboard connects to your iPad Pro 12.9 automatically after the first pairing and one single charge gives you up to 60 hours of keyboard working time.
Simply squeeze the rotational lock with thumb and forefinger to separate the protective back from the keyboard panel, quickly switch it from laptop mode to tablet mode.
Easily open or close the case can wake up or put iPad into sleep, energy-saving.
Accurate cutouts ensure full access to all features.
Fintie for iPad Pro 12.9 Keyboard Case

Durable PU leather cover and anti-slip rubber-lined interior provide full protection for your tablet.
Soft flexible TPU back shell protects your iPad Pro 12.9 (1st Gen 2015) / iPad Pro 12.9 (2nd Gen 2017) from shocks, drops and impacts.
Support auto sleep/wake function by CASE ONLY mode. Adjustable stand securely holds your iPad in landscape mode.
Real "hard" laptop style keyboard with high-end ABS material. Not cheap silicone keyboard as other cases in the market.
The spring mechanism underneath each key ensures a tactile response with every stroke, helping you to type faster with less errors than on a touchscreen.
Built-in Apple Pencil holder, cap & adapter slots, grab your iPad Pencil, Pencil Cap and Adapter effortlessly whenever you want, easily to carry your pencil with your device.
Apple Pencil, Adapter & Cap not included! Available in a variety of bright and fun colours.
Featured with bright backlight keyboard, 2 levels of brightness and 7 kinds of backlit makes your keyboard gorgeous and special, ensures the keys are sharp, bright and easy to read in dim light, more comfortable typing experience.
Ultra-slim design adds maximum protection with minimal bulk (0.38 in). Magnetically detachable super slim 7mm and lightweight Bluetooth keyboard with 10M range.
TECHGEAR iPad Pro 12.9 Keyboard Case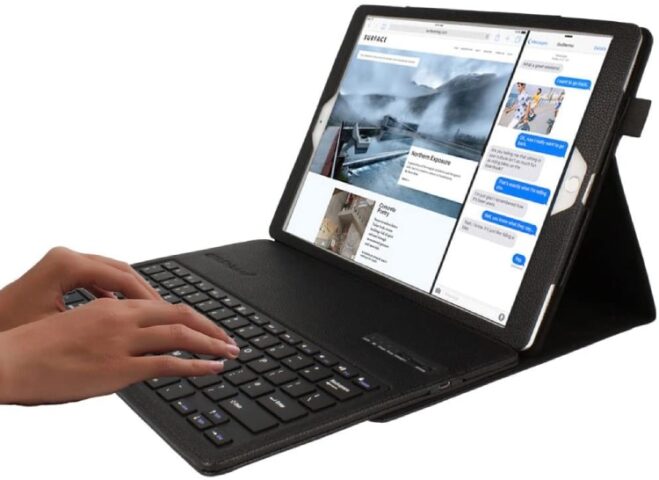 Quality all-in-one Case: Bluetooth keyboard + Protective Case + Stand.
Elegantly designed case offering strong protection for your tablet.
Detachable Keyboard (magnetic), allows for more comfortable typing positions.
ABS Plastic keys rather than the rubberised keys on most other keyboard cases.
Built-in rechargeable battery for the keyboard, providing long standby & long lifespan.
Specially designed to fit the 2nd Generation / 2017 and 1st Generation / 2015 Apple iPad Pro with 12.9″ screen (A1584, A1652, A1670, A1671).
Correct cutouts for Speakers, Cameras, Ports etc.
NOT for 4th Generation (2020) or 3rd Generation (2018) iPad Pro 12.9″.
Conclusion
That ends our article here!
Conclusively, by observing and distinguishing between all the above, Sounwill Keyboard Cover is the best option!
There are various reasons we consider it as best. At a very affordable price. The high-quality PU leather case and soft silicone lining provide total protection for your tablet. Ultra-thin and ultra-lightweight design allows you to carry it with you on business trips. Work anytime, anywhere. Ranked as Amazon's Choice for iPad Sounwill keyboard Case. You can surely go for it!
But all of the above have some unique features, you can opt for one as per your requirement! Regardless of which case you go with, the most important thing is that your iPad is better for typing! Right?
We would like to hear your reviews. Do comment and share. Also do subscribe to stay updated With All The Latest News, Offers, and Special Announcements.
*Prices was correct as on 1st September 2020.