If you use your phone through the day,whether it might gaming sessions or simply watching a Netflix series,you surely must be facing charging it again and again .But we have quite a favorable idea for you.Just carry a power bank and that's it !Portable battery charger/power bank the new gadget in the electronics industry. It is going popular very rapidly among users of smartphones in this world. No doubt it is one of the best inventions for this generation. Especially if we ask this to any mobile geek who is in touch with his smartphone every minute of his day. But before moving on to the best Portable battery chargers in 2020 some of the concepts What is a Portable battery charger & What to look for in a Portable battery charger?
It's very useful when you have a power cut at your home or no electricity area. It can be recharged easily by attaching to any USB port. Power banks are always giving freedom to use the smartphone without worrying about its battery.No more trouble while chatting on battery down condition. You know, it's worst state when you have to chat with someone special while charger plugged in the board. Travel without worrying about charging point or phone's battery.
Battery packs come in all shapes and sizes, smaller sizes for an essential smartphone boost in your pocket, or bigger sizes for multiple charges or to charge a tablet. Choose one with cables included, or one with multiple ports to charge more than one device at a time. Pick out a power fortress or something small and sleek, and take the power to charge anywhere, with you everywhere.
What is a Portable battery charger?
A lightweight power bank or mobile battery pack that you can carry anywhere. They go under different names: battery packs, power banks, portable chargers, fuel banks, pocket power cells and back-up charging devices to name just a few.
What to look for before buying a Portable battery charger?
Before you buy a Power bank or Portable battery charger – check for the mAh capacity mentioned on your smartphone battery or the specs in your mobile's manual (in the case of non-removable batteries). For instance, if your device has a 2000mAh battery capacity, buy a power bank with at least 2500mAh. If you buy a 4500mAh model, it means you can charge your 2000mAh phone at least twice. In any case, opt for the highest capacity that your budget allows.
Is it safe to use a power bank? Let's get this!
Some power banks are carefully designed and rigorously tested to offer complete peace of mind, that is backed up by robust warranties and guarantees. Other warranties protect the power bank itself, while others also safeguard the electronic devices you attach to it, like your phone, tablet or smartwatch.
Some batteries might not offer such peace of mind. Opting for low cost or counterfeit products can turn out to be expensive, even dangerous.
So Let us see which brands are dominating the list.Have a look!
Anker Portable Phone Charger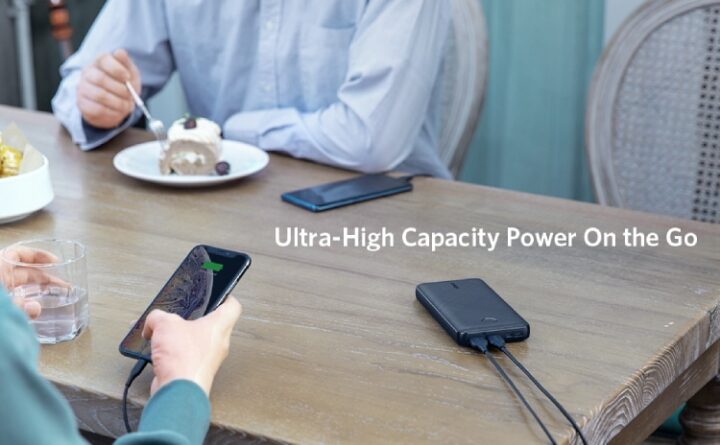 Anker's exclusive PowerIQ and VoltageBoost technology combine to deliver an optimized charge to your devices.
PowerCore Essential 20000The Ultra-High Capacity Dual-Port Portable Charger.
The massive 20,000mAh capacity provides more than 5 charges for iPhone XS, almost 5 full charges for Galaxy S10, more than 3 and a half charges for Huawei P30, and over 2 and a half charges for iPad mini 5.
You'll wonder how you ever spent so much time plugged into the wall.
The trickle-charging mode is the best way to charge low-power accessories.
Anker's MultiProtect safety system ensures complete protection for you and your devices.
Premium Design With a sleek matte exterior and cool-blue LED light-wheel to display battery level, PowerCore Essential 20000 is premium both inside and out.
Twin USB ports allow you to charge two devices at the same time.
Anker's provide an 18-month warranty, easy-to-reach support.
Trickle charging is designed to provide optimized charging to low-power devices such as earphones, Bluetooth speakers, and other accessories.
To activate, press the power button twice or press and hold for 2 seconds until the LED indicator turns green.
Compatible with iPhone XS / XS Max / XR, Android smartphones and tablets (including the Nexus 7), and other USB devices.
INIU Portable Phone Charger/Power Bank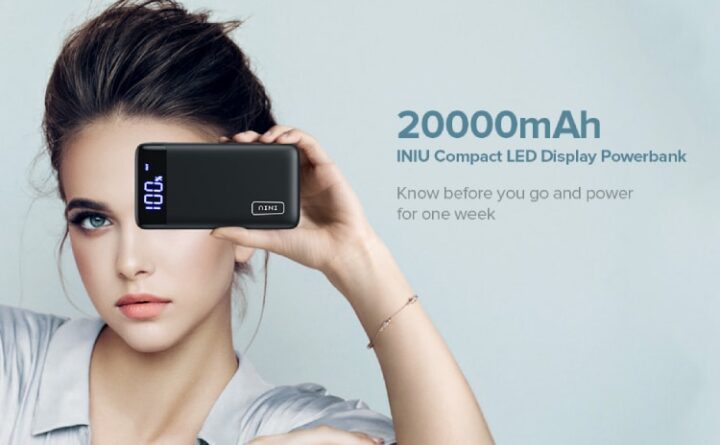 INIU Power Bank Clear LED digital display lets you never guess the remaining power.
The digital display shows you the exact percentage of power left and when to recharge. Let you know before you go.
Outpace your mates with our exclusive UPower+ Technology, 1.4x faster.
Dual 3A outputs allow you to fast fuel two devices at once.
Top up two devices at the fastest speed and let your fun go on.
The built-in flashlight is helpful for reading, camping, blackout or emergency.
The most compact 20000mAh LED display power bank, easy to carry on the go and ready to power up your devices for a whole week.
Designed to works with all your USB devices even your smartwatch, AirPods or heated vest.
INIU provide 3 years warranty.
Package Included
INIU 20000mAh Power Bank
Micro USB Cable.
Travel Pouch.
Welcome Guide.
GETIHU Power Bank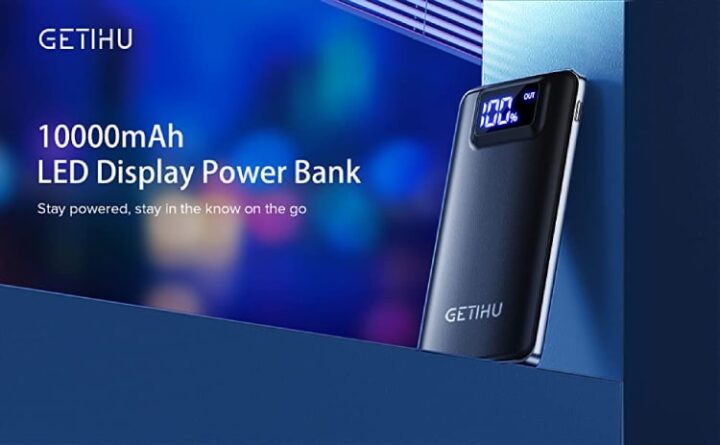 Always know the power remaining and when to recharge through the crystal-clear LED digital display.
Enjoy enough power for multiple charges on the go with this UL-2056 Certified Li-on Battery combines Dual Protect Chips to make a reassuring airline approved portable charger.
10000mAh power all squeezed in a slim phone-sized body, easily slip it into your bag and it's ready wherever your phone needs a boost.
Exclusive smart IC to auto fit your devices' charging rate and optimize the charging efficiency, you can power up to two devices together at a blazing-fast speed up to 4.8A.
Share the power and share the fun with the twin USB outputs. Scroll, snap and stream more without worrying about low battery.
Design, the GETIHU 10000 works seamlessly to power up your AirPods.
Universally compatible with virtually any of your USB devices even your smaller devices like Bluetooth earbuds, smartwatch, or heated vest.
GETIHU provide 3 years warranty.
Package Included
GETIHU 20000mAh Power Bank
Micro USB Cable.
Travel Pouch.
User manual.
RAVPower Store Portable Phone Charger

The LED indicator displays the available power level of the battery pack and charging status intelligently. Know before you go.
Power for Days, Step into the upper echelon of battery capacity with a muscled 20,000mAh, fully capable of recharging your phone or tablet several times over.
Compatibility at its finest, not only ready to charge almost all USB powered devices including tablets, smartphones and more, but also portable charger can be charged by all the cables.
Moreover, just taking one cable of the latest iPhone is enough when you travelling around.
All ports, including a dedicated iPhone input port, feature-complete charging protections alongside RAVPower's comprehensive iSmart technology.
Built-in UL certified battery cell and complete charging protections make you and your device safer.
2.5x Faster Charging.
Powerful 18W PD and QC output for exhilarating charging speeds, do you a great favour in an emergency.
Especially bring your new iPhone back to 50% in as quickly as 30 minutes.
Compatible with almost all Type-C devices, support Qualcomm Quick Charge.
BONAI Portable battery charger/Power Bank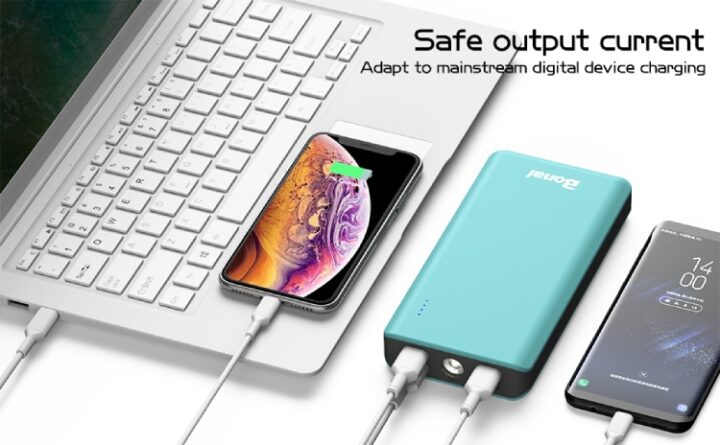 Larger capacity and smaller size. Exquisite and portable, handheld size but High capacity. 30000mAh Portable Charger for Phones.
Built-in safeguards protect your devices against excessive current, overheating, and overcharging.
4 USB ports with High-Speed 5V / 5.6A output, 5V / 4A input(dual lighting port) and allows for simultaneous charging of your iPad, iPhone, Android, Samsung and more at high speed.
Supports over-charged, over-discharged, over-voltage, over-current and short circuit protection, more safe to use.
Fully charge your iPhone 6s Plus 7.2 times or a Galaxy S7 6.6 times or an iPad Mini 3 times. Please be fully charged for the first time.
The power bank has built-in LED flashlights which are bright enough to help in emergency situations.
Use the included micro cable input and lighting cable input, use your original cable or a third-party certified MFI Lighting one to output.
You can charge most popular smartphones, such as smartphones from Apple, Samsung, Google, HTC, Huawei, Nokia, LG etc.
You can Most popular tablet, such as. iPad, Kindle, Samsung Tab, Google Nexus 7.
Use the lightning cable (2.0A Max) and your own lightning cable (2.0A Max) USB port to connect with your own 5V/2A 2 Ports wall/ car adapter.
JONKUU Power Bank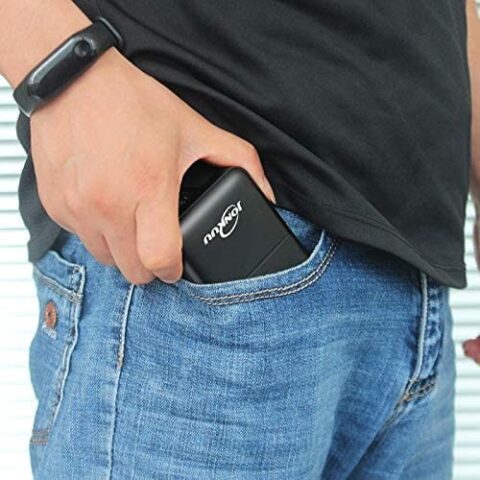 You can charges a Galaxy S8 2.5 times, an iPhone 7 3 times and other smartphones multiple times. The light indicator keeps you informed of remaining capacity.
Build with 2 Port USB Port, the power bank can charge 2 devices simultaneously.
Automatically identify the type of device and deliver the suitable electric current for your device like the original power adapter by Metecsmart Smart Technology.
Jonkuu focuses on providing high-quality power bank products and friendly & outstanding customer service, looking forward to your support and welcome your positive affirmation.
Dual input ports of Type-C&Micro, up to max 4.8A, you can use only need 1 cable to charge and discharge, and say goodbye to carrying 2 cables right now.
This 10000mAh large capacity portable battery bank ensures maximum support in terms of re-charging.
The built-in multi-protection system protects the power bank against over current and short circuit. It'll automatically turn itself off when short circuit or overloading occurs.
When away from the power source or at outdoors, and it also a very useful gift to those who are fond of outdoor activities or travel frequently.
Package Included:
10000mAh Power Bank
Micro USB Cables
User Manual
Conclusion
That ends our article here!
Conclusively, by observing and distinguishing between all the above, Anker Portable Battery Charger/ Power Bank is the best option!
There are various reasons we consider it as best. Anker's Power IQ technology provides optimized charging to virtually any mobile device. Power Core Essential 20000The Ultra-High Capacity Dual-Port Portable Charger. Faster and safer charging with our advanced technology 50 million+ happy users and counting. Anker's MultiProtect safety system ensures complete protection for you and your devices. You can surely go for it!
But all of the above have some unique features, you can opt for one as per your requirement! Regardless of which Power Bank, you go with the most important thing is that your Phone Safety & fast charging.
We would like to hear your reviews. Do comment and share. Also do subscribe to stay updated With All The Latest News, Offers, and Special Announcements.
*Prices was correct as on 30th August 2020.