Huawei's latest wearable to arrive in Europe is the Watch Fit. A fitness tracker with an Apple Watch-like look that includes a number of virtual fitness exercises and activity monitoring. Spend some time with the Huawei Watch Fit and see how it functions in everyday use, tracking activity, checking the built-in exercise routines, and seeing how accurate the sleep tracking and heart rate monitoring are.
What will you see here?
Design and build of Huawei Watch Fit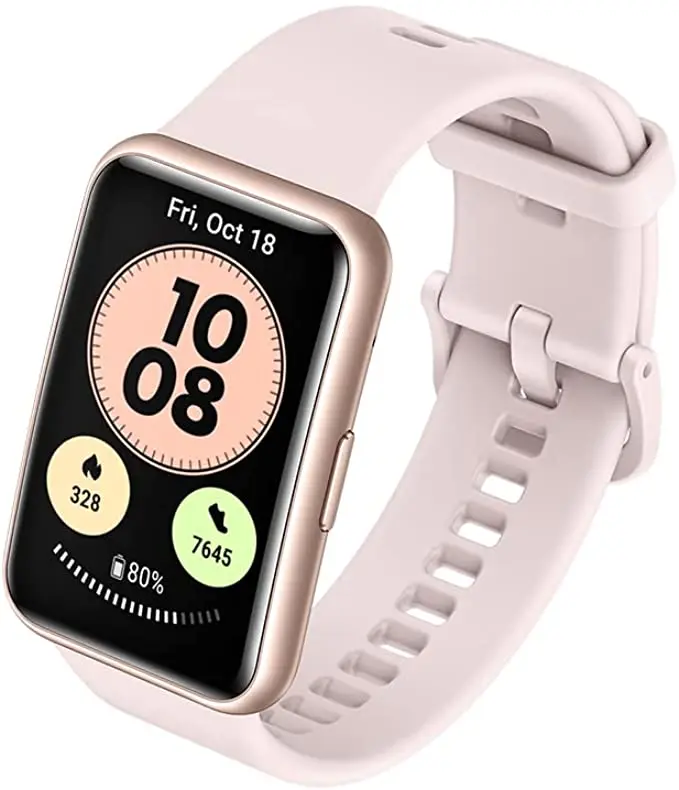 The Watch Fit's exterior metal case is available in black, silver, or rose gold, while the silicone strap is offered in Graphite Black, Mint Green, Cantaloupe Orange, and Sakura Pink. The design is similar to the Apple Watch. It's beautiful and tidy, but far less sturdy than the Huawei Watch GT. Despite being essentially a sports watch, this watch may be worn on a daily basis.
Because of its rubbery appearance and feel, the silicone strap on this watch isn't the most premium. Also, Huawei doesn't offer any leather straps at the time of writing. It is, however, long-lasting, and dirt is readily removed. The Huawei Watch Fit has a 1.64-inch rectangular curved AMOLED display with a resolution of 280 x 456 and a screen-to-body ratio of 70 percent. It's brilliant, and the colors are vibrant, with high contrast. However, there is some glare in direct sunlight.
It's also 5 ATM water-resistant, which is great for swimming. The watch has one manual button on the right side, while the rest is controlled by swiping on the touchscreen face. You may change the color scheme of the digital face by tapping it, or you can change the complete layout by exploring the watch face library on the phone companion app.
Software and features: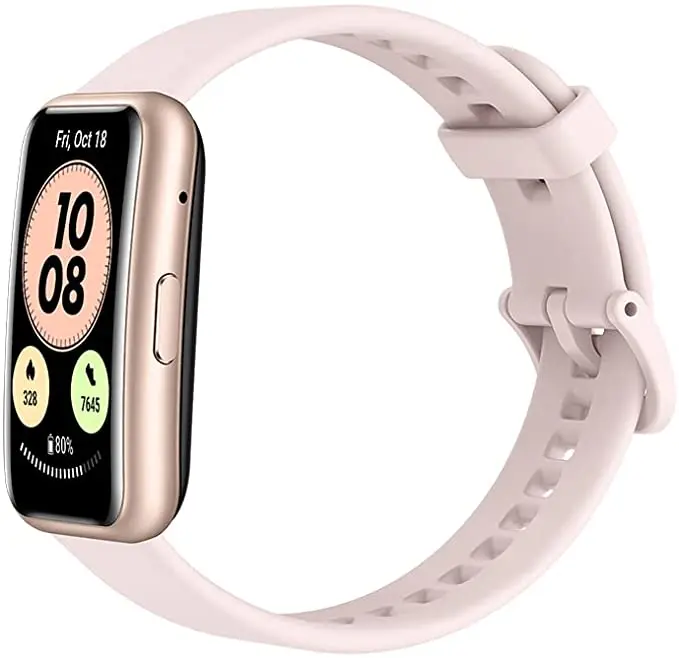 The watch is simple to use and has well-organized functions, albeit it lacks third-party app integration, which may be a deal killer for some.
You may pair your watch with your phone to get phone alerts, incoming calls, alarms, and weather updates, as well as control music playing on your phone. Despite its design, the Watch Fit is more like a fitness tracker than a true smartwatch due to its restricted amount of capabilities.
The watch comes with 11 thorough built-in workout-tracking choices, including walking, running, swimming, cycling, and elliptical training. As well as the ability to add over 90 unique ones. Yoga, spinning, HIIT, and even belly dancing are examples.
If you don't have a training plan in place, you may hire a virtual personal trainer to guide you through a variety of built-in routines. From five-minute workouts you can perform while sitting at your desk to full-fledged cardio blasts, there's something for everyone.
The animations on the screen are simple to understand. Also, the watch vibrates to indicate when each series of motions begins and ends. Some of the lengthier exercises just cycle between movements. More diversity would be wonderful. But this is something that might be altered with a software update.
The Watch Fit can detect oxygen saturation as well. This is handy for activities like hiking, when your SpO2 may be low owing to the air density. If you have a medical condition that affects your breathing, it may serve as a reminder to take a break if necessary. Of course, because this isn't a medical gadget, don't expect the findings to be as precise as those from a doctor.
Tracking and performance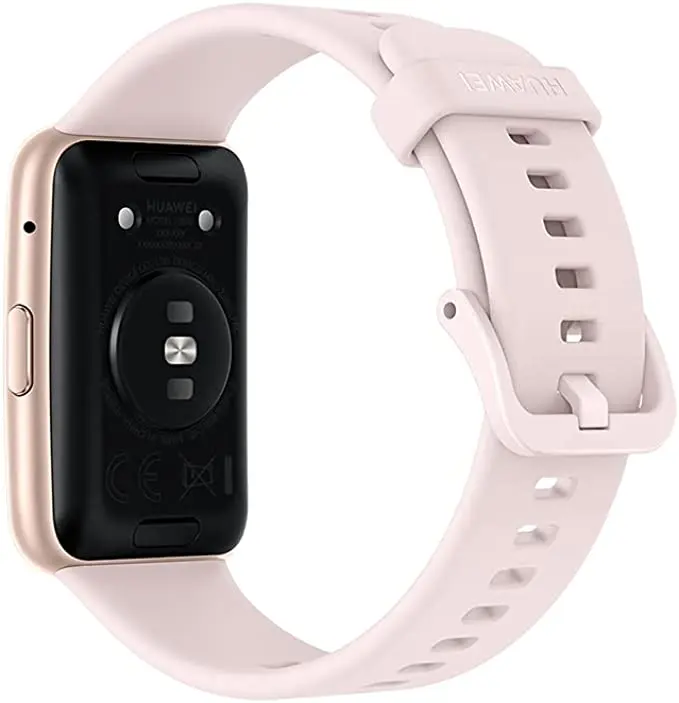 During walking sessions, the Huawei Fit's GPS precisely monitors routes and displays your average pace, cadence, calories burned, and maximum heart rate.
By entering the width of the pool into the watch, it was able to offer information on my most utilized stroke as well as the number of laps made during swimming sessions. During the workout, the watch also communicates the wearer's heart rate. There are auto-detect exercises built-in, which are meant to recognize if you're exercising but haven't set a manual program on the watch. However, this is a little untrustworthy.
Sleep monitoring gives breakdowns of your light, deep, and REM sleep, as well as breathing analyses via the SpO2 sensor and the time you went to bed. It was largely correct. However, there was one night when you woke up and the watch didn't detect it, instead classifying it as light slumber. The data collected by the Watch Fit is saved in the Huawei Health app. The software's interface is simple and informative, with activity diaries offering three pages of data that include a general summary of your stats, segmented analysis of your workout, and heart rate charts.
However, there are certain enhancements that may be made to the Health app. The HuaweiWatch's built-in fitness exercises aren't recorded in the app's exercise records. But they are in the watch's history. Furthermore, competitors like Withings include connections to authorized medical pages to back up their fitness recommendations. As well as interaction with diet planning applications like MyFitnessPal areas that Huawei does not yet cover.
Battery life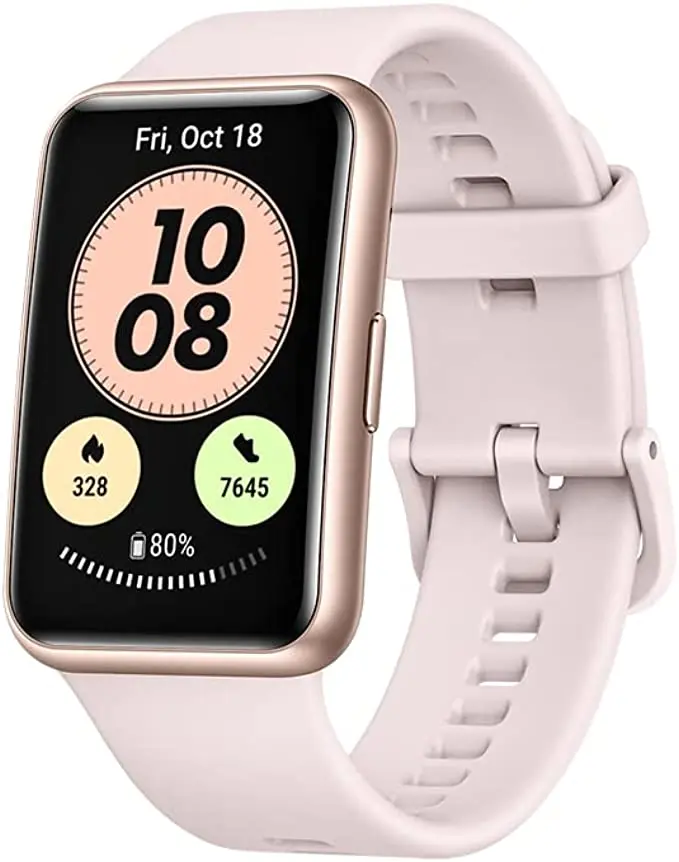 Huawei promises a ten-day average battery life from the 180 mAh cell, which you found to be mostly accurate. It managed to accomplish this level while keeping the brightness on auto and utilizing the workout function approximately three times per week. Of course, increasing the intensity and working out more often drains the cells faster.
The magnetic charger was a bit difficult to attach to the watch. It has to be checked to verify it was charged properly. A few times, after charging from the flat, the date on the display switched from English to Mandarin. Rebooting it a number of times fixed the problem. But it's clearly a nuisance, perhaps one that can be easily fixed with a patch.
Pricing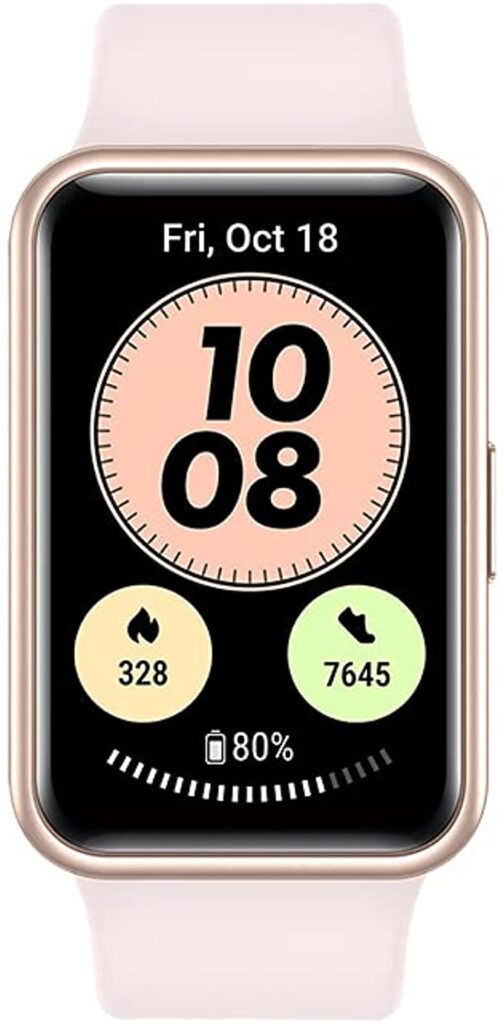 The Huawei Watch Fit is now available in the UK for £119.99. It is presently available for purchase directly from Huawei, as well as via Amazon UK, Currys, John Lewis, and Argos.
There's no doubting that in the fitness tracker market, this is competitive pricing. If you want a luxury Apple Watch, even the lowest model (the SE) would cost you more than twice that, roughly £269.
We propose the Amazfit GTS for something similar in terms of design and performance. It costs the same as the Watch Fit, £119. But has a slightly longer battery life of 12 days on average. The Amazfit, on the other hand, lacks Huawei's Watch Fit's virtual personal trainer. The Huawei Watch Fit is not yet available in the United States. You might be able to acquire it from sites like GearBest, where it's currently selling for roughly $150.
Conclusion
The Huawei Watch Fit is a fashionable and sturdy wearable with good fitness monitoring capabilities and long battery life. Also, the built-in virtual personal trainer distinguishes it from the competition. It isn't perfect — auto-detect exercises don't work well, and heart rate tracking is unreliable if used in water. Furthermore, the app might need some polishing and more resources to assist consumers to comprehend the information that the watch collects. However, for a watch that costs less than £125, this is a terrific value is to compare other premium rivals.
Read more