Wondershare Filmora9 is designed to appeal to a broader audience than other video editors. It's simple enough for beginners to use yet powerful enough to satisfy even the most demanding users. The phrase "suited for all levels of ability" is frequently used, but it's completely appropriate here. It speaks a lot about the program that you can sit down and build anything without needing to consult a manual.
When you realize that you can work with up to 100 video and audio files, you get a sense of what you might be able to accomplish – and that's before you look at the titles, transitions, effects, and screen components that can be utilized to elevate your movie from ordinary to amazing. While there are many free video editors to select from, Filmora9 demonstrates how much of a difference paying a little money can make in terms of quality.
Filmora9 is available in three different plans from Wondershare. The yearly subscription for Filmora 9 is US$68.98 per year, and the lifetime plan is US$79.99. It, too, offers a free one-month trial of the Filmstock Standard subscription. Furthermore, this package gives customers monthly access to new effects. It includes all Filmora features and free tech support, just like the annual plan.
Price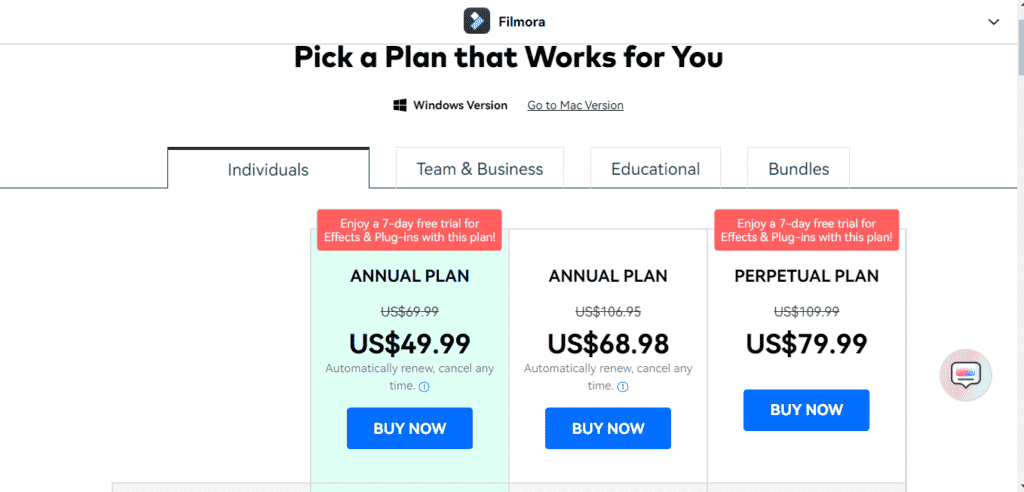 Filmora9 is available in three different plans from Wondershare.
The yearly subscription for Filmora 9 is US$68.98 per year, and the lifetime plan is US$79.99. It, too, offers a free one-month trial of the Filmstock Standard subscription. Furthermore, this package gives customers monthly access to new effects. It includes all Filmora features and free tech support, just like the annual plan.
If you purchase either sort of Filmora license, you will receive a large number of effects to use in your video productions. It also removes the watermarks and access to 24/7 technical assistance. For clients who pay a monthly subscription, new effect collections are added every month.
The software runs on Windows 7 through 10, as well as macOS 10.7 through 11. Rosetta 2 provides compatibility for Apple's new Silicon M1 processors; while native support would be preferable, Filmora is ahead of Movavi in this regard. Filmora took up 800MB, which is about average for this type of program. Adobe Premiere Pro uses 3.3GB of disc space, but Movavi Video Editor Plus only uses 285MB.
Easy-to-understand video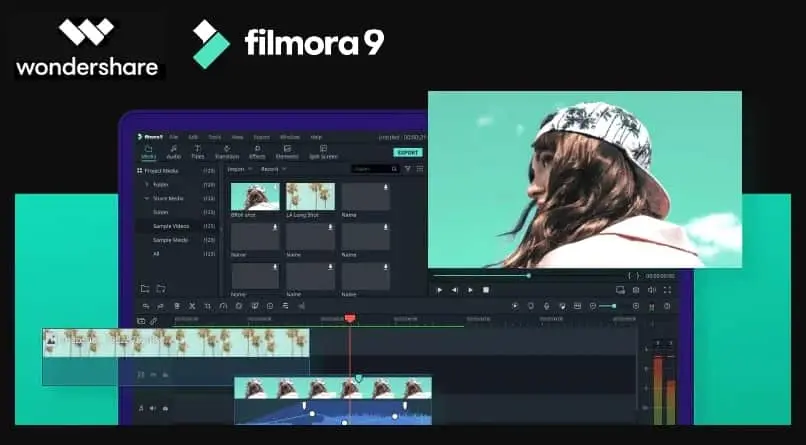 One of Wondershare Filmora9's best features is that you can create something in minutes. When you open the app and select 'Easy Mode,' it will guide you through the process step by step.
To begin, select your clips from your hard drive, social media sites, or straight from your phone or camera. Choose a theme to give your footage a professional makeover, complete with overlays, titles, and cool effects. Now choose some music; you can use one of Filmora's built-in soundtracks or choose a piece from your own music library.
After you've made your choice, it's time to do a fast preview and fine-tune. This is where you can modify the words in the opening and closing titles, or keep the original sound if you want. Finally, before exporting your final mini-masterpiece, you can choose your output options. It includes presets for the most popular file formats and video-sharing platforms. You can finish the whole thing in 10 minutes. It depends on the length of your clips and the speed of your PC or laptop.
Wondershare Filmora9, on the other hand, still has you covered if you want greater creative control. When you switch to 'Full Featured' mode, you'll find all of the tools you'd expect from a traditional timeline-based video editor. It includes separate tracks for effects, overlays, and titles, as well as two stereo soundtracks.
Trim and reorganize your clips, apply transitions, and add titles or captions all with a slick, streamlined interface that puts all the essential functions right in front of you, not hidden behind a control panel or drop-down menu.
Prepared to take action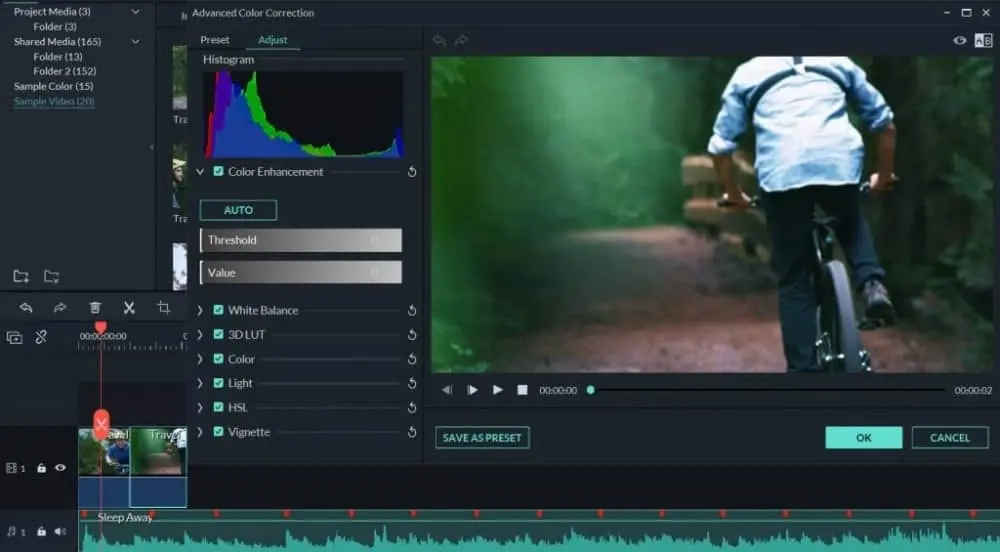 Other tools are designed to speed up the completion of typically time-consuming tasks. Take, for example, the new Instant Cutter, which makes editing and merging raw footage a breeze. You can create a preliminary cut of your video. You can also send the results to the 'Full Featured' mode for additional editing.
Meanwhile, the updated Action Camera tool provides a set of capabilities tailored to action camera users. Such as automated lens distortion correction to eliminate the fisheye effect, as well as stabilization and color correction options. You may also use the Action Camera tool to add freeze-frames, cool reverse, and replay effects, and slow down the footage.
With support for green-screening, tilt-shift, and split-screen effects added to the mix, there are very little Filmora can't do outside of the more obscure details of commercial video creation.
Whereas other software makes all of these capabilities appear complex and intimidating. Filmora makes them so simple and accessible that you'll want to try them all. You may get started right now by going to Wondershare's website and downloading the free trial.
User experience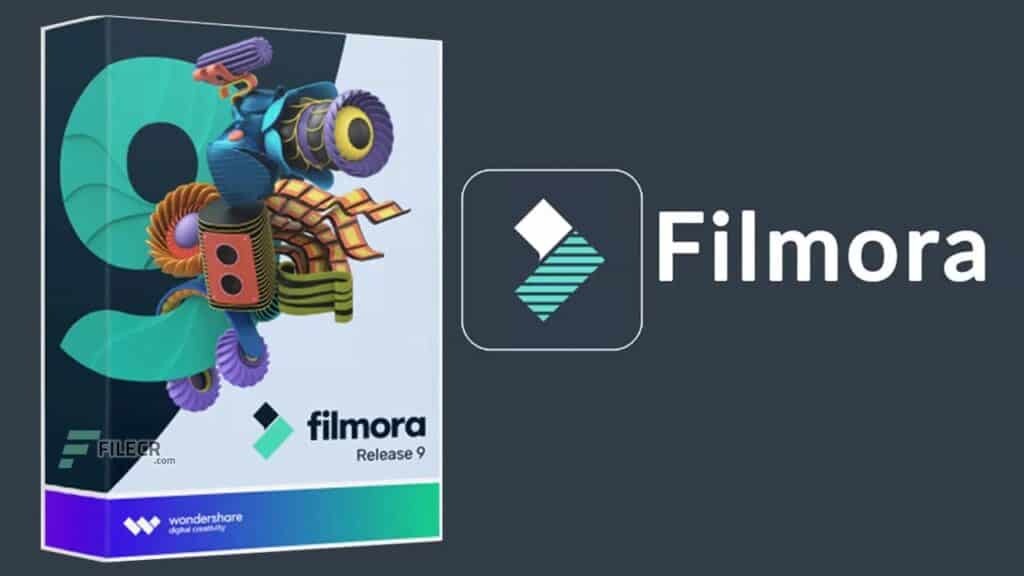 Wondershare Filmora9's interface is fairly familiar to anyone who has used a video editor before — it has a layout that is very similar to many of its competitors, but it has an indefinably more professional feel than others. The first step is to import media to work with, which can be done in a variety of ways.
You may add content directly from either a phone or camera, as well as from online sites like Facebook, in addition to film existing on your PC. A record option is also available for capturing footage from a webcam or recording films of on-screen action.
Automated scene detection handles the heavy lifting for you, dividing long clips into smaller chunks that you can add to the workspace, apply effects to, and move to multiple timelines. There are multiple Split Screen choices for generating extremely complicated picture-in-picture layouts, in addition to a range of surprisingly decent effects and transitions.
On-screen text, titles, and visual features (such as graphic overlays) are all handled expertly, and it's difficult to criticize what's on offer. Projects can be stored in a variety of formats, burned to DVD, optimized for specific devices, or simply uploaded to YouTube and Vimeo.
However, the results you may get using Filmora9 are far from basic. It's worth trying out the program's trial version, but keep in mind that any you export will be watermarked. If you like what you see, you can upgrade to the paid edition and export a clean copy of your work.
Is Wondershare Filmora9 always free?
Filmora's full-featured editing tools, in-built effects, and themes are all free to use, but the output video will have a watermark.
How can I get rid of the Filmora watermark without having to pay?
To enter the license, use the free registration code. Using a free registration number is a great way to get rid of the watermark at no cost. Simply Google "Filmora Free Code" to obtain a list of free registration codes that you can use to activate a registration code and uninstall Filmora for free.
What really is the difference between the free and premium versions of Filmora?
The sole difference between the free trial and the paid edition of Filmora is that videos exported from the free version include a Filmora watermark. If you've been using the free version and wish to export a video without the watermark, here is the option for you.
Conclusion
Overall, Wondershare Filmora9 is a decent video editor for beginners because of its easy-to-use interface. Its features are not as complicated as those of other editors, making it easy to use.
The processing of big video files can cause the playback of the footage to lag. If your movies aren't playing smoothly, go to the Performance tab and activate hardware acceleration for playback, video rendering, and video decoding.
The trial version has two drawbacks when compared to the paid version: 1. The trial version's exported videos will be watermarked. When you try to export a video in the trial version, it warns you that your final video will have a watermark.
Filmora is a good video editor with a lot of features, especially considering its affordable price. It helps users to focus on being creative by making the editing process simple. Filmora is now closer than ever to becoming a professional-level application, according to its most recent upgrade, Wondershare Filmora9.
Read More: