If you think that your small home is stopping you from getting a desk, then we have got your back. You can get great small desks for your workspace or study area that will easily fit all your necessities. Although, before you get yourself a desk, you need to check many factors like budget, type, material, etc. We have compiled a list of the best small desks for small homes in 2021, keeping in mind all these factors.
Micah Desk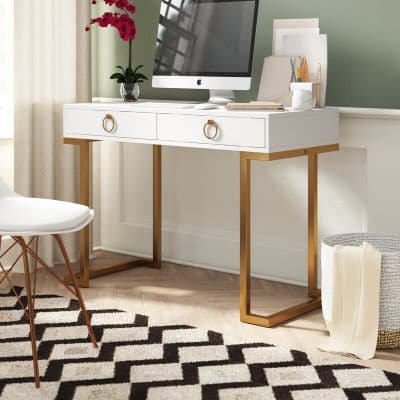 Getting yourself a new desk depends on not only your taste but the aesthetics of your home. If you prefer a minimalistic look then, the 52 pound Micah Desk by Mercer41 is a good choice for you. With a great price to offer, this desk can hold up to 220 pounds on its top and an extra 22 pounds in either of its two drawers. It is designed as an amalgamation of golden metal and manufactured wood. Moreover, to keep it lightweight, it uses MDF at the back. You can easily assemble it with the help of a screwdriver. You can choose from the colours black or white. Also, you get a limited lifetime warranty for the desk.
Pros
Versatile
Strong metal base
Modern design
Two large drawers
Cons
Black Dowlen Floating Desk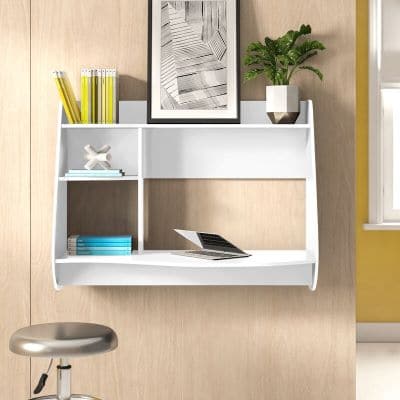 If you think that you don't have any space to keep your desk, you can put this floating desk from Dowlen on your wall. You can choose from different colours like black, white, and espresso. Made of laminate veneers and particle board, it is a lightweight structure that can easily hold your laptop and accessories. This desk offers good value for your money and will save up your space. It can hold up to 40 pounds on the bottom shelf, 15 pounds on the top shelf, and 5 pounds on the middle rack. If you are more into the contemporary decor, this table will definitely match your style and it even comes with a five-year warranty.
Pros
Has three shelves
Canadian made
Long warranty
Cons
Full assembly required
Weight limitations
Knotten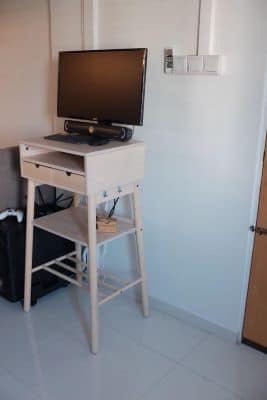 If you are looking for a unique out-of-the-box desk for your home, then Knotten by IKEA is just for you. It is a standing desk that has different sized storage spaces. You can keep your laptop, bags, calendars, mail, keys, and more on this desk. Also, it is designed to manage your cables so you can charge your devices easily while they are on the table. Made from solid birch and birch plywood, it can take up to 22 pounds of weight. Also, you have to assemble it yourself.
Pros
Various storage locations
For laptop or tablet use
Includes cable management system
Cons
Requires lengthy assembly
Might not match your style
Romy Solid Wood Corner Office Table from Furniture of America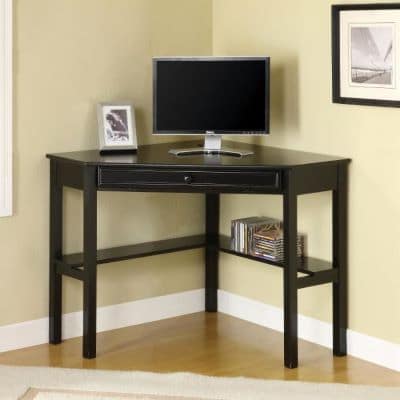 If you are short of space and are looking for a corner table to fit in your room, then Romy Solid Wood corner office table is for you. Made from wood solids and veneers, it weighs 59 pounds. With the keyboard drawer, it gets quite easy to set your desktop on it and still have room to accommodate other accessories. You can put this table in your studio, workspace or bedroom. You can even keep your books, periodicals, and other items on it. Although, the only setback is you don't have any colour options available for this table.
Pros
Good price
Unique look
Open shelves
Cons
No colour option available.
Ingram Executive Desk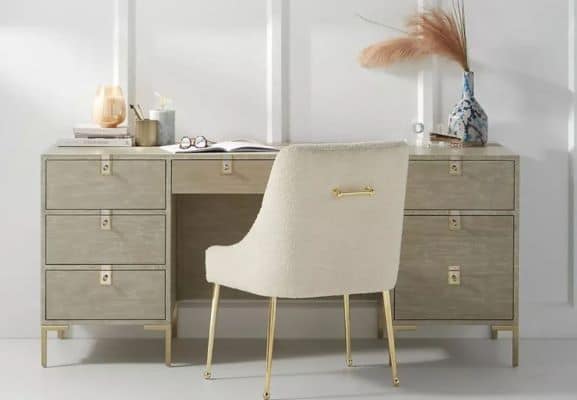 If you want to go for elegant yet minimalistic decor, then the Ingram Executive Desk is for you. Made up of textured anigre veneer it features silver and brass handles to add elegance to the desk. The sleek brass legs add to the minimalistic look and as a whole, the desk gives you a luxurious appeal. It has power outlets so you can easily set up your desktop on it. You can use it in your home office or studio as an executive desk. It weighs 102 pounds and has six drawers on metal slides. Moreover, it is sealed with a clear lacquer that gives perfect finishing. You can choose from light grey, indigo, and white colour options. The only setback is the cost of the desk is quite high. So if you are tight on budget, you may have to go for some other option.
Pros
Easy assembly
Protective surface
Cons
Salvaggio Desk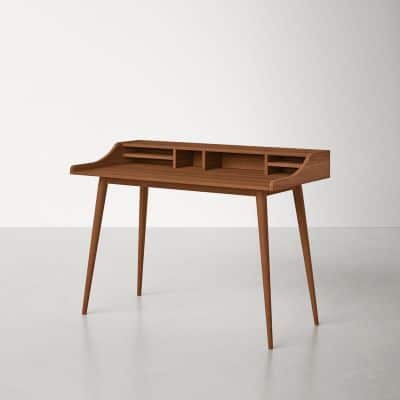 If you are looking for some old school desk with a modern twist, then the Salvaggio Desk is a great choice for you. It is made from solid wood and is 47.25-inches wide that weighs just over 55 pounds. The best part is the built-in storage unit of the desk. It has a shelf and six cubbies along the back that you can use to store your accessories. It is a good choice to fit in a small room or office and you can easily assemble it yourself. Moreover, the table has four flared and tapered dowel legs inspired by the mid-century interiors. Although, it is possible that the price for this small desk goes out of your budget.
Pros
Cons
Expensive
Requires some assembly
Conclusion
If you are looking for a small desk for small homes, then you need to go through many factors. This especially includes the size of the desk and how much weight it can carry. So if you are looking for a minimalistic contemporary desk for your studio or home, then the Micah Desk is just for you. This versatile desk can easily hold your MacBook and other accessories. Not only this, you can even use it for other purposes, and keep it in your bedroom or studio. Although, if you lack space, then you can go for the floating desk from Black Dowlen. You can just fit it on your wall and then keep your things on it. Moreover, it can easily hold your laptop and other accessories too. Also, the five-year warranty and the contemporary design makes this desk better.
Which desk are you planning to buy? Tell us in the comments section below.
Read More!