If you are looking for good true wireless earbuds, then one of the major factors to consider is the budget. With so many options available in the market, it is difficult to decide which actually is good. There are different factors to consider not only the budget but also sound quality, battery life, connectivity, portability, etc. Here are the best true wireless earbuds in the budget in 2021.
What is true wireless earbud?
True wireless earbuds are Bluetooth earbuds that don't have wires or cords between the earbuds or the audio source. The mic, controls, and battery are all built-in in the earbuds and not the wire. Although many wireless earphones are available in the market, they should not be confused with true wireless. The clear distinction between both is the absence of any kind of wires in the true wireless earbuds.
1. Apple AirPods Pro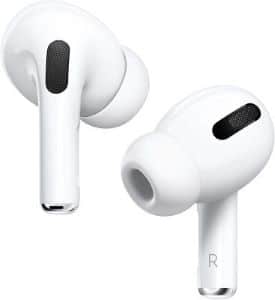 The ace player in True Wireless Earbuds is Apple AirPods Pro for all iPhone owners. With active noise cancellation, you get immersive sound with your earbuds. Moreover, the Adaptive EQ automatically tunes the music to the shape of your ear. The microphones detect noise from both the outside and inside environment of your ear. Thus, then counter it with equal anti-noise before you can hear it. Also, you don't have to worry about taking it to the gym with you, as it is sweat and water-resistant. It is easy to set up and can even access it with Siri by saying "Hey Siri". With the Wireless Charging Case, you get extra 24 hours of battery life.
2. AirPods (2nd generation)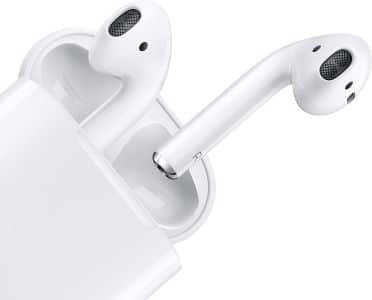 The only difference between AirPods (2nd generation) and Apple AirPods Pro, is the ANC feature. It is easy to set up for all the Apple devices and you can even quickly access with Siri by saying "Hey Siri". Moreover, you can double-tap to play or skip forward of any song. With the auto-connect feature, all you need to do is take the AirPods out of the case and put them in your ear. The AirPods sense when they are in your ears and pause when you take them out. Also, if you have two sets of AirPods you can share a song between them and even ask Siri to announce your messages. The H1 chip delivers a stable, low-latency wireless connection for high sound quality.
3. Powerbeats Pro Wireless Earphones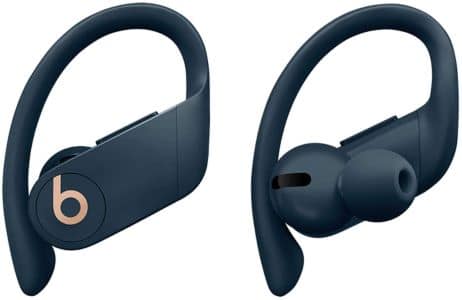 With the Powerbeats Pro Wireless Earphones, you get Up to 9 hours of listening time, more than 24 hours with the charging case. The secure-fit ear hooks give adjustable, lightweight comfort and stability to the earphones. It has a reinforced design for sweat and water resistance during tough workouts and running. Moreover, it gives extended range and fewer dropouts with the Apple H1 headphone chip and Class 1 Bluetooth. Also, you can use the earbuds with both iOS and Android devices. With a 5-minute charge, you get 1.5 hours of playback when the battery is low. You can even choose from the colour options available. Moreover, with the earbuds you even get a charging case, ear tips with four size options, lightning to USB-A charging cable, warranty card.
4. Sony WF-1000XM3 Noise Cancelling Headphones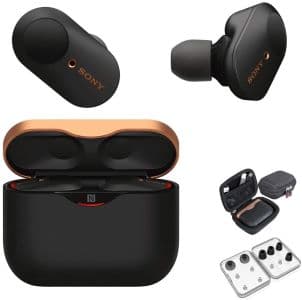 With advanced noise-cancelling technology, the HD Noise-Canceling Processor QN1e, the Sony WF-1000XM3 is a great choice. These earbuds are designed to cancel the outside noise of almost all frequencies and use less power. It combines Digital Noise Cancellation with 24-bit Audio Signal Processing, and a Digital-to-Analog converter with a headphone amplifier thus producing amazing sound with minimal distortion. Moreover, it even syncs what you see on screen with what you hear on your headphones giving you a great experience. Also, you get 6 hours of battery life even with ANC enabled.
5. SENNHEISER Momentum True Wireless 2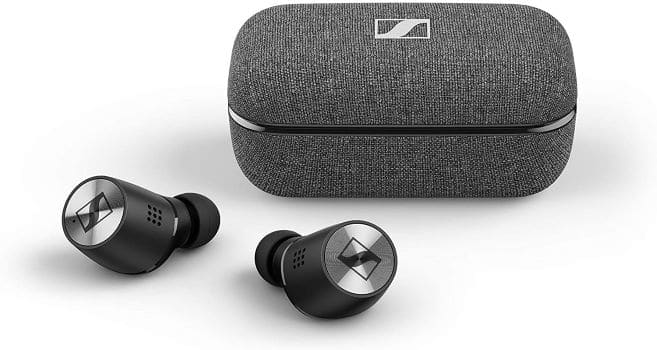 With the SENNHEISER Momentum True Wireless 2, you get high-end stereo sound created by unique 7 millimetre dynamic Earbud audio drivers. Also, the Active Noise Cancellation provides high-quality sound even in noisy environments. Also, with the 7-hour battery life that can be extended up to 28 hours with the charging case, you can enjoy music non-stop. It has an ergonomic and lightweight design that gives you unbeatable sound and comfort while in long-term use. Also, with the Smart Control App, you can customize the built-in equalizers and enjoy the amazing sound quality. It even has customizable touch controls built into both earbuds that make it easy to use. You can also activate your Google Assistant or Apple Siri.
6. Jaybird Vista True Wireless Sport Earbuds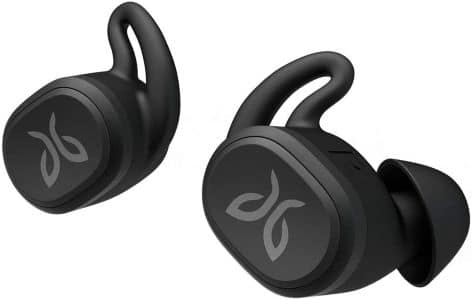 With Jaybird Vista True Wireless Earbuds you get a waterproof, crushproof, drop-proof, and sweatproof pair of earbuds. So, you can use them in any weather condition and anywhere you go, whether it is your gym or a run in the neighbourhood. It gives you 6 hours of audio with a full charge and an additional 10 hours in the charging case, also 32 hours life if you are using one bud alone. It ensures high-quality zero-lag stereo sound for music and calls. You get three sizes of interchangeable ear gels to give you a secure and comfortable fit. The Jaybird app is compatible with both iOS and Android. Also, you can keep a track of your wireless earbuds through the app.
7. Belkin Wireless Earbuds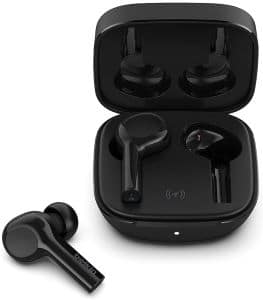 If you are looking for rich, complex audio and minimal distortion, even at high volumes, then go for Belkin Wireless Earbuds. Even with the compact design, you get 8 hours of battery life with each charge, plus another 20 hours in the case. Belkin has integrated Apple Find My network using the Apple Find My app, thus allowing iOS users to locate earbuds quickly and easily. The clear-call technology and environmental noise cancellation reduce background noise giving you better quality phone calls. They are sweat and water-resistant, thus you can use them in gym and workouts.
8. TRANYA B530 True Wireless Earbuds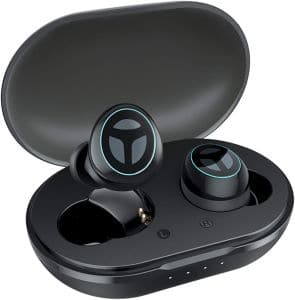 With TRANYA you get the best budget deal for true wireless earbuds. The upgraded technology gives you a clear and high-definition sound and lets you hear even the smallest details. Moreover, you get powerful, layered, tight, and distinguished bass, sophisticated mids, and highs with the dynamic driver. Thus, giving you a wonderful listening experience. A single charge lasts for 10 hours of listening, also with the charging case it gets to 80 hours to keep you charged up during a round trip. It ensures quality phone calls with noise cancellation technology which suppresses the background noises and enhances voice pickup. Also, the advanced chipset allows you to use both earbuds or any one of them alone. It even has Accidental Touch Protection that helps you to adjust volume, skip tracks, play or pause the music.
9. Urbanears Alby True Wireless Earbuds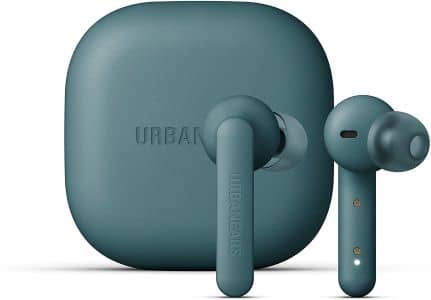 If you are looking for a splash of colour but at a pocket-friendly price, then Urbanears is a great choice for you. It gives you 15 hours of total playtime, also 3 hours of non-stop listening per charge. You even get 4x additional on-the-go charge with the USB-C charging case. With the earbuds, you get silicone in-ear tips in three sizes to give you a comfortable and secure fit. It gives you a passive noise-cancellation for an immersive sound experience. You can use the touch controls and navigate through tracks and calls. Otherwise, you can tap to activate your device's voice assistant for hands-free control. It is splash-resistant, thus you can enjoy it in the gym and workouts. You can choose from different colour options to match your taste.
Conclusion
If you are looking for the best true wireless earbuds, then you can go for the Apple AirPods Pro. You get high-quality sound and the Adaptive EQ automatically tunes the music for you. Also, the noise-cancellation technology gives you pure music and you can even access it with voice command. But if you are looking for something more within the budget, you can go for the Belkin Wireless Earbuds. With these earbuds, you get rich audio with minimal distortion. Not only this, you get a good battery life of 8 hours and another 20 hours in the case. You can comfortably use them in your gyms and workout sessions as they are sweat and water-resistant.
Which are your favourite true wireless earbuds? Tell us in the comments section below.
Read More!