An HDMI Splitter as the name suggests duplicates a single HDMI signal and outputs it on multiple screens. You may need one if you want to output from a single cable to multiple TV Screens or to project a presentation on many screens. There are a variety of splitters in the market which makes it a tad bit confusing to choose the right one. That is why we have brought you the six best HDMI splitters in 2021 for you to make a perfect choice.
Techole 4K HDMI Splitter
$11.99 – 1 to 2
Key Highlights:
Firstly, 4K and 1080P resolution
One input, two output
Also, a 1-year warranty
Downside:
Output devises resolution should match.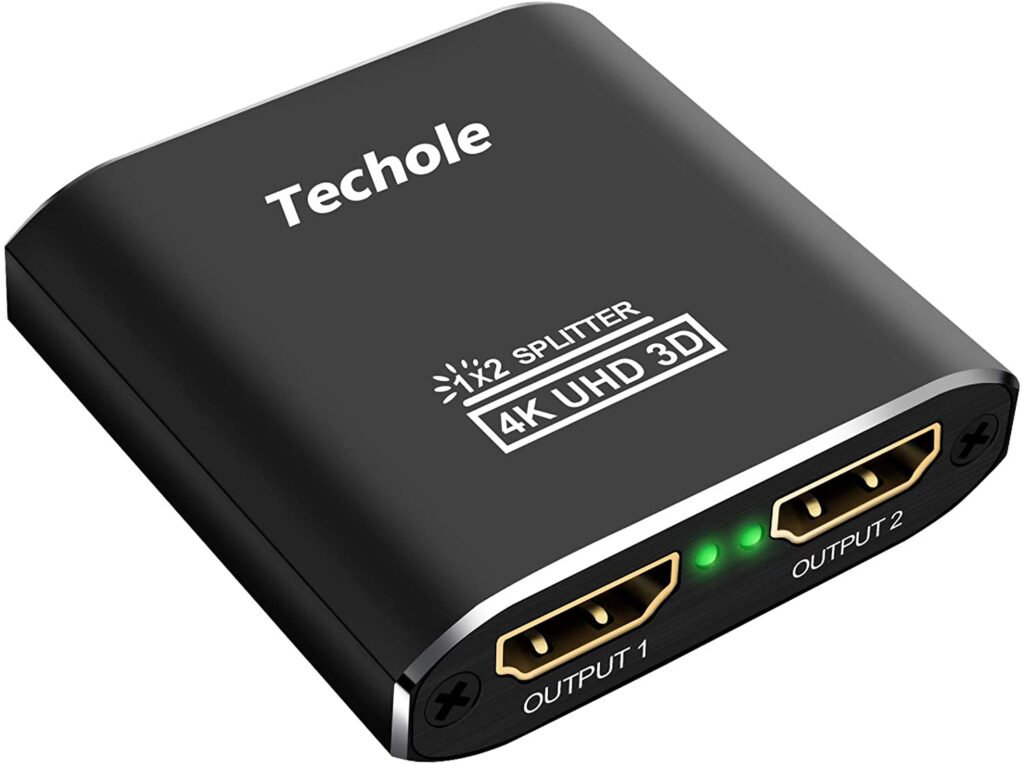 Techole Aluminum HDMI splitter distributes audio/ video signal from a single source to two HDMI displays simultaneously. With Techole, you can easily project your pc with the projector for presentations or movies. To ensure the best quality, make sure the resolution on output devices are the same.
With the support of HDMI 1.4/ 1.3/ 1.2Compatible with HDMI 1.4/ 1.3/ 1.2, Techole HDMI splitter is suitable for most devices with standard HDMI interface like a computer, Xbox 360, Xbox One, PS3, PS4 Pro, Fire Stick, Blu-Ray DVD player, Satellite Receiver, Route Roku, Chromecast, PC, Projectors etc. Output: HD-Ready, Full HD TVs, Apple TV, Samsung TV, monitors etc.
With a simple Plug and Play Operation, the HDMI splitter is easy to set up and operate. The Techole 4K HDMI splitter supports resolutions, including 3D, 4K x 2K@30hz, 1080P @30hz, 1080P @60hz.
Orei 4K HDMI Splitter
$62.60 – 1 to 8
Key Highlights:
Firstly, One input to Eight Output screens.
Compatible to all audio sources.
Also, Support Ultra HD 3840 x 2160 resolution & 3D, Deep Color 30bit, 36bit, Blu-ray 24/50/60FS/Vic
Downside:
Input to output power must be approximately equal, or else there is a risk of short circuit.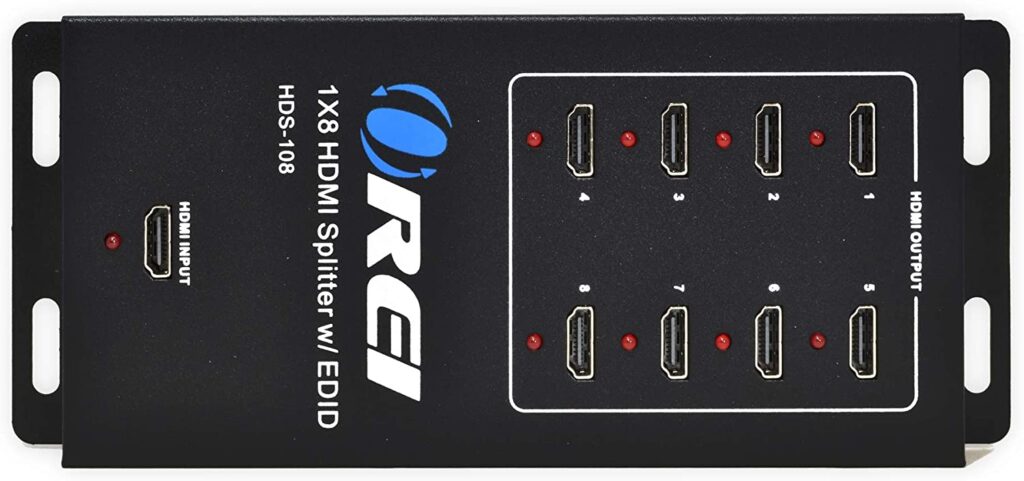 The Orie HDMI Splitter splits one HDMI input signal to eight HDMI output signals identical to the input signal without any loss in quality. For example, 1 Input source such as a blue ray player can display on to 8 TVs, making it apt for tutors and small businesses.
Since it supports almost all types of audio, you will hardly run into an audio-related problem like sound dropping or lagging.
The Orei 4K HDMI Splitter also offers high-quality resolution including Ultra HD and 3D deep colour. The only concern is that you have to keep the power level equal on input and output sources. High level of power inequality can lead to a circuit to short.
Kinivo 3-Port 4K HDMI Switch
$32.99 – 3 to 1
Key Highlights:
Firstly, Three input to one output
Supports 3D, 1080P, and 4K resolution
Additionally, Equipped with IR Wireless Remote
Also, One-Year Warranty
Downside:
Not an HDMI Splitter
After Service is low rated.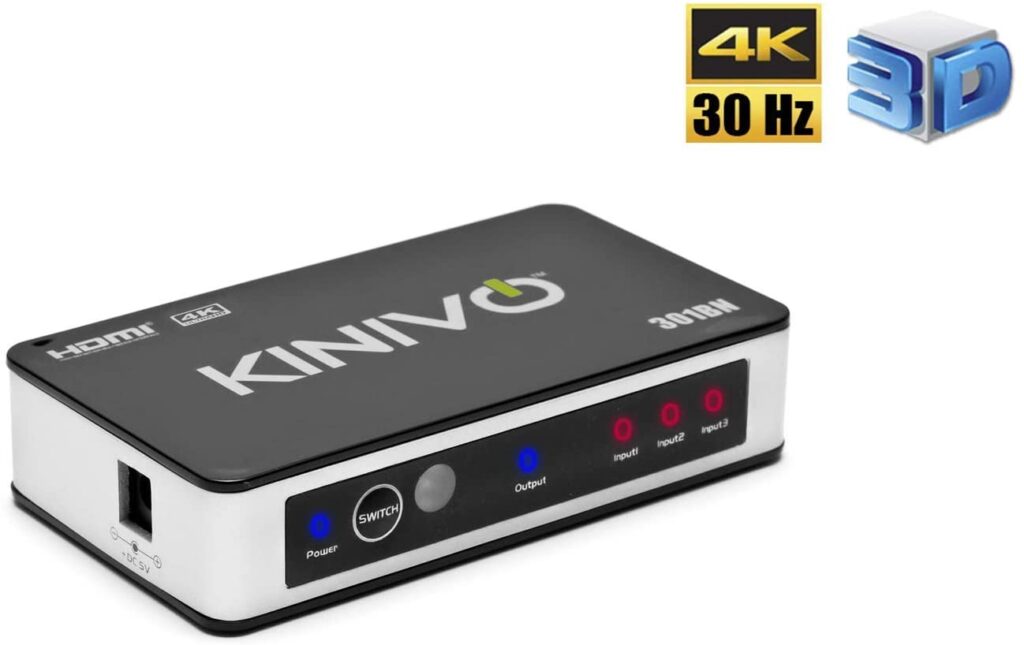 The Kinivo HDMI Switch is not a splitter, but it is worth mentioning because you can keep all your devices connected and switch between them instantly. For example, if you have a single display (TV) for your Xbox, PS, Nintendo Switch or Blu-ray Player, you can all your devices connected through Kinivo HDMI Switch and jump between all the devices using the wireless remote.
The transition from one to the other is seamless. Also, you don't have to worry about the device overheating as the aluminium body helps aid in heat dissipation.
Techole Bi-directional HDMI Switch/ Splitter
$10.99 – 1 to 2 / 2 to 1
Key Highlights:
Bi-directional, One input to two output and vice-versa.
Aluminum Body
Also, supports High-Resolution
Downside:
Cannot display two screens simultaneously.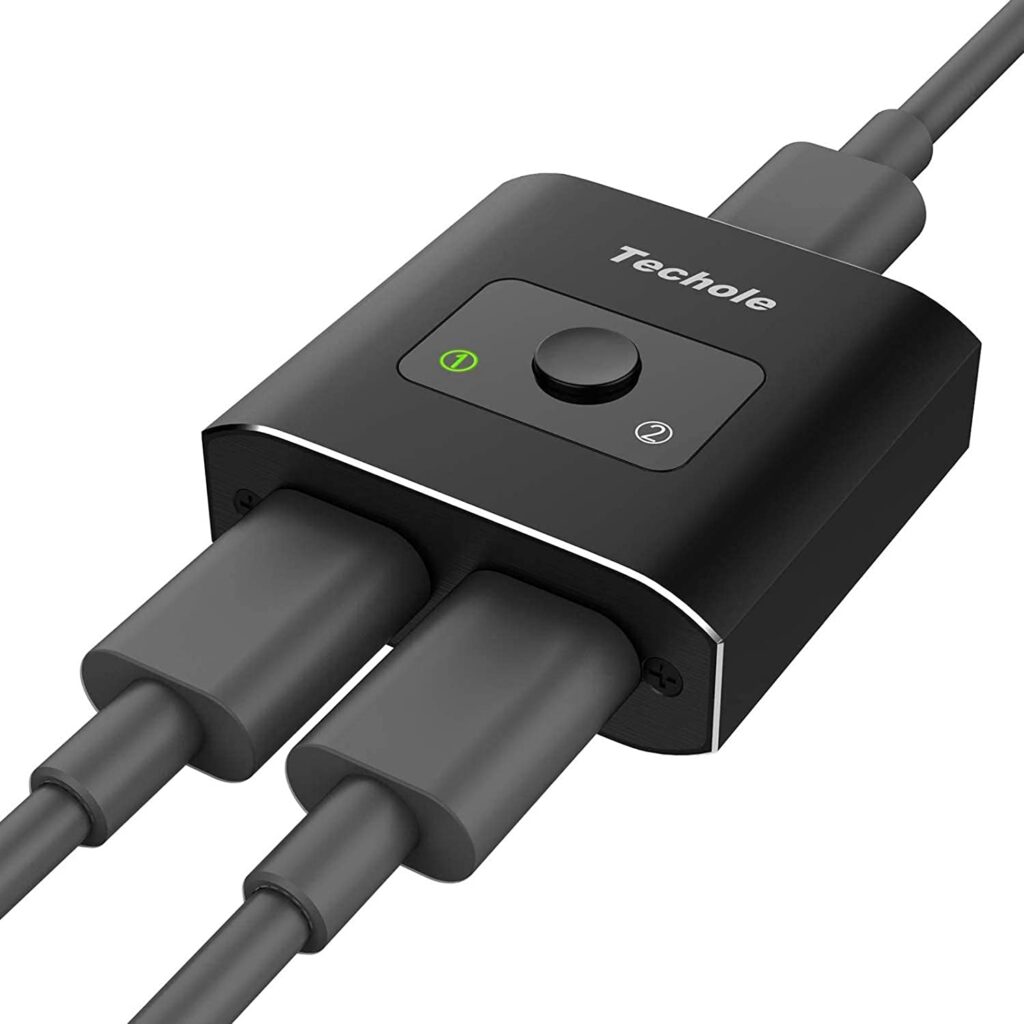 Techole Bi-directional HDMI splitter is the most affordable amongst the lot. The splitter works best for students or teacher who doesn't want to spend in excess over an HDMI Splitter. The setup is quick and easy, and it also comes equipped with a handy LED light to give you visual confirmation about which port is in use.
The splitter does not have enough power to display two outputs at the same time. However, it does let you switch between two output displays. The button provided on the splitter helps in switching between devices. More importantly, the splitter does not downgrade the image resolutions, and there is no media lagging.
Zettaguard HDMI Switch
$28.99 – 4 to 1
Key Highlights:
Firstly, Equipped with remote
Picture in picture feature
Four input to one output
Downside:
Remote needs proximity with the switch to work.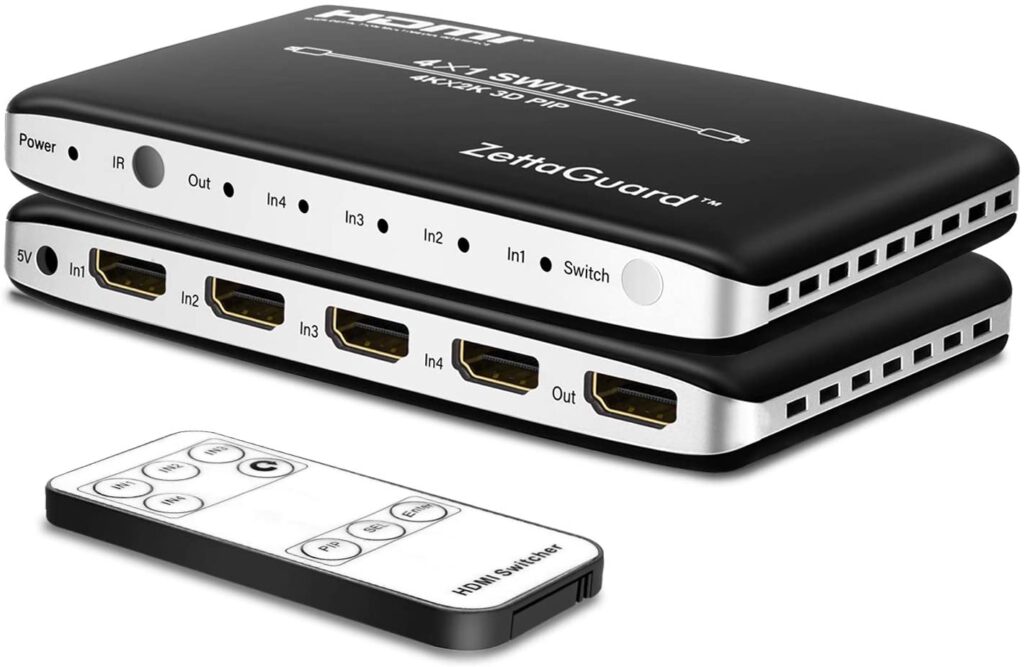 Zettaguard is a perfect choice for in-home entertainment or tutors who need to switch between devices. The Zettaguard Switch makes it easier to keep all your devices like PS4, Xbox, Apple TV, Fire Stick Blu-Ray Player in place. For someone who hates too many wires around, it is nice to keep everything tidy, in-place and connected. It also supports picture in picture feature, which again could come in handy for tutors or gamers.
The switch supports 4k resolution with most audio files support and no lagging or fuzzy picture quality.
Additionally, switching between devices is quick and easy with the remote. Just make sure you are close to the switch for the remote to work efficiently.
Note* The Zettaguard Switch is also available in five input to one output variant:
StarTech Splitter
$65.66 | £61.65 – 1 to 4
Key Highlights:
4K support
Plug-and-play, no installation required.
2-year warranty
Downside:
Picture quality is uncontrolled
StarTech Splitter is another option for educators and tutors. The splitter can connect one device to 4 different screens at a time. In case you want to connect your main screen to many outputs at a time, like a projector or a monitor, the StarTech splitter will come in handy.
With 4k support and hassle free plug-and-play connection, you can start using the splitter instantly out of the box. The 4 way HDMI splitter offers 4:4:4 chroma subsampling meaning every pixel gets its own unique color. This is important as many splitter offering 4k do not have a 4:4:4 chroma which result in degraded picture quality. The StarTech Splitter is one of our favorite splitter from the list.
Our top pick
Techole 4k HDMI Splitter
The Techole HDMI Splitter transmits one input to two outputs without any form of media lag and has 4k support. It is easy to set-up and supports most interfaces like computers, Blu-ray, Xbox, and many more. The only downside is that the input and output resolutions have to match for the best quality output. The Techole Splitter is affordable and has functions that satisfies most customers need. If you are looking for a basic HDMI splitter which supports high resolutions, the Techole HDMI Splitter is what you should go for.
Conclusion
HDMI Splitters comes in handy when you want to experience top-notch entertainment and you fall short on your basic HDMI cable length. Maybe you want to enjoy the movie on multiple screens, or you want to nail that presentation. Whatever it is these splitters will meet your needs and you can make the most of them. Screen your games or present that promotion guarantying presentation; an HDMI splitter is at your rescue. The above list covers most needs, so you don't have to go around looking for the one yourself.
Read out our best listed Mini HDMI Cables !