If you are always busy playing with your Nintendo Switch then, you will want to protect your screen from wear and tear. You will want a screen protector that will protect you from scuff, smudge, scratches, and even crack. To protect your Nintendo Switch from pricey repairs, buying a screen protector is quite cheaper. Here are the best screen protectors for Nintendo Switch.
1. Spigen Tempered Glass Nintendo Switch Screen Protector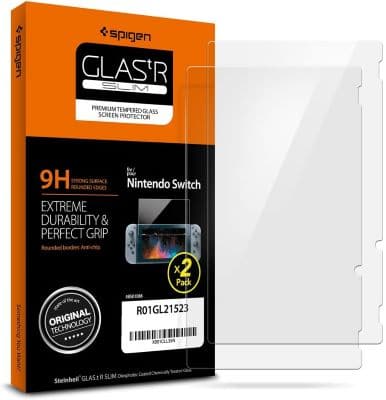 If you are looking for tempered glass that will give you strength and durability, then the screen protector from Spigen is a good choice. It has a 9H screen hardness and gives complete clarity with the original touchscreen responsiveness. Moreover, it preserves the screen brightness. It has an oleophobic coating that prevents oils and fingerprints. In this pack, you will get a combo of two screen protectors for a quite low price.
2. amFilm Nintendo Switch Screen Protector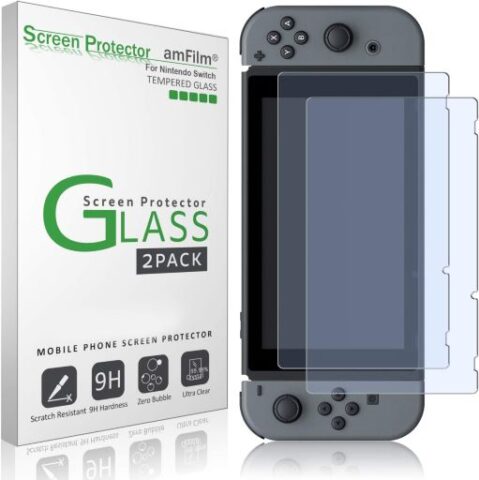 The amFilm Screen Protector has a precise design that fits your Nintendo Switch perfectly. It gives you an ultra-clear high definition display with 99.9% transparency. Thus, allowing you an optimal and natural viewing experience for your gaming session. The glass has a thickness of 0.3mm that is reliable and resilient. It gives you full compatibility with touchscreen sensitivity. Moreover, it is highly durable and scratch-resistant with a surface hardness of 9H. It has an oleophobic coating to protect the screen from fingerprint stains. In this pack, you get two tempered glass, Wet Wipes, Micro-Fiber Cleaning Cloth, Squeeze Card and an installation guide.
3. iVoler Transparent HD Clear Anti-Scratch Screen Protector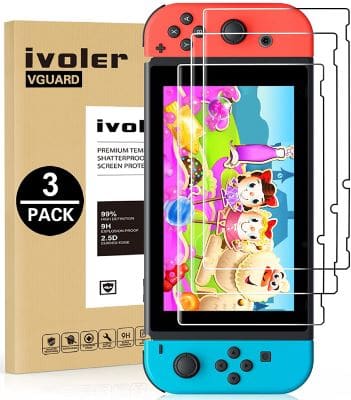 This screen protector is designed for both: Nintendo Switch 2017 and switch New Model HAC-001(-01). It gives you high-definition ultra-clear transparency to allow an optimal viewing experience. It will not become an obstacle in your gaming sessions. Even with the ultra-thin design, it is resilient and durable. It has full compatibility with the touch sensitivity of your Nintendo Switch. With oleophobic coating and 9H surface hardness, the glass protects your screen from scratches and fingerprint stains. Moreover, it comes in a combo pack of three, so you will always have a backup if the tempered glass gets damaged.
4. Orzly Glass Screen Protectors
These are manufactured keeping in mind the impact resistance. Moreover, they effectively resist scratches up to 9H, which is harder than a knife. It maintains original touch sensitivity and has high transparency with a 94% light penetration ratio. Thus, preserves the original viewing quality through the screen protector. The rounded edges give a safe and improved grip. It has a precise design with cut-outs for all sensors. Moreover, you get a 2 Year Limited Manufacturer Warranty.
5. Maxboost Nintendo Switch Screen Protector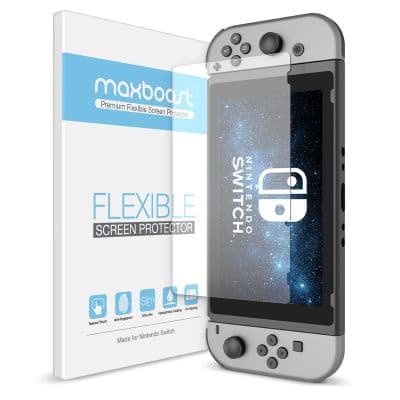 The screen protector from Maxboost is guaranteed to work with the SWITCH while docked with the main console. It even enhances colours and maximizes gameplay with your Nintendo Switch. Moreover, is fully compatible with touch sensitivity. It gives high clarity layer over the screen and provides full protection from scratches, scrapes, and scruffs. Also, it is coated with a hydrophobic and oleophobic clear layer, that resists sweat and oil residue from fingerprints and keeps the Switch screen pristine all day long. It is the thinnest PET flexible screen protector for Nintendo Switch with 100% touch accuracy.
6. SINGLAND Tempered Glass Screen Protector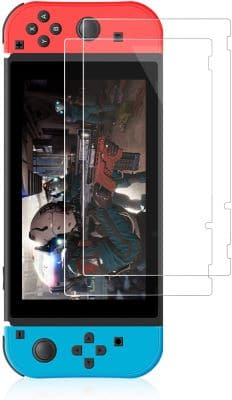 SINGLAND is giving a screen protector that is ultra-thin yet the thickest screen protector you can get. It is reliable and resilient and does not affect touchscreen sensitivity. Also, it has HD clarity with 99.9% transparency giving an optimal and natural viewing experience. It is anti-fingerprint and scratch-resistant and protects your screen from dirt, dust and scratches by keys or other hard items.
Conclusion
When you get yourself a Nintendo Switch, you would want to get a screen protector to protect it from damage. If you are looking for a good offer for your tempered glass then go for iVoler. It comes in a combo pack of three and is also super affordable. Moreover, it is easy to install and has the same feel as your regular screen. Another great choice would be the Orzly Glass Screen Protectors. It is durable and does not interfere with touch sensitivity. Also, the oleophobic coating protects the screen from fingerprint stains. Both the screen protectors will protect the Switch in-and-out of the dock, so you don't have to worry about wear and tear.
Read More!