Protecting your iPad Air 3 is most important because it keeps looking good from everyday wear and tear, and it'll retain its value if you choose to sell or trade it in later. Hence, We've rounded up the best iPad Air 3 screen protector/screen guard to make it easier for you.
A screen protector is a sheet of clear plastic you adhere to your iPad screen. The plastic is cut to fit the exact shape of your device along with holes for buttons and the speaker that's why you buy different screen protectors for different devices. And also screen protector protects against scratches, shock, physical damage, and dust. The best you can get is tempered glass, and if you're looking for the best iPad Air 3 screen protector, we have got you covered check out our favourites!
Common Screen Protector Types
Tempered glass – Offers decent protection against impact as well as scratches.
PET plastic – Generally covers basic scratch protection.
TPU plastic – Scratch protection only.
Multi-layered screen protector – Very durable and can withstand significant amounts of shock.
So let's see Most Popular and trending screen protector for ipad Air 3.
iSOUL Screen protector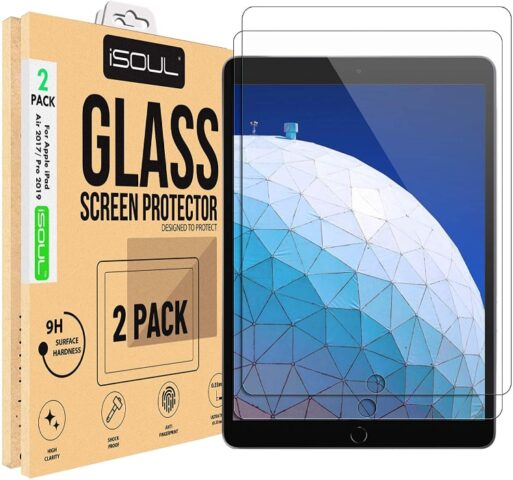 Premium Quality tempered glass for iPad Air 3.
Specifically designed to fit 10.5 Inch.
Made from superior 9H tempered glass that is scratch resistant and shatterproof.
Protects your screen from scratches to high impact drops.
Oleophobic Anti-Fingerprint Coating.
Keeps your screen free of fingerprints.
Also, keep your screen free of oily smudges.
0.33mm thickness maintains original response sensitivity and touch feeling.
99% HD clarity with high responsive touching performance.
Apple Pencil is 100% compatible with this screen protector.
Package includes:
2-Pack tempered glass screen protector
Cleaning Material
Dust removal stickers
Instructions
JETech Screen Protector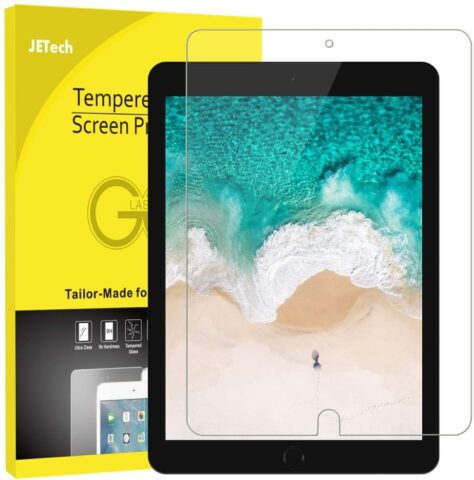 Extremely high hardness. It can resists scratches up to 9H > that is harder than a knife.
Also, it's made with PREMIUM high-quality 0.33mm thick tempered glass with rounded edges.
Dust-free.
Fingerprint-free.
One-push super easy installation.
Bubble-free.
High-response and high-transparency.
Package includes:
customer service card
instructions
dust removal stick
cleaning cloth
2-Pack tempered glass screen protector
Ailun Tempered Glass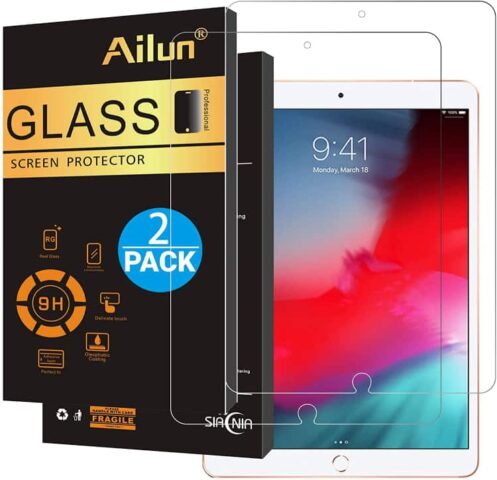 The 0.33mm tempered glass screen protector.
9H hardness screen.
Protect the screen against dust, scratches, and shocks.
HD ultra-clear tempered glass screen protector.
Precise laser cut tempered glass.
Exquisitely polished.
Rounded edges.
Original HD clarity and touchscreen accuracy.
99.9% super transparent screen.
Oleophobic Coating magically resists oils and reduces annoying fingerprints.
Package includes:
3 Dust Absorber
3 Dry Wipe
6 Guide Stickers
3 Wet Wipe
ESR iPad Air 3 screen guard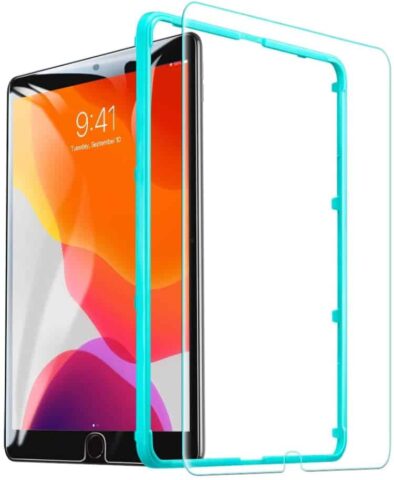 The tempered glass provides the maximum protection for your iPad Air 3 10.5 FLAT touchscreen.
Bumps with an industry-leading glass strength of 9H hardness.
The edge is polished by complicated machine for many times after high-speed cutting.
So it gets the perfect 2.5D arc edge.
It provides a smooth operating feel and prevents the glass edge from scratching hands.
Anti shatter display.
HD clear screen.
The light transmittance is high.
Presenting you the true colour and also bringing you a brand-new screen experience.
It is Bubble-free also.
So easy Installation
Fingerprint resistant.
Also Case Friendly.
Package includes:
Includes: 2x GLASS Screen Protector
Cleaning cloth.
Wet Wipes.
Dust Removal Stickers.
Easy Installation Use Guide.
amFilm Glass iPad Air 3 Screen Protector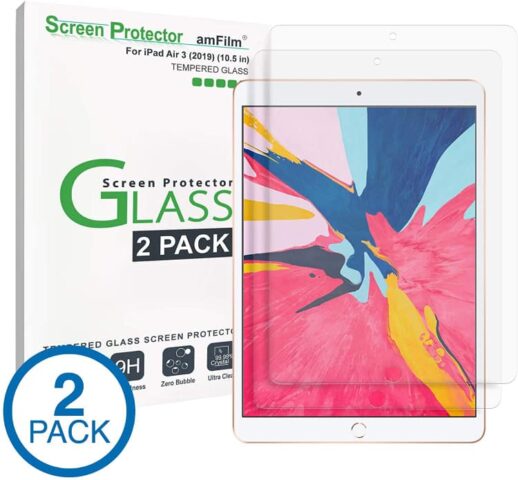 Specifically designed for iPad Air 3.
99.9% transparency.
Ultra-clear High Definition.
So Natural viewing experience.
Only .33mm thin to maximize sensitivity and protection.
Full compatibility with touchscreen sensitivity.
Scratch-resistant.
Also Highly durable.
Package includes:
Installation Tray
Wet Wipes
Dust Removal Stickers
Includes: 3x GLASS Screen Protector
Easy Installation Use Guide
OMOTON iPad Air 3 Screen Protector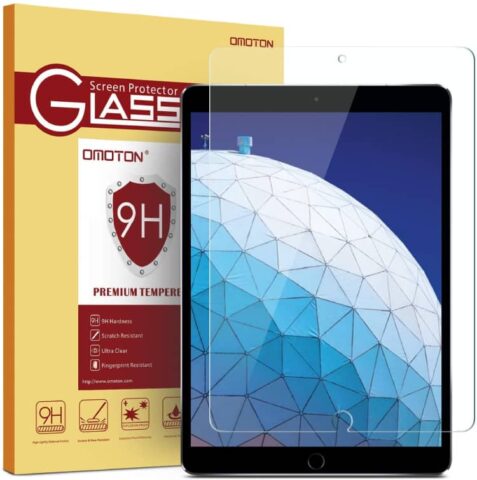 Made of real Premium 9H hardness 0.26mm tempered glass.
So High transparency.
Dust-free.
Fingerprint-free.
One-push super easy installation.
Bubble-free.
Conclusion
Conclusively, by observing and also distinguishing between all the above screen protectors, iSOUL brand sells one of the best screen protectors for your iPad. There are various reasons we consider iSOUL as best. One is because of the prominent affordable range it gives. Right?Another aspect why you should prefer iSOUL because of its superior and satisfactory quality that will assure you that your phone's screen is in safe hands. iSOUL is meticulously tested to deliver a remarkable touch sensitivity. Also, it has some extra features including Self-Installation, Delicate touch, Bubble Free, Whole transparency, Anti-scratch, Anti-fingerprint and many more features. Regardless of which screen protector you go with, the most important thing is that your phone is well protected.
Any feedback you can give us on this would be greatly appreciated. If we can be of any further assistance, please let us know. If we can be of any further assistance, please let us know. So do like, comment, and share. Best Regards!
*Prices was correct as on 7th June 2020.