The selection of chargers for getting your gadgets juiced up, cable-free, has never been better – more. Unless you're shopping down at the budget end of the scale, your phone is likely to offer wireless charger, and with everyone has now adopted the Qi wireless charging standard, compatibility issues aren't as much of a worry as they once were.
What is a WIRELESS CHARGER?
The wireless power transfer occurs through electromagnetic induction. With inductive charging, the required power reaches the device not through a traditional cable but rather wirelessly through the use of electromagnetic fields. The principle is very simple: the Qi Sender (Charging Station) transfers the required energy to the Qi receiver (the mobile phone). Qi is the universal standard for wireless charging of battery-operated devices like cell phones, iPods, MP3 players, and cameras.
When it comes to picking the best wireless charger, it's not one size fits all. You have single-device wireless chargers that are great for supplying power to a single phone and more versatile wireless chargers for those who want to juice multiple gadgets at once.
NOTE : Here Qi is the Chinese word for "energy flow".
Why should you go on a Wireless Charging route?
The benefit is that you can just place your phone on a wireless charging mat or stand and it will just start receiving power. You don't have to futz with a Lightning cable or USB-C cable. Plus, phones that support wireless charging are getting more and more affordable, with the recent iPhone SE being among them.
The other benefit of having a wireless charger is that many of them double as stands, so you can do multiple tasks on your phone very easily. And these designs make it easy for you to FaceTime and use other video chat apps without you needing to prop up the handset. That's a handy benefit as many more of us are working from home.
What to look for in a Wireless Charger?
Qi charger: Check that the appliance you want to charge and the charger both use the same system otherwise they won't work. Qi is by far the most widely used and the one that Samsung, Apple, and others use.
Wattage: You may want to look at buying a 15-watt capable charger to future-proof your purchase. As the latest standard allows up to 15 watts. Also, check what power you need. If you want to charge as swiftly as possible make sure the wireless charger you buy can provide enough power.
Charger brand: As the phone, you are charging is a costly item of electronics, so it is best to invest in the best one. There are many reputable brands making these chargers and as competition is fierce, prices are being held relatively low.
Format: There are several different formats of wireless chargers you can buy. The most common is the pad – this is normally flat and circular – often around 13 cms in diameter. However, there are also some more upright versions available as well. These can save space on a desk and give a better view of the phone as it is charging if required.
How to tell if your smartphone supports wireless charging?
Some smartphone users have never used the technology to charge their devices. Not because they don't want to but because they are unsure whether their devices support the technology or not. To know if your smartphone can be charged wirelessly, you can follow the guide below.
User's manual: Check the device's User's manual or guide. The user manual/guide is the small booklet that comes out-of-the-box with your smartphone. It usually contains information about your device, its features, and how to set it up. Peruse it carefully and you'd find ways through which your device can be charged — wired, wirelessly, or both.
Manufacturer's website: Another way to confirm if your smartphone does support wireless charging is through the official website of the device manufacturer. Simply visit the website, type in your device's model into the search box and you'll be presented with the entire specifications of your device.
Bench-marking websites: If you cannot find your answer through the previous two ways there is another way which is called bench-marking platforms. Simply visit the website and type in your smartphone name or model into the search box. The full specifications of your device will be displayed. Scroll to the battery section and if "Wireless charging" is mentioned, then your device can be charged wirelessly.
Down below we have listed some of the BEST WIRELESS CHARGER you could go for.
VIBE Wireless Charger
Higher charging speed.
No connection of any cable to your smartphone.
Can charge your phone without removing the case until its metal.
Ultra-thin.
Lightweight.
Anti-slip Matt base finish which prevents your phone from sliding.
Strict quality and safety standards.
Protects against overheating, overload, and short circuit.
12 months warranty.
Fast Charging for iPhone 11 Pro Max, XS Max, XR, XS, X, 8, 8 Plus,10W for Samsung Galaxy S10,S10+,S9,S9+,Note10,9,8, and 5W for other Qi Enabled phones.
Package includes:
1 X Wireless Charger
1 Micro USB Cable
Input: 5 V/2A, 9 V/1.67A
Output: 5W/7.5W/10W
Charge efficiency: >75%
CHOETECH
Ultra-slim.
0.3 in thickness.
Stable and safest charging.
Qi and ETL certified.
Can charge with case on it( not thicker than 5 mm).
Built-in with overvoltage protection, temperature control, foreign object detection.
Unobtrusive LED indicator.
18 months warranty.
Compatible with iPhone SE/11/ 11 Pro/ 11 Pro Max/XS/XS Max/XR, iPhone X/8/ 8 plus, 10W for Galaxy S20/S20 Plus/S20 Ultra/Note 10/ Note 10 Plus/S10/ S10+/ S10 E/ Note 9/S9/S9+,S8/S+/Note 8,Note 5,S6 Edge+,S7/S7 Edge (QC 2.0/3.0 adapter needed). 5W for Huawei P30 Pro, Huawei Mate 20/RS, AirPods 2
Package includes:
1*Fast Wireless Charger (No Adapter)
A 1.2m Micro USB Cable
Anker
High-speed charging.
Has an LED indicator.
Flashing blue – Metal obstruction detected.
Flashing green – Incompatible AC adapter or cable connection.
Solid blue for 3 seconds – then off Connected to power.
Solid blue – Actively charging a device.
Case friendly.
Use Rubber/plastic/TPU cases UNDER 5 MM THICKNESS ONLY.
18 months warranty.
Compatible iPhone 11, 11 Pro, 11 Pro Max, Xs Max, XR, XS, X, 8, 8 Plus, 10W Fast-Charging Galaxy S20/S20+/S10/S9/S8, Note 10 Note 9 Note 8
Package includes:
PowerWave Pad
4ft Micro USB cable
welcome guide
Input: 5V-2A / 9V-2A
Output: 5W / 10W
Yootech Wireless Charger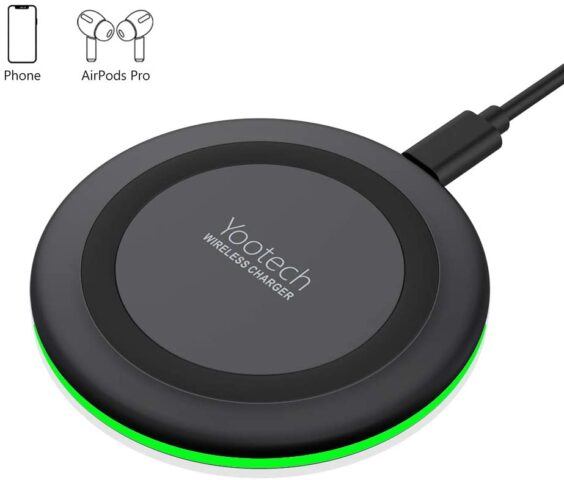 Unique design, both top, and bottom have a rubber ring.
Multifunctional Intelligent Protect Technology.
Provides temperature control, surge protection, short-circuit prevention.
Qi and UL certified.
Made of ABS material which is fire-resistant.
User-friendly design.
Case friendly.
Use Rubber/plastic/TPU cases UNDER 5 MM THICKNESS ONLY.
Lifetime money back/replacement warranty with 12-hour response service.
Compatible with iPhone 11/11 Pro/11 Pro Max/XS MAX/XS/XR/X/8/8 plus with latest iOS System; 10W charging mode is compatible with Note 10/10 Plus/S10/S10 Plus/S10E/Note9/S9/S8 and so on; 5W charging mode works on Any Qi-enabled devices like Google Pixel 3/3XL/4XL and other Qi-enabled phones.
Package includes:
A Qi Wireless Charging Pad
One 3. 3ft USB Type C Cable
A 3.3ft USB C- USB C Cable
1 x User Manner
Input: 5V-2A / 9V-2A
Output: 5W / 10W
TOZO W1
Slimmest wireless charger.
5.0 mm ultra-thin.
Built-in over-charging, over-heating, and short-circuit protection.
Safe and reliable.
Durable mirror panel and aviation aluminum.
LED indicator lights.
High-Precision CNC Technology.
Intelligent Foreign Object Detection.
Compatible with iPhone X, iPhone 8/8 Plus, Samsung Galaxy Note8, S8, S8+/S8 Plus, Galaxy S7, S7 Edge, Note 5, LG G4, S6, S6 Edge, S6 Edge Plus, Nexus 6, Moto Droid Turbo, Nexus 5/7(2013)/4, Nokia Lumia 1020/920/928, MOTO Droid Maxx/Droid Mini and Other Enabled Phones and Tablets.
Package includes:
A Wireless Charging Pad
Micro USB cable
Samsung
High quality and fast charging.
Qi-certified.
Control fan and LED light with your phone.
Portrait and landscape charging.
Built-in cooling.
1-year manufacture warranty.
Compatible with Galaxy S10e, S10, S10+, Note10, Note10+, Note9, S9, S9+, Note8, S8, S8+, S7, S7 Edge, Note 5, S6 Edge+
Package includes:
A wireless charging pad
Micro USB cable
---
---
Conclusion
Conclusively, by observing and also distinguishing between all the above wireless chargers,CHOETECH wireless charger. It charges up to 10W and lets you rest your smartphone in both landscape and portrait orientations. This wireless charger is compatible with all the major brands, including iPhone and Samsung devices, and you can charge your phone in either landscape or portrait mode. The LED light also comes in handy, so you know when your phone is getting power. Plus ultra-slim i.e. 0.3 in thickness. Also Stable and safest charging with Qi and ETL certified. Moreover, can charge with case on it( not thicker than 5 mm). Built-in with overvoltage protection, temperature control, foreign object detection. Most importantly 18 months warranty.
We would like to hear your reviews. Do comment and share. Also do subscribe to stay updated With All The Latest News, Offers, and Special Announcements.
*Prices was correct as on 8th June 2020.