Lighting is the main ingredient in photography. If the lighting is right, you will get a great shot and it isn't, well, then you'll definitely get an average shot. With the coming of ring lights in the market, your selfies amazingly stands out! So far, I find the UBeesize 10-inch Selfie Ring Light + Tripod to be the most interesting. It includes all the equipments you need for outstanding professional shots and videos. Also, there are other worthy choices for Best Ring Lights For Selfies 2020!. Let's see how well they work.
UBeesize 10-inch Selfie Ring Light + Tripod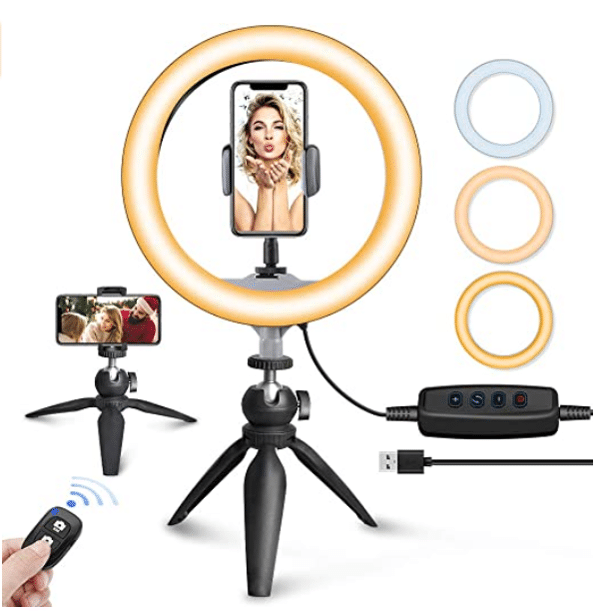 UBeesize has an artistic way of designing camera equipment accessories for professional and also, beginners. They have an immense collection of tripods and lighting options, all of them admired by professionals. Among all, the product that really stands out is their 10-inch selfie ring light kit. It's been approved as a satisfying choice by Youtubers, Influencers, Makeup Artist etc.
Talking about the right light's specifications, it has three colors: warm, cool white and daylight. Moreover, each of these colors have 11 brightness levels. So, you get 33 lighting options while shooting. Adjustment of ring light is on its own pannable tripod that slides up from 16 inch to 50 inch, guaranteeing you a good angle every time.
The UBeesize kit comes with a Bluetooth remote for hands-free operation and a phone holder with an adjustable arm. It's built with an easy way to move smoothly from portrait to landscape and vice versa. It's a kit which can be assembled and take down easily, plus it's lightweight enough to carry anywhere. The only drawback about this kit is it has a remote. It does an amazing job of clicking pictures but is unable to adjust light's settings. Other than that, it includes everything you need to get professional snapshots.
Pros:
+ Three light colors
+ 11 brightness levels
+ Easy to assemble and take down
+ Adjustable phone holder
+ Includes remote and tripod
Cons:
– Over simplifying remote
GLOUE Clip-On Selfie Fill Light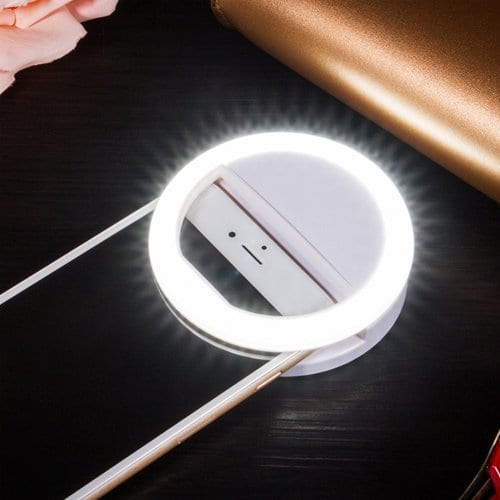 Sometimes we want our selfies to be captured out of the moment and not with all the studio settings. If this is how you like your pictures, then you probably need a portable setup that's small enough to sit in a pocket while adding the magic of light with it. Here is something that will allow you to do all this and even more.
Another Best Ring Lights For Selfies 2020 is The GLOUE. It is an LED ring light that attaches on the top of your phone, tablet or computer. It's battery is rechargeable through an USB and, also the cord is included. The GLOUE has 36 LED lamp beads that are controlled by a touch sensitive switch. Pushing the switch once will give you dim light, twice will give medium level light and thrice will give you ultrabright spotlights. Going through the light settings is quiet user friendly.
The only drawback of this one is if you wear glasses, it will cast a glare on it. It mostly happens in the dark, but is useful during daylight. Other than this, the GLOVE is a steal deal. It is lightweight enough to go anywhere and has an amazing battery life.
Pros:
+ 36 LED lamp beads
+ Rechargeable battery
+ Budget-friendly
+ Small enough for a pocket
+ Touch sensitive switch
Cons:
– Casts glare on glasses
Neewer 18-inch LED Ring Light Kit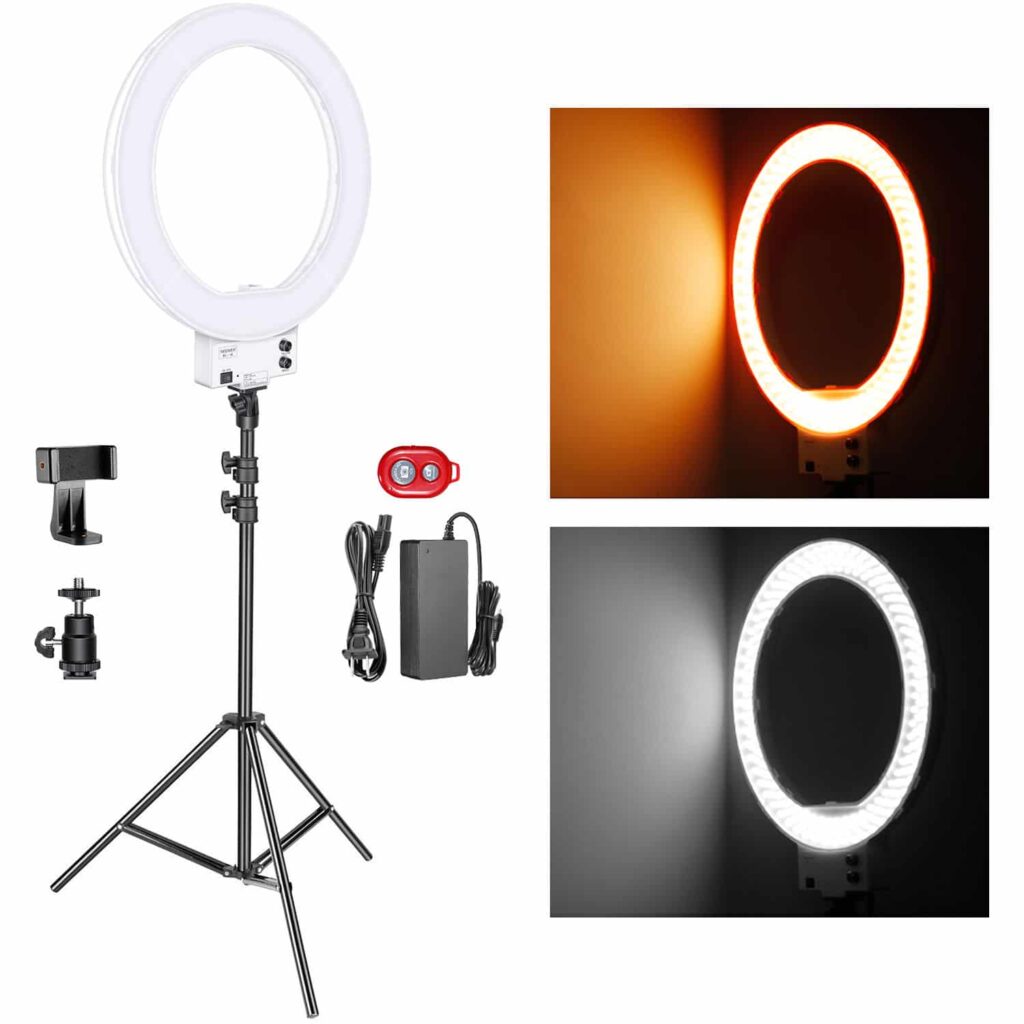 The professionals everywhere would recognize the Neewer brand name. They've been releasing accessories since 2010. This budget-friendly selfie light set comes with all basics, plus extras you won't find in other offerings. Neewer includes an LED ring, three-legged light stand, white and orange filters, a hot shoe adapter for cameras, a power adapter, a remote, and a rotatable smartphone holder.
Starting with the light. The Neweer model is powered by 240 efficient LEDs. They're dimmable, and varies between low, medium, and high settings without any trouble. It has a phone stand that rotates 360 degrees, and a tripod that is made of heavy-duty aluminum aloy that will work with you till the end of time. Also, lightweight so that you can carry it anywhere with you, as well. Includes a remote that will help you to capture your best side, adjust light settings, and turn the ring light off and on.
It has included diffuser filters which gives you two orange and two white filters that add a warm glow and gives your photos a bright look. The drawback here is it doesn't include a carrying bag with it. You can carry it in your backpacks but it would to be good to see a carrying bag with it for the price. Other than that, it takes the photography to another level.
Pros:
+ Outstanding build quality
+ Low, medium, and high settings
+ Orange and white filters
+ The phone stand rotates 360 degrees
+ The remote captures photos and adjusts lights
Cons:
– Doesn't include carrying bag
QIAYA Selfie Ring LED Circle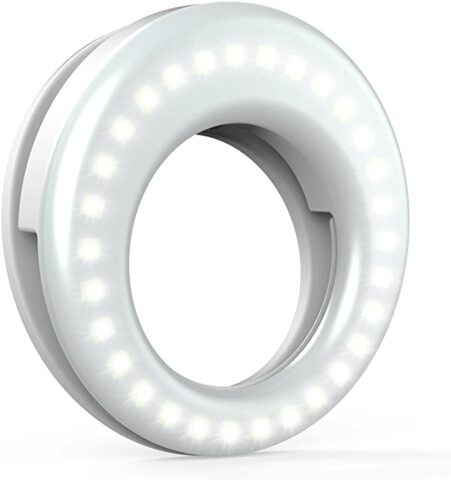 The QIAYA is example of another clip-on selfie ring light. It sits over the camera on your phone, laptop, or tablet and stays put until you remove it. The lights are rechargeable through USB cord which is included, and the battery is for about an hour but no more than that. That's a little drawback. If you carry a power bank with you or only shoot at home then this won't be an issue.
The lighting has three-level settings: High, Medium, and Low. During the daylight the QIAYA lights works enormously as a fill light. The lights casts a warm glow for about six feet, which is more than generous enough to remove shadows from your face, brighten the environment around you, and capture radiant group shots.
The QIAYA Selfie Light Ring is small, lightweight and adds little weight to your phone or tablet. There's no remote, but if that's not a bummer for you, this is a solid ring light that's good at highlighting your best features.
Pros:
+ Small and Lightweight
+ Budget-friendly
+ Rechargeable
+ Amazing daytime fill light
+ Good for night photos
Cons:
– Short battery life
– No remote
GVM 600S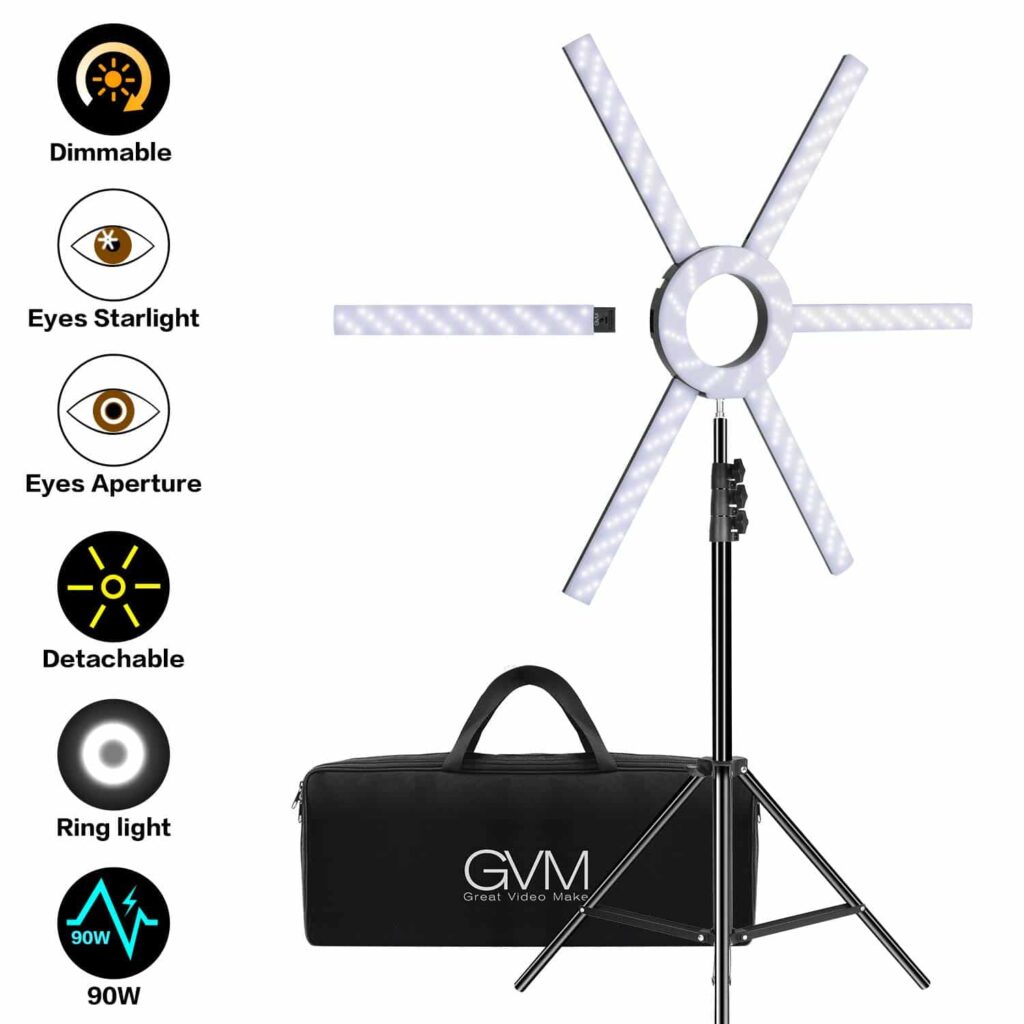 Another Best Ring Lights For Selfies 2020 example is the GVM 600S is for those who wants their photos amazingly captured on another level. This is a ring light that comes with a selfie ring light, six detachable light bars, two power cords, a tripod, and a carrying case. When you need perfect lighting everywhere, this is something you need to put in your shopping cart.
You can set GVM's 600S lights for any video or photoshoot according to your requirements. The three-legged tripod is adjustable, going from 32-inches to 87-inches. Set the tripod up on a desk, on the ground outside, or in a studio for perfect lighting anywhere.
The selfie kit comes in a nylon carrying bag that's big enough for the whole setup to wrap in. Grab the bag and you are good to go, be it your home or any outdoor location. The GVM 600S lets you add as much or as little light as you need, and is the perfect for professional-level photos or videos.
Pros:
+ Six removable bars included
+ Carry bag included
+ Tripod included
+ Dimmable
Cons:
– Expensive
PEHESHE Ring Selfie LED Light 10″ with Tripod Stand & Phone Holder Mini Dimmable Circle Light for Live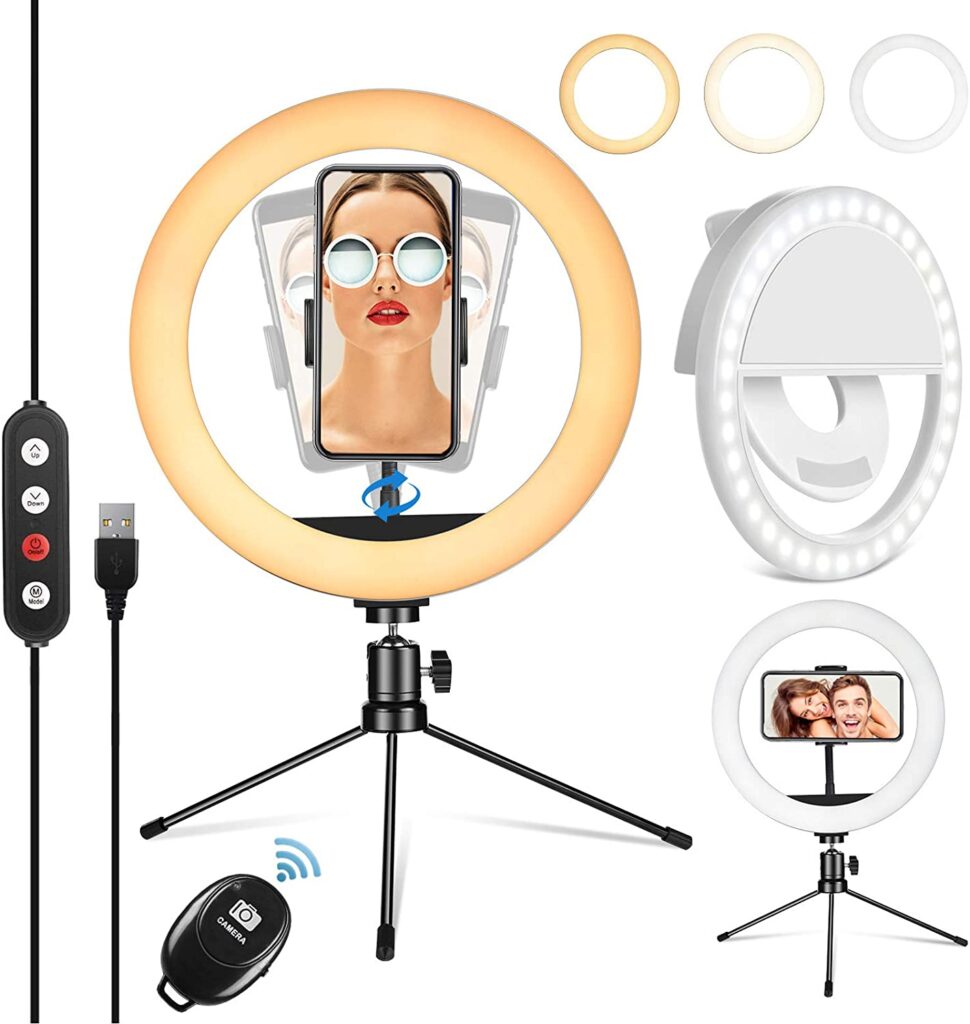 PEHESHE Ring Selfie LED Light 10″ with Tripod Stand & Phone Holder has three light colors: Warm light, Cool light and Day light, and each of them has 10 brightness levels. It also includes 120 LED bulbs, which are perfectly dimmable for enhancing your beauty and also protecting your eyes. The dimming range is from 1% to 100% and beaming angle is perfect 120 degrees.
This kit also includes a desk tripod stand and a phone holder which 360 degrees rotatable circular cloud platform and is easily adjustable. The stand is made of high quality Aluminum alloy with anti-slip rubber foot and increased stability. The width size of the phone holder is 2.2-3.4 inch and is compatible with almost all the smartphones.
The USB cable core solves the problem of cable heating while it works long time such as live stream or online meeting with longer usage life. Works with most devices that support USB port, like a laptop, PC, power bank, USB charger, AC adapter and etc. Anytime, anywhere. Still some customers say that it came smaller than expected.
Pros:
+ Three light colors
+ Includes tripod and phone holder
+ Easily adjustable
+ Compatible
Cons:
– Smaller than expected
In reality, taking a worthy selfie is harder than it looks, and most fail in the lighting department. Even though phones have improved in the last two years, the front-camera lens still falls short due to a lack of high-quality fill lighting. And this is where selfie ring lights come in.
Conclusion
Therefore, here were some choices for Best Ring Lights For Selfies 2020 that would help you improve your photography experience and click amazingly professional photographs. Select according to your likes and requirements! So far, we find the UBeesize 10-inch Selfie Ring Light + Tripod to be the most interesting. It includes all the equipments you need for outstanding professional shots and videos. Also, there are other worthy choices for Best Ring Lights For Selfies 2020!. Let's see how well they work.
If you have any query, feel free to contact us. Comment in the box, we are here to help you! Like, share and subscribe. Regards!
*Prices was correct as on 12th October,2020