Lighting is the key component in the field of photography. Whether you're a professional photographer or a beginner, lighting is a must. Having sufficient light setup while capturing shots will ensure that your shots will come out magnificent. Through lights you can enhance what you want to highlight and what you want to keep in the dark. Here are some alternatives for Lightings Kits you need to know about before buying;
MountDog Photography Continuous Softbox Lighting Kit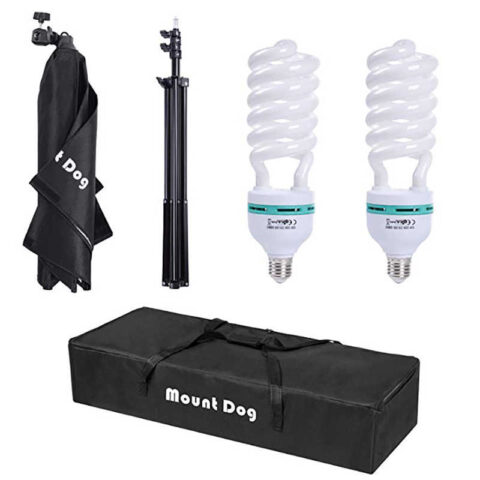 The MountDog Photography Continuous Softbox Lighting Kit is a well equipped kit for both professionals and beginners. It comes with two 95-watt daylight bulbs, one softbox with a bulb socket, one 80-inch tall light stand and a carry case. This kit is perfect for embellishing portraits and keeping videos clear and bright.
The softbox present measures in at 20 by 28 inches and is made up of ylon fabric and white screen, which helps minimize light loss and maximize light spread. You can soften or intensify your lighting with this softbox. However, some mention that the light does not reflect as brightly as expected.
This kit also includes tripod stand to make adjusting lights even simpler. It is adjustable from 27 to 80 inches. Also, to add cherry on the cake, the softbox's lamp holder can be adjusted up to 210 degrees. This allows you to change portions of a portrait or object perfectly.
Pros:
+ Two 95-watt bulbs included
+ Budget-Friendly
+ Adjustable tripod and softbox
Cons:
– Might not be as bright as expected
Emart 600W Photography Photo Video Portrait Studio Day Light Umbrella Continuous Lighting Kit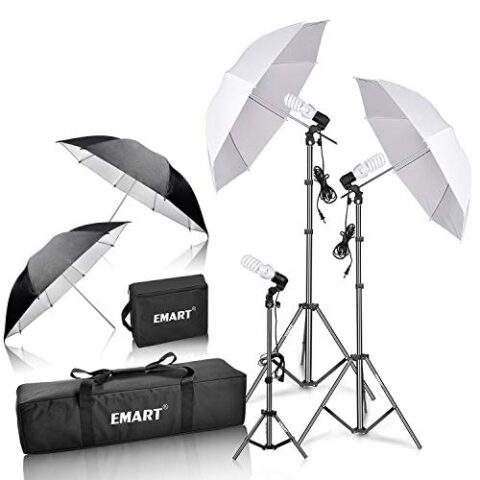 If you're a professional and need a kit for your studio another alternatives for Lightings is the Emart 600W Photography Photo Video Portrait Studio Day Light Umbrella Continuous Lighting Kit would be a wise choice. It is equipped with everything you need to film your videos and capture amazing photos.
This kit includes three 45-watt full-spectrum energy-saving CFL bulbs paired with three single head photo lighting sockets, two 33-inch reflector umbrellas in black and silver, two 33-inch white translucent soft umbrellas, two 83-inch photography light stands, one 33-inch photography light stand, a bulb case, and a heavy-duty carry case. However, some have mentioned that even the light stand is a good feature, it can feel fragile when stretched to its limits.
With the variety of equipment included in this kit makes this kit perfect for creating an ambience while shooting. Whether you want to shoot a social media worthy post, marketing videos or normal photographs this kit has got you covered!
Pros:
+ Four umbrella options
+ Three 45-watt CFL bulbs
+ Variety of tools for different projects
Cons:
– Fragile stand
StudioFX 2400 Watt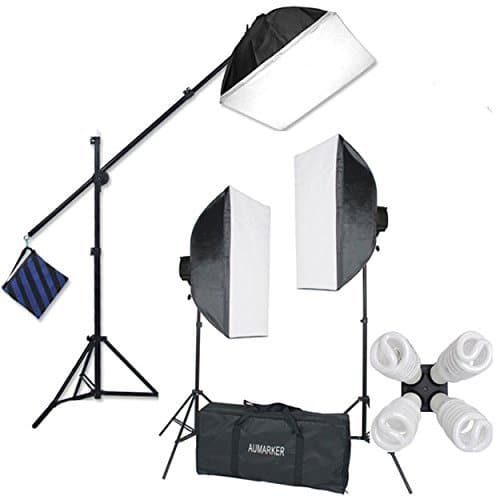 The StudioFX 2400 Watt is a three piece photography lighting kit. It contains three main softboxes, three light stands and three light heads. This kit is quite effortless. It's easy to set up each equipment and figure out what it's used for. This makes it user friendly and anyone new in the area can also operate it.
The softbox units comes equipped with their own diffusers and built-in control panels and measures at 16 x 24 inches. The diffusers allows you to adjust the brightness according to your convenience. Along with these, there are 45-watt fluorescent bulbs, which are extremely useful for digital photography and DSLR cameras. A great feature about these bulbs is they don't provide excess heat. You don't have to worry about them burning up.
The three-light stands are adjustable from 53 to 84 inches and features three-legged base. They are quite stable, so you don't have to worry about them falling off. This will adapt your lighting needs quickly.
While this is an impressive starter kit, some mention that the softboxes are smaller than expected. And the entire kit weighs 29 pounds approximately, which makes it a little too heavy to carry anywhere.
Pros:
+ Good for beginners
+ Easy set-up
+ Low heat bulbs
Cons:
– Weighs 29 pounds (approx.)
– Softbox smaller than expected
ESDDI Photo Studio Light Box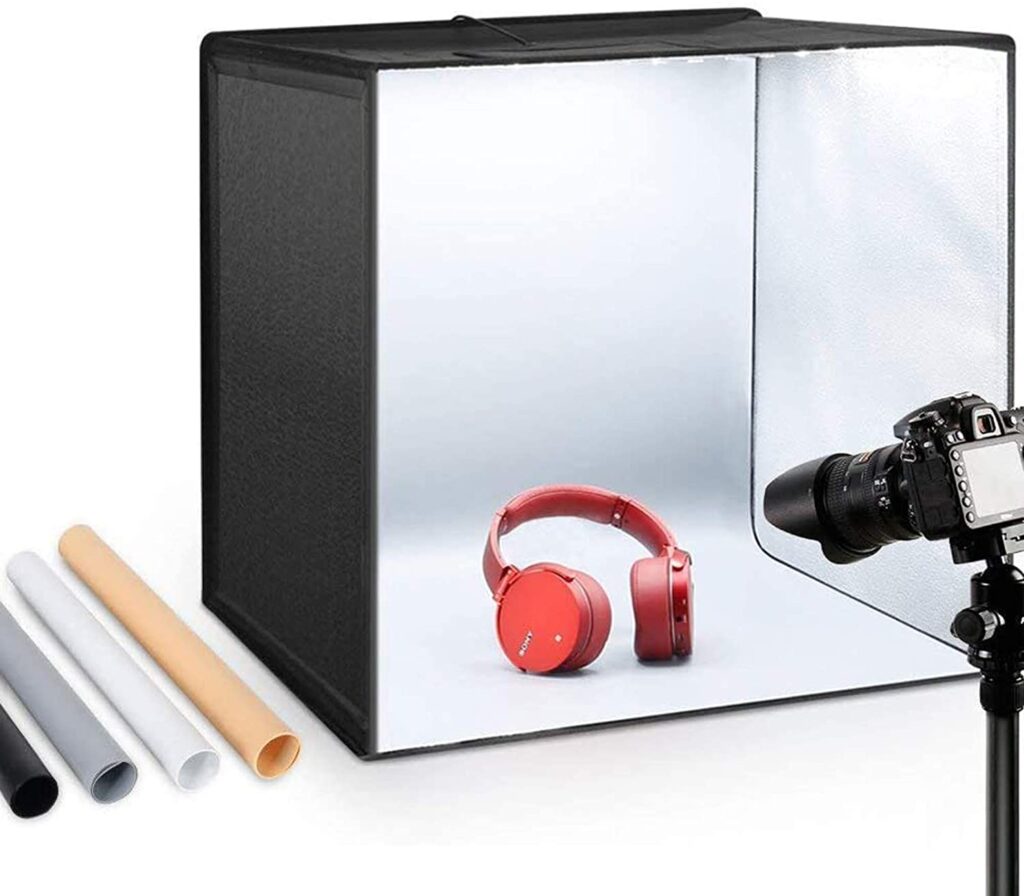 Another alternatives for lightings is The ESDDI Photo Studio Light Box isn't technically a photography lighting set, but is a great piece of equipment to own. If you want to enhance your product's digital appearance, then this is a must have.
This kit includes 120 carefully placed LED lamps, which can be adjusted to your needs with a simple turn of a knob. It also comes with four different colored backboards. Black, White, Grey and Orange. Although, it is said by some that these backboards only include one side and not the entire cube.
The box features an aluminum shell light plate that has great heat dissolution. This protects any electronic device from damaging due to overheating. The inside of the box features a silver reflective fabric. You can also reposition if you're not happy with the placement of your object, through multiple available openings.
When you're finished with your work, you can simply unstick the velcro, unfold your studio and you're done as the box is made up of one piece structure that can be folded into a cube through velcro sliding.
Pros:
+ Portable and easy to use
+ Great for product photography
+ Excellent for taking photos with any phone or camera
Cons:
– Backboard only covers one side of the cube
Neewer Umbrellas Softbox Continuous Lighting Kit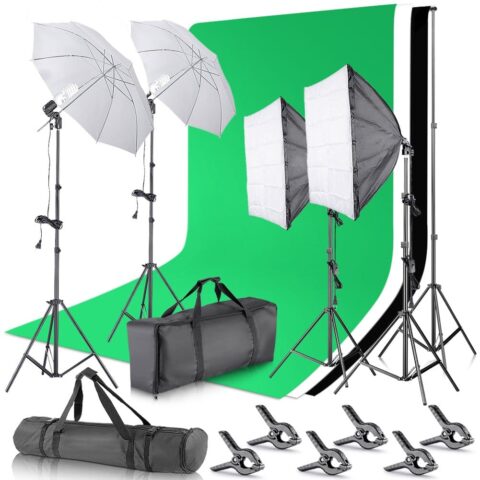 The Neewer Softbox Continuous Lighting Kit includes: 4 x 79 inch (7 feet)/200 cm light stand + 2 x single head light stand + 4 x 45 W CFL daylight bulbs + 2 x 33 inch/84 cm umbrella + 2 x 24 inch x 24 inch/60 x 60 cm softbox + 1 x 1.8 x 2.8 metre/6 x 9 feet muslin backdrop (black, white and green) + 6 x backdrop clamps + 1 x 2.6 metre x 3 metre/8.5 feet x 10 feet background stand support + 1 x carry bag for the background + 1 x carrying bag for lighting kit.
The solid safety 3 legs are stable and durable. They are quick, single action and locks providing fast precision height adjustment. A unique light holder allows you to attach a bulb to hold a light and add an umbrella. The White translucent umbrella can soften, expand and diffuse the bulb light according to your convenience. The 45-watt daylight is equal to 200-watt regular bulbs output. The color temperature is 5500 K.
This alternatives for lightings kit is made from aluminum alloy with a black satin finish and is an amazing product for you requirements. The only little drawback is, it is a little expensive.
Pros:

+ Includes Tripod
+ Carry bag included
+ Adjustable lamp folder
Cons:
– Expensive
LimoStudio, LMS103, Soft Lighting Umbrella Kit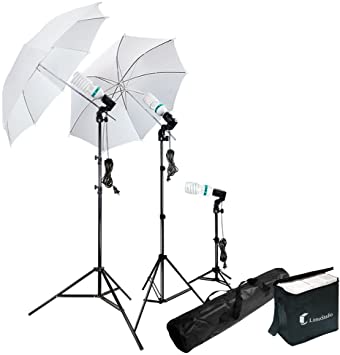 The next alternatives for lightings is The LimoStudio, LMS103, Soft Lighting Umbrella Kit includes 3 Energy Saving Daylight CFL Continuous Light Bulb, two 33-inch White Umbrella Reflector, 3 Single Head Bulb Socket, two 86-inch Light Stand Tripod, a 28-inch Light Stand Tripod,a Heavy Duty Carry Case Bag, a Bulb Carry Case Bag.
Because of its design and specs, LimoStudio LMS103 performs exceptionally in any environment, indoors or outdoors. With its equipment and accessories, you can set up your studio in seconds.
A set of black and white reflector umbrellas soften and diffuse light beams for excellent stage lighting. This makes it easy to bring out finer details of the subject's skin tone and some other image elements. Not all photography lighting kits are capable of this. Some say that they were required to add additional lights to this. Other than this ,if you are a pro photographer looking for the best lighting kits, this one is strongly recommended.
Pros:
+ Budget friendly
+ Exceptional design and specs
+ Black and White reflector umbrellas
Cons:
– Needs additional lights
Proper lighting emphasizes certain parts of an image through the strategic use and makes them professional looking. It helps you in setting up the perfect tone and mood for your shots. That's why it is so important to take your lighting needs seriously.
Conclusion
Therefore, here were some alternatives for lightings Kits in 2020 that would help you improve your photography experience and click amazingly professional photographs. Select according to your likes and requirements!MountDog Photography Continuous Softbox Lighting Kit will fulfill all your requirements as it is equipped with two 95-watt bulbs along with an adjustable softbox and tripod.
If you have any query, feel free to contact us. Comment in the box, we are here to help you! Like, share and subscribe. Regards!