It hasn't been long since Microsoft released the Surface Pro 8 which is an excellent gadget. And one of the best laptops you can purchase right now, with huge new capabilities like Thunderbolt 4 and a 120Hz display. But it's never too early to look ahead, and some of us are already thinking about the Microsoft Surface Pro 9.
Of course, because the Surface Pro 8 is still relatively new, a successor is likely still a few months away. That also suggests that we don't know much about it right now. However, there are some things on which we may make educated guesses.
What will you see here?
Price and release date: Microsoft Surface Pro 9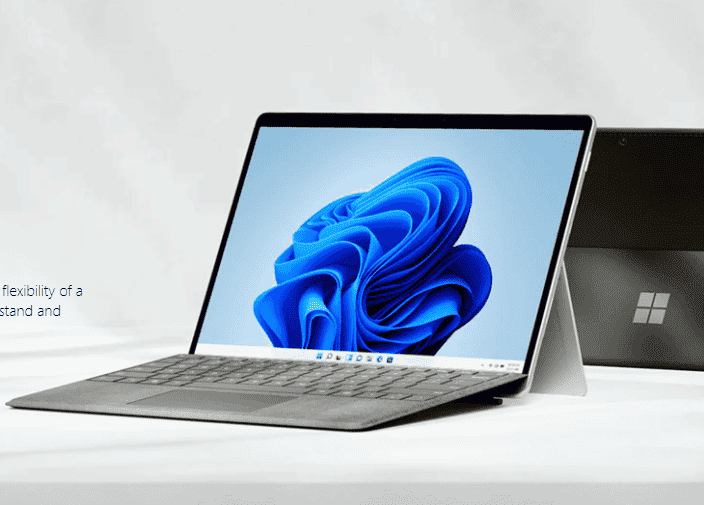 Starting in 2012 and receiving an update almost every year thereafter. The Surface Pro series is Microsoft's most perfect line of devices. And knowing when the next one is coming is important. With the recent introduction of the Surface Pro 8, it's reasonable to expect the Surface Pro 9 to arrive in October of 2022.
In addition to matching with the customary period between launches, this is also when Microsoft will most likely release the next big upgrade for Windows 11. With the Surface Pro 9 serving as a showcase device.
The next Surface Pro will have the same pricing as the Pro 8 which starts at £999 / $1,099 and goes up to £2,459 / $2599. Any price increase at this moment will be a deal-breaker for most people., especially since the keyboard and touchpad Type Cover is still missing.
Design:
Due to the fact that the Surface Pro 8 is already rather good in its own right. But there are a few places where Microsoft could improve the Surface Pro's design.
For example, will Microsoft include a 4K display with the new Surface Pro or make it an option for the higher setups? Most of the Surface Pro 8's improvements are focused on the display. With smaller corners for a little larger screen size and virtually the same footprint. A new resolution to maintain the 3:2 aspect ratio, and a 120Hz refresh rate for good measure. However, if this gadget is to meet the needs of its target users. Who are designers and makers, adding a 4K option would be a good idea.
Also, for a device positioned to be a laptop, it is severely lacking in connectors. And, unlike previous models, does not come with a keyboard and trackpad out of the box. That's while charging an additional £100 / US$100 on an already costly smartphone.
One item we missed from the previous Surface Pros was the USB Type-A connector. The Surface Pro 8 has smartly been replaced with Thunderbolt 4. However, for the same reasons, Microsoft should offer the Type Cover at no additional cost. The future model should contain more input and output ports. While they're at it, Microsoft should do away with the Surface Connect connector.
Performance of the Microsoft Surface Pro 9
The battery life and charging capabilities of the Surface Pro 8 are among the greatest in a high-powered laptop, much alone a tablet. And hope that Microsoft keeps the same durability on the next-generation Surface Pro. Even with more powerful internals.
In fact, the 2022 Surface Pro should have more powerful internals. Switching from Tiger Lake CPUs in the Pro 8 to Alder Lake processors. Intel's answer to Apple's M1 Pro and M1 Max chips. With these 12th-generation CPUs powering them, the line might gain just enough of a boost to compete with the iPad Pros.
What will change in the Surface Pro 9?
Microsoft made some major changes with the Surface Pro 8. It includes USB connections, a larger panel with fewer bezels, and a 120Hz refresh rate. Haptic feedback support with the Surface Slim Pen 2, and other features. However, the Surface Pro series has been nearly unchanged for years, at least in terms of major new features. Microsoft typically only offers big changes every few generations. So the Surface Pro 9 will most likely focus on improvements and minor upgrades.
Conclusion
The next Microsoft Surface Pro will have to fill some huge shoes. After years of waiting for a genuine update, the 2-in-1 pro laptop-cum-tablet has finally received it with the Surface Pro 9.
Read more: