Microsoft recently launched its latest version of the Surface Pro tablet series. If you are all set to get yourself the Microsoft Surface Pro, you should check everything about it first. Here is a review of Microsoft Surface Pro for you.
Microsoft Surface Pro 8
The Microsoft Surface Pro 8 is the latest launch in the Surface Pro range of 2-in-1 tablets. An 11th generation Intel processor, a 13-inch 120Hz display, two Thunderbolt 4 connectors, and a detachable SSD are included in this version. Moreover, it comes pre-installed with Windows 11 and is optimised for the new operating system. The tiny size and lightweight design make it suitable for usage at home or on the go. Both the front-facing and rear-facing cameras are excellent, producing crisp, detailed images. Sadly, the Surface Pro 8 falls short of battery life when used as a gaming laptop. Despite some of these flaws, it is the greatest of Microsoft's storied Surface range. With the Surface Pro 8, Microsoft has fully revamped the Surface Pro lineup's ageing design. This has brought some long-overdue design changes including reduced bezels, rounded edges, and the Thunderbolt 4 port.
The Surface Pro 8 is still easily distinguishable as a member of Microsoft's main Windows tablet lineup. At the same time, with the design improvements and some of the fastest hardware ever seen in a Windows tablet, it actually seems like a new generation. Unfortunately, all of these much-needed enhancements come at a cost. Users of the Surface Pro who have been waiting for a good update for years now got one that is worth upgrading for.
Pros
Large, vibrant display
Tailor-made for Windows 11
Supports external devices
Sharp webcam
Faster processors
Gorgeous new design
Thunderbolt 4
Cons
Underwhelming gaming performance
Slim Pen 2 and Signature keyboard sold separately
More expensive
No more USB Type-A
Type Cover sold separately
| | |
| --- | --- |
| CPU | Intel i5-1135G7 / Intel i7-1185G7 |
| Graphics | Intel Iris Xe Graphics |
| Display | 13-inch screen (2880 x 1920) |
| Memory | 8GB | 16GB | 32GB (LPDDR4x RAM) |
| Storage | 512GB | 1TB (128GB or 256GB removable SSD options) |
| Ports | 2 Thunderbolt 4 USB-C, headphone jack, external GPU and HDD support |
| Size | 11.3 x 8.2 x 0.37 inches |
| Weight | 1.96 pounds |
| Connectivity | Wi-Fi 6; Bluetooth 5.1 |
| Camera | 1080p IR Webcam |
Price and Availability
The Microsoft Surface Pro 8 is available in two colors: Platinum and Graphite, through the Microsoft Store. The Platinum model is available in eight different configurations. It starts at $999 for an Intel Core i5 processor, 8GB of RAM, and a 128GB SSD. An Intel Core i7 processor, 32GB of RAM, and a 1TB SSD are included in the $2,599 model. Currently, the Graphite model is only available in four different combinations. It starts at a $1,199 model with an Intel Core i5, 8GB of RAM, and a 256GB SSD. The most costly model, which costs $1,899, comes with an Intel Core i7 processor, 16GB of RAM, and a 512GB SSD.
It's a significant upgrade over the Surface Pro 7, which cost $749 when it was first released. However, the system had only a Core i3 processor and 4GB of RAM. The Pro 7 with a Core i5, 8GB of RAM, and a 128GB SSD went on sale for $899. It's a significant price difference. Of course, you may pay to upgrade your Surface Pro 8 to a more powerful model.
Design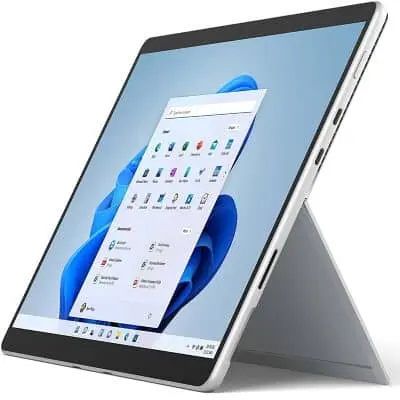 The Surface Pro 8 measures 11.3 x 8.2 x 0.37 inches and weighs 1.96 pounds. This makes it a perfect portable tablet. The 2-in-1's black anodized aluminum model is not only attractive but also makes it feel durable and sturdy. The kickstand on the rear of the device has a shiny silver Microsoft logo. The two indentations on either side of the device can be used to lift the kickstand. You can also use this method to access the detachable SSD. There are two webcams, one on the back and one on the front. A connector for the Surface Pro Signature or Surface Pro X keyboards, which snap magnetically onto the Surface Pro 8, is located on the bottom of the device. The new gadget has an 11% bigger display than the predecessor, due to thinner bezels. The Surface Pro 8 does, however, deliver some much-needed design enhancements.
While it appears like Microsoft has been emphasizing brighter colors for its devices in recent years, the darker colors in the latest models are stunning. It has rounded edges that are more comfortable to handle for extended periods of time. A 13-inch PixelSense display with a resolution of 2,880 x 1,920 has been added. Moreover, it features a 120Hz refresh rate. The display is set to 60Hz right out of the box, primarily to extend the battery life. Microsoft is staying with the same Type of Cover, which means you won't have to buy a new one. Microsoft has also modified the ports for the first time. It has full Thunderbolt 4 support. These are a tremendous help to the creative professionals who are most likely to purchase a Surface Pro. Two Thunderbolt 4 ports, a 3.5mm headphone jack, and the Surface Connect connection are all found on the model.
Ports

The right side of the Surface Pro 8 has a power button, two Thunderbolt 4 USB-C connectors, and a Surface Connect port. On the left side, you'll discover volume controls and a 3.5mm headphone connector. Monitors, external hard drives, and GPUs can all be connected to the Surface Pro 8. If you want to play games, you'll want to take advantage of the latter option. The lack of ports may appear to be a drawback at first, but in reality, the two USB-C ports and the Surface Connect port are all that's needed for everyday use. You may pair gadgets like mice or any number of Bluetooth gaming controllers with Bluetooth connectivity.
A Surface Pro Signature or Surface Pro X keyboard can be snapped to the device's bottom to free up USB-C ports. It does lack the Surface Pro 7's USB 3.0 Type-A port. However, that's alright because it's a tablet after all.
Display
The Surface Pro 8 includes a 13-inch PixelSense touchscreen display with a resolution of 2880 x 1920 pixels and a refresh rate of 120Hz. The resolution lies in the midst of 1440p and 4K, but it's stunning on a 13-inch monitor. Dolby Vision and Adaptive Colour technologies are also included. The display has an average brightness of 452.8 nits and reaches 444 nits at the centre of the screen. Both bright and poorly illuminated areas produce crisp images. The screen reaches 103.7 per cent of the sRGB colour spectrum and 71.9 per cent of the DCI-P3 colour range, according to our colourimeter. This is especially crucial for a device like the Surface Pro 8, which is popular among artists who rely on colour accuracy to complete their work.
In streaming videos and video games, colours pop and minute details are simple to see. This isn't a gaming gadget, but once you've used a high-refresh display for regular computing, you won't want to go back.
Audio
The speakers of the Surface Pro 8 are hidden beneath the top bezel. While the audio on the Surface Pro 8 isn't particularly outstanding, it is adequate for this type of tablet. The audio is crisp and clear when the volume is kept below 75%. Whether it's a YouTube video or a video game with loud explosions and soundtrack, this is true. The bass isn't bad, but it's not great either. When it's turned to maximum, the audio quality drops, and everything becomes a confusing mess. In most cases, keeping the audio volume between 50 and 75 per cent is sufficient.
Performance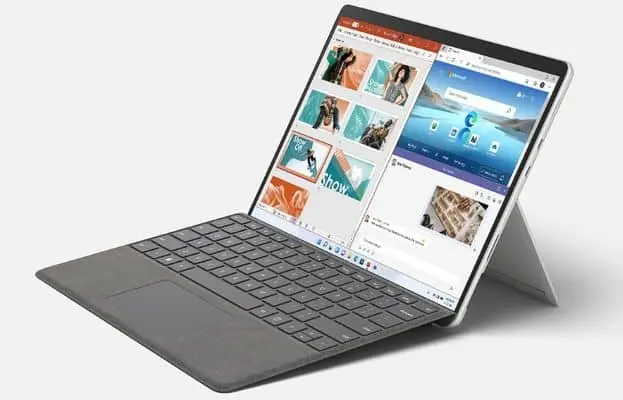 The Surface Pro 8 never slows down, whether you browse the web, watch YouTube videos, or listen to Spotify. The 2-on-1's excellent performance is undoubtedly due to the built-in Windows 11 operating system. Unfortunately, gaming on the Surface 8 Pro is not that enjoyable. The games struggle to attain 30 frames per second right away (FPS). Only by dropping the resolution to 1440p and setting all graphics to the medium, you can achieve a consistent 60 frames per second. While the Surface Pro 8 is great for regular work, it falls short when it comes to gaming. With a device as portable, finding the right mix between performance and portability is always a challenge.
You want it to be quick, but you don't want to overwork it to the point where the battery drains and it becomes too hot to manage. Microsoft appears to have put a lot of effort into re-engineering the Surface Pro 8's internals. It also allows Microsoft to design the processor with a greater TDP than previous versions of the tablet, increasing it to 23W from 15W on the Surface Pro 7. The Surface Pro 8 is approximately 50% faster than the Surface Pro 7. Even if the Surface Pro 8 uses integrated Xe graphics instead of the dedicated Nvidia RTX A2000, it can't compete in terms of graphics. If you are just looking for CPU performance, there is no reason to go for the Surface Laptop Studio over the Surface Go 8.
Battery life
Based on average usage at 150 nits with auto-brightness and adaptive colour deactivated, Microsoft claims the Surface 8 Pro battery lasts up to 16 hours. By continuously surfing the web for 9 hours, 6 minutes, and 33 seconds (at 60Hz), the tablet lasts for 9 hours, 6 minutes, and 33 seconds (at 60Hz). Gaming, of course, consumes most of the battery life. The Surface Pro 7's battery life was one of its main flaws, lasting only 3 hours and 12 minutes. However, the Surface Pro 8 smashes that, making this a device you can use all day without needing to charge. This is most likely owing to Microsoft's choice to follow Intel's Evo program and set the display's refresh rate to 60Hz by default. Because of the Surface Pro 8's portability, it's reassuring to know it won't run out of charge quickly.
Webcam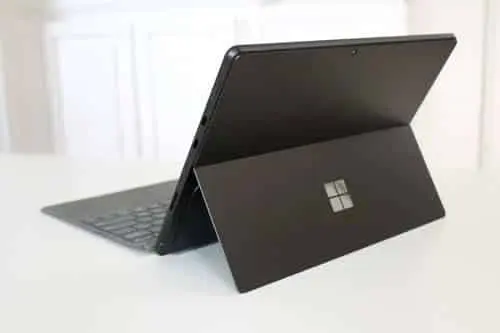 The Surface Pro 8 has a 5MP front-facing camera, just like its predecessor. If you take shots anyplace with acceptable lighting, the camera creates images with a lot of detail. Even in less-than-ideal lighting conditions, the camera generates a crisp image. For virtual meetings, the front-facing camera is ideal. As long as the lighting in your room isn't too dim, people will be able to see you clearly. The rear-facing 10MP camera outperforms the front-facing camera. You will not be dissatisfied whether you use the front or rear camera. The front-facing camera is also compatible with Windows Hello, so you can use it to log in. The rear camera is not as excellent as the camera on your phone. However, it'll suffice to snap a quick photo if you don't have your phone with you.
Microphone
The microphone is also excellent, especially given the size of the device. Your speech will be crystal clear with no distortion. Also, the tablet filters out background noise so well that you don't even need to use headphones during calls.
Software
The Surface Pro 8's screen is devoid of bloatware except for the recycle bin and Microsoft Edge. The main point is that the Surface Pro 8 comes with Windows 11. It will provide many users with their first hands-on encounter with Microsoft's latest operating system. It's ideal for the Surface Pro 8 because of Windows 11's touch-friendly interface. It is easy to use all of the new features and apps. One of the best features of any Surface device is that it comes with a clean install of Windows 11, free of any bloatware. You won't receive any unwanted pop-ups or useless programmes appearing for no reason. Although, it's only until you install them yourself. This is because Microsoft installs a completely clean version of the operating system.
Heat
When in tablet form, the Surface Pro 8 feels cool to the touch, especially around the kickstand, which has the SSD. When not in use, the fans are silent. Although, when playing games, they whirr loudly. They become so loud that the game's audio is drowned out. Moreover, the gadget gets quite hot when gaming. So, it is recommended to place it on a desk if you are using it for gaming.
Surface Slim Pen 2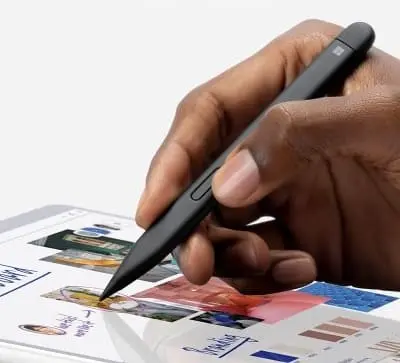 The Surface Slim Pen 2 and Surface Pro Signature keyboard, both optional, are required to get the most out of the Surface Pro 8. The Surface Slim Pen 2 has haptic motors that make it seem like you're writing or sketching on paper. Although digital artists are unlikely to swap their Wacom tablets for a Surface Pro 8, Microsoft's tablet isn't a bad tool for them to utilise. The pen isn't as sensitive, but it's better than writing or drawing with your fingers.
Surface Pro Signature keyboard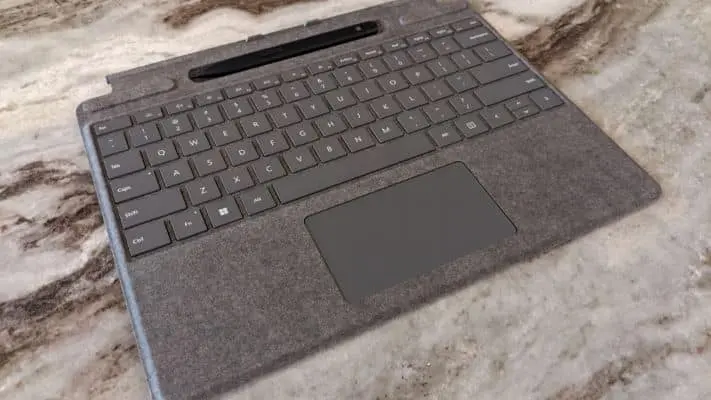 The built-in keyboard on the screen isn't much of a deal-breaker. It's quick, responsive, and doesn't take up a lot of screen real estate. Nonetheless, most people prefer the attachable keyboard. When pressed, keystrokes generate a pleasing click. The Signature keyboard doubles as a screen cover and charges the Slim Pen 2 wirelessly. The fact that these accessories are supplied separately is their biggest disadvantage. Even if you choose the $999 Surface Pro 8, the extra $129 for the Surface Slim Pen 2 and $179 for the keyboard is a pain. The tablet should have come with these two essential tools.
What you would like?
Good for artists– The Surface Pro 8 is still a great choice for illustrators, graphic designers, and other creative types, especially when paired with the Surface Pen. This is a must-have item for any travelling artist.
Windows 11 experience– With Windows 11 having just been released, there will be a slew of new devices running the new operating system, but none will be as pure as the Surface Pro 8. This is exactly how Microsoft's operating system is supposed to be used.
Ultimate 2-in-1– While there are several 2-in-1 laptops on the market, this is the best Windows tablet that can also be used as a laptop, especially if you pair it with the Type Cover.
What you might not like?
Expensive– The predecessor wasn't cheap, but the Surface Pro 8 is even more so. The prices start at $1,099. It's worthwhile, however for those on a tighter budget, this may not be the best choice.
Accessories sold separately– The Type Cover and the Surface Pen are vital to the Surface Pro 8 experience. However, you'll have to pay hundreds of dollars for all of the accessories, which adds to the Surface Pro 8's already high price.
Using it mostly as a laptop– While the Type Cover is quite pleasant to type on, the Surface Pro 8 isn't the most comfortable tablet to use on your lap.
Conclusion
The Microsoft Surface Pro 8 seems like a next-generation gadget as the recent in Microsoft's 2-in-1 series. Watching videos on it is a joy with its excellent display quality. When browsing the web, video chatting, or conducting other common operations, the strong CPU assures that you will not notice substantial slowness. Windows 11 also feels as if it was designed specifically for the device. The Surface 8 Pro's gaming performance is lacking, and the battery life isn't as long as Microsoft advertises. The Surface Slim Pen 2 and Surface Pro accessories are excellent companions to the tablet. However, they are sold separately and add to the already expensive price of the tablet. The Microsoft Surface Pro 8 is a good 2-in-1 Windows 11 tablet with all the improvements over the Surface Pro 7.
Are you planning to buy the Microsoft Surface Pro 8? Tell us in the comments section below.
Read More!