Sonos has launched its first portable speaker that you can carry everywhere. It's not just your typical Bluetooth speaker but has more things to offer. If you are planning to buy it, here is a review on Sonos Move for you.
Sonos Move
Sonos has a smart speaker for almost any situation. There's the Beam soundbar, as well as the Playbase speaker and TV stand, which are all designed to improve your viewing experience. There are even more speakers for you to choose from. However, Sonos lacked an outdoor speaker for years. That changed with the arrival of Sonos Move, the company's first portable Bluetooth speaker. The Sonos Move has Bluetooth on-the-go play as well as Wi-Fi integration with a multi-room networked speaker system. As a result, it has the majority of the capabilities of a standard Sonos, as well as the ability to detach it from a power supply owing to an internal battery.
There has been a new and improved Sonos Move since its launch, with improved battery life and an extra hour of charge. There's also a new Lunar White version of the Sonos Move, which offers the portable speaker a white/silver new design.
Price and Availability
On September 24, 2019, the Sonos Move went on sale. You can get it for $399 / £399. That is quite costly for a portable speaker, but this isn't your typical Bluetooth speaker. Few portable speakers, even those with built-in smart assistants, have as extensive a feature set as the Sonos Move, allowing for a premium price tag to be justified.
Design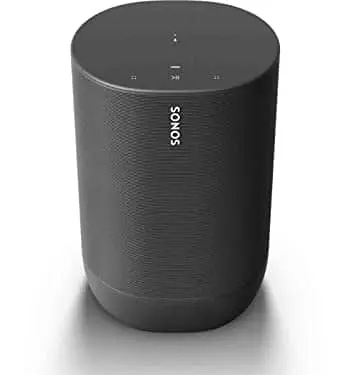 The Sonos Move is designed in the same manner as other Sonos speakers. The speaker is black with a metal front grille and capacitive playback control buttons along the top, as well as four far-field microphones. A power button, a Bluetooth / Wi-Fi toggle button, and a multi-room pairing button are on the back of the device. Two Class-D digital amplifiers, one downward-firing tweeter for highs, and one mid-woofer embedded into the cabinet for mid-range and bass are used in Sonos Move's audio system. Sonos designed the cutaway enclosure to be resonant and balanced from all sides. It has been thoroughly tested for durability as a portable product. Sonos boasts that the Move can survive extremes of cold and heat.
It's portable, but not small, with dimensions of 240 x 160 x 126 mm. You can easily hoist the Sonos Move, which weighs close to 3kg. However, you wouldn't want to carry it around for too long. The huge driver magnets in place here necessitate this, and it's a fair exchange considering the audio quality that's produced. The case features a concave handle gap on the back to allow carrying it around a little simpler.
Smart features
Sonos has a long history of linked and wireless audio. The Move, like other Sonos speakers, maybe set up as a stereo pair or as part of a multi-room system. The Move can play the same tracks in the garden that are playing on your Sonos system elsewhere in the house without missing a beat. Moreover, it is compatible with a wide range of linked audio sources, both online and locally stored. Simply open the Sonos app and connect to the internet, and all of your sources will show over Wi-Fi. When you're out of range of a Wi-Fi connection, you may rely on Bluetooth. Although, the company hasn't specified the range of its Bluetooth or Wi-Fi connections. The Move has four Wi-Fi antennae placed around the base, with the Bluetooth module on top to provide optimum coverage. Moreover, AirPlay 2 is also supported.
The array of mics on the top serves a dual purpose. It gives you the option of using either Amazon Alexa or Google Assistant and other being acting as a voice-powered jukebox. The microphones and smart assistant coupling work beautifully. It can easily pick up your requests even across a noisy office. The mics are also at the part of the audio-tweaking mechanism known as 'Trueplay.' They analyse the Sonos Move's output and how its surroundings affect it. Then change it automatically to get it closer to the studio sound. Moreover, it recognises when the Sonos Move has moved with the accelerometer that detects movement and initiates the TruePlay system's modifications.
Is Sonos Move waterproof?
The Sonos Move is not water-resistant. The speaker has an IP56 designation. And, according to the company, this makes it "weatherproof". Thus, it should withstand a few rainstorms if you forget to bring it in from the yard.
Audio performance
The Sonos Move does not have the appearance of a portable speaker. If you're familiar with the Sonos home audio system, this would fall between the Sonos One and the Play:5, not only in terms of volume but also in terms of fidelity. Even when competing with the acoustics of wide-open space, the mid-range driver delivers a powerful and space-filling low end. It does so without any loss of vocal clarity that can occur with poorer portable speakers. The Sonos Move is a perfect match for the Sonos home system, but with the added benefit of a battery. The Sonos Move manages what few other Bluetooth speakers can. It gives you tight and snappy bass, shimmering highs, and a melodic vocal that slices through it all with straight clarity. Moreover, the Sonos app's EQ features let you adjust the treble and bass settings.
The TruePlay technology kicks on when the speaker is intended to be moved around (and outside) the house, in different acoustic environments. It's also quite good at altering the audio output to fit diverse situations. The speaker also performs admirably in the vast outdoors. Given the size of the Sonos Move, it's difficult to see an owner using it outside of their own backyard, but there's enough power here to easily fill a (small) field.
Self-calibration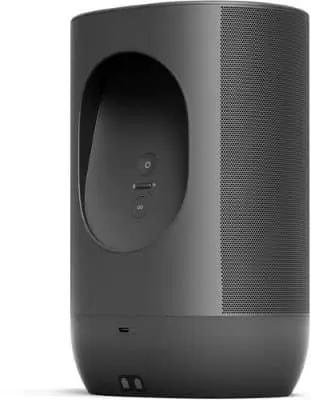 The Move can be tuned for various locations using Sonos' new Trueplay tuning technology. It allows the speaker to tune itself based on its surroundings, whether it's a tiny or large room or in the midst of a field. The speaker does all of the work with the new autotuning feature. Google Assistant and Amazon Alexa, like other voice-enabled Sonos products, are built-in. However, they only work when the speaker is connected to Wi-Fi and not in Bluetooth mode. Unfortunately, despite having a four-far-field microphone array to respond to your voice commands, the speaker cannot be utilised as a speakerphone while in Bluetooth mode. Some competitors in the market might give you sound with strong bass, but the Sonos Move is better for an extended listening session.
Connect to Android or iOS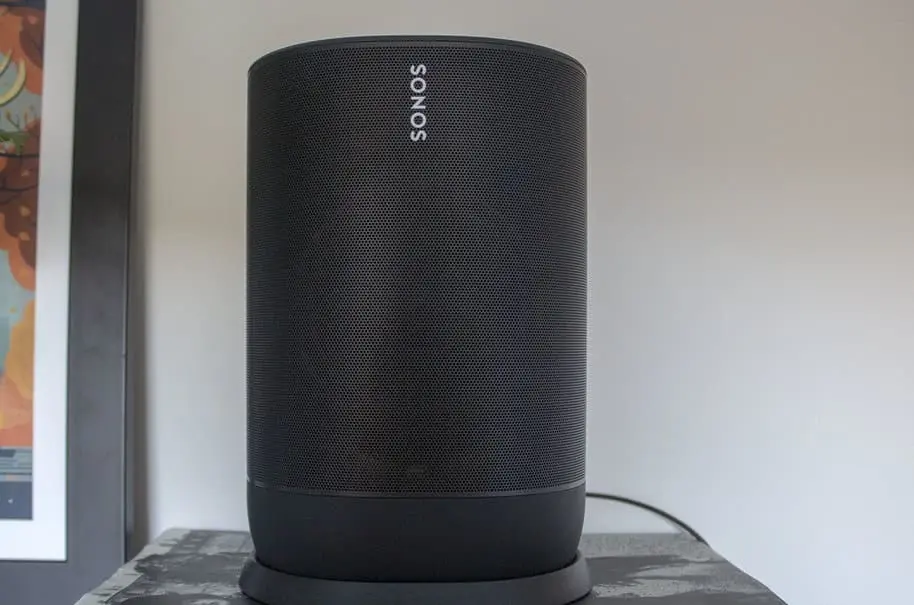 While the Sonos Move may connect through Bluetooth, most people might choose the Wi-Fi connection because that's what Sonos is renowned for. Sonos is best when you're on Wi-Fi, whether you're adding the speaker to an existing environment or starting with the Move. The range is significantly longer than Bluetooth, and the speaker does not require audio from your source device. Instead, the audio is downloaded directly from the internet. However, you'll need the Sonos app to take advantage of this. Not only the app leads you through connecting the speaker to your Wi-Fi step by step, but it also seamlessly interacts with your preferred music streaming service. It's accessible on both Android and iOS, and the process is nearly the same on both.
The app prompts you to choose the speaker you want to set up as soon as you open it. It then guides you through the process of connecting to your wireless network. After you've connected your speaker properly, you can start adding streaming providers. Logging in with your streaming account will give you entire access to your library and all playlists. The app serves as a centre for all of your audio content. The Sonos Move is also AirPlay 2 compatible, so you can use it while you're in your favourite app. There isn't much to see here in terms of Bluetooth codecs. SBC, which is the standard codec for all Bluetooth devices, and AAC, which is great for iOS users but can be an issue for Android users, are the only options.
Does the Sonos Move have Dolby Atmos?
Unfortunately, the Sonos Move does not support Dolby Atmos. Sonos is well-known in the home theatre world for not supporting Dolby Atmos. However, if you're looking for a Sonos product that supports Atmos, you can check out the recently introduced Sonos Arc.
Connect to the TV
Although you can connect it to your TV, it isn't as straightforward as you might think. Connecting the Sonos Move to your TV via Bluetooth is the only way to do it. The issue is that it is dependent on your television. You may not be able to select a Bluetooth speaker as an output on all televisions. Some TVs do, however, allow you to select a Bluetooth speaker as an output option. Moreover, even if your TV supports Bluetooth audio, due to audio lag over Bluetooth, it may not be the optimal experience. If you don't want to use Bluetooth, the only other option for connecting the Sonos Move to your TV is to link it to an existing Sonos ecosystem.
Amazon Alexa
You can even use the Sonos Move with Amazon Alexa, but it's not the only virtual assistant the device supports. You may also use your voice to operate the speaker if you connect the Google Assistant. The microphones on the top of the Sonos Move do a better job of identifying speech while music is playing. Moreover, you can even turn them off when you're not using them. You can then unmute the microphones and use them as they were meant to be used. You can use the voice assistant to skip songs, play albums, set timers, and more.
Battery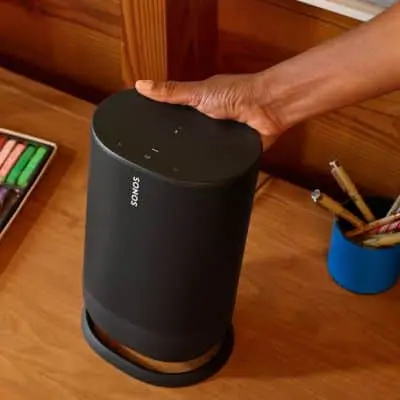 When not docked on the charging cradle, Sonos claims a battery life of 10 hours of continuous listening. While testing, it lasted for 6 hours and 24 minutes of continuous playback. This is good if you're not planning on being out all day. Moreover, when the output is set to maximum volume, the battery won't last that long. If you're heading out for the day and want to take the Sonos Move with you, it should last long enough for you to put it to good use before coming home. Furthermore, you won't have to pay extra for a charging cradle as the Sonos Move comes with one already installed. You can even charge it with a USB-C cable.
When the Sonos Move senses that it hasn't been used for 30 minutes or more, it goes into standby mode to save power. Thus, allowing it to go up to 5 days without charging while still being able to wake up wirelessly. According to Sonos, battery deterioration will begin after 900 charge cycles or about three years of regular use.
Who is the Sonos Move for?
If you love the Sonos ecosystem, you will enjoy the portable Sonos Move. The Move's portable form factor is appealing to anyone with a flexible budget. However, considering the price, it's difficult to suggest it to anyone looking for a simple Bluetooth speaker. There are plenty of alternatives that won't cost this much.
Conclusion
The Sonos Move offers a lot of versatility in terms of how it may be utilised, from on-the-go portable playing to being part of a multi-room setup at home. Along with portability, the device has good battery life, carrying handles, and durability, making it a complete package. The cost may seem high at first, but what it offers makes up for it. It features a fantastic sound, an IP56 rating that makes it weatherproof, and seamless Wi-Fi networking so you can use it with your other Sonos speakers in the house. This speaker may be ideal for you if you already have a Sonos setup and want a speaker that you can take from the living room and use in the yard. Moreover, the strong Bluetooth connection allows you to listen to music even if you're not connected to the internet at home.
Which is your favorite Bluetooth speaker? Tell us in the comments section below.
Read More!