Nowadays, there are practically hundreds of various earphones to pick from. Whether shopping locally or scanning Amazon for a reasonable price, you're bound to be overwhelmed by the number of alternatives available. Amazon is brimming with low-cost earbuds, making it simple to pick a pair that fits your budget. This, however, does not make the search any simpler. TOZO A1 Mini is ultra-lightweight & suitable for those with tiny ears. TOZO's A1 earphones' surface and angle have been polished and tuned continuously to balance beauty & comfort as well as make it very comfortable to use. A single earbud weighs only 3.7 grams, making it as light as a feather & discrete in the ear, as opposed to other earbuds that may be difficult to use.
What will you see here?
Design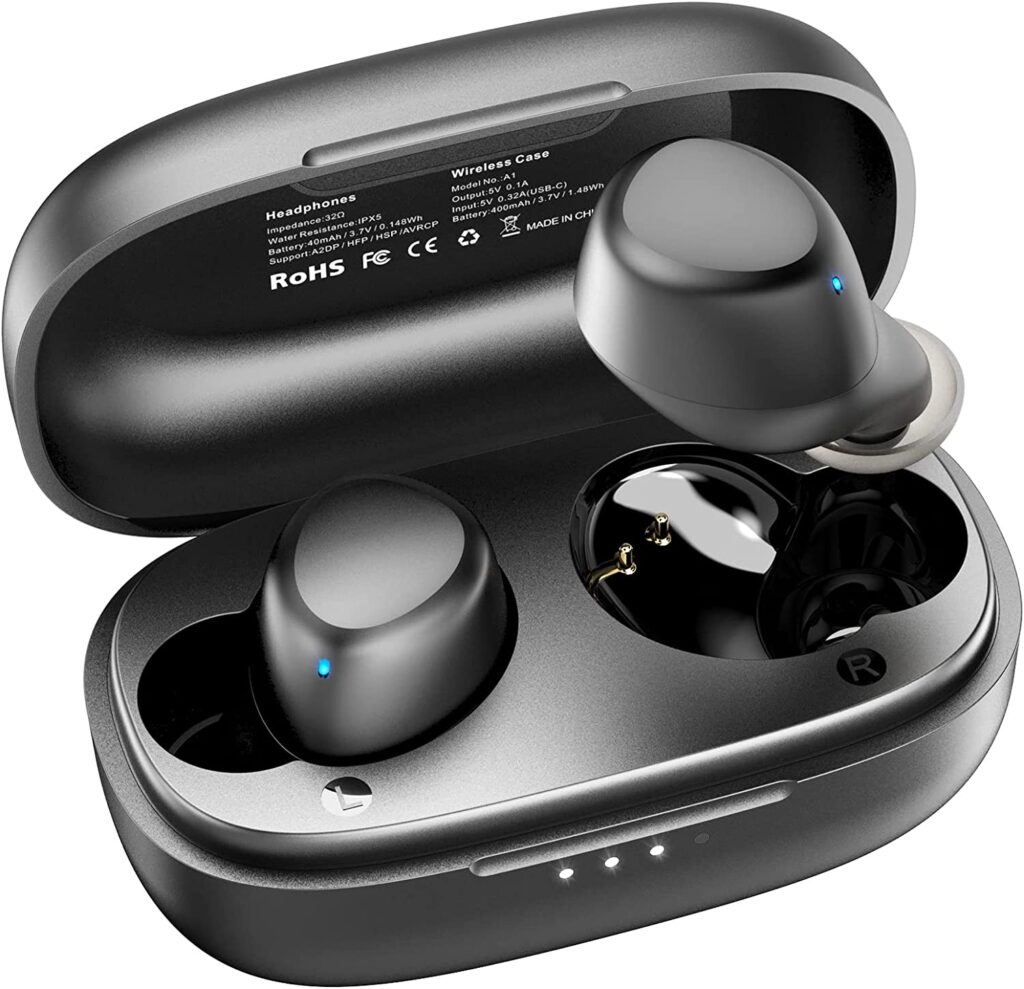 The TOZO A1 Mini Wireless Earbuds have a basic matte-black finish and a simplistic design. Their lightweight design distinguishes them from the competition. Each earbud weighs about 3.7 grams, making them exceptionally "miniature" compared to others. A charging case, two earphones, a USB-C charging cable, and both big & medium silicone tips are included in the box.
The case serves as a cradle for the earphones while not in use, but it also serves as a convenient charging station. When you insert the earphones into the case, the internal battery transfers energy life to each earpiece. This keeps the buds charged & ready to use whenever you need them.
When you first hold the earphones in your hands, it's clear that these are "tiny" earbuds. Simply said, they are pretty minor. This is excellent for most circumstances. However, it may make them more challenging to lose. Unless you're actively using them, keeping them in the charging case is a good idea.
Comfort And Fit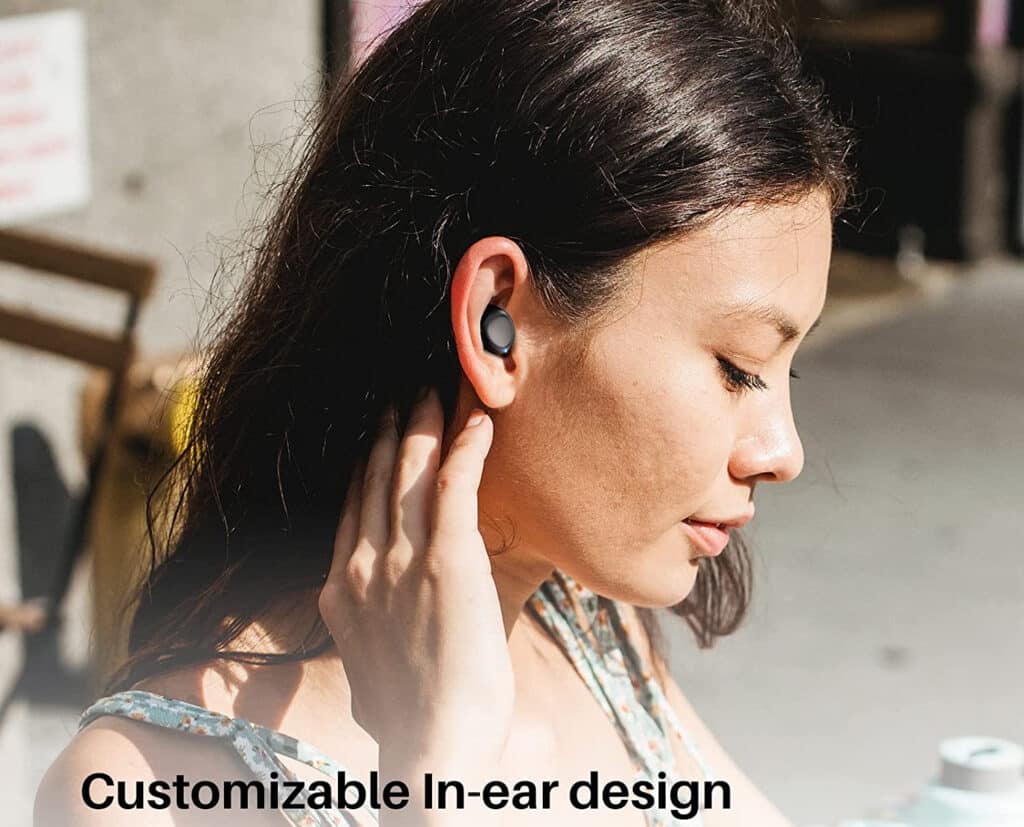 With its ergonomic shape, you get comfortable and secure-fitting earphones that don't protrude from your ears, which is especially useful when playing sports or working out. Having wireless earphones that just nestle against the outer ear to stay in place makes one anxious. It seems like they may fall out at any time, which is especially bad if you want to perform any type of exercise while wearing your headphones. The A1 is promoted with an IPX5 rating against variable water splashing or wetness.
You could take the tips off when charging them, and they might probably fit someplace in the case, but what type of masochist will be OK with constantly putting tips on and off the earbuds? They must place them in the case.
Furthermore, there were no irritating pressure spots to be found. They appear to fit within your ear without protruding out due to their small size. Some earphones tend to protrude. However, these do not. These earbuds do not fit inside the charging/carrying case with regular-sized replacement tips – they cannot snap-connect with the magnetic earbud charges, nor can the case entirely shut.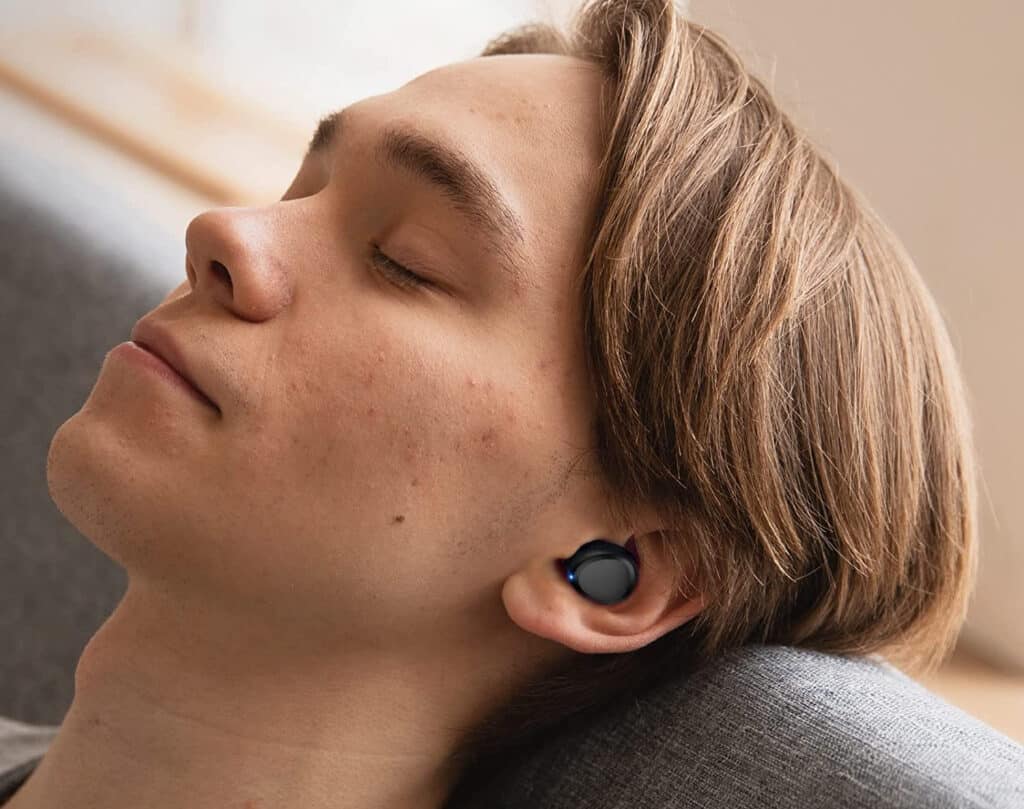 Sound Quality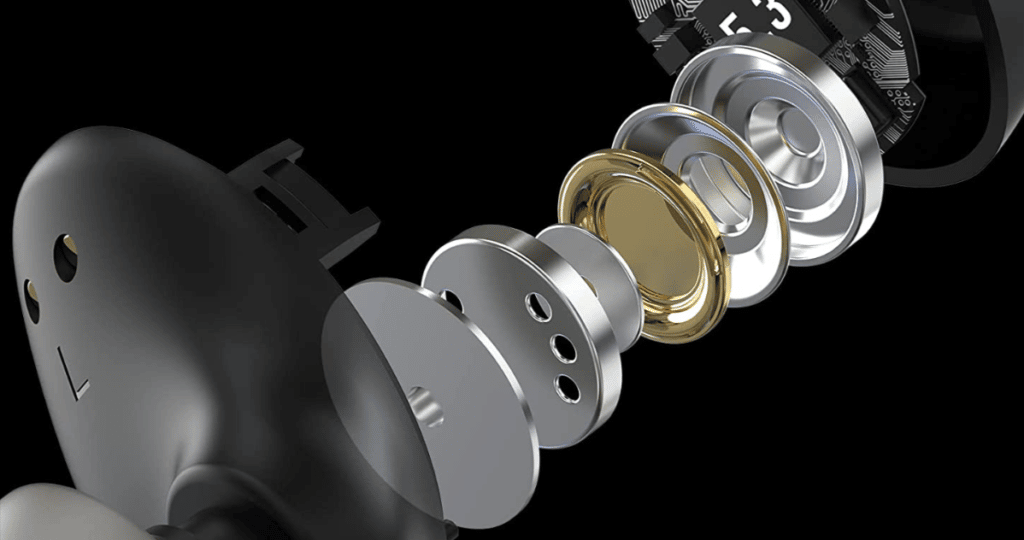 These earbuds also have a 6-millimeter speaker with a rich and vast sound spectrum, making the treble lively and the bass forceful. It also contains a sophisticated Bluetooth chip, which makes the music produced by the earbuds more attractive and pleasant, making it ideal for use when working at home. Its Bluetooth 5.0 & long-distance connection provide exceptional sound quality and a robust signal, ensuring that the user does not encounter disconnection when listening to music or making phone conversations.
These little wireless earbuds look to perform an excellent job and provide adequate sound quality for the price. The highs and mids are excellent and clear, with no buzzing or other background sounds. The bass is underpowered and not as forceful as it should be. However, you cannot anticipate everything to be good at this price.
At a moderate volume, the mic quality is adequate. The voice on the other end may be heard without distortion. Despite the absence of ANC tech, the A1's built-in microphone captures sounds well without being inaudible or unpleasant.
Durability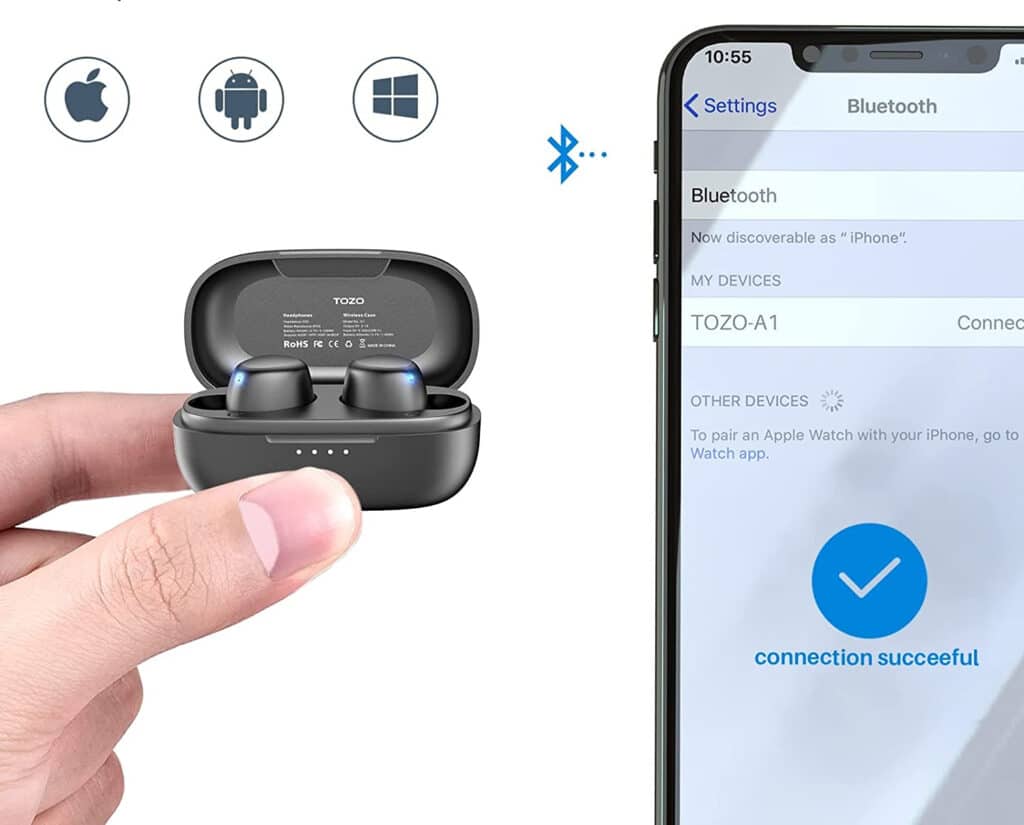 The TOZO A1 earphones are so light in your hand that they don't exactly scream "durable." However, it's lovely to note that they're water resistant to IPX5 standards. This IP classification means that the earbuds can be sprayed with water & exposed to moisture, but they should never be immersed in water. In reality, the A1 mini is nano-coated and inherently repels water and moisture. This implies that sweat, rain, snow, and other liquids will not be a problem if you use the earphones outside or indoors during a sweaty gym session.
However, the charging case requires further attention. Because it is not certified for water resistance, you must avoid exposing it to any situation where it may become wet. If you don't want the case damaged, leave it at home, in your car, or your pocket.
Realistically, the earphones' and charging case's durability is sufficient and in line with what we anticipate in this price range.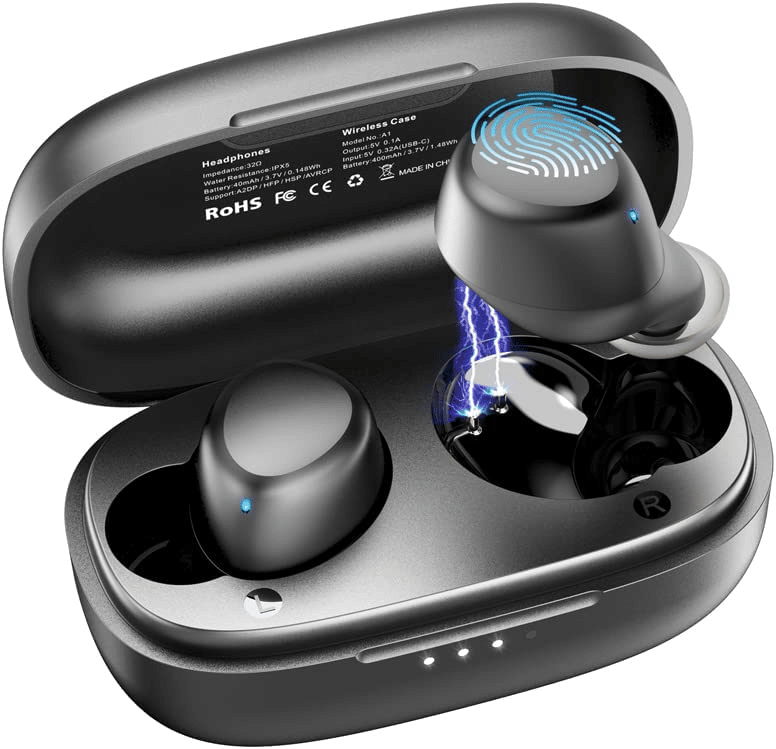 Battery life
The TOZO Mini A1 earphones come with three different batteries. First, the shell has a 400 mAh lithium battery that can charge each earbud 3 times. Then there's the 40 mAh lithium battery in each earpiece, which lasts 6 hours. In general, charge the case with the provided USB-C cable before inserting the earphones to charge them independently.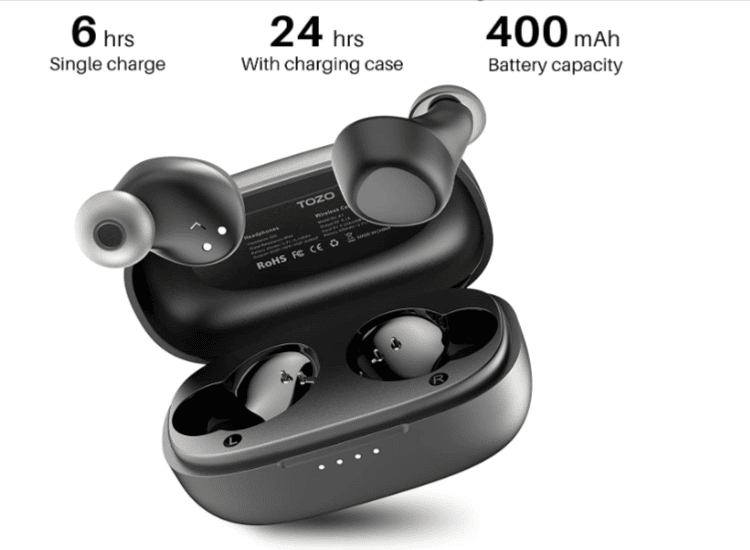 Overall, it looks that the battery life is near the promised amount. In most regards, the battery life of the A1 earphones appears to be "middle of the road." It's not very spectacular, but it's also not utterly disappointing. In truth, various things influence battery life. The ambient temperature, volume level, and longevity are all direct variables of actual battery life that must be considered. At room temperature and 60% loudness, each earbud lasts around 4-5 hours, which is 10-20% shorter than the promised battery life. We got 6 hours out of a single full charge in one case. The earphones were utilized inside at 75 degrees & 50% loudness in this case.
Generally, the battery life appears to be close to the promised value. In most ways, the A1 mini earbuds appear to have a "middle of the road" battery life. It's not very spectacular, but it's also not particularly disappointing.
Are TOZO earbuds worth it?
These earphones are of incredible quality at an incredible bargain. They offer excellent sound quality and are comfy. Because my ears are little, it's tough to find comfortable earbuds. However, these are fantastic and come in four different sizes to fit all ears. These earphones are of incredible quality at an incredible bargain.
Where was TOZO formed?
TOZO was formed in 2015 in Seattle, Washington, USA. TOZO is primarily concerned with designing, producing, and selling smart accessories.
Conclusion
TOZO A1 Mini Wireless Earbuds have a lot to like and very little to dislike. They're easy to wear, easy to handle and have a reasonable level of durability. The sound quality is adequate. Simply put, they will not perform as well as a pair that costs twice or 3 times as much. However, given the price, it's difficult to find another pair of small earbuds that provide this level of value.
The A1 earbuds are a fantastic value and offer the best bang for your money in this price range. They're basic, straightforward to use, and effective in most situations.
Read More: