The Spin 713 is much more than a netbook, and Chrome OS is no longer just a browser. It's one of the greatest laptops in the category and a great laptop overall.
Although the new Chromebook Spin 713 appears nearly identical to its predecessor, Intel collaborated with Acer to make it the first Chromebook to be certified for Intel's Evo platform. What exactly does that imply? Performance, battery life, responsiveness, and wireless and wired connections are just a few of the requirements for an Evo-verified laptop. In other words, it's almost a given that your laptop will provide you with the finest mobile experience, and now you can have that experience on a Chromebook.
The greatest Chromebooks, like the best Windows and macOS laptops, have superior components, and better components cost more money. For those used to lesser Chromebooks that can handle much of what you can do with Chrome, the $699 Chromebook Spin 713 will come as a shock. However, this is a high-end Chromebook that provides an excellent user experience and is well worth the additional cost due to its performance and durability.
Performance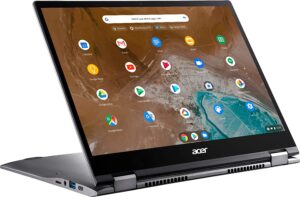 With a 2.4-GHz Intel Core i5-1135G7 processor, 8GB of RAM, a 256GB PCIe NVMe SSD, and Intel Iris Xe graphics, the Spin 713 delivered a strong performance. It had no trouble running 22 Google Chrome tabs at once, including a Zoom chat, a YouTube video, several web pages, and Google Docs and Sheets. The fan did kick on after a while, but it never seemed sluggish.
The Spin 713 excels at performance.
The Spin 713 scored 168.88 on the Jetstream 2 browser speed test, which is significantly higher than the 109.09 Chromebook average. The Galaxy Chromebook 2 scored 103.74, whereas the Chromebook Duet scored only 31.89.
When playing demanding Android apps like Real Racing 3 and Genshin Impact. The Spin 713's integrated Intel Iris Xe graphics performance was obvious. There were no symptoms of lag in any of the games.
Display of Acer Chromebook Spin 713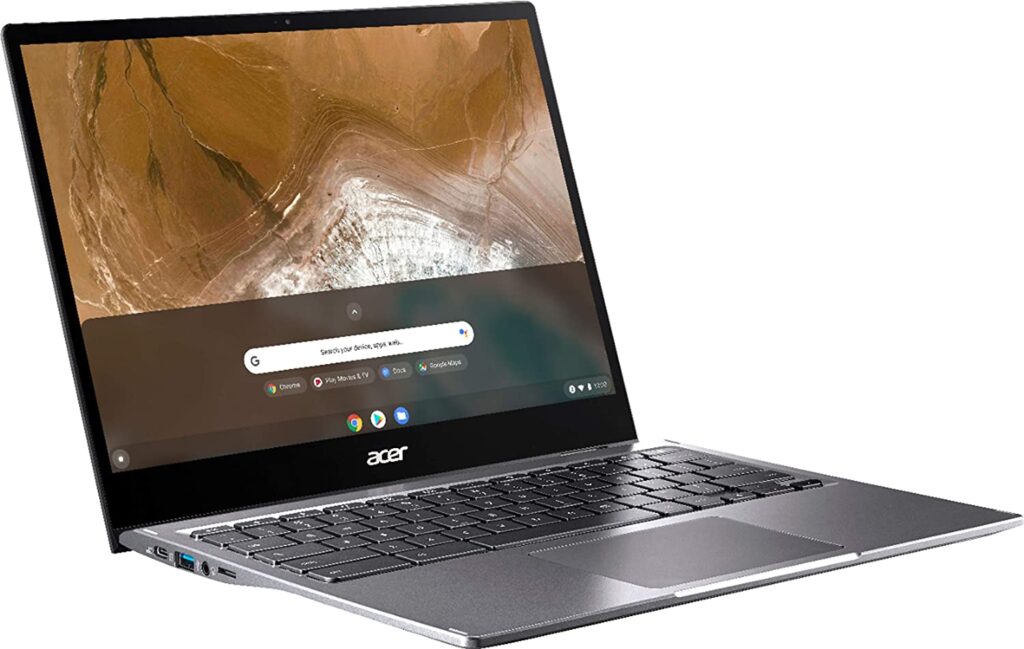 The Acer Chromebook Spin 713 features one of Acer's dazzling VertiView displays. A 13.5-inch touchscreen with a 3:2 aspect ratio and 2,256×1,504 pixels. It gives you an extra vertical workspace. It has the width of a conventional 13.3-inch laptop with a 16:9 ratio. This is ideal if you don't enjoy scrolling up and down all the time.
The Spin 713, on the other hand, is the first Chromebook having Thunderbolt 4 USB-C ports. That is now required for Intel Evo Chromebook verification. Display output, fast data transfers, high-speed networking, rapid charging, and docking stations are all possible with the connectors. The Spin 713 also has an HDMI output, allowing you to connect a display without the use of any adapters or docks.
Design of Acer Chromebook Spin 713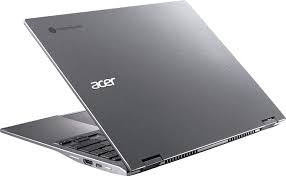 Maybe it's because I'm still thinking about Samsung's Galaxy Chromebook 2, but the Spin 713's general appearance blends in with the rest of the package. It's nice-looking and a safe bet for school and work, but if you're hoping for a little more individuality, this falls short.
A brief fall, on the other hand, is something this Chromebook can handle. The Spin 713 includes a reinforced aluminum body with Mil-Spec certification (MIL-STD -810H) for protection against mild drops, vibration, rain, dust, hot and low temperatures, and humidity, in addition to Corning Gorilla Glass on the touchscreen (and the smooth touchpad). It's a nice touch for a Chromebook that's going to get knocked around a lot. However, at 3 pounds (1.4 kilograms), it is a little heavy for a premium Chromebook. It's also a little thick, especially when folded into a tablet.
Keyboard and Touchpad
The Chiclet-style keys on the Spin 713 are slightly smaller than those on most keyboards. It takes some adjusting, but it isn't a deal-breaker. With good travel, the keys themselves feel adequately springy. The keyboard layout may take some getting used to if you've ever used a Chrome OS device. As the Caps Lock key has been replaced with a Search key, there is no Windows or function key.
The touchpad is a fair size at 4.2 x 3.1 inches, and it's paired with a deeper palm rest area that's pleasant. Because of the greater height on the touchpad, it's ideal for scrolling through stuff. However, I did first encounter some sensitivity, with even a tiny movement of my finger on the touchpad sending the cursor flying to a faraway area of the screen.
Audio of Acer Chromebook Spin 713
At the bottom of the keyboard, the deck is the Spin 713 speakers. When used in laptop mode, the audio is flat and faint. The speakers, on the other hand, sound substantially better in tablet or tent form, becoming both louder and more immersive.
Depending on how the laptop is set, Moonchild's "Money" sounds like two separate tracks. The speech is clear and powerful while using the laptop mode, but the instruments disorganize. Switching to tablet or tent mode, however, allowed me to hear the bass, flute, keyboard, and drums much more clearly.
Conclusion
Its reputation as a near-perfect Chromebook choice precedes it—aside from being a tad overweight, it's a first-class convertible for productivity, creativity, and media enjoyment, with a 3:2-aspect-ratio display that will make you long for the days of 16:9 displays. The Acer isn't inexpensive, but there aren't many Chromebooks that are.
Read more: