Lenovo Tab P11 is a decent tablet for fun and the occasional amount of work. And the stylish cover and keyboard leave nothing to be desired. In reality, the Lenovo Tab P11 falls just short of becoming a terrific tablet. Where things go wrong is with performance that has nothing to do with streaming content. When gaming, the Lenovo Tab P11 struggles, and launching numerous programs might slow it down or force a restart. That's a pity because it's a fantastic all-arounder tablet. Especially with the keyboard and pen so simple to use.
Lenovo Tab P11 tablet is definitely up there with our top suggestions for people looking for a fantastic tablet to lay on the sofa with. The pad also facilitates notetaking and sketching. And the keyboard is ideal for typing long emails. With movable program windows and a taskbar. The Productivity mode seems like you're using a low-powered Windows laptop. And the kickstand is strong enough to put up the tablet at practically any angle.
Price and availability
The Lenovo Tab P11 has 64GB of inbuilt storage that can be expanded up to 1TB. Bluetooth v5. 1, Wi-Fi 802.11, USB charging, A-GPS, Glonass, and Mobile Hotspot are among the connection choices available on the 4G voice calling tablet. its price in the US is $246.55 and in the UK £228.87, you can buy this tab on amazon and its own official site.
Design: Lenovo Tab P11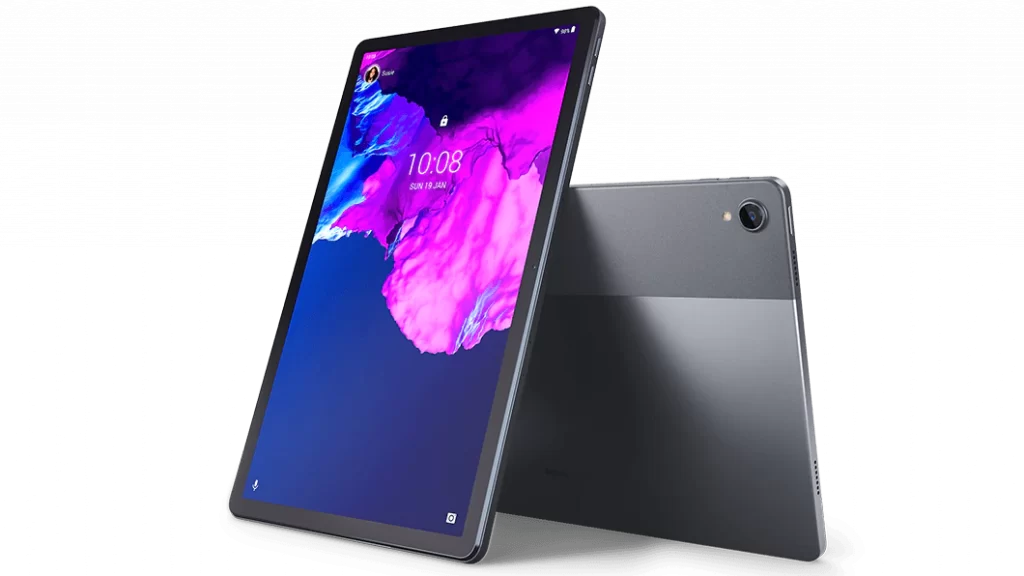 The Tab P11's design is similar to that of any other tablet on the market. But it is improved by the cloth keyboard cover and stand. The grey color creates the impression of carrying a notepad and makes it simple to slide into a backpack or messenger bag on the run. The kickstand attaches easily using magnets and may be adjusted to any angle needed. The Tab P11 has sizes of 258.4 x 163 x 7.5 mm and weighs around 490g.
The keyboard connects to the tablet through magnet connections at the bottom. And directly connects this way. No bothering with Bluetooth connections or charging the keyboard separately. It also protects the tablet when it is not in use.
There is only a single USB-C connector for charging the tablet or connecting USB-C-compatible headphones. Yes, there is no 3.5mm headphone jack here. Which is a really unfortunate omission. So you'll have to use a dongle with your old 3.5mm headphones.
Display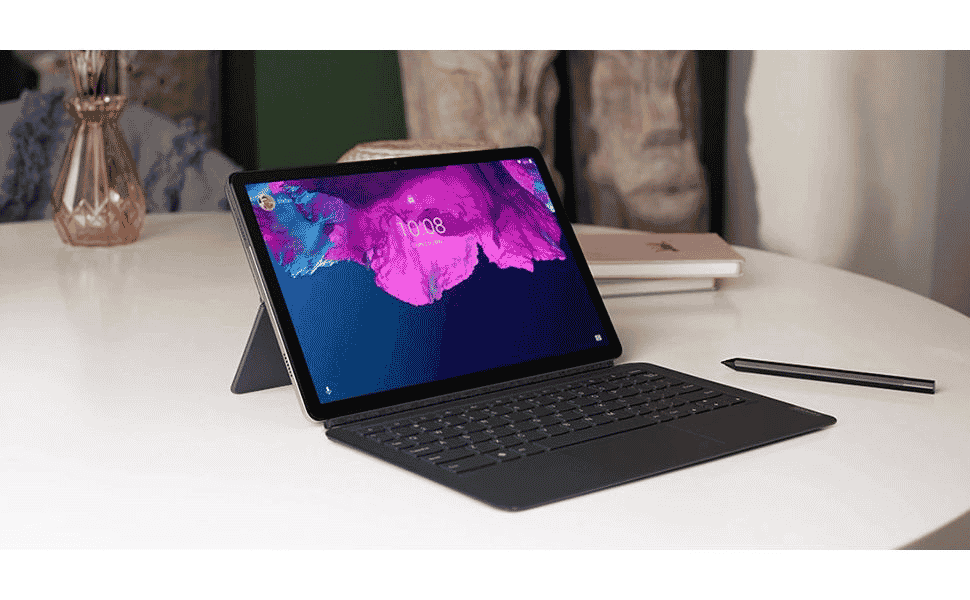 The 11″ IPS screen here has a resolution of 1200 x 2000. This is enough for watching streaming material. The images are nice and clear. And the colors are as vibrant as they can be for a panel of this size.
It's large enough to comfortably watch content, but not so big that you can't hold it with one hand while lying in bed or on the couch. A larger screen would, of course, provide a more imaginative image. But you'd be dealing with something the size of a laptop. Which would be uncomfortable. In size and weight, the Tab P11 is ideal.
The viewing angles of the Tab P11 are fairly fantastic. So you'll be able to enjoy whatever you're watching no matter how stooped over you are in bed. The brightness is acceptable too. However, if you're going to use this tablet outside, you should do it in the shadow. The 60Hz refresh rate places it well behind Samsung and Apple tablets. But if all you're doing is watching Netflix, there's nothing to complain about.
Keyboard and stylus of Lenovo Tab P11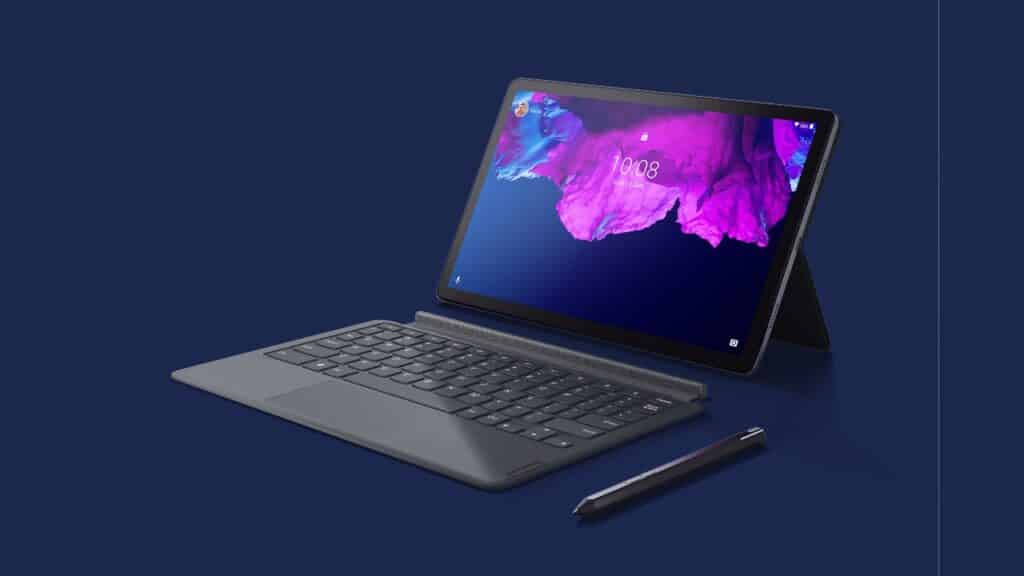 The keyboard cover for the Tab P11 has the benefit of physically connecting to the tablet, trying to make it instantly usable without the need to pair over Bluetooth or power it up. The keys are suitable for speedy typing. But the touchpad is pitifully small and sometimes fails to register taps or button presses. It is faster to just touch or drag items on the screen rather than attempting to use the touchpad for finer control.
The pen (or Lenovo Pen, as it's often known) charges quickly with a USB-C connection. It may be used to return to the home screen. And bring up fast shortcuts to capture screenshots, activate the camera, or take notes when pressed on the Tab P11's screen. It feels solid in the hand and responds to tapping and strokes, making writing and drawing a pleasure. When combined with the kickstand, the Tab P11 may be used as your own personal notepad everywhere you go.
Specs, performance, and camera
The Tab P11 is powered by a Snapdragon 662 CPU, 4GB of RAM, and 128GB of storage. That's OK for now. But you'll probably want to insert a microSD card to store more movies.
We'll be clear about one thing: the Tab P11 is basically a multimedia tablet. So it excels when watching videos from any streaming provider. If you want to pop into Gmail to send a short email or type out a few pages in Microsoft Word, the Tab P11 will do it with ease.
When you try to play games on this tablet or run more than six applications in the background, things start to get difficult. The interface becomes slow, launching apps takes a few seconds longer, and even waking the tablet from sleep mode takes an extra 2-3 seconds for the screen to turn back on. The few simple games installed on the Tab P11 worked fine. But anything more complicated, such as PUBG Mobile or some of the car racing games, began to freeze up and perform poorly.
The speakers are excellent for streaming music or viewing films. And even while holding the tablet with both hands, the audio is not muffled in any way. It's excellent to have this tablet playing music in the kitchen while you're cooking, or even to leave it in your child's bedroom to watch YouTube videos.
The Tab P11's back camera is a 13MP one that is just about enough for taking a few images in well-lit environments. Colors lack imagination, and it adds a lot of noise in low-light situations. The front-facing 8MP camera is good for video calls, although recording speeds are limited to 30 frames per second.
Software:
The Tab P11 runs Android 11 and has been designed to be as productive as possible. The Productivity mode attaches programs to the bottom taskbar. And allows you to swiftly move app windows around or dismiss them for later use. Parents may activate a separate Kid's Space. Which can store many kid accounts to streaming providers as well as kid-friendly apps.
There's also an Entertainment Space. Which can be opened by sliding down on the home screen. This will highlight popular titles from the tablet's streaming services as well as recommend videos from other sources like YouTube.
Battery Life
The Tab P11 offers excellent battery life for streaming hours of material. And can be charged quickly. We got around 12 hours of video playback out of the Tab P11 (Wi-Fi on, 75 percent brightness, Bluetooth off) before it needed to be recharged, and even then, it didn't take long to get back to 100 percent. It only took 2 hours and 47 minutes to charge from 10% to 100%. So you can easily travel through a long-haul journey watching your own material before needing to plug in.
Is Lenovo P11 worthwhile?
The Lenovo Tab P11 Pro wants to be a laptop replacement, an amazing tablet, and more all at once. It flops in some of its purposes. But it succeeds brilliantly in others. This is one of the greatest media tablets on the market now for the price.
Is Lenovo Tab P11 good for students?
The Lenovo Tab P11 is a low-cost entry-level tablet that, while starting at $260. It's a fantastic choice for both regular users and college students.
Does Lenovo Tab P11 have Bluetooth?
The Tab P11 Tablet also includes Bluetooth 5.1 version capability. This tablet is Bluetooth 5.1 compatible, so you may use a universal Bluetooth keyboard with it. This keyboard is offered separately, and we recommend that you confirm compatibility with the universal keyboard maker.
Conclusion
The Tab P11 is ideal for watching hours of YouTube or Netflix video, thanks to its good audio performance and surprisingly brilliant screen. The keyboard and stylus turn the Tab P11 into a good note-taking tablet, but the slow speed means that demanding programs and games will struggle to run properly.
Read more: