The HP DeskJet Plus 4120 is a budget-friendly color printer, scanner, and copier with Wi-Fi. Originally priced at £100, it's now available for a much more appealing £60 in the UK, $100 in Australia, and $99.99 in the US, where it's marketed as the HP DeskJet Plus 4155 and has the same capabilities, as well as Amazon Alexa compatibility.
You may sign up for HP's Instant Ink monthly subscriptions, which will automatically send you new cartridges when you're running low. This is a lot cheaper way to receive ink than buying cartridges manually, depending on how frequently you print. It may be pretty cost-effective.
With a USB cable, you can connect it to a desktop or laptop. But as with many current printers, you can print to the HP DeskJet Plus 4120 from almost any device via Wi-Fi: Android, Windows, iPhone, iPad, and Macs are all compatible.
What will you see here?
Design: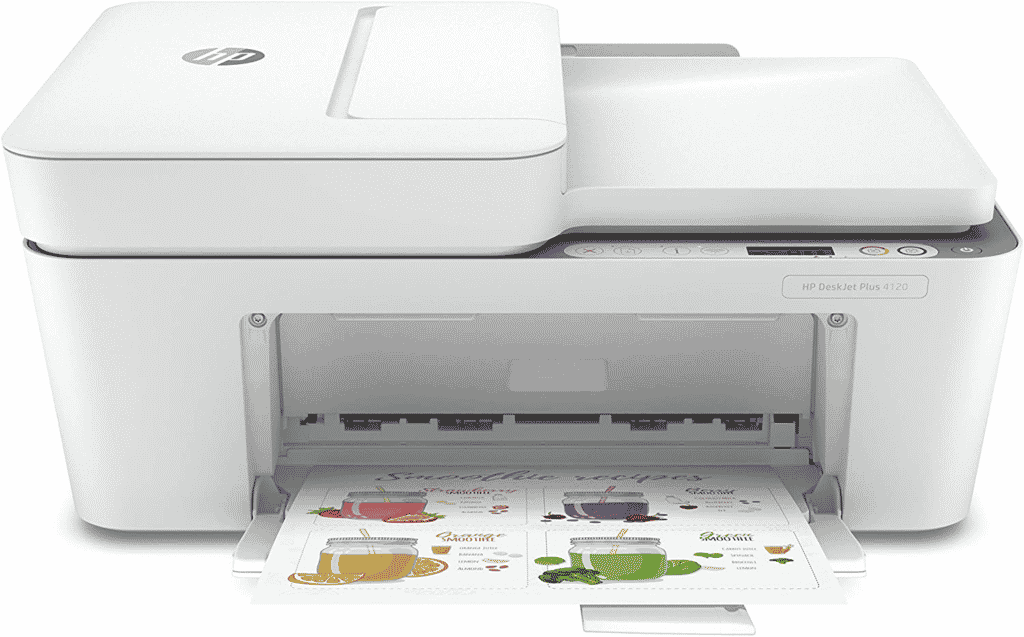 The HP DeskJet Plus 4120 has dimensions of 200 x 428 x 332 mm. The front side of the DeskJet Plus 4120 is tilted forwards, giving it the appearance of a Sandcrawler.
Above the scanner bed, an automated document feeder (ADF) is located. Unlike many all-in-one printers, which have the cartridge cradle accessible by lifting the hood, everything is concealed behind a screen that rests below the main paper out-tray. When it's time to change the cartridges, pull this down and the cradle should whirr into place. Cartridges are easily clipped in and out.
Paper is fed into the rear hopper, which can accommodate up to 60 sheets of A4, while the ADF can handle up to 35 sheets of A4. The out-tray folds down and has an additional arm that extends out to the right. There are indications and markers everywhere, and a big plastic slide in the main hopper aids in precise alignment.
A tiny LCD monitor on the right side allows you to check ink levels quickly, but not much more. You'll use the HP Smart desktop and mobile applications for day-to-day operations, as well as to configure the HP DeskJet Plus 4120.
Setup, apps & wireless printing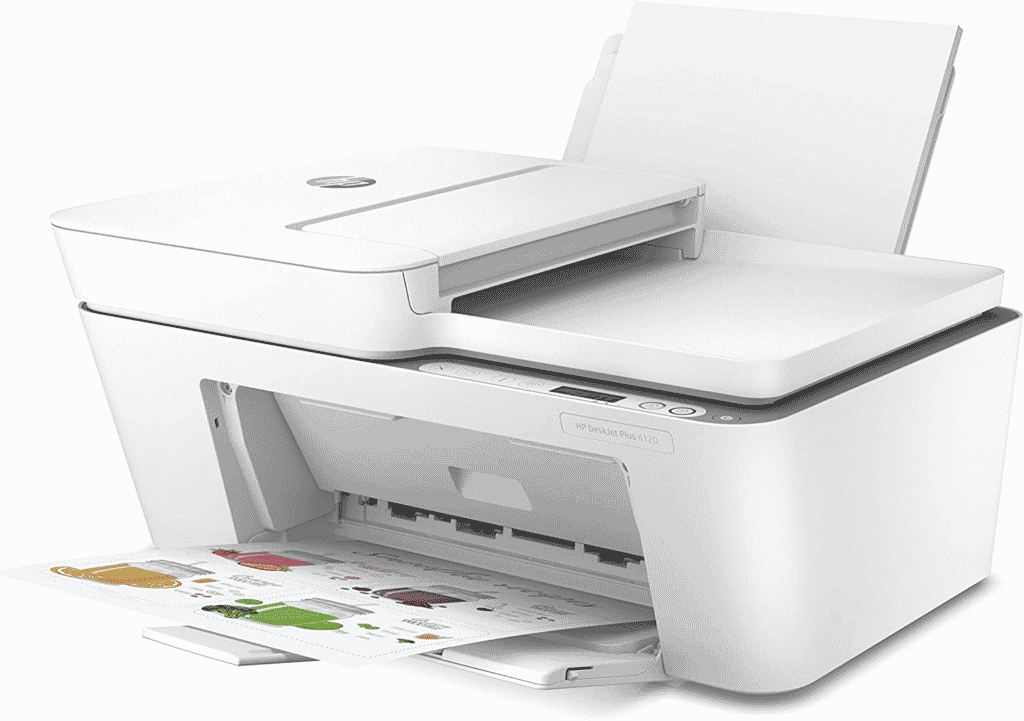 The HP DeskJet Plus 4120 is best configured using the HP Smart software on a Windows or Mac desktop or laptop connected to the printer through a USB connection. Download the app on your device, connect everything, switch on the printer, and wait for the program to recognize it.
This can take some time, so give yourself around 15-20 minutes to complete everything. Once you've completed the setup and linked the printers to your Wi-Fi network, delivering printing to the printer through Wi-Fi is simple.
Windows users may need to install the necessary drivers in order to send print commands to the HP DeskJetPlus 4120. Whereas macOS users will not need to do so because the printer is an Apple AirPrint compatible printer. Also, they can simply add the printer to their list of devices as they normally would. Once HP Smart for iOS and Android is loaded, you'll be able to print from your phones as well. However, AirPrint means the 4120 should appear on an iPhone or iPad without the need for any further software.
Sending print jobs over Wi-Fi is mostly painless, and if you want to put the DeskJetPlus 4120 in a nook where the Wi-Fi signal isn't the best. It might be time to invest in a new Wi-Fi router or a mesh Wi-Fi system.
Both mobile applications allow you to print files from cloud services, albeit the iOS version presently supports a broader range of names – Google Drive, Google Photos, Evernote, Dropbox, Facebook, Box, and iCloud vs. Google Drive, Google Photos, Dropbox, and Facebook support on the Android app.
Performance: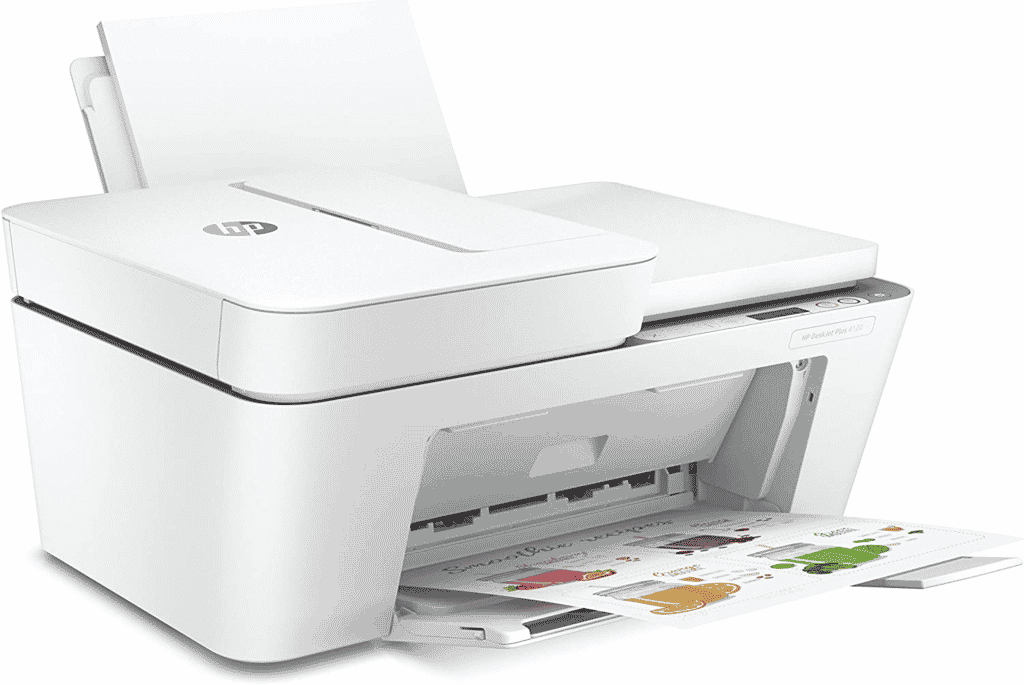 The DeskJet Plus 4120 is a fast printer. When printed in plain text, the official spec sheet guarantees 8.5 pages per minute, and in my tests, it really did a bit better.
On Normal quality, the text was decent but not spectacular. Serifs were occasionally blurry. Also, there was some bleed on letters like 'k,' 'x,' and 'w.' Quality is only really decent on Best. Which takes more ink and requires you to wait a little longer for pages to appear.
Fortunately, the visuals and pictures are equally excellent, with large blocks of color on bar graphs, logos, and infographics appearing bright and strong. Even on plain paper, skin tones seem realistic, and images published on glossies look wonderful.
Running costs:
The HP DeskJetPlus 4120 costs nearly as much to operate as many printers in this price range, which is to say it's fairly pricey. The average price per page is between 9 and 10 pence. However, if you want to save money, and HP Instant Ink subscription might make things much more affordable.
Two cartridges are required, one for black and one for color (cyan, magenta, yellow). While the two-cartridge system means that refilling empty cartridges isn't as expensive as it would be if the printer used more ink. It is a touch inefficient in the sense that you're probably to use up all of the yellow ink while still having some cyan and magenta in the tank. Unless you're content to print with the missing yellow, you'll be wasting that unused ink.
In any case, the HP DeskJetPlus 4120 accepts both standard-sized HP 305 black and tri-color cartridges as well as the larger HP 305XL cartridges. The HP 305 cartridges cost £10.99 apiece and provide enough ink for 120 (black) and 100 sheets, which is roughly comparable to a cost per page of 9p and 10p, respectively. The bigger HP 305XL cartridges cost £19.99 and £17.99, respectively. While there is a bit more, HP claims adequate ink for 240 (black) and 200 prints. All of this results in a cheaper cost per page of 8p to 9p.
Signing up for an HP Instant Ink membership is simple all you need is your email address and bank account information. You're also encouraged to join up throughout the setup process and anytime you check the ink or toner via the HP Smart app. It's not like finding a link to the HP Instant Ink pages is difficult.
Price & availability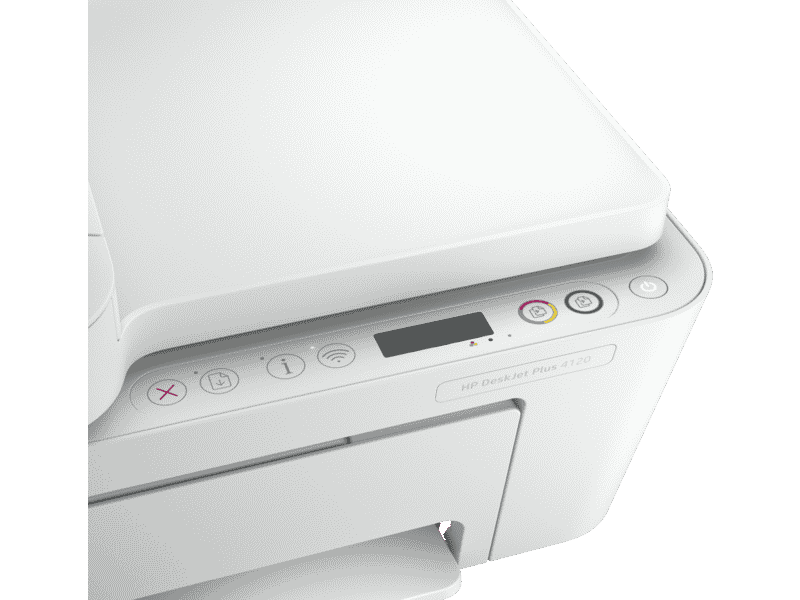 The HP DeskJet Plus 4120 – known as the HP DeskJet Plus 4155 in the United States – is now available for purchase. HP DeskJet Plus 4120 is available at £55.99 from Ryman and Amazon. The HP DeskJet Plus 4120 is also available at John Lewis for £59.99, although it was out of stock at the time of writing.
Argos also sells the HP Deskjet Plus 4122 — the same model, but with a green plastic accent – for £59.99. In the United States, the HP DeskJet Plus 4155 is available for $99.99 from Future Shop & Walmart. While Amazon currently offers the best price At $54.99.
Conclusion
The HP DeskJet Plus 4120 is a wonderful all-in-one for the money, but it's pricey to run without an Instant Ink subscription. Some drawbacks, such as mediocre text quality and mismatched photographs, keep it from being the best deal ever. But if you can live with them, it's a fantastic value.
Read more