The iRobot Roomba J7 plus is the brand's newest robot vacuum. Also, it sits between the Roomba S9 Plus and the Roomba i7 Plus at the top of the line. While it couldn't match the S9's suction power, it was just as good at collecting dust and debris from both hard surfaces and carpets as the i7.
iRobot, which has been active for more than two decades, and was one of the first companies to introduce a robot vacuum. The Roomba brand continues to dominate the automatic floor-cleaning business thanks to a mix of innovative technology and tremendous suction. Roombas account for 20% of all robot vacuums sold.
It's also iRobot's smartest Roomba yet, with built-in AI that can recognize and identify barriers like a charging wire left on the floor or a sock. It will clean as near as possible to such things without plowing through them, preventing tangles in the brush roller.
The name Plus relates to the fact that this is a self-emptying robot vacuum cleaner. The robovac comes with a base station that is one of the smallest we've seen yet. Also, it will deposit the stuff of its 14oz / 0.4-liter dust container into a 57oz / 1.7-liter bag that should last roughly 60 days. Depending on how often the iRobot Roomba J7 plus vacuum cleans your floors. This does, however, imply that there will be an ongoing fee connected with this robot vacuum.
What you will see here:
iRobot Roomba J7 Plus price and availability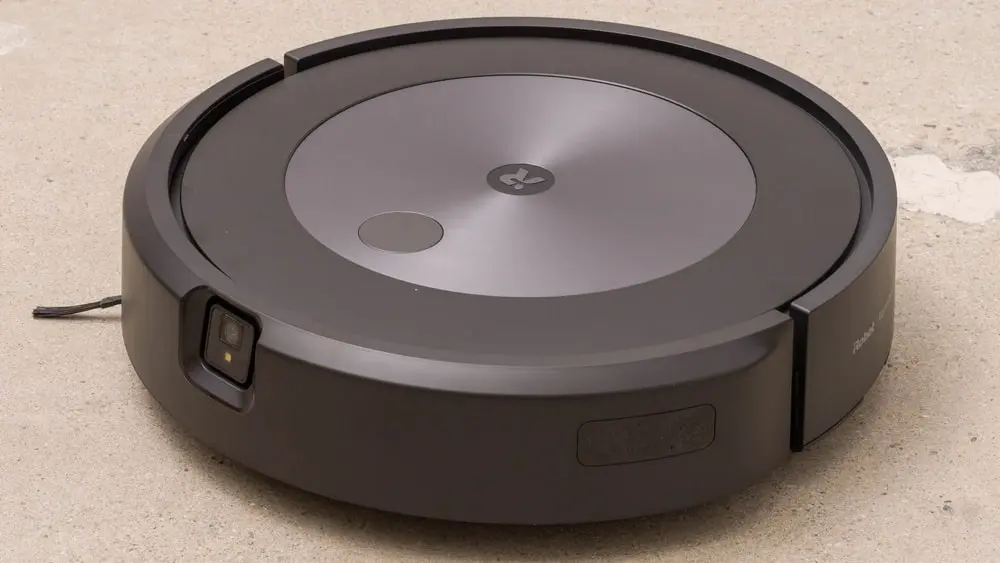 The iRobot Roomba J7 Plus is available straight from iRobot or through online retailers like Amazon for $799.99 / £899.99. However, it is not presently accessible in Australia. Replacement dirt removal bags are available for $19.99 / £21.95 for a set of three.
Without the self-emptying base, the robot vacuum is also available. It's the iRobot Roomba J7 and costs $599.99 / £699.99.
Design of iRobot Roomba J7 plus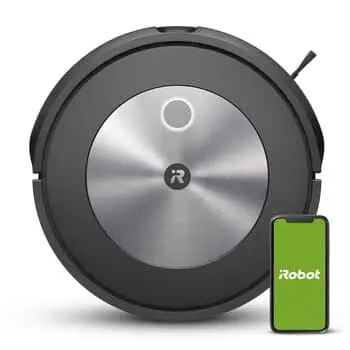 The iRobot Roomba J7 Plus is circular in design, unlike the Roomba S9 Plus, which has a D-shaped design. The Roomba J7 is elegant, measuring 13.3 x 13.3 x 3.4 inches / 33.8 x 33.8 x 8.6cm and combining matte black plastic with gunmetal features. The top of the robovac is totally flush, with only one button to start and halt cleaning, or to return the robot vacuum back to its base if held down for five seconds.
A plastic bumper surrounds the top of the robot vacuum. While the bottom includes two wheels and a swivel wheel to let the robot vacuum explore your property. According to iRobot Roomba J7 plus, dual rubber brush bars stretch to fit various floor types. Also, guarantee that hair whether human or pet does not become tangled around them for cleaning the room's corners and gaps, a three-arm side brush is given.
The J7 Plus has a 14oz / 0.4-liter dust box, as well as floor tracking and cliff sensors, as well as a built-in camera. To allow it to travel a systematic course around your home and avoid falling down a flight of steps. You can't manually control the suction level here, unlike many other robot vacuums on the market. But the iRobot Roomba J7 Plus will automatically raise the power if it identifies a particularly unclean section of the floor.
The iRobot Roomba J7 Plus is self-emptying and comes with iRobot's Clean Base, as previously indicated. It's tiny and includes a smooth design, giving it a more stylish look than other charging and self-emptying docks. Measuring 12.55 x 13.39 x 15.35 inches / 31.9 x 34 x 39cm (h x w x d). On the lid, there's also a brown leather tag to help you open it.
Performance of iRobot Roomba J7 Plus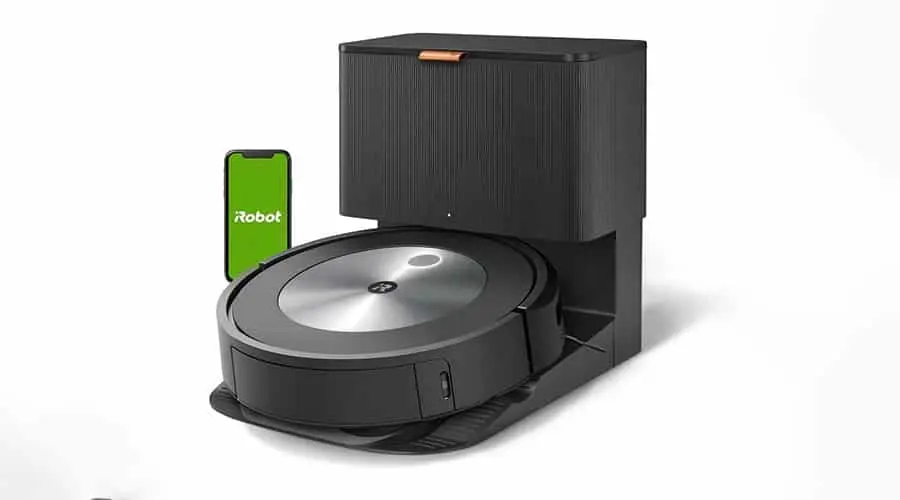 When it came to picking up small dust, cookie crumbs, and bigger debris. Even cereal from hard floors, the iRobot Roomba J7 Plus shone. On hard floors, however, we found that the side brush tends to drag heavier dirt further across the room. Making the vacuuming operation take a little longer than we'd like.
The iRobot Roomba J7 Plus, unlike many other robot vacuums on the market, does not let you manually alter the suction level. The robot vacuum, on the other hand, can detect especially unclean regions of the floor and adjust the suction accordingly. The J7 Plus can make maps of your house, and you may store maps at different levels, as we've already explained.
Whether cleaning hard or carpeted surfaces. The iRobot Roomba J7 Plus robot vacuum was quite quiet, recording a maximum of 64db on our decibel meter during use. This sounds like the sound of ordinary office talk.
Even better, if you stop a clean ask the robot vacuum to clean a specific area. The vacuuming components of the device will be turned off. Making the device as quiet as possible when traveling between tasks.
The robovac's low noise doesn't extend to when it docks and empties its dust container; in this case, our decibel meter read 90.6db. Which is the sound you'd hear standing 20 feet away from an automatic car wash. The iRobot Roomba J7 Plus is one of the noisiest robot vacuums.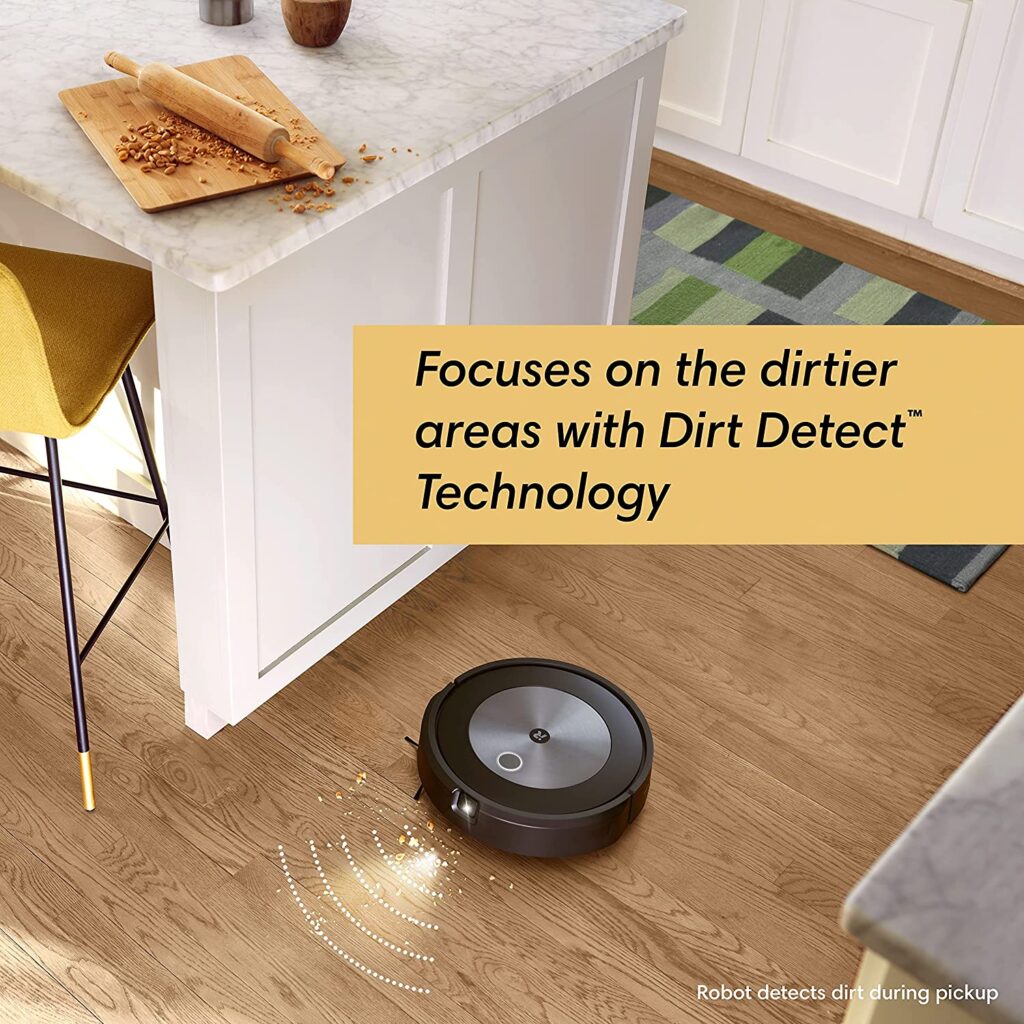 Battery life
iRobot makes no promises regarding how long the Roomba J7 Plus' battery would survive between charges. If there isn't enough charge left to finish a clean, the robot vacuum will automatically return to its charging station. In certain cases, it will only recharge enough to complete the task.
On one full charge, you were able to clean all floors of a three-bedroom house. But the battery level doesn't provide a percentage of time remaining. So we had to guess how much energy was available. The iRobot Roomba J7 Plus took three hours to completely charge.
Conclusion
The iRobot Roomba J7 Plus is a strong robot vacuum that gathers tiny dust and bigger waste from carpets and hard surfaces while avoiding obstacles like charging cords and the occasional sock. It's easy to use, self-emptying, and built with smarts that allow it to be set to only vacuum when you're gone. The robovac's dual rubber brushes keep hair from tangling, but it's pricey and loud when emptying its own dust bin.
Read more: